8 WWE Superstars and Their Attitude Era Counterparts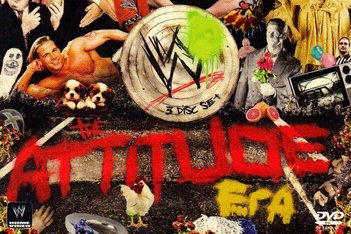 photo credit: cagesideseats.com
WWE fans, like fans of any other sport, always jump to compare current superstars with those from previous eras, especially the Attitude Era.
For this article, the Attitude Era is defined as March 29, 1998, when Stone Cold Steve Austin became WWF champion, until April 1, 2001 at WrestleMania X-Seven, when Austin defeated the Rock to become WWF champion again.
Before I discuss current WWE superstars and Attitude Era superstars they most resemble, in terms of gimmick and character, there are some honorable mentions.
Tensai and A-Train do not make the list based on the fact that they are in fact the same person. Other superstars such as The Rock and Big Show also do not make the list as their careers have lasted through both eras.
Also, Cody Rhodes and Rick Rude do not make the list since the only similarity they share is their moustaches.
With that said, here are eight current WWE superstars and their Attitude Era counterparts.
Begin Slideshow

»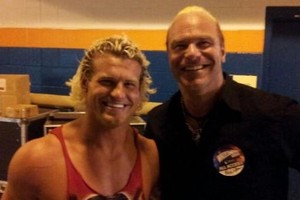 photo credit: sltdwrestling.co.uk
Mr. Money in the Bank, Dolph Ziggler may remind you of Shawn Michaels, but it is Billy Gunn who Ziggler is more similar to. The Heartbreak Kid was a Grand Slam Champion in WWE, but Ziggler has only had one very brief World Championship thus far in his career.
Billy Gunn was a upper midcard superstar during the Attitude Era who even won the King of the Ring tournament in 1999. Although the King of the Ring tournament doesn't exist anymore in WWE, the Money in the Bank briefcase is the closest accolade to it.
One may give a superstar an automatic World Title opportunity, but both are or were used to elevate a midcard superstar to the main event.
The King of the Ring win did not necessarily do that for Billy Gunn and it remains to be seen how Dolph Ziggler's Money in the Bank win helps his career.
From similar finishing moves to their blonde hair, Dolph Ziggler and Billy Gunn are very similar. However, Ziggler should hope to have a more successful tenure in WWE than that of his Attitude Era counterpart.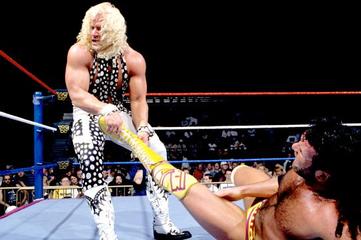 photo credit: wwe.com
Prior to starting 3MB, Heath Slater was the one-man southern rock band, but it was Jeff Jarrett who originated the gimmick.
"Double J" Jeff Jarrett began his WWE tenure as a southern music rock star, but left WWE just before the Attitude Era and returned to WCW. However, Jarrett would return during the Attitude Era with a similar country music singer gimmick.
Heath Slater is stuck in WWE's newest version of the J.O.B Squad, while Jarrett was an upper midcard superstar in the Attitude Era. Jarrett is a former Tag Team, Intercontinental and European champion, while Slater has only accomplished tag team gold in WWE.
Jarrett never had to share his gimmick with anyone, which is the main issue with Heath Slater's character. Slater may be able to achieve more accomplishments and be more comparable to Jarrett if he were just 1MB.
However, as long as Slater is just one member of his three man rock band, he will have to settle to being a poor man's Jeff Jarrett from the Attitude Era.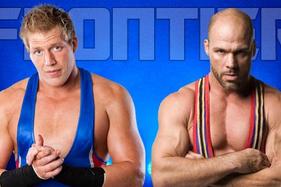 photo credit: wrestlingclique.com
From the moment Jack Swagger debuted in WWE, fans should have immediately thought of Kurt Angle. From the attire to the All-American gimmick, Swagger seemed to be copying ideas from Angle.
Although not initially, Swagger also did eventually incorporate Angle's ankle lock submission.
Unfortunately, Angle became a much more successful superstar than Swagger ever was despite Swagger's World Heavyweight Championship reign. Swagger also had a United States championship reign, but that's nothing compared to Kurt Angle's accomplishments. Angle has held multiple World Titles in addition to midcard level titles and was King of the Ring in 2000.
Angle spent the majority of his WWE career as a heel, but at times was one of the most hilarious characters on television. Swagger has been off of WWE TV for a number of months now, but when he returns he will hope to live up to the comparisons of Kurt Angle.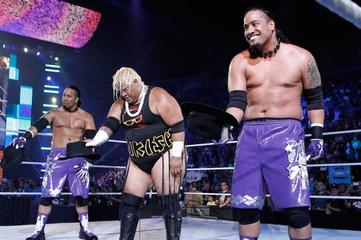 wwe.com
When Brodus Clay debuted as the Funkasaurus, older WWE fans may have been reminded of Flash Funk, the Godfather or Ernest "The Cat" Miller, he most resembles Attitude Era's Rikishi.
Rikishi originally joined WWE as Fatu as part of the Headshrinkers, but during the Attitude Era he was the big man who loved to dance just like Brodus Clay.
The Godfather's gimmick had more to do with his ho train and being a pimp, so Rikishi would be a better fit to compare with Brodus Clay. Hopefully we don't see any stink faces from Brodus Clay anytime soon.
While Rikishi is a former WWE Tag Team Champion and Intercontinental Champion, Clay has been unsuccessful thus far in claiming any gold in WWE. Perhaps a heel turn will help Clay, but then the gimmick similarity with Rikishi would no longer exist.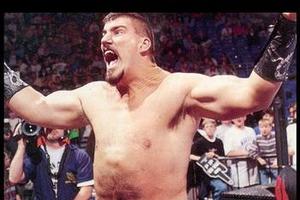 slam.canoe.ca
While not a vital member to the Attitude Era, Kurrgan was a seven-plus behemoth who spent time in the stables Truth Commission and the Oddities. Similarly, the Great Khali is also a seven-plus monster, but their similarities do not end there.
Kurggan began as a monster heel as part of the Truth Commission, but geared his character towards comedy when he joined the Oddities during the Attitude Era.
Likewise, the Great Khali debuted in WWE as the Punjabi giant who destroyed the Undertaker and other babyfaces in WWE. Nowadays, the Great Khali is joined by Hornswoggle for comedy that should make every WWE fan feel sick to their stomachs.
Despite the misuse of his character, the Great Khali's journey in WWE certainly resembles that of the Attitude Era's Kurrgan.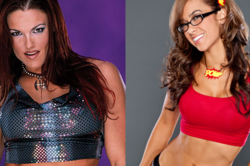 photo credit: april-jeanette.org
AJ Lee would be thrilled to hear that of all the divas from the Attitude Era, she is most comparable to Lita. This is because AJ admitted to crying when she had the opportunity to meet her idol.
Either way, AJ Lee and Lita are very similar in their characters while in WWE.
AJ has become the most famous diva in WWE today due to her multiple on screen relationships with various WWE superstars such as John Cena, Kane, Daniel Bryan, CM Punk and now Dolph Ziggler.
Similarly, Lita had multiple relationships while a diva in WWE. Lita spent the Attitude Era with the Hardy Boyz and it wasn't until the era was over that she began relationships with Kane and Edge.
Lita became a four time WWE Women's champion, which is an accomplishment AJ has yet to achieve once. Either way, with their punk-style look and similar characters, Lita has to be considered AJ Lee's Attitude Era counterpart.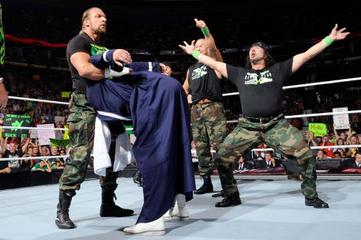 my123cents.blogspot.com
The intellectual savior of the masses, Damien Sandow, is not the Game, Cerebral Assassin or King of Kings.
However, Sandow may remind you of the man who debuted as Hunter Hearst Helmsley. Triple H began his WWE career as a proper, classy superstar similar to Sandow.
The similarities are obvious. Both superstars use sophistication and intellectuality as their character's main gimmick. However it is their differences that make the situation interesting.
Triple H was known for his valets that accompanied him, including the diva who would later be known as Sable. On the other hand, Sandow is known for his promos, using ridiculous amounts of big complicated words that most WWE fans probably never use.
Is Damien Sandow the new and improved Triple H? If Hunter Hearst Helmsley became a 13 time World Champion in WWE, then what does the future hold for Sandow?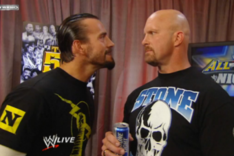 wwe.com
The best in the world and WWE Champion may remind you of a number of superstars from the Attitude Era, but it is Stone Cold Steve Austin who CM Punk should be most compared to.
One may think Punk and Austin are very different in terms of their habitual activities. Austin was always associated with his high level of beer drinking, while Punk is known for being straight edge. However, it is their rebellious characters that make them much more similar than you think.
During the Attitude Era, Austin was constantly feuding with his boss, Mr. McMahon in arguably WWE's biggest and best feud ever.
Nowadays, CM Punk is also feuding with Mr. McMahon, though the chairman is rarely seen on WWE TV. McMahon is now seen as a babyface from who CM Punk demands respect. Punk's famous pipebomb promo from June 2011 was aimed against WWE and Punk is clearly a rebel against the company he works for.
A potential WrestleMania match between Punk and Austin would be epic, but these two WWE superstars are much more similar than one may have thought.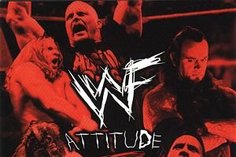 photo credit: technologytell.com
A reincarnation of a gimmick from the Attitude Era may or may not be a good choice by WWE. New and creative characters will generally stand out more than recycled old gimmicks.
However, as wrestling fans have seen over the years, there are many similar gimmicks and characters that show up on WWE TV.
So what do you think? What current WWE superstars resemble those from the Attitude Era? What are your thoughts on my selections?
Please leave your comments, suggestions and ideas in the section below.
Follow me on Twitter (@sethgutt) and check out guttwrenchpowerblog.com.
You can like GWP on Facebook here.
Also, tune in every Wednesday night at 9 p.m. EST on PWPRadio as I host OH YOU DIDN'T KNOW!? wrestling news and rumors at blogtalkradio.com/pwpradio. Upcoming guests include former WWE NXT diva Sofia Cortez, indy wrestler Greywolf and Adrenaline Unleashed female wrestler Allie Parker!