Indiana Basketball: Ranking Hoosiers' Top Commits for 2013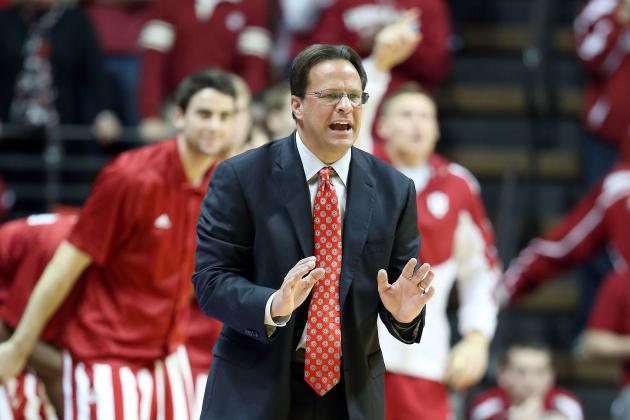 Andy Lyons/Getty Images

IU Head Coach Tom Crean did another good job of reloading on talent with the upcoming class.
Both Scout.com and ESPN rank the Hoosiers No. 4 and No. 5 respectively.
The class is balanced because the six commits can contribute to every position on the floor in their first year.
Three players are ranked in the ESPN Top 100, including 5-star talent Noah Vonleh.
Expect major things from this class because some of these players can play right away.
Here are my player rankings for Indiana's class of 2013:
Begin Slideshow

»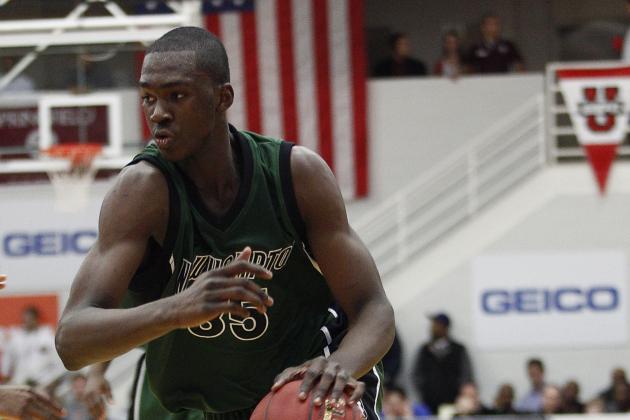 Mark L. Baer-USA TODAY Sports

Noah Vonleh of Haverhill, Massachusetts is the centerpiece of IU's class of 2013.
He is a very athletic power forward who has become one of the top rebounders in the entire class.
Vonleh will usually play the 4 but is versatile and can play the 3 or 5 if Coach Crean wants to go bigger or smaller with his lineup.
Vonleh is also one of the top recruits in the country because he has an above-average jump shot, the ability to run the floor really well and a knack for finishing inside the paint.
Don't be surprised to see Vonleh in the Hoosiers' starting five in the upcoming season.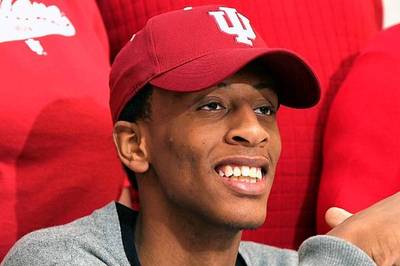 Photo Credit to The Daily Press
The addition of Troy Williams brings a very athletic and versatile small forward to the Hoosier lineup.
Williams plays at Oak Hill Academy, which is notorious for winning and Coach Crean loves recruiting "winners."
His long arms and athleticism make him a great defender and a solid rebounder for his size.
Williams had offers from many of the top college basketball programs around the country, including Ohio State, North Carolina and Louisville.
If he can improve his mid-to-long range jump shot, then he can become another productive player for the Hoosiers in his first year.
Stanford Robinson is a 6'4" shooting guard with tons of upside.
He is a good slasher that can get to the hoop on most occasions.
Robinson reminds people of current Hoosier guard Victor Oladipo because of their similarities in size and style.
Both players grew up playing with/against each other, while living in the "DMV" area.
He is also developing better ball-handling skills, which will be helpful if Crean needs him to play point guard next season.
Robinson will be a crucial bench player for IU who could receive more minutes if he continues to excel on the next level.
Photo Credit to Inside the Hall
Luke Fischer's game is very similar to how current IU center Cody Zeller plays.
He is a tall and lengthy player who can finish inside the paint and rebound well.
Although Fischer's skills aren't as refined as Zeller's, he can grow into a very good basketball player because of the Indiana coaching staff.
Fischer needs to put more weight on, which is similar to what Zeller had to do in his first year.
He even wears the same number as Zeller, No. 40.
It doesn't look like Fischer will step in immediately like Zeller did, but the future is bright for this young man.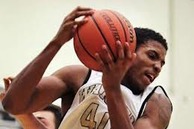 Photo Credit to USA Today High School Sports
Devin Davis Jr. is a solid small forward from Indianapolis, Indiana who verbally committed to the Hoosiers over two years ago.
Davis Jr. has a very good mid-range jump shot and can finish well around the rim.
He was not ranked as highly as the first four commits, but I think he can contribute down the road for this team.
Hopefully Coach Crean and his staff can develop Davis Jr. the way they developed Oladipo and Will Sheehey. Both of those players were undervalued by scouting organizations but have become very important contributors to the team.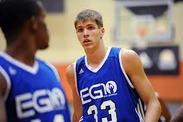 Photo Credit to the Indy Star
Colin Hartman is a small forward who has become a good outside shooter.
He plays for Cathedral High School in Indianapolis, Indiana, which is one of the top high school basketball teams this year.
Hartman's size and three-point shooting ability have made him tough to defend.
He isn't one of the higher ranked players on this list because his skills aren't as versatile.
Hartman's skills and size remind people of current IU small forward Austin Etherington, but I could see him turning into a three-point specialist like former Hoosier guard Matt Roth.
With all of the depth already on the current Hoosier roster and the talented players coming in, Hartman will really have to earn those minutes on the floor in his first year and make them count.