Showcasing Jacksonville Jaguars' Biggest Strengths and Draft Needs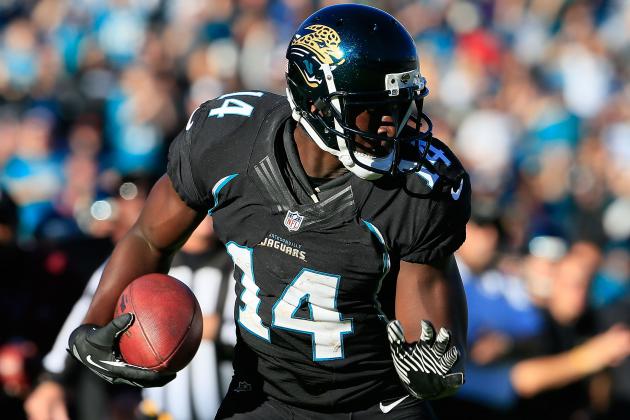 Sam Greenwood/Getty Images

The Jacksonville Jaguars are coming off the worst season in franchise history. They won just two games, finished 29th in total offense, 30th in total defense and flat out didn't have enough talent to compete. It's clear the rebuilding process is going to take some time.
When a team enters the offseason with so many needs, it can often be overwhelming for a front office. Since it's impossible to fill every void in the span of a few months, it comes down to targeting the biggest weaknesses first.
That's what the Jaguars have to determine before draft day. They own the second overall pick, which means they should be able to make at least one major addition. It just comes down to what position they want to address first.
Let's examine each area of Jacksonville's roster and analyze the team's best course of action. Fans must understand the process is going to take a while, though.
Begin Slideshow

»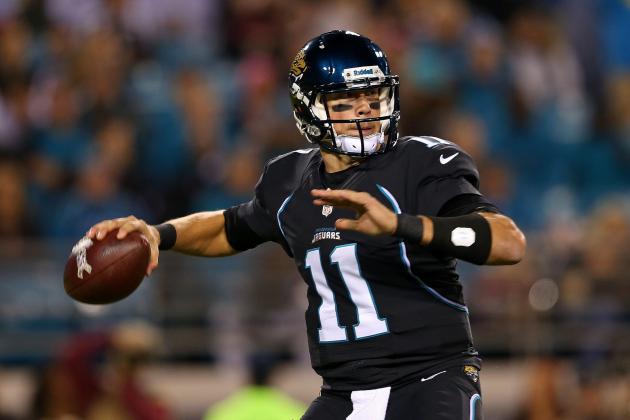 Mike Ehrmann/Getty Images

Jacksonville drafted Blaine Gabbert with the 11th pick in 2011. He's turned in two lackluster seasons, and now the team must decide whether or not to give him another chance. A quarterback rating of 70 after 25 games should be enough to determine that he's not the long-term answer.
The same can be said about backup Chad Henne, who failed to impress after taking the reigns from Gabbert. He had more turnovers than touchdowns, picking up right where he left off with the Miami Dolphins. Third QB Jordan Palmer is not a factor.
If West Virginia's Geno Smith is available, he would be an intriguing option, but he doesn't provide as much value as last year's top QBs. The Jaguars would be better off going after a second-tier option like Ryan Nassib or Mike Glennon in Round 2.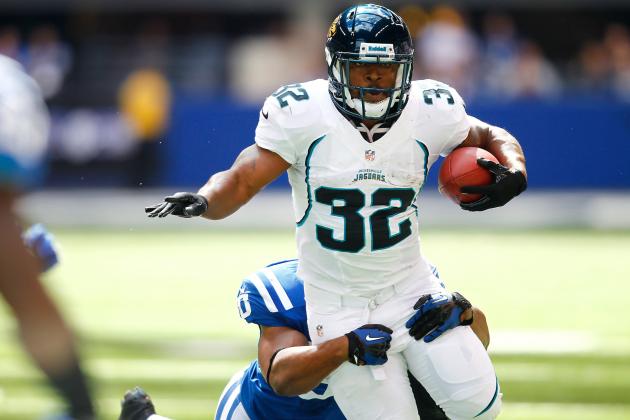 Michael Hickey/Getty Images

Everything depends on Maurice Jones-Drew. The star running back recently underwent foot surgery after missing a majority of the season. He also held out during training camp with hopes of landing a new contract, but his old deal rules through next season.
If he returns to full strength and plans on showing up at camp on time, the Jaguars have no need to address the position. Jones-Drew is one of the league's most versatile backs and can remain a major piece of the offense moving forward.
Main backup Rashad Jennings is scheduled to become a free agent, but the team shouldn't use a draft pick to replace him unless it's a late-round flier. The Jaguars can sign another low-cost option through free agency if he doesn't re-sign.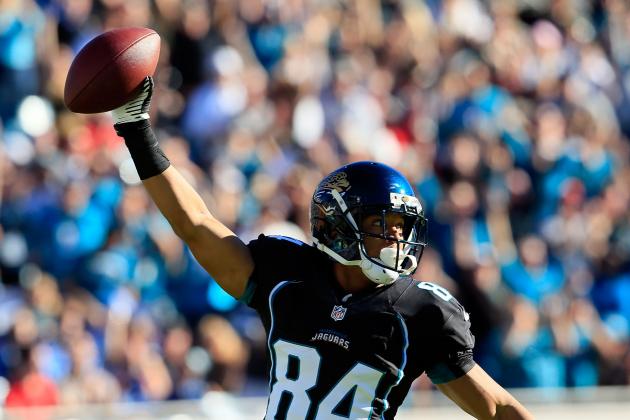 Sam Greenwood/Getty Images

The receiving corps is one area where the Jaguars can feel confident. Their top pick from last year, Justin Blackmon, was able to have an immediate impact. He reeled in 64 passes for 865 yards and five touchdowns despite the poor QB play.
More surprising was the emergence of Cecil Shorts, who was actually the team's leading receiver, as he fell just 21 yards short of 1,000. He averaged nearly 18 yards per catch, and his ability to stretch the field will be a key asset moving forward.
Furthermore, Marcedes Lewis is a reliable tight end and red-zone target. So the Jaguars shouldn't have to put any significant resources into adding more targets. Finding somebody who can get the ones they already have the ball is more important.
Hannah Foslien/Getty Images

The Jaguars' offensive line needs upgrades. Jacksonville quarterbacks were sacked a total of 50 times, resulting in over 320 yards of lost offense. And the team averaged just 3.8 yards per rush, ranking it below average in that category as well.
Eugene Monroe gives the Jags a solid starting point now that he's starting to live up to his potential. But the other four positions could all use a new starter—or at least some competition. Brad Meester and Eben Britton are both free agents and shouldn't be brought back.
Luke Joeckel is the top offensive lineman available in the draft, but the Jaguars hope Monroe can be their franchise tackle. So they would be better off bulking up the line in the middle rounds and free agency. It must be addressed, though.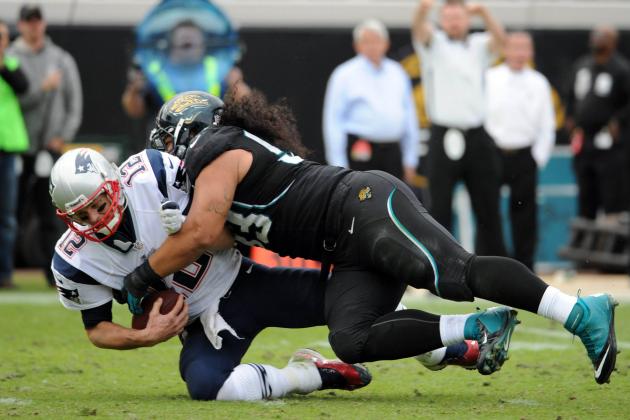 USA TODAY Sports

Another major area of need for the Jaguars. They ranked dead last in the NFL with just 20 sacks during the regular season—five less than any other team. When a line can't generate any pressure, it causes weaknesses at the second level to get exposed.
Breaking it down a little further, it's easy to see why the Jaguars struggled. They don't have one player who demands extra attention from the opponent. Tyson Alualu led the team with just 3.5 sacks, and he certainly isn't the type of player who can spearhead a pass rush.
That's why Jacksonville should target a pass-rusher with its first pick. Bjoern Werner from Florida State makes the most sense after a terrific season with the Seminoles. Jarvis Jones and Barkevious Mingo are other options if the team thinks they can fit the system.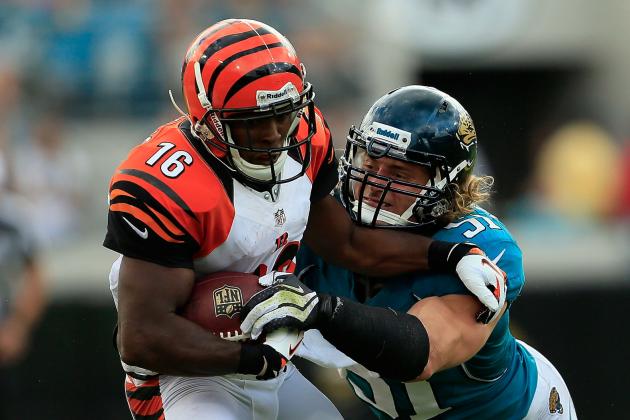 Sam Greenwood/Getty Images

Aside from putting together a strong draft class, re-signing Daryl Smith should be one of the top things on the Jaguars' to-do list in the offseason. He battled injuries this season, but is one of the most reliable outside linebackers in the game when healthy.
If they do bring him back, the linebacker group is strong. Along with Smith, the Jaguars have a tackling machine in Paul Posluszny and Russell Allen, who thrived after being given a bigger role in his fourth season with the team.
Adding some depth would be a wise move since Smith is coming off an injury-plagued season, but there's no need to make any major acquisitions. That is, unless Smith ends up leaving, which would cause a change of plans at LB.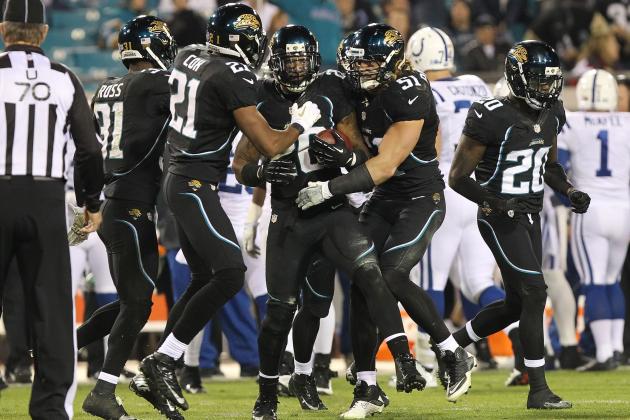 Kim Klement-USA TODAY Sports

The secondary is another spot where the Jaguars have a couple question marks. Rashean Mathis and Derek Cox are both unrestricted free agents, potentially leaving even more holes in a defensive backfield that already ranked in the bottom half of the NFL against the pass.
Re-signing Cox is more important than bringing back Mathis. The 26-year-old corner has developed into the team's most reliable cover man and also lead the team with four interceptions. Letting him get away would be another step in the wrong direction.
As long as Dwight Lowery returns to form after a season-ending foot injury, the safety spots should be fine. The Jaguars definitely have to invest in at least one more corner, however, most likely with one of their early picks.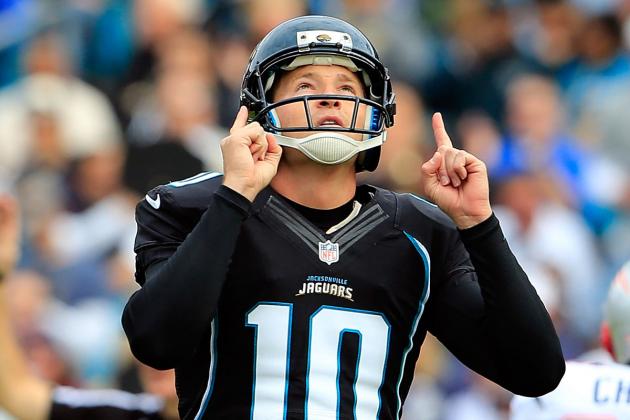 Sam Greenwood/Getty Images

The Jaguars are set at kicker and punter. Josh Scobee put together another strong season after agreeing to a contract extension before the season. And third-round pick Bryan Anger had a terrific rookie campaign and should hold down the job for a long time.
They could benefit from adding an ace return man, though. Jacksonville ranked 26th in kick return average and 28th in punt return average, illustrating the lack of a playmaker to help improve field position or make a game-changing play.
The good news for the Jaguars is that those type of players can usually be found in the middle rounds. It's not a major priority, meaning the front office shouldn't pass on a potentially useful player at another position to grab a returner, but it would be a nice piece to add if possible.