Predicting the Next 5 Baseball Hall of Fame Classes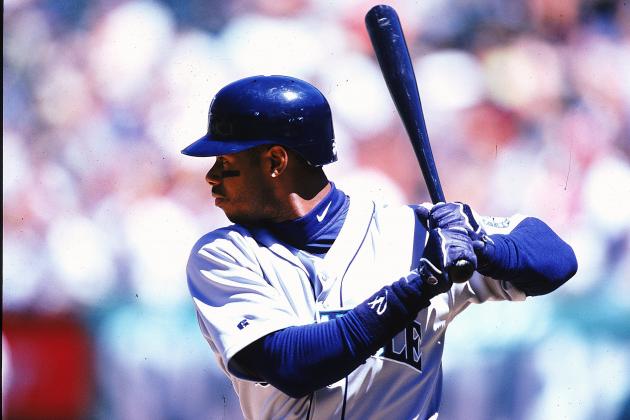 Jed Jacobsohn/Getty Images

This year's MLB Hall of Fame class will be announced on Wednesday, and it promises to be one of the most polarizing votes of all-time with Barry Bonds and Roger Clemens headlining the newcomers to this year's ballot.
Fellow newcomers Mike Piazza and Craig Biggio and holdovers Tim Raines and Jack Morris appear to have the best chances of earning induction this year, but early results show that there is a good chance no one earns enshrinement in 2013 (h/t Baseball Think Factory).
Next year's class promises at least two inductions with Greg Maddux and Tom Glavine up for induction, but the years ahead should be interesting as we move into the heart of the Steroid Era as far as eligible players.
Here are my predictions for who will earn induction over the next five years, along with a look at the notable first-time eligible players each season.
Begin Slideshow

»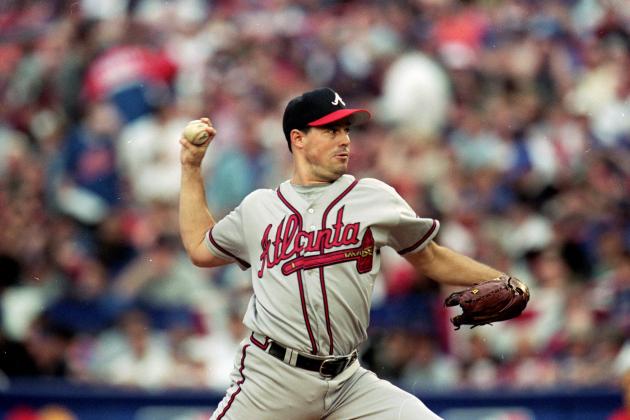 Jamie Squire/Getty Images

Notable First-Year Eligibles
SP Greg Maddux, 1B Frank Thomas, SP Tom Glavine, 2B Jeff Kent, SP Mike Mussina, LF Luis Gonzalez, SP Hideo Nomo
Predicted Inductees
SP Greg Maddux
A clear first-ballot selection and one of the greatest pitchers of all-time, Maddux finished his career with 355 wins over 23 big league seasons.
He won four-straight NL Cy Young awards, four ERA titles and was arguably the top pitcher of the 1990s. He should have no trouble topping 90 percent of the vote, something just 27 players have done to this point.
SP Tom Glavine
He may have been Robin to Maddux's Batman during their time in Atlanta, but on his own Glavine ranks as one of the best left-handers of all-time.
He won two NL Cy Young awards, topped 20 wins five different times and finished his career with 305 wins as perhaps the best No. 2 pitcher in baseball history.
1B Frank Thomas
The face of baseball in the early 1990s along with Ken Griffey Jr, Thomas finished his storied career with 521 home runs and 1,704 RBI.
He was far from just a power hitter though, hitting over .300 eight different times and finishing his career with a .301/.419/.555 slash line.
2B Craig Biggio (second year on ballot)
One of the best second baseman in baseball history from a production standpoint, as he ranks among the all-time leaders in runs (1,844, 15th), hits (3,060, 21st) and doubles (668, fifth).
He had a terrific combination of power and speed with 291 home runs and 414 stolen bases, and he transitions seamlessly from catcher to second base to center field and back to second base during his career.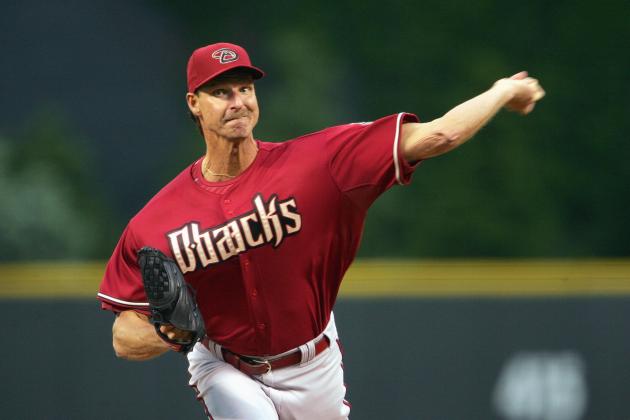 Doug Pensinger/Getty Images

Notable First-Time Eligibles
SP Randy Johnson, SP Pedro Martinez, P John Smoltz, RF Gary Sheffield, SS Nomar Garciaparra, 1B Carlos Delgado, RF Brian Giles
SP Randy Johnson
Sandy Koufax, Steve Carlton, Lefty Grove and Warren Spahn are certainly in the conversation, but a strong case can be made for Johnson being the greatest left-handed pitcher in baseball history.
He finished his career with 303 wins and his 4,875 strikeouts rank second all-time. He won five Cy Young awards, nine strikeout titles and four ERA titles during one of the most dominant careers in baseball history.
SP Pedro Martinez
While he ended his career with just 219 wins, Martinez put together perhaps the best prime of any pitcher in baseball history outside of Sandy Koufax.
From 1997-2003, he went 118-36 with a 2.20 ERA and 11.3 K/9 and won three Cy Young awards in helping to lead the Red Sox back to the World Series in 2004.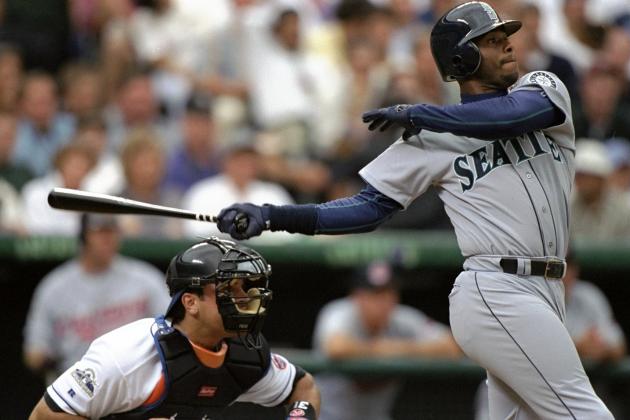 Brian Bahr/Getty Images

Notable First-Time Eligibles
CF Ken Griffey Jr, RP Trevor Hoffman, CF Jim Edmonds, RP Billy Wagner, C Jason Kendall
CF Ken Griffey Jr.
Griffey ended his 22-year career with 630 home runs and 1,836 RBI, and had it not been for repeated injuries during his prime, he may well have ended his career as the greatest power hitter of all-time.
As it stands, he was one of the most beloved players in baseball history league-wide and his production speaks for itself, even if he did come up short of where many expected his career to end.
C Mike Piazza (fourth year on ballot)
There appears to be enough of a steroid cloud hanging over Piazza to keep him from being a first-ballot Hall of Famer, but by his fourth year on the ballot I expect him to gain induction.
Number wise, he ranks as the greatest offensive catcher of all-time, and while many will still give that title to Johnny Bench, his production still makes him one of the greatest backstops to ever play the game and a clear Hall of Famer.
P John Smoltz (second year on ballot)
Smoltz has an interesting case for the Hall of Fame, as his numbers are hard to compare with others thanks to four years in the bullpen.
With 213 wins and 154 saves, Smoltz has both an NL Cy Young and a Rolaids Relief Man award to his credit. In the end, the easiest way to classify him is as one of the best pitchers in baseball history. His 15-4, 4 SV, 2.67 ERA line in the postseason certainly helps his case as well.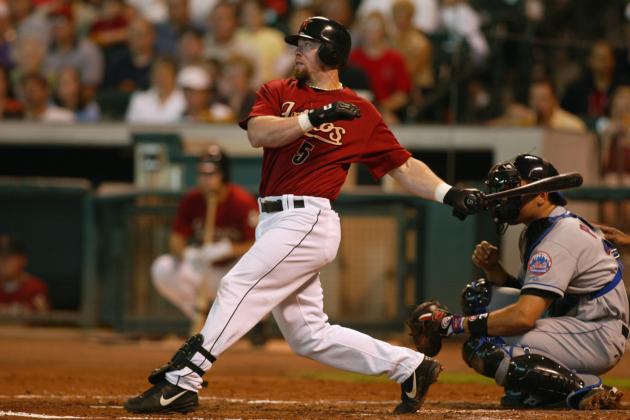 Tom Hauck/Getty Images

Notable First-Year Eligibles
C Ivan Rodriguez, LF Manny Ramirez, RF Vladimir Guerrero, C Jorge Posada, RF Magglio Ordonez, C Jason Varitek, SS Edgar Renteria
1B Jeff Bagwell (seventh year on ballot)
I don't see any of the trio of Ivan Rodriguez, Manny Ramirez or Vladimir Guerrero making the Hall on their first ballot, so this could be Bagwell's best chance at induction.
He improved from 41.7 percent to 56 percent of the vote over his first two seasons on the ballot, and while he fell short of the 500 home run plateau, he still has a strong case.
His .948 career OPS ranks 22nd all-time, and his 449 home runs and 1,529 RBI show he was one of the top run producers of his era.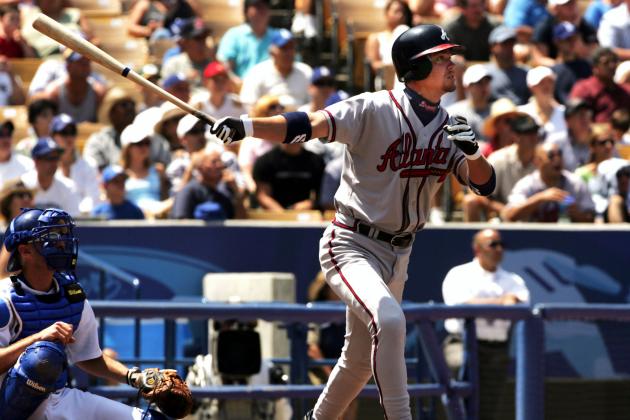 Stephen Dunn/Getty Images

Notable First-Time Eligibles
3B Chipper Jones, SS Omar Vizquel, LF Hideki Matsui
3B Chipper Jones
One of the five best switch-hitters of all-time, and perhaps second only to Mike Schmidt as the greatest third baseman of all-time, Jones is a no-brainer first-ballot inductee.
He ended his 19-year career with a .303/.401/.529 slash line, 468 home runs and 1,623 RBI and he was an eight-time All-Star in spending his entire career with the Braves.
C Ivan Rodriguez (second year on ballot)
Steroid questions will keep Pudge from being a first-ballot Hall of Famer, but it won't be enough to keep him out of the Hall, and I think he makes it in his second go-around.
A 14-time All-Star with a .296 BA, 311 HR, 1,332 RBI career line, Rodriguez is the all-time leader in games and hits among catchers. He was also one of the best defensive catchers of all-time, winning 13 Gold Glove awards and throwing out 46 percent of base stealers during his career.