Picking the Best Player in Europe's 5 Biggest Leagues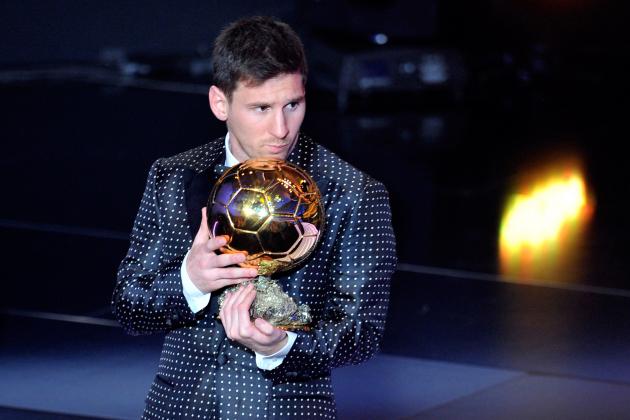 Harold Cunningham/Getty Images
Messi cradles his fourth Ballon d'Or, did he make the list?
Identifying the best player in each of Europe's five major leagues is no easy task. Some pick themselves, but others are harder to judge.
There are a number of players who have been overlooked, not because they are not good enough, but simply because others are either in better form right now or are more representative of the league's strengths in general.
Without a doubt though, the list is a collection of stellar talent from within Europe's elite domestic competitions, and their contributions stretch into the international domain as well.
Here are my five best players from Europe's top five leagues currently.
Begin Slideshow

»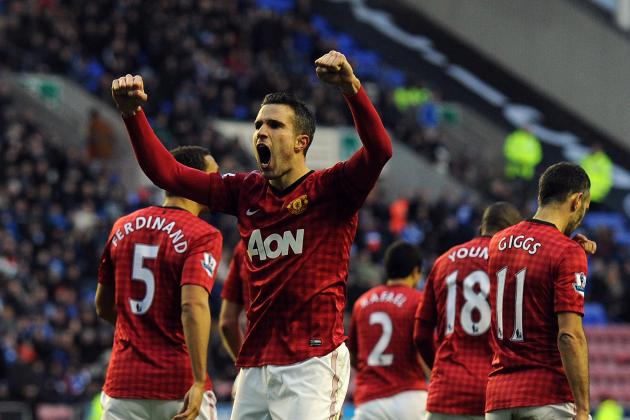 Chris Brunskill/Getty Images
Van Persie has been in sensational form for United this season
Robin van Persie:
The English Premier League is recognized as a physical competition where pace and strength regularly overcome tactical nous. No player better demonstrates the edge that speed gives players and teams over their opponents in England than Manchester United's Robin van Persie.
For years RVP almost single-handedly kept Arsenal in the chase for league and domestic cup honours. Since the departure of Thierry Henry—van Persie's leading influence in his early days with the Gunners—the Dutchman took on a new level of responsibility, eventually resulting in being handed the captaincy.
Having thrived in that role despite the team being unable to match his ambition or ability on the pitch, he secured a move to a club where success (at least domestically) looks far more likely.
Van Persie has that rare blend of pace, power and flawless technique that sets him apart from a lot of other strikers. Despite a well-documented history of injuries, this potent mix enables the 29-year-old to succeed in the EPL where a lot of other equally gifted players would fail.
Lionel Messi:
It would be a crime to suggest that somebody other than Barcelona's four-time Ballon d'Or winning, record goal-scoring, Argentine sensation Lionel Messi could be considered for this position. It still amazes me to think that he has achieved so much despite only being 25 years old, but Messi is a phenomenon.
La Liga has produced so many quality players over the years that it is hard to remember all of them, but the Argentine usurps them all. Never has a player been so suited to the domestic game and been so perfect to spearhead a revolution in football style the way that Messi has done with Barcelona.
Spain's top flight is recognized as Europe's most technically proficient, and Messi epitomizes this, while oozing added quality.
La Liga's best players are those who are a few steps ahead of the game each time they take the pitch (Cristiano Ronaldo, Xavi, Andres Iniesta and Xabi Alonso to name a few), but Barca's number 10 is a few steps ahead of everyone.
Messi is arguably the greatest player to have ever played the game and surely still has over half of his career left to play. It would be madness to suggest that, at least on current form, he is not the best player in La Liga, much less the world.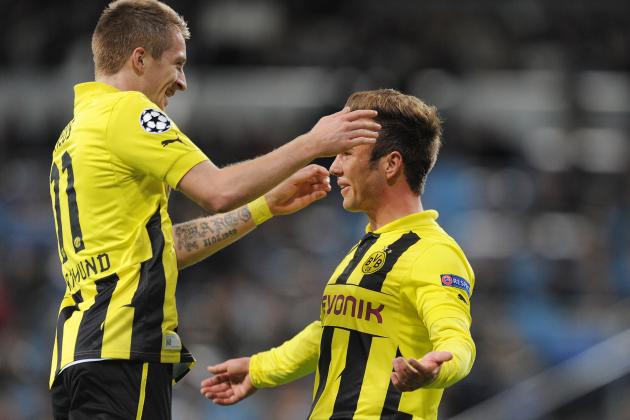 Denis Doyle/Getty Images
Reus and Gotze, two of Germany's brightest young stars
Marco Reus:
Few players represent all that is good about a domestic league the way that Germany's Marco Reus does in the Bundesliga. Awash with an embarrassment of vibrant, young talent, Germany's top flight is an exciting place to be watching football right now.
From the likes of Bayern Munich's Thomas Muller and Toni Kroos to Reus' Dortmund teammate Mario Gotze, there appears to be talent in every current team.
It was not always this way, though. Prior to the 2006 World Cup on German soil, the Bundesliga was struggling to produce domestic talent on the level that we are now seeing, and Bayern were sweeping all before them to a large extent.
Then German football underwent a youthful revolution, and the player that best epitomizes the unqualified success of that makeover is Reus. Slick, stylish, fast and skillful, Reus' defining quality is that he is so—wait for it—ruthlessly efficient, as all Germans are.
At 23 years old, Reus is a relative newcomer, but his impact at club and international level has been remarkable so far. Even with hometown club Dortmund struggling to mount a third consecutive title challenge, Reus has been in stellar form.
With the presence of Gotze and Polish striker Robert Lewandowski in Jurgen Klopp's side, Dortmund are at the forefront of this explosion of talent.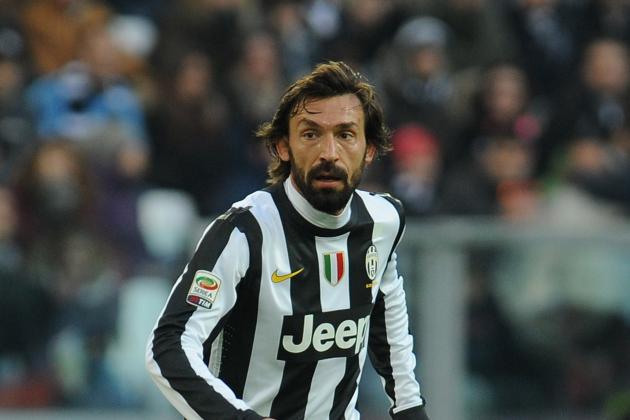 Valerio Pennicino/Getty Images
Age holds no boundaries for Pirlo
Andrea Pirlo:
From the cradle to the grave, or so it would appear. At least that's what many thought about Andrea Pirlo when he left AC Milan for Serie A rivals Juventus in 2011.
However, instead of proving to be dead and buried or over the hill, Pirlo has actually done more to rejuvenate Italian football than most of late.
The 33-year-old reminded everyone of his timeless brilliance and stylish creativity from deep by inspiring Italy to the final of the European Championships last summer. Although they were not victorious, the Azzurri's progress was a shot in the arm for a national sport in crisis thanks to Serie A's strife.
Pirlo embodies everything good about the Italian game. Yes, he is essentially a defensive player in his deep-lying role, but technically and mentally, he is streets ahead of the competition.
Serie A's style of play is more cerebral, and Pirlo excels in out-thinking his opponents. It is no surprise then that despite a struggling domestic league at present, Juventus are the team most likely to break Italian football out of its current funk.
Pirlo is the man at the heart of it.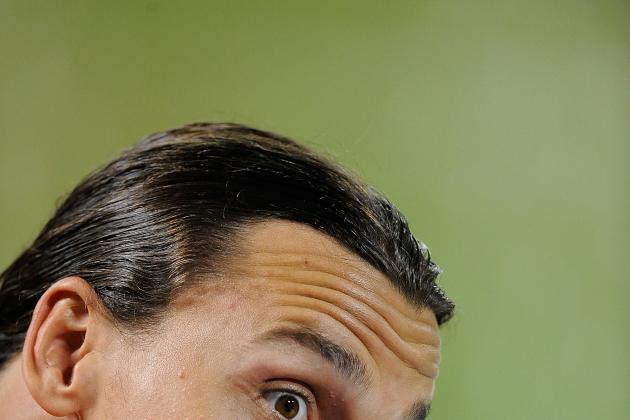 Patrick McDermott/Getty Images
Ibrahimovic is France's undoubted top-billed star
Zlatan Ibrahimovic:
French football's landscape was transformed by the takeover of Paris Saint-Germain in summer 2011. Since then, Ligue 1 has been less about producing its own talent and championing it on the European stage, and more about bringing in stars, nurturing them and combining them with some elements of homegrown talent.
PSG represent the future of French football, an example of what some of their domestic competition need to do (albeit on a less grandiose scale) to once again be recognized and respected as European football powers.
Despite his 31 years of age, Zlatan Ibrahimovic best represents this at present.
The mercurial Swede is the talent that the capital club had been looking for to anchor their project ever since they realized that €42 million golden boy Javier Pastore was not actually all that. The PSG hierarchy picked Ibra for his ability to score goals, to provide, for his experience, his unerring consistency and, most of all, for the excitement that he brings.
Zlatan hasn't disappointed either. Just six months into his time in France, Ibrahimovic has 18 goals in 16 league appearances to his name, not including a fruitful group stage contribution in the Champions League. Whilst many accuse him of having been a flat-track bully in Italy and Spain, it should be noted that he has made telling contributions against France's other big three (Marseille, Lyon and Lille).
An undoubted superstar, Ibrahimovic is head and shoulders above the competition in le Championnat currently whilst the competition is in transition.
The story, however, is only just beginning.