Texans vs. Patriots: TV Schedule, Live Stream, Spread, Radio, Game Time and More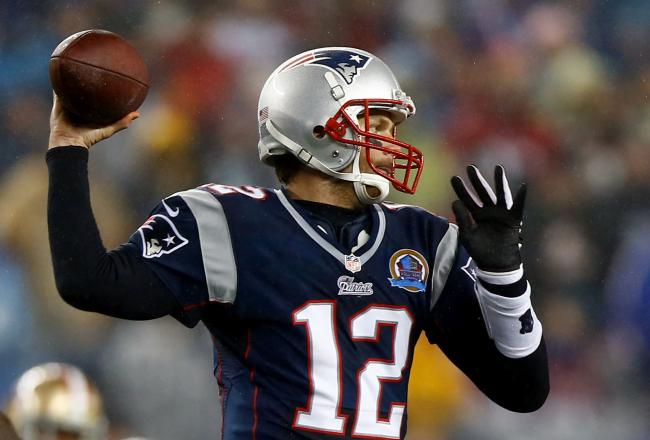 Jared Wickerham/Getty Images
The Houston Texans survived a challenge from the Cincinnati Bengals in the Wild Card Round and will now face the New England Patriots for a spot in the AFC Championship Game. The Patriots are coming off a bye after earning the conference's No. 2 seed.
It was far from a perfect performance from the Texans in the Wild Card Round, but the playoffs are all about finding a way to survive and advance. They will need a far more complete showing on Sunday in order to upset the high-flying Patriots, however.
New England enters the game as a heavy favorite, which shouldn't come as a surprise. The teams faced off a month ago and the Patriots scored a decisive 42-14 victory. The struggling Texans defense must step up to avoid another blowout.
Here's a look at all the important information for Sunday's Divisional Round matchup, followed by a game preview and a prediction for which team will move within two wins of a championship.
Where: Gillette Stadium in Foxborough, Mass.
When: Sunday, Jan. 13 at 4:30 p.m. ET
Watch: CBS
Listen: KILT 610 AM (Houston) or WBZ 98.5 FM (New England)
Live Stream: NFL Audio Pass
Spread: Patriots -9.5 (via Vegas Insider)
Key Injuries (via USA Today)
Texans: TE Garrett Graham (questionable, head), RB Justin Forsett (questionable, knee) and LB Tim Dobbins (questionable, shoulder)
Patriots: DE Rob Ninkovich (questionable, hip), CB Aqib Talib (questionable, hip) and CB Alfonzo Dennard (questionable, hamstring)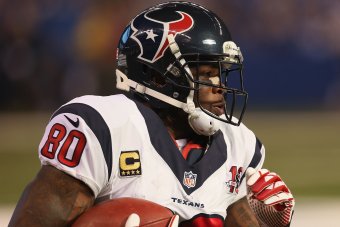 Jonathan Daniel/Getty Images
What's At Stake
Most importantly, a trip to the next round where either the Denver Broncos or Baltimore Ravens will be waiting is on the line. All of the pretenders are now sitting home, and there are eight teams left standing with a chance at capturing the ultimate prize.
Digging deeper, it's a key game for the Texans. They were blown out in the earlier meeting and few people are giving them a realistic chance of going on the road and beating the Patriots. If Houston wants to be viewed as a top-tier franchise, these are the games it must win.
New England, on the other hand, has been in this position a lot over the past decade. They haven't won the Super Bowl since 2005, though. For the Patriots, that qualifies as a drought and the journey to end it begins on Sunday.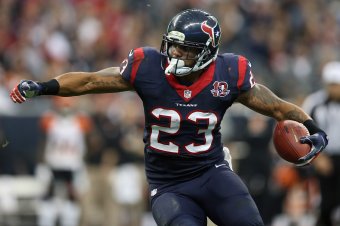 Ronald Martinez/Getty Images
Texans Players to Watch: Arian Foster
Foster gained just 46 yards on 15 carries in the first meeting. The lack of touches was due to the Patriots' big lead, but the Texans need him to be more productive when he does carry the ball, especially early in the game. They don't want to get involved in a shootout.
Since Houston isn't built to keep up with New England, it must slow down the pace of the game. Not only would that help them keep the game close, but it would also take a lot of pressure off the team's defense. The unit faded after a strong start.
It's an effort that begins with Foster. He's one of the best running backs in the league, and is capable of putting the Texans on his back and carrying them to victory if the Patriots aren't careful. Expect him to get a lot of carries early.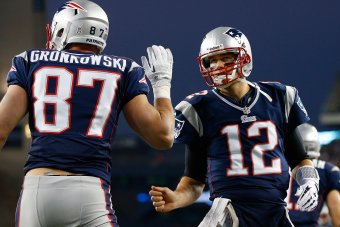 Jim Rogash/Getty Images
Patriots Player to Watch: Rob Gronkowski
The Patriots didn't have Gronkowski the last time around and still posted 42 points. The superstar tight end returned from injury in the season finale, catching a touchdown pass in limited duty. He should be back at full strength after the week off.
Having him available is a major advantage for the Patriots because he's a constant matchup problem. If the Texans put an athletic linebacker on him, he'll utilize his strength. If the Texans use a powerful linebacker, "Gronk" will use his athleticism.
Furthermore, the Patriots have far too many other weapons for Houston to double- or triple-team him without getting burned. That's why the New England offense was so dominant during the regular season, and it's likely to continue.
What They're Saying
Dale Robertson of the Houston Chronicle reports Texans head coach Gary Kubiak understands the importance of forcing turnovers when it comes to winning playoff games, but has been surprised by his team's struggles in that area lately.
"It's amazing," Kubiak said of the turnover downturn. "We emphasize it in practice and do everything we can (to set up turnovers). But it's too late in the year to have guys beat on each other in practice like they do (in training camp). It's hard to explain. Sometimes these things go in cycles."
Patriots defensive stalwart Vince Wilfork knows the challenges the Texans' offense presents, but also believes the unit can be slowed down if New England defenders simply do their jobs, according to Karen Guregian of the Boston Herald.
"Any team that runs the ball the way they run the ball and has the play action and the bootlegs and all the stuff that comes after that, it's a big challenge for us," he said. "But we've faced it, we've seen it a bunch of times, so we kind of know how we want to play this game. If we play it the way that we need to play it, we'll be OK."
Which star will have a better game?
Key Matchup: J.J. Watt vs. Tom Brady
Watt does it all for the Texans defense. He racked up a league-leading 20.5 sacks, finished second of the team with 81 tackles and also batted down 16 passes during the regular season. He remained a bright spot even when the unit was struggling.
His job on Sunday is finding a way to put pressure on Brady, who loves to operate quickly by utilizing short passes. If Watt doesn't have enough time to knock him down, he must bat away the underneath passes thrown in his direction to disrupt New England's offensive rhythm.
If the Texans allow Brady to stand tall in the pocket, he'll tear them apart just like he did in the first meeting. It's going to take a team effort, but Watt must lead the charge. Ultimately, however, the Patriots just have too many weapons for Houston to contain.
Prediction
Patriots 31, Texans 23
This article is
What is the duplicate article?
Why is this article offensive?
Where is this article plagiarized from?
Why is this article poorly edited?