Game-by-Game Predictions for Seattle's 2013 Schedule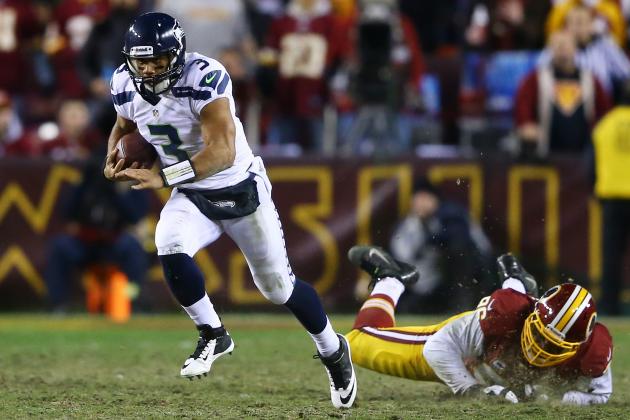 Al Bello/Getty Images

The 2013 offseason has already started for 24 NFL franchises. Their primary focus is on free agency and April's draft, along with their schedule of opponents next season.
The Seattle Seahawks still believe they will play three more games in the current season, a fact that should give fans hope for an even better regular season record next year.
The Seahawks have most of their talent under contract for next season. Their only starters facing free agency are Leroy Hill (LB), Alan Branch (DT) and Steven Hauschka (K), along with a key situational pass rusher, defensive tackle Jason Jones.
They also have money to spend in free agency, but fans shouldn't expect much action on the open market. Pete Carroll and John Schneider prefer to build through the draft and reserve free agent dollars to re-sign their own players.
Then again, with a player like Henry Melton (DT, Chicago Bears) potentially on the market, Seattle may look to upgrade their biggest deficiency on defense. The team could use a strong inside pass rusher.
The young team will have an extra season of maturity and should be even better in 2013. Here is a look at the teams they will face, with a win projection for next season.
Begin Slideshow

»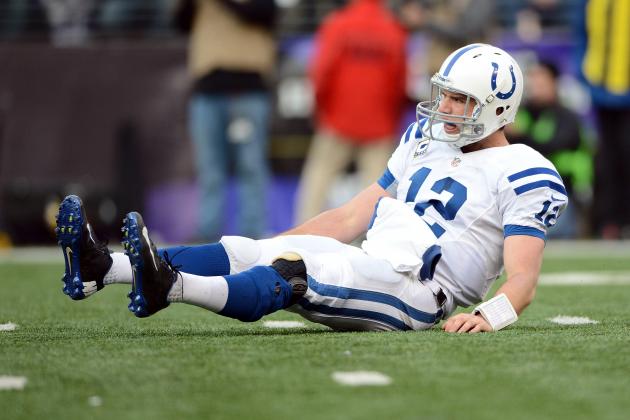 Patrick Smith/Getty Images
Russell Wilson will try to go 2-0 against the quarterbacks from the 2012 draft.
The knock on the Seattle Seahawks is they can't win on the road. It was an issue they had prior to the Pete Carroll regime, and one that continued as he worked on moving to a tougher approach to the game.
Seattle won the last two road games this season and started the playoffs with a big victory at FedEx Field. They hope to offer more evidence of their ability to take their show on the road as they head to Atlanta this weekend.
Atlanta Falcons: Win
The Falcons will likely lose a key member of their offense this offseason. Tony Gonzalez has hinted at retirement, but he continues to be productive.
A loss to the Seahawks might leave him wanting a taste of revenge next season.
It will be interesting to see how Seattle handles the wide receiver talents of the Falcons. This game, and the matchup next season, figures to favor the better defense.
This is perhaps the game I'm most uncertain about. Prior to the 2012 season I was giving the benefit of the doubt to Seattle's opponent. That isn't the case for 2013.
Carolina Panthers: Win
Seattle paid a visit to Bank of America Stadium during the 2012 season, notching its first road win of the year. With an amped-up offense, compared to the unit that hit the field against the Panthers last October, the Seahawks will repeat the performance.
Carolina played better later in 2012 than earlier, but the Seahawks had a response on defense for Cam Newton. That will continue in 2013.
Houston Texans: Loss
There is still a chance these two teams could meet during the 2012 season. Both teams would certainly welcome the Super Bowl matchup.
The edge in this matchup might fall to the Seahawks at home, but Seattle still has to convince doubters that it can become a legitimate threat on the road.
Indianapolis Colts: Win
The battle of the 2012 rookie quarterbacks started with the Seahawks beating the Washington Redskins. Russell Wilson will attempt to lead his team to victory over Andrew Luck, the top pick from 2012.
The Colts need to cut down on turnovers and improve their defense next season. As it currently stands this game will tilt to Seattle based on their defense.
New York Giants: Win
Seattle's statement win of the 2011 season was a victory over the football Giants in New York. They combined timely defensive plays with an aggressive offense to secure the win.
The Giants had a down year this season and have some issues entering free agency. They will likely look to round out the offense and shore up their defensive line to work on getting their division crown back in 2013.
Seattle will have something to say about that, though, as their defense will want to shut down Eli Manning.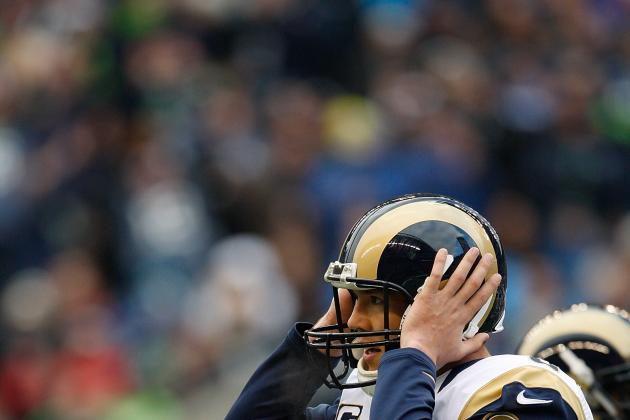 Kevin Casey/Getty Images
Bradford had issues with the Seahawks' defense and the 12th Man in Seattle.
Seattle failed to beat a division foe on the road this season. That shortcoming is part of why they were playing on wild card weekend instead of winning the NFC West and enjoying a first round bye.
I'll focus on the opponents' offenses here, with more on their defenses and other aspects of the division in a later slide.
Arizona Cardinals: Win
Shy of some major changes the Cardinals don't figure to have much of an offense next season. They could use an upgrade at quarterback, their running back situation is up in the air and they have major needs along the offensive line.
They have a great set of receivers, but they need to give their quarterback time to get them the ball.
Arizona edged Seattle at University of Phoenix stadium this season, but they were playing a shell of Seattle's offense. That won't be the case in 2013.
San Francisco 49ers: Loss
Pete Carroll has yet to secure a win in San Francisco as head coach of the Seattle Seahawks. That could change next season as he's played close games against the 49ers, but at this point, I expect the streak to continue.
Jim Harbaugh has some work to do on offense. He has one of the best running backs in the game, with a bevy of backup talent, but he still needs options at the receiver positions.
Colin Kaepernick should receive the No. 1 looks over the summer, allowing the offense time to mature with their young quarterback and hopefully a dynamic new receiver and A.J. Jenkins.
St. Louis Rams: Loss
This will be an important season for Sam Bradford. While Rams fans are overwhelmingly supportive of their quarterback after three seasons, he's yet to post a productive year. He's had particular issues against Seattle, completing just 50 percent of his passes with more interceptions than touchdowns.
He could still use help at the receiver position and Danny Amendola is scheduled to be a free agent. The front office also needs to target a tight end early in the upcoming draft.
This is certainly a game Seattle can win, but they haven't fared so well in the Edward Jones Dome since the Rams broke their 10-game losing streak against the Seahawks in 2010.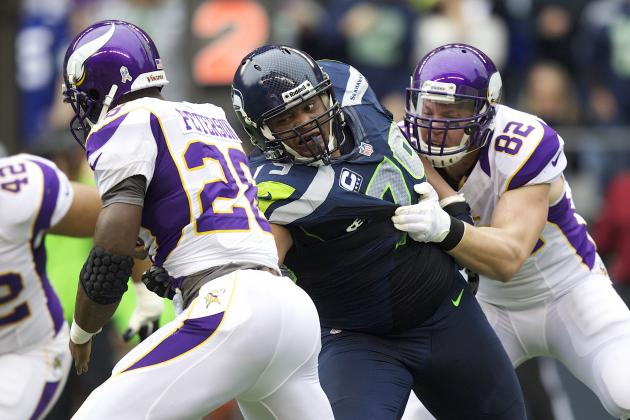 Stephen Brashear/Getty Images

Seattle was 8-0 at home this season, including wins over three teams that they will be playing this weekend. It appears most of their difficult non-division games will come on the road, but there should be at least a few nail-biters at CenturyLink Field next season.
But the following slate of games are all contests the Seahawks should win.
New Orleans Saints: Win
The Saints were difficult to peg this season. They had a hot spell in the middle of the season winning five out of six games, but were just 2-8 on the bookends.
They'll return to the scene of their upset loss in the 2010 playoffs and will meet a similar fate in 2013.
Tampa Bay Buccaneers: Win
The Bucs were just as sporadic as the Saints last season. But 2013 will be a make-or-break year for Josh Freeman, as Rick Stroud of the Tampa Bay Times reports the team won't discuss extending his contract until his rookie deal expires after next season.
He has the talent at the skill positions to mount a potent offensive attack so the hammer will fall if the unit doesn't produce.
He'll need to find success outside of his visit to Seattle, as the Seahawks' stadium has become a place where offenses go to die.
Jacksonville Jaguars: Win
This team could look significantly different next season. Second-year quarterback Blaine Gabbert has shown he is who I thought he was, at least thus far. There is still hope that he can develop into a suitable starter in the NFL, but teams expect more from a first-round quarterback.
The Jaguars may opt to move on from Gabbert if they can secure a new option in the upcoming draft.
Regardless, they don't have the offensive firepower or defensive girth to steal a win in Seattle.
Tennessee Titans: Win
Speaking of teams with middling performance from a quarterback drafted in 2011, Jake Locker will have another opportunity to return to Seattle where he played for the University of Washington. He may or may not visit with former Seahawk Matt Hasselbeck, who is due to make $5.5 million as an expected backup quarterback next season.
The Titans suffered a 27-17 preseason defeat at CenturyLink Field, as Hasselbeck and Locker had an opportunity to return to Seattle. This time the game will matter, but the results won't be much different.
Minnesota Vikings: Win
The mutant known as Adrian Peterson will have another crack at putting up 200 yards on one of the best defenses in the NFL. Perhaps mutant isn't the best way to describe the 2012 rushing champion; he might actually be a visitor from one of Krypton's neighboring planets.
Regardless, the MVP candidate from 2012 can run on almost any defense. It won't be enough, though, as Seattle will still shut down Christian Ponder and the Viking passing game.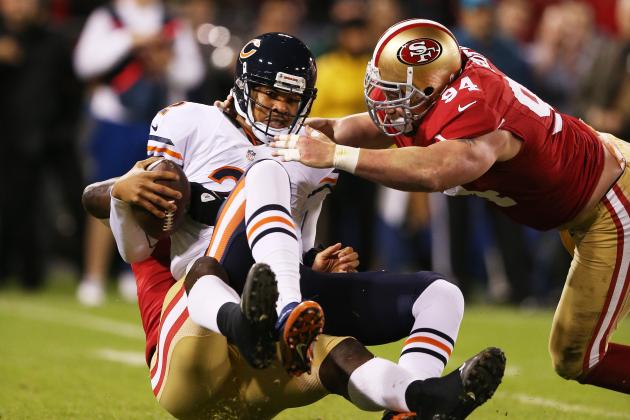 Ezra Shaw/Getty Images
The 49ers defensive line is stout but aging. They have a slew of draft picks in April and will need to find some youth for this unit.
Seattle swept their division foes as part of their 8-0 record at home. The NFC West has come a long way the past few seasons and could see at least three teams with winning records in 2013.
It won't be a cake-walk next season but Seattle should be able to take care of their division opponents at home.
Arizona Cardinals: Win
Arizona could have a significantly different look next season. There will be changes at the coaching positions and there is uncertainly at quarterback.
What is known is that the Cardinals normally have a very stout defense. They surrendered more than 31 points just once in 2012, but that was the 58 they surrendered to the Seahawks. In their other 15 games they surrendered an average of just 20 points per game.
San Francisco 49ers: Win
There is no doubt the 49ers have one of the best defenses in the league, but they are beginning to age in one key area. Two of their three defensive linemen will be above the age of 32 to start the 2013 season.
Most of San Francisco's success on defense come from their front seven. Justin Smith is dealing with an injury and will turn 34 early next season.
Seattle is younger and faster with a better secondary, and that will again be the difference in this matchup.
St. Louis Rams: Win
The Seahawks extended their playoffs with a win over the Washington Redskins, but in doing so gave the Rams a little better draft position. The 2013 draft class appears deep enough to allow the Rams to continue to improve their talent and become a factor in the NFC West.
They've not won in Seattle since the 2004 playoffs and that isn't likely to change next season.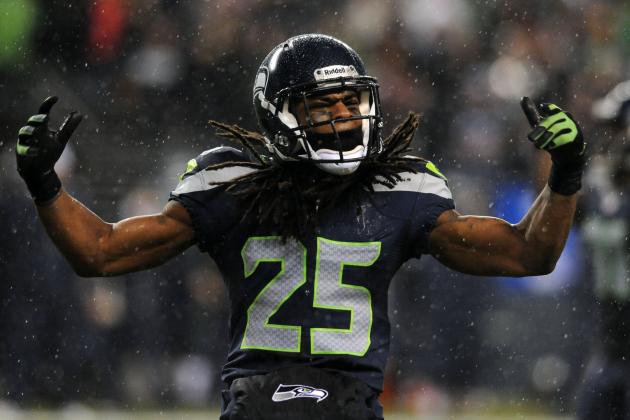 Steve Dykes/Getty Images
Pete Carroll and Gus Bradley have turned a fifth-round draft pick into one of the best cornerbacks in the NFL.
I projected a 10-6 record for the Seattle Seahawks in 2012. They ended up securing a win in Buffalo, a game I had them losing prior to the start of the year, to help them secure an 11-5 mark.
Scheduling, offseason moves and Week 17 needs will most certainly change expectations. This team should be expected to win 12 games next season, with the potential to hit 14 or 15 wins.
This team is still young and improving. The roster has been almost completely churned with some great talent in the three season Pete Carroll has been with the Seahawks.
If they can continue to find talent in the draft and re-sign their own players, there could be an emerging dynasty in Seattle.