The Biggest Disappointments of College Football's 2012 Bowl Season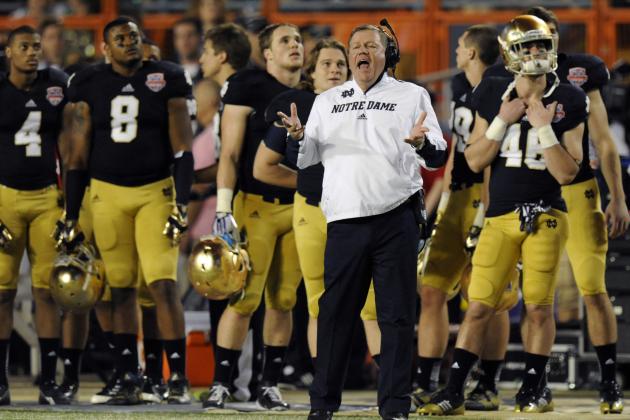 Eileen Blass-USA TODAY Sports
Brian Kelly's Notre Dame Fighting Irish proved they weren't ready for the spotlight just yet.
Most of the big bowl games of the 2012 college football postseason turned out to be massively disappointing affairs.
The only truly memorable games from this postseason were South Carolina's 33-28 victory over Michigan in the Outback Bowl and Clemson's 25-24 victory over LSU in the Chick-fil-A Bowl.
The rest of the big bowl showdowns pretty much stunk. Teams like Notre Dame, Northern Illinois, Kansas State, Florida and Oklahoma didn't look worthy of playing on such big stages.
The only good BCS bowl game was the Rose Bowl, but even that wasn't exactly an edge-of-your-seat type of thriller.
Here's a look at the biggest disappointments of bowl season.
Begin Slideshow

»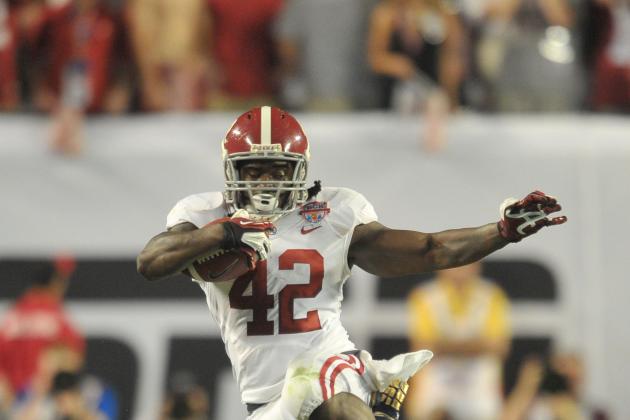 Matt Cashore-USA TODAY Sports

Notre Dame came into the BCS championship game with a No. 1 ranking, an undefeated record and a dominant defense. However, the Irish proved that they simply weren't ready to play with the real big boys of college football, as they got overpowered by Alabama 42-14.
Brian Kelly may have Notre Dame moving its way back up the ladder. But after that showing, it's quite clear that the Irish simply aren't one of the sport's top-tier teams just yet.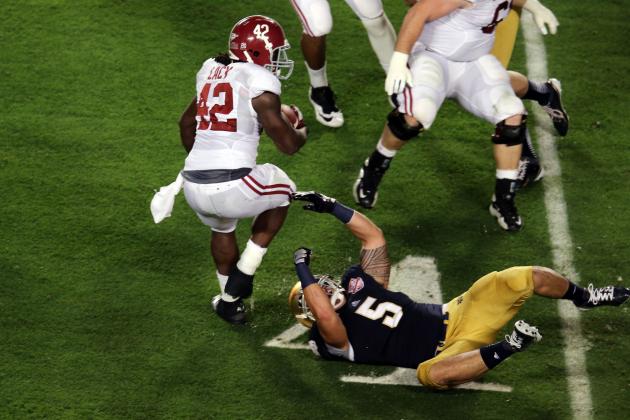 Robert Mayer-USA TODAY Sports
Manti Te'o
Manti Te'o won a ton of awards this season. But the only award that he looked worthy of in the BCS championship game against Alabama was the Most Overhyped Player in the Country award.
Te'o was a complete non-factor against the Tide.
At times, he simply looked lost, as he got beat on play-action, filled the wrong gaps and missed key tackles near the line of scrimmage.
After watching Te'o falter in the BCS championship, while Jadeveon Clowney flourished in the Outback Bowl, it's now clear which defensive player should have actually been in New York City for the Heisman ceremony.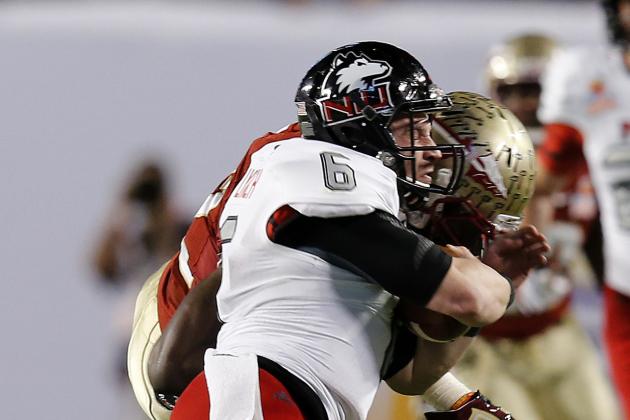 USA TODAY Sports
Jordan Lynch
It seemed like one of the only people who thought that Northern Illinois actually had the chance to beat Florida State in the Orange Bowl was Huskies QB Jordan Lynch.
Lynch may have been talking smack about the Seminoles before the game, but he was the one who actually ended up getting smacked around in the actual game.
The supposed "dual-threat" signal-caller completed just 15 of his 41 pass attempts, got sacked three times, threw an interception and averaged just 1.9 yards on 23 carries in the 31-10 blowout loss.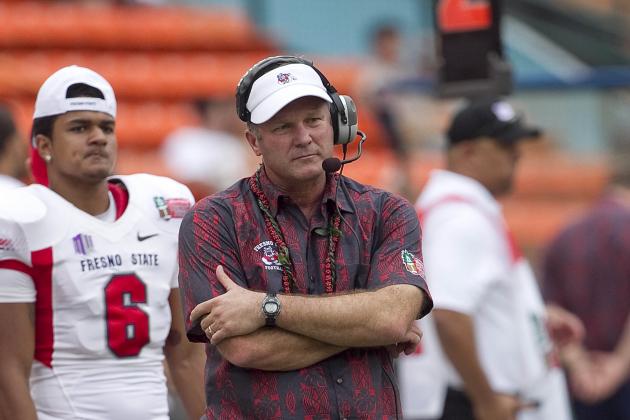 Marco Garcia-USA TODAY Sports

If your Christmas Eve plans didn't include sitting down to watch the Hawaii Bowl battle between Fresno State and SMU, don't worry, because it didn't turn out to be much of a battle at all.
Following an impressive 9-3 regular season, many expected the Bulldogs to come out and really take it to a 6-6 SMU team. However, it turned out to be the other way around.
The Mustangs were the ones who ended up embarrassing Fresno State 43-10 in front of a crowd of just 30,000 fans.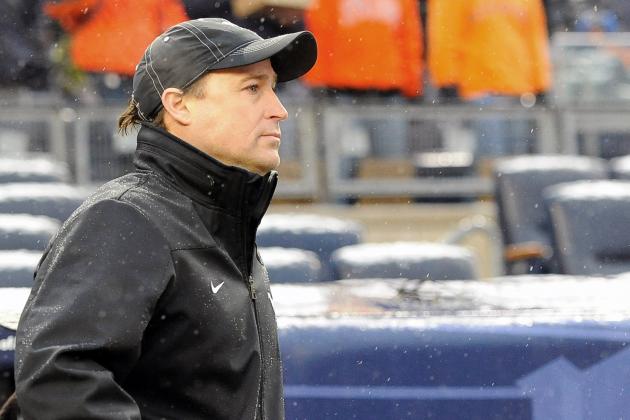 Rich Barnes-USA TODAY Sports

I was at the Pinstripe Bowl between West Virginia and Syracuse, and I have to say, even with the crummy weather conditions, there was still a lot of excitement in the air before the game.
The combination of two old Big East rivals meeting once again in one of the most famous venues in the world, Yankee Stadium, on a snow-covered field was certainly an intriguing premise.
Unfortunately, West Virginia's high-powered offensive attack went ice cold in the conditions, as the Mountaineers got destroyed 38-17.
Fittingly, it was an embarrassing loss to cap off an embarrassing first season in the Big 12 for Dana Holgorsen's squad.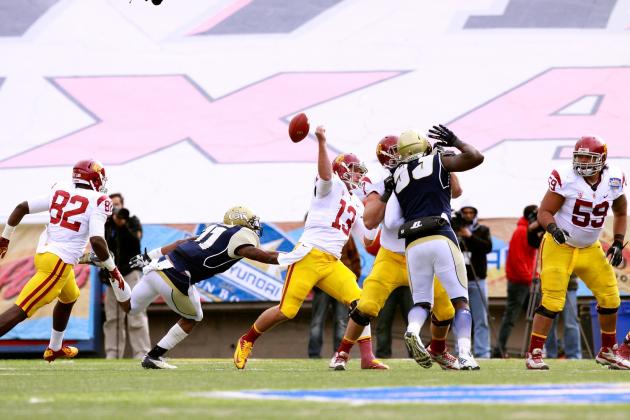 Ivan Pierre Aguirre-USA TODAY Sports
Max Wittek
USC obviously had higher aspirations than playing a 6-7 Georgia Tech team in the Sun Bowl, and it showed when the team took the field.
The Trojans certainly played like they didn't want to be in El Paso, as they put together one of the least inspired performances of the bowl season in the 21-7 loss.
Backup QB Max Wittek showed absolutely no signs of progress, and the defense turned in a rather lazy and lackadaisical effort.
It was a disappointing end for the most disappointing team of 2012.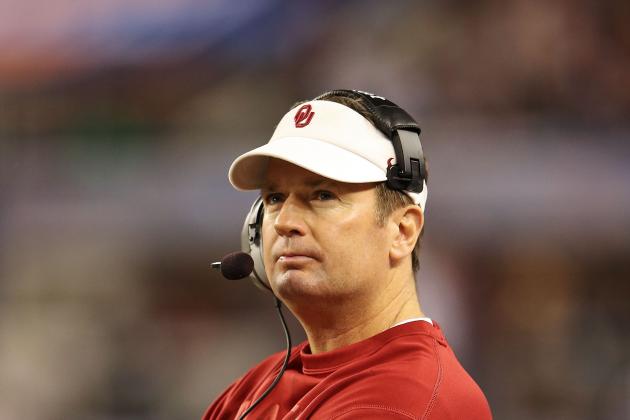 USA TODAY Sports
Bob Stoops
The Cotton Bowl matchup between Texas A&M and Oklahoma was billed as the best non-BCS bowl game of the postseason.
Both teams were 10-2 and both were loaded with star power. However, it was just the Aggies' stars, most notably Heisman-winning QB Johnny Manziel, who were the ones that shined in Arlington.
The Sooners just didn't look ready at all to stop A&M's high-powered offensive attack, and the lopsided 41-13 score reflected that.
Oklahoma head coach Bob Stoops is now just 7-6 in bowl games.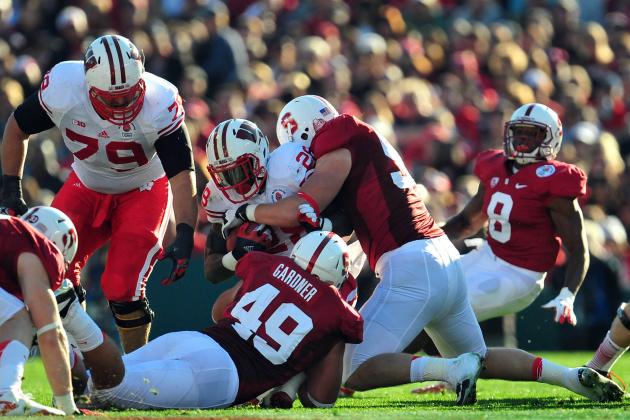 Gary A. Vasquez-USA TODAY Sports

This certainly wasn't a banner year for the Big Ten, which is why it came as no surprise that the league had such an unsuccessful postseason run.
Big Ten teams went just 2-5 in bowl games. The two teams that played in the conference championship, Nebraska and Wisconsin, were two of those losers.
Luckily, the conference will have a powerful Ohio State team, which went undefeated in 2012 but still had to sit out the postseason due to NCAA sanctions, to get excited about for next season.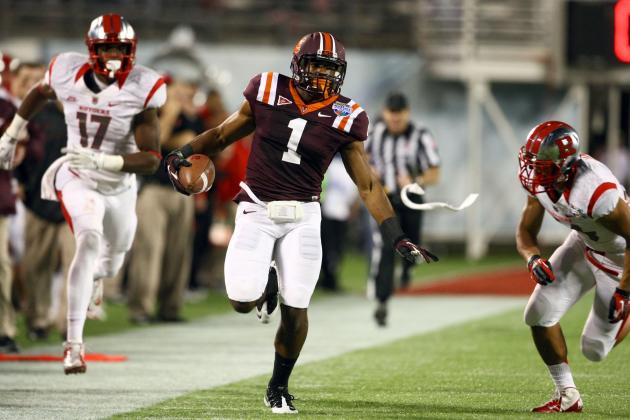 Douglas Jones-USA TODAY Sports
Gary Nova
Rutgers QB Gary Nova and Virginia Tech QB Logan Thomas looked like they were trying their hardest to make the Russell Athletic Bowl as least exciting as possible with their terrible performances down in Orlando.
The Scarlet Nights and the Hokies each compiled exactly 196 yards of total offense for the game in what turned out to be a 13-10 rain-soaked snoozefest.
Nova and Thomas combined to complete a whopping 40 percent of their passes, and they threw a total of three interceptions. There were times when Thomas looked like he could barely keep his passes from going into the stands, let alone hit one of his receivers.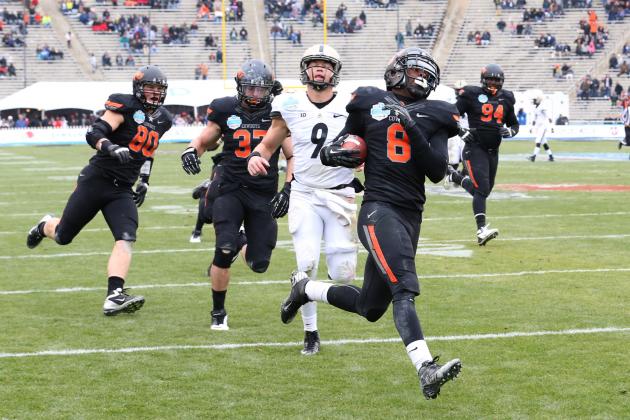 USA TODAY Sports

Purdue was the biggest underdog of the postseason, listed as an 18-point underdog against Oklahoma State in the Heart Of Dallas Bowl.
The Boilermakers certainly played like a team that didn't deserve to be on the field with the Cowboys, as they got thoroughly demolished 58-14 in Dallas.
It's no wonder that new Purdue head coach Darrell Hazell stuck around at Kent State to coach the Golden Flashes in their bowl game. After seeing the Boilermakers' pitiful postseason performance, I wouldn't have been in a rush to take over that team either.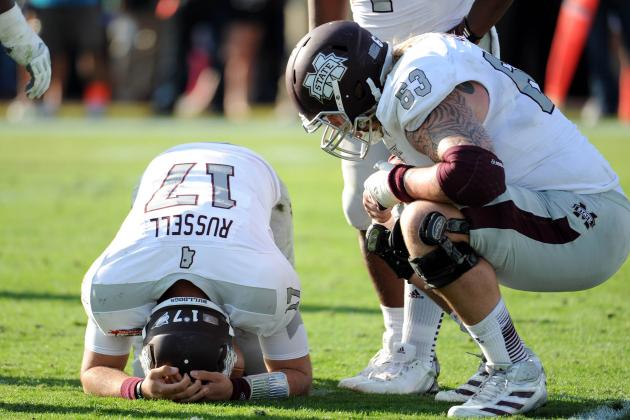 USA TODAY Sports
Tyler Russell
There was a point in the 2012 season when Mississippi State was 7-0 and ranked in the top 15. However, those days seem like ages ago after witnessing how the Bulldogs fell apart down the stretch.
After finishing the regular season on a 1-4 skid, the team had a chance for redemption in the Gator Bowl against Northwestern.
QB Tyler Russell killed any hopes of a win with his atrocious performance, however, as he completed just 12 passes and threw four interceptions in the 34-20 loss.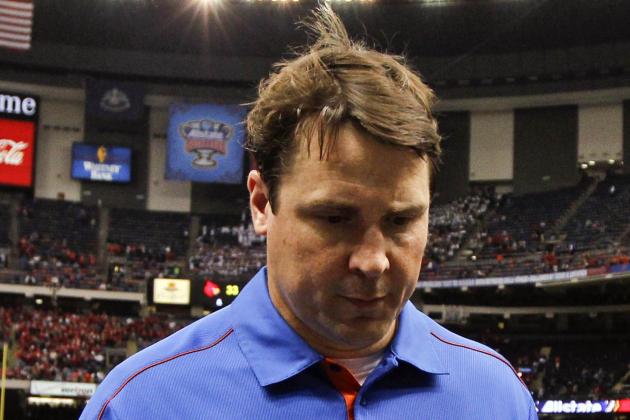 USA Today Sports
Will Muschamp
It was hard to make the argument that Florida deserved to be in a BCS bowl game, instead of Georgia, a team that beat the Gators on a neutral field, actually won the SEC East division and nearly beat Alabama.
Still, Will Muschamp's team went into its Sugar Bowl matchup with Louisville as a heavy favorite.
It didn't take long, however, for the Cardinals to show that they were indeed the superior team, as they built up a 24-10 halftime lead and coasted to a 33-23 victory.
After losing key players such as RB Mike Gillislee, DT Sharrif Floyd, linebackers Jon Bostic and Jelani Jenkins and safety Matt Elam, Florida is now going to have plenty of holes to fill before the start of next season. Going into the offseason on such a negative note certainly won't help things.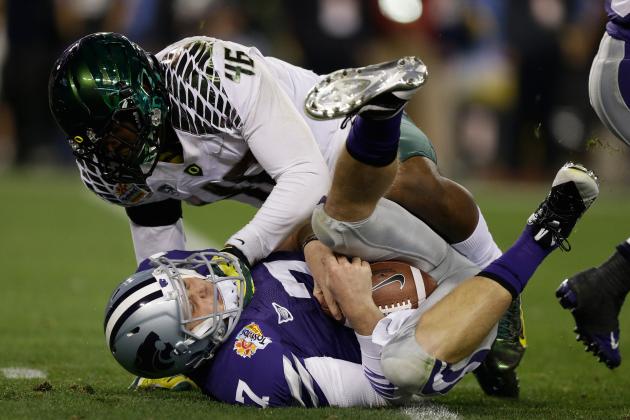 Ezra Shaw/Getty Images
Collin Klein
Collin Klein had a magical season in 2012. He led Kansas State to an 11-2 record, a Big 12 championship and a berth in the Fiesta Bowl, and he finished in third place in the Heisman voting.
Klein certainly didn't look like a Heisman contender in the Fiesta Bowl against Oregon, however, as he ended his college career with one of his worst performances ever.
The senior signal-caller completed just 17 passes for 151 yards, threw two interceptions and averaged just 2.3 yards on 13 carries in the 35-17 loss to the Ducks.
Obviously, it wasn't a performance that will endear Klein to scrutinizing NFL scouts.