San Francisco Giants: Have They Done Enough to Win the NL West?
Use your ← → (arrow) keys to browse more stories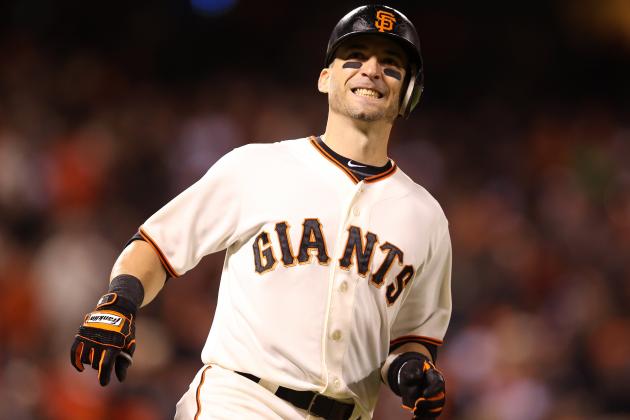 Christian Petersen/Getty Images
Marco Scutaro returns to the SF Giants in 2013.
The San Francisco Giants of 2013 will look quite similar to the 2012 version that won the World Series when they begin their title defense in a couple short months. Will that be enough to win what is expected to be a much more hotly contested NL West than just one year ago or will they regret resting on their laurels?
After the Giants won their first San Francisco Era World Series title in 2010, GM Brian Sabean embarked on a quest to retain the core team in 2011, citing the unique clubhouse atmosphere as a significant contributor to the unprecedented success of the team. Sabean was not able to retain everyone, but most notably re-signed Aubrey Huff for two years.
I think one would be hard pressed to find anyone who doesn't think that the contract given to Huff after the 2010 season was anything short of disastrous. While Huff was never again the player or the motivator that he was during their championship season of 2010, he certainly was not the reason that they missed the post season all together in 2011.
The Giants completed their second championship season in three this past October, and much like after the success of 2010, Sabean has spent the offseason trying to maintain as much of the 2012 version of the team as possible.
Sabean has succeeded, while also adding Andres Torres, a key member of the 2010 team. Sabean also re-signed center fielder Angel Pagan, second baseman Marco Scutaro and bullpen stalwart Jeremy Affeldt.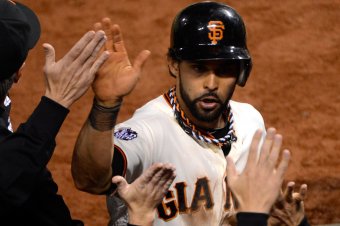 Thearon W. Henderson/Getty Images
All three of these players contributed to the championship run in significant fashion and Giants fans were clamoring for them all to be brought back. Brian Sabean and his team of talent evaluators had tough decisions to make regarding these players for different reasons. In the end, they decided that bringing them back made the most competitive sense and signed them all to fair contracts.
The biggest hole that was left for the team to fill was in left field where Gregor Blanco finished out the season after Melky Cabrera was suspended for the use of a performance enhancing drug. Blanco played well and while he will never match the production of Cabrera from the first half of 2012, Cabrera likely never will either.
This team has adopted a philosophy of not over paying on the free agent market after being burned several times and it seems to be working. The Giants decided early on that they were fine with Blanco starting the season in left field while they looked for a right handed hitting platoon compliment to him in the second or third tier of free agents. They believe they have found that compliment in old fan favorite, Andres Torres.
Have the SF Giants done enough to repeat as NL West Champions in 2013?
The Torres signing certainly was not exciting, yet it does make very good baseball sense. Torres saw limited playing time with the New York Mets in 2012, although he was successful at the plate as a right handed batter. In 147 at-bats Torres hit .286/.382/.763 against left handed pitchers. He also fits the mold of a speedy player who is solid defensively while being perhaps the friendliest player in the history of the game, which makes him an easy fit with the clubhouse chemistry.
In this age of huge free agent contracts and constantly fluctuating rosters, maintaining the status quo year to year is generally considered to be a recipe for failure. In fact, the only regular player common to the 2010 Champion Giants and the 2012 Champion Giants was newly minted perennial MVP candidate Buster Posey. The Giants have taken the approach of "if it ain't broke, don't fix it". This can be a risky tactic, but I think that in this case, it is the best one.
The Giants have proven that they have a winning recipe in the post Bonds era. They have placed a premium on home grown pitching and have spent their money on these known commodities. They value defense and gap hitting potential and speed coupled with strong starting pitching and dominant bullpens. This combination was successful and will continue to be successful as long as the players continue to produce.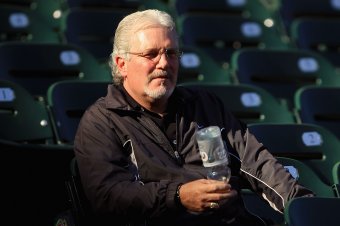 Ezra Shaw/Getty Images
Brian Sabean and his team have also taken the approach in recent years of not over spending in the offseason to fill what could be a glaring hole, like left field is potentially. They have been content to be patient and let the first half of the season play out, evaluating their roster against potential trade candidates. They have been fairly successful in this area as well.
The Giants will face a significant challenge from the "Yankees of the West" as the Los Angeles Dodgers attempt to gain relevance through spending money every opportunity they find. The Dodgers should be a much stronger team in 2013 than they were in 2012. If the talent they have assembled can learn to play together and some of the players can reach back into their past and find the production that made them stars, we may see a new exciting chapter to the storied rivalry these teams have built over the years.
The Dodgers may eventually win a World Series based on their new found riches, but they will learn, in the end that one cannot buy longevity in relevance. The Giants model will outlast the Dodgers' long term and specifically in 2013.
The Giants haven't made much of a splash this offseason, but then again they didn't have to.