How Pau Gasol Can Regain His Confidence for the Los Angeles Lakers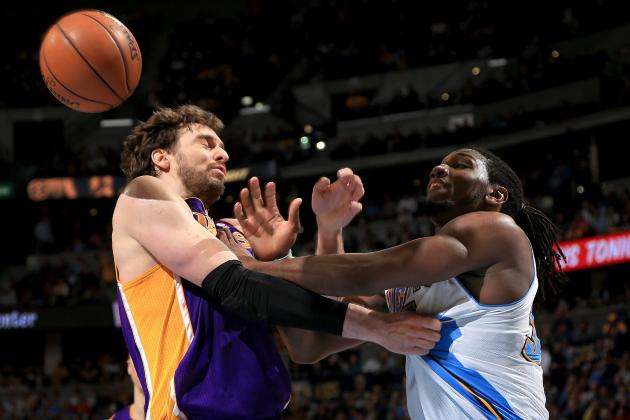 Doug Pensinger/Getty Images

It's a sad time in Lakerland and an even more miserable time for Pau Gasol. Never mind the struggles of the Los Angeles Lakers—what's more concerning is the consistent struggles of Gasol.
Coming into the season, the big Spaniard was the undisputed third-best player on a newly assembled "superteam," but now he's even playing worse than Metta World Peace.
What does Gasol need to do to get back on track? His most recent injury after taking an elbow to the face certainly doesn't present a good start.
Begin Slideshow

»
Victor Decolongon/Getty Images

As soft as Gasol is on the court, it looks like he's just as soft off the court. He needs to demand the ball and make the Lakers run the offense through him in the post, even if he has to force a confrontation with coach Mike D'Antoni.
Gasol and his brother are two of the best passing big men in the league, so if he gets double-teamed or trapped, he can make the correct pass out of it.
Or at least he wouldn't get stripped every time he does a post move like Dwight Howard.
According to Vorped's shot chart, Gasol has made 52 percent of his shots in the restricted area but has only taken 40 percent of his total shots from there. In every other area of the court except the right elbow, he's shooting well below the league average.
It's no surprise why.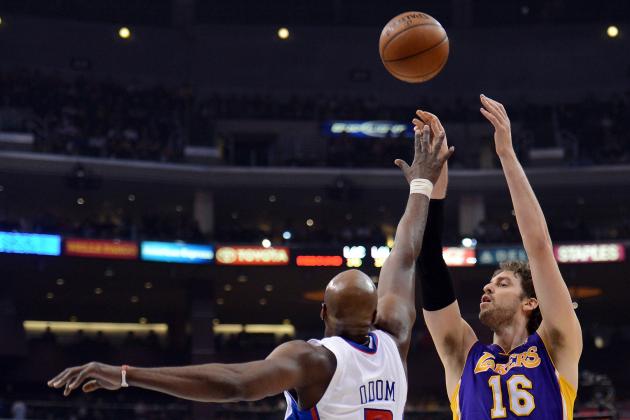 Harry How/Getty Images

If Pau Gasol is unable to receive enough touches in the post, he may have to resort to this option to regain his confidence.
He's currently shooting a horrendous 39 percent from mid-range, which is well below the league average, but shooting comes with a lot of practice. Obviously Pau wasn't trained to be like Dirk Nowitzki back in the Euroleague, so it'll be a much more difficult adjustment for him.
Although I believe that the coach should play a certain pace and system according to the roster he has, some players still have to adjust because the system may not match their strengths.
This is exactly the case with Gasol.
Prior to this season, Gasol hardly ever left the paint, and his mid-range game consisted of an inconsistent free-throw line jumper. You can say that Gasol should have worked on that aspect of his game more in the 11 seasons he's been in the league.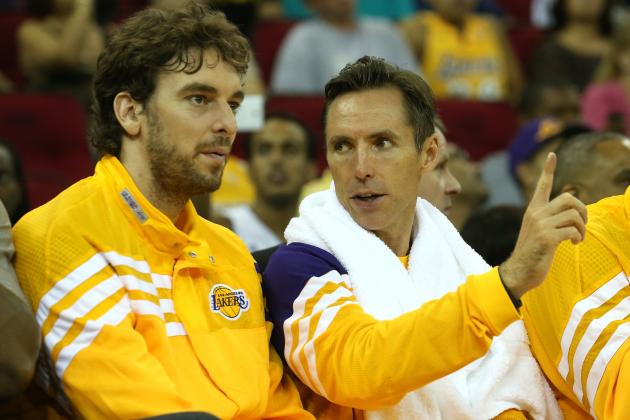 Stephen Dunn/Getty Images

If neither of the previous options is feasible, then Mike D'Antoni should assign Gasol a bench role and start World Peace at the 4. Even World Peace can't be labeled an ideal stretch-4, but he is more of a stretch-4 than Gasol is.
I know coming off the bench may not be ideal for a player to increase his confidence level, but it's possible in Gasol's situation. He can be the main focal point on offense once he checks in, and that can help boost his confidence as he slowly feels more comfortable in the Lakers offense.
It will also grant him more opportunities to prove that he still has something left in the tank—if he actually does have something left, that is.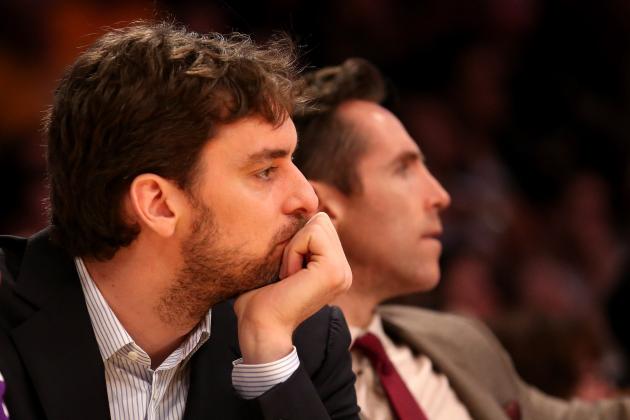 Stephen Dunn/Getty Images

If nothing is able to reignite Gasol's confidence and production, he should send a message to the organization that he wants out.
Gasol said he would not request a trade a few days ago, but things are looking bleak for him and the Lakers.
The reality is, if the Lakers do not improve in the next few weeks before the trade deadline, Gasol will most likely be gone. Mitch Kupchak will not allow a team with four superstar-caliber players and $100 million payroll to sink into the lower depths of mediocrity and out of the playoff race.
If Gasol does get traded, he would most likely be the leader and focal point on offense of his new team.
The Lakers will definitely not benefit as much from losing Gasol, but what can boost a player's confidence more than being the "man" on a brand-new team?
After all, the Lakers need to do what's best for the team, and Gasol needs to do what's best for him.