Projecting the Dallas Cowboys Starting Offensive Line for 2013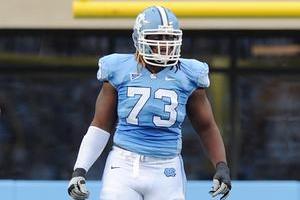 Ronald Martinez/Getty Images

The 2013 NFL draft class does not appear to be among the deeper crops of talent the NFL has ever seen. There will certainly be good football players to be had, but it appears thin, as far as the number of prospects coming out of college who are considered ready to start in the NFL.
The Dallas Cowboys will have to make the best out of this crop just like the rest of the league. Dallas has its own priorities and draft board that will determine which direction the team takes come April.
But more than a month beyond the NFL Scouting Combine in Indianapolis, one can still see what plagues the Cowboys in the worst areas. Aside from the injury bug that really hit the defensive side of the ball hardest, the offensive line was a disappointment, despite a better performance in the second half of the regular season.
The end result of the offensive line should not have surprised anybody. Offseason acquisitions Nate Livings and Mackenzy Bernadeau, both veteran offensive guards who were not wanted in Cincinnati and Carolina, respectively, didn't exactly make an immediate impact upfront. Neither showed much ability to move when needed, and there was no push helping the running game.
Owner and general manager Jerry Jones has to take a different direction concerning the offensive line. For years, he's been adding the occasional high-priced veteran in order to "top-off" what he thinks is a good line. In other words, overpaying for average hasn't worked in any case I can think over the last decade or so.
With the exception of Tyron Smith in the first round two years ago, Jones has all but ignored the offensive trenches when it comes to getting young, strong blue-chip talent. Beyond Smith, only tackle Flozell Adams qualifies as a good draft pick by Jones on the offensive line over the last 15 years. It's no longer appropriate to give credit to past players like Larry Allen, Erik Williams and Mark Stepnoski.
Understanding that quarterback Tony Romo is about to be extended, and rightly so, the top priority for the Cowboys, finally, will be offensive improvement. Romo has to quit having to run for his life, and this means a running game has to emerge for the Cowboys before this team moves a step forward.
As the running game improves, pass protection will also improve just because of the imbalance created by the offense.
The top two seeds in the NFC have outstanding running games that supplement that with big-play passes and strong defense. The Cowboys have a defense that's much closer to being a contending catalyst than the offense.
So, assuming that Anthony Spencer is retained by Dallas to avoid having that hole to fill in the draft, it is all about offense—and remember that the list of pass-rushers this year offers potential but not necessarily any athletic freaks that come in day one and challenge Pro Bowl linebacker DeMarcus Ware for the team lead in sacks.
So, here's a look at the future starting lineup of the Dallas offensive line 2013.
Begin Slideshow

»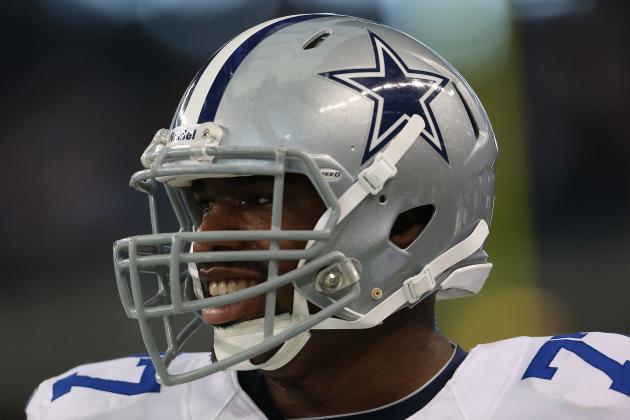 Ronald Martinez/Getty Images

The first offensive lineman off the board in the 2011 draft, right tackle Tyron Smith has proven to be worth the selection. Smith played left tackle for basically the first time in his career last season, and the results were mixed.
Understand that Smith played right tackle at USC while only briefly appearing on the left tackle depth chart early on. But Smith never saw much action there. Left tackle Matt Kalil, chosen fourth overall by Minnesota last April, is why Smith stayed on the right side.
Because Jerry Jones may have jumped the gun in locking up the services of tackle Doug Free, the Cowboys still don't have certainty at the tackle positions some four years into the project. To this point, Free has not shown that he can handle either tackle spot which pretty much has kept Smith going from right to left tackle in his first two seasons as a pro.
This has to stop.
The smart thing to do is to move Smith back to the right side, his natural position, and then draft a left tackle for the long haul. Then again, Free was supposed to be that guy—or was he just a replacement for departed right tackle Marc Columbo following the 2010 disaster?
See this mess?
The Cowboys have to stop asking themselves if a guy can play another position just because he's shown for 10 minutes that he can play another. Right tackle is not left tackle, period. The footwork is completely different, and in most cases, the caliber of pass-rusher you're up against is very different.
Nothing says that Jones will do the smart thing concerning his offensive line, so I'm going to assume that the Cowboys will leave Smith on the left side for his second straight year as the most important pass protector for Tony Romo.
Are you sold?
Well, the Cowboys are—and they could very well be right on this.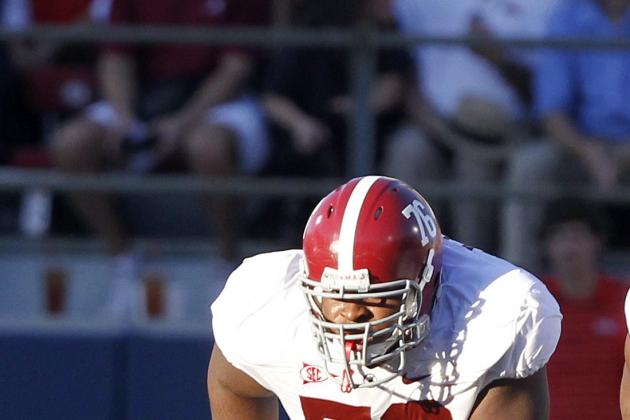 Butch Dill/Getty Images

The signing of free-agent guard Nate Livings from Cincinnati almost a year ago didn't offer immediate results as the Cowboys were a win-one, lose-one outfit during the first half of the season—an offensive line that would feature all new faces at most positions. It wasn't until the second half of the regular season that this line just looked a little better.
Looking a little better translated into some narrow victories that kept Dallas in contention for a playoff spot until the final weekend of play. But never should anyone have been confused that the Dallas offense is nowhere close to playoff caliber, beginning with the guy calling plays.
The only way to disguise the stench that is head coach Jason Garrett's offensive playbook and strategy is to run the ball. Fortunately for the Cowboys, this is the fundamental element of winning football.
It's possible that Livings can have a future in the Dallas offensive front. He's got the size you want in a guard, but his overall ability seems pretty underwhelming. Understanding that Jones will want as much as possible for his five-year, $18.7 million commitment to Livings, it looks like depth is going to be the main value here.
D.J. Fluker of Alabama brings some interesting intangibles into the NFL as an offensive lineman. For a man his size, Fluker brings the ability to play a couple of positions in the pros.
But Fluker's potential to play tackle is only a bonus—and a big question mark.
Fluker is about power on the inside, and he also brings enough athleticism to protect Tony Romo when passing as needed. Livings is not in the same class of player as Fluker will be.
Fluker's Crimson Tide teammate Chance Warmack is also a candidate for the Cowboys' future offensive line. But I believe that the Cowboys will land their preferred guard prospect in the second round as opposed to the first. Warmack is likely gone in the second round, and Dallas will probably take a tackle prospect in the first.
This is what happens when you write a check for a given item or service that fails expectations.
One quick look at what the Crimson Tide offense did to Notre Dame's top-ranked defense in the BCS Championship Game is all that is required to understand that football is not a passing game—it's a running game.
Hopefully, Jerry Jones was watching.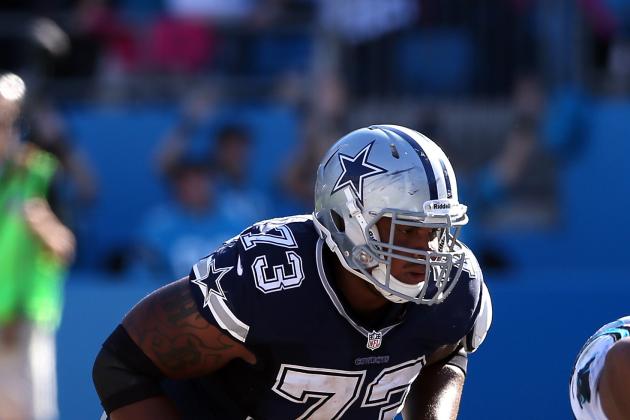 Streeter Lecka/Getty Images

Upon watching free-agent acquisition Mackenzy Bernadeau early during the 2012 regular season, it was clear that he does not move particularly well. One should not expect any different following both hip and knee surgeries after he was signed to a four-year, $11 million contract last March.
Have the Cowboys ever heard of a physical?
In addition to rehabbing from those medical procedures during the offseason, Bernadeau also missed training camp and was rather hurried into action in time for the season opener against the New York Giants.
But as injuries mounted along the offensive line, Bernadeau was forced into action at center, despite not having ever played the position that I can tell. Dallas simply ran out of guys who snap the football, and this may have been a blessing in disguise.
Expected starting center Phil Costa, healthy or not, is not a very good football player. Next season will be his fourth, and there is no reason to expect that this undrafted Maryland product is ever going to anchor an offensive line.
An unrestricted free agent once the league year begins, it would be nothing less than shocking to see Jerry Jones pony up money for a Costa extension.
Bernadeau played well enough at center to help stabilize a unit that was among the worst in the NFL early in the season. He certainly brings more size to the position than any other candidates currently on the roster, and the mere fact he never snapped a ball past Tony Romo is almost enough by itself to just keep him there.
The Cowboys will have to figure out what to do with long snapper L.P. Ladouceur, another unrestricted free agent. But Dallas should not worry about the other player responsible for snapping footballs.
Remember that Bernadeau is bought and paid for, and if you think Jones would be miffed by Nate Livings not keeping a starting job, consider how he'd feel if both of last offseason's primary offensive-line additions were sitting the bench!
Keeping Bernadeau at center keeps a hole from emerging that an experienced player needs to be manning, unless you think Jones will draft a center like Alabama's Barrett Jones in the first round. There is no major upside to that idea.
Keep in mind that Bernadeau is not over-the-hill and will also have a year of experience in the Dallas offense come next season. He should also be healthy this time around.
Ronald Martinez/Getty Images

Since the 2009 regular season, the Cowboys have been committed to the idea of having tackle Doug Free manning either the right or left side.
For a short time, this seemed to work. Then, it got pretty confusing, as Free has been sent back and forth since 2010 as Dallas has tried to figure out how to rebuild an offensive line that was thought to be much better than it was.
Free has struggled for some of the same reasons as his counterpart Tyron Smith. You realize that these two have played together for just two seasons, and yet, they have both played both tackle spots.
This has to stop.
If Jerry Jones is committed to getting this offensive line rebuilt, and as he likes to call, "Romo-friendly," then he needs to start making the protection of his franchise passer a much bigger priority. This idea is way late and definitely urgent.
Free is able to play right tackle, but he just gets beat too often to put the remaining years of Tony Romo's career in his hands.
Free has the height you like in a starting tackle, but he doesn't seem to have the quickness to deal with pass-rushers like Jason Pierre-Paul of the New York Giants. This is why Free only played a year left tackle during the year Smith was drafted.
Following the most recent flop of positions, Free no longer seems as capable handling a number of pass-rushers coming from the right side, and this issue is the primary concern of the Dallas offense.
In addition to allowing too much pressure on Romo, Free has also emerged as a penalty machine, spending most of last season as the most penalized player in the league—he ended up No. 2.
Remembering that Smith had just two fewer penalties than Free, it's safe to say that the tackles aren't getting it done. The offense's overall production last season is further proof of this fact, ending with another injury to Romo in the season finale.
Free is under contract for the next two seasons, and it's possible that he is released, given the vaporized expectation that he represents the future at right tackle. But Jones is not likely to do this, given Dallas' limited cap space and also considering a better alternative.
Why not move Free to guard?
The Cowboys will already have veterans on the roster that can step in if Free is ineffective there as well. But Free could be a real hidden gem at guard.
Free doesn't have superior height for a tackle, but it is very good for the guard position. Free still has the quickness to match up with bigger, slower defensive linemen like Ndamukong Suh with Detroit.
Free should move inside and the first clue of this idea will be news of his possible contract restructuring. But there is no way I can see Free earning $8 million from Jones to play guard as opposed to tackle.
Right tackle is the position the Cowboys will move on in the first round, unless something awfully unexpected literally falls into place. It is hard to imagine Dallas targeting a top left tackle prospect with the 18th pick.
But right tackle is still the most glaring need, and the Cowboys' draft position in the first round is ideal for this position.
Jerry Jones will always be a gambler. I recently pointed out a couple of gambles by Jones that have paid off big time for Dallas over the last few seasons. Patience and great scouting led to the selection of both inside linebackers Sean Lee and Bruce Carter. These two haven't shown their full benefit due to limited time together, but they will.
Those two inside linebackers were plucked in second round of their respective drafts because they feel to the Cowboys.
Why did they fall?
Injuries suffered during college.
Well, Jones could pull a hat-trick with this methodology by paying close attention to North Carolina left tackle Brennan Williams.
Already sliding in some mock drafts, things could definitely change for Williams following the NFL Scouting Combine next month. Further elevating Williams possibly out of Dallas' range is the decision by Jake Matthews, the second-rated tackle prospect in the country, to return to Texas A&M for his senior season and Heisman Trophy winning quarterback Johnny Manziel.
So Williams could actually fall or rise on draft day, and the Cowboys would be wise to pounce as soon as possible.
Williams was largely responsible for the season enjoyed by Giovanni Bernard, starting tailback for the Tar Heels and also the top running back prospect available.
Williams' injury was repaired back in late October, and since it dealt with his shoulder, it should not affect his draft stock a whole lot, if any. Pass protectors are always in demand, and they tend to not stick around very long.
But the Cowboys have to find a good one, and Williams would be the perfect fit to move over to the right side in the Dallas offense.
Or, the Cowboys could once again flip their tackles and allow the two young pros to play positions that they excel at, based on experience.
North Carolina has been good to the Cowboys, offering past players like Greg Ellis and Bruce Carter.
Chapel Hill could be offering another coveted piece for the Cowboys in just a few months.