Projecting the 2013 College Football AP Top 25 Poll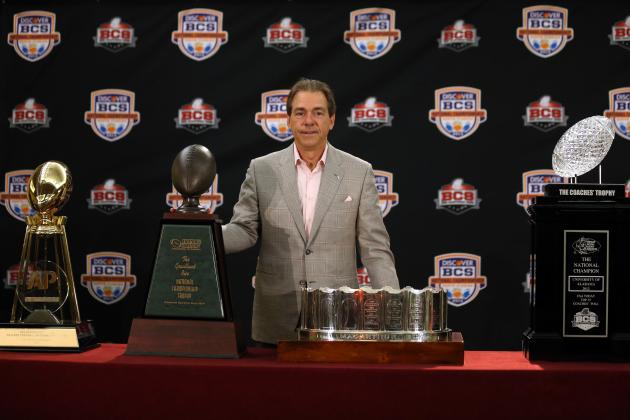 Streeter Lecka/Getty Images

The celebrations surrounding Alabama's national championship may just be starting to wind down, but it's never too early to start looking towards the future, is it?
We're just under eight months away from the start of the 2013 college football season, and most coaches, players and fans outside of Tuscaloosa have already set their sights on the 2014 BCS National Championship Game in Pasadena.
The SEC still sits atop the college football world with the conference's seventh consecutive crystal football, and with one final season in the current BCS format, the conference will make a strong push to make it eight.
The road to Pasadena begins now, and what better way to start than with a ridiculously early 2013 preseason Top 25?
Begin Slideshow

»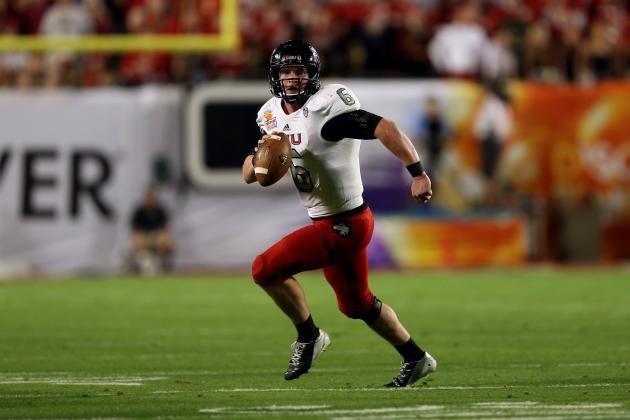 Streeter Lecka/Getty Images

Projected 2013 Preseason AP Ranking: 25
There's little doubt that Northern Illinois had one of the best seasons in MAC history. The Huskies were the first MAC program to earn a BCS berth and the first non-AQ program to bust up the big bowls without a perfect record.
The story of the 2012 NIU team is quarterback Jordan Lynch. He finished the season with the second-most yards of any FBS player behind Heisman winner Johnny Manziel.
And, yes, Lynch will be back next season—along with eight other offensive starters.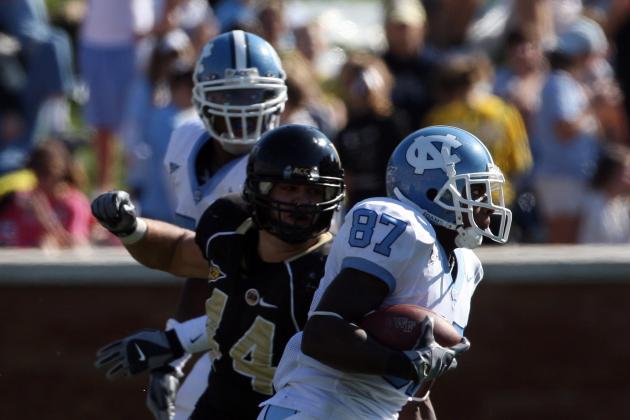 David Cannon/Getty Images

Projected 2013 Preseason AP Ranking: 24
Final 2012 AP Ranking: Not Ranked
Final 2012 B/R Ranking: NR
North Carolina finished 2012 as an unheralded 8-4 co-champion of the ACC's Coastal Division mainly due to NCAA sanctions that included a postseason ban.
The Tar Heels will be eligible to go bowling in 2013—not to mention play in the ACC title game. There is a lot of work to be done, however, as UNC will field a fairly young team in 2013. Only 13 starters return next season, and the rest of the ACC seems to be on an upswing.
We've also yet to see the real impact of scholarship limits on recruiting, but we're betting the eight wins this season should buy the Heels enough street cred to earn some votes in the AP Poll heading into next year.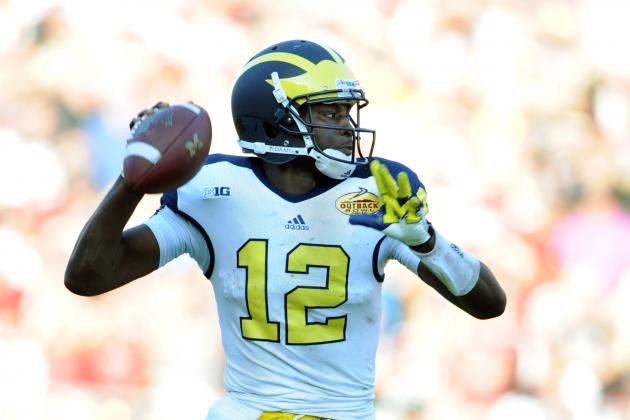 Al Messerschmidt/Getty Images

Projected 2013 Preseason AP Ranking: 23
Final 2012 AP Ranking: 24
Final 2012 B/R Ranking: 22
Brady Hoke and company seem to be on the verge of something special in Ann Arbor, but there are still a few important pieces missing from the puzzle.
There are probably more than a few Wolverines fans who view 2012 as a step back from the 2011 season that ended with a Sugar Bowl victory, but having just 12 returning starters isn't necessarily a bad thing at Michigan right now.
Keep in mind that most of the starters Hoke had on his roster were Rich Rodriguez, Big East-style athletes—the kind of players that don't necessarily hold up under the constant pressure of a long, grueling, and heavy-hitting Big Ten season.
As more and more Hoke recruits filter onto the field, you can expect Michigan to start looking like Michigan again.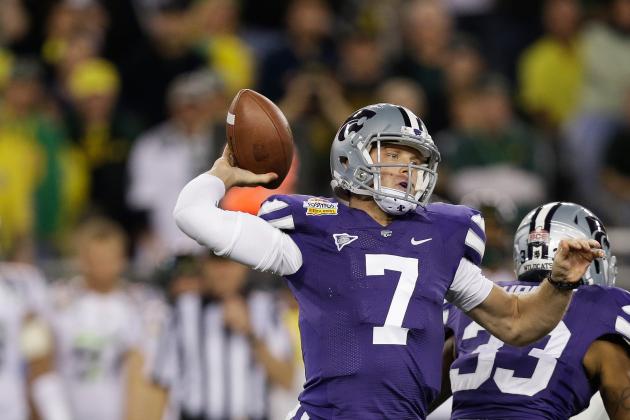 Ezra Shaw/Getty Images

Projected 2013 Preseason AP Ranking: 22
Final 2012 AP Ranking: 12
Final 2012 B/R Ranking: 12
Oregon may have unmasked Kansas State in the Fiesta Bowl, but the major story heading forward is the loss of do-it-all quarterback Collin Klein.
Add in the loss of eight defensive starters—clearly the bane of K-State this season—and it's easy to see why poll voters aren't likely to start the Wildcats off with a fresh vote of confidence.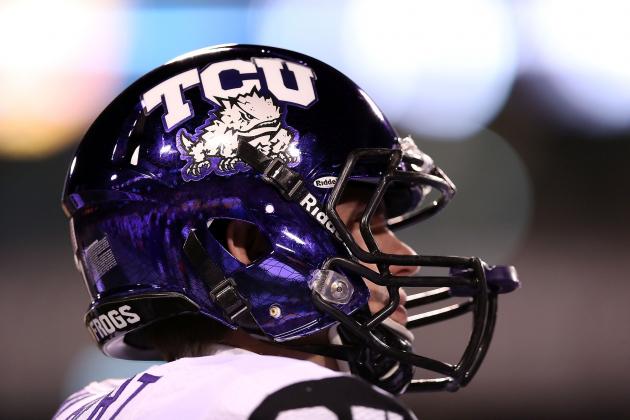 Christian Petersen/Getty Images

Projected 2013 Preseason AP Ranking: 21
Final 2012 AP Ranking: Receiving Votes
Final 2012 B/R Ranking: RV
All in all, TCU's first foray into the world of the automatic qualifiers wasn't too bad. Seven wins is certainly something to build on, and were it not for some late heroics by Michigan State in the Buffalo Wild Wings Bowl, we might be talking about a ranking higher than sub-20.
The conference has always had difficultly fielding quality defenses, but TCU was a rare treat for fans of defense in the Big 12. The Horned Frogs led the conference in total defense and finished the season ranked 16th in the FBS.
With 10 defensive starters returning for 2013, don't count on the Frogs to stay a middle-of-the-road Big 12 program next season.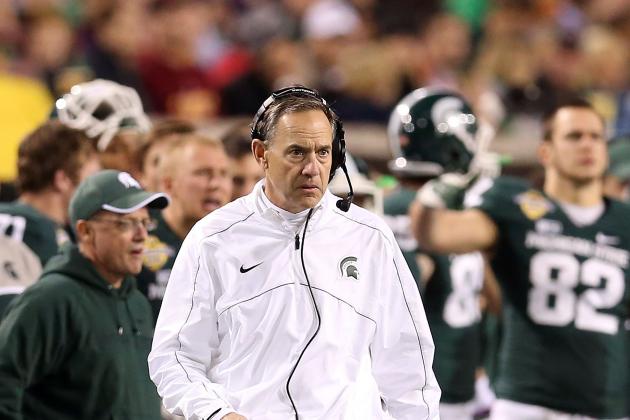 Christian Petersen/Getty Images

Projected 2013 Preseason AP Ranking: 20
Final 2012 AP Ranking: NR
Final 2012 B/R Ranking: NR
People who didn't pay close attention to Michigan State this season might find it difficult to understand how the Spartans can be projected as the No. 20 team in the preseason poll for 2013. But with the exception of the loss to Notre Dame in 2012, MSU didn't lose a single game by more than four points including a one-point loss to 12-0 Ohio State.
That tells us that Sparty isn't far behind his conference mates, and experience can go a long way when it comes to winning those close contests.
Even with graduation and a few early defections to the NFL, head coach Mark Dantonio will still welcome back 15 starters next season. Will that be good enough for a conference title? Probably not. But it should be good enough to earn at least a couple of extra wins in 2013.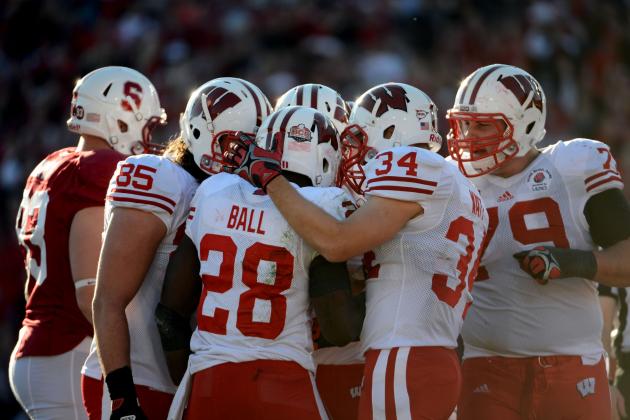 Harry How/Getty Images

Projected 2013 Preseason AP Ranking: 19
Final 2012 AP Ranking: RV
Final 2012 B/R Ranking: RV
Wisconsin was one of the most confusing teams in 2012. The Badgers could be laughed off the field one week and score 70 points on nearly 600 rushing yards the next.
Wisconsin became the first five-loss team to ever play in the Rose Bowl after finding every back door possible to get into the Big Ten Championship Game. The Badgers were also the first unranked team to play in Pasadena on New Year's Day since Brown made the trip in 1916.
Even though the Badgers have lost head coach Bret Bielema to Arkansas and super back Montee Ball to the NFL, we still expect the defending Big Ten champs to get some preseason recognition from the pollsters. How long that recognition will last, however, is anyone's guess.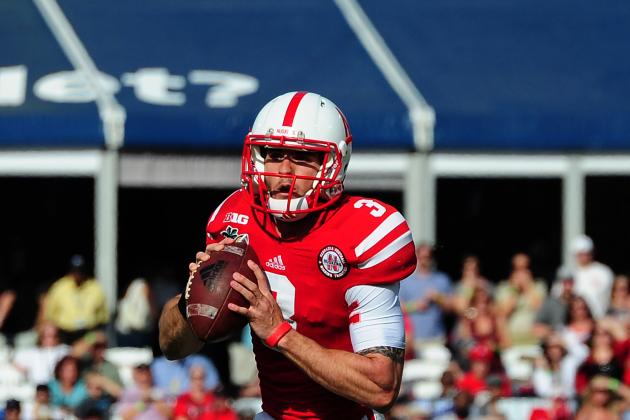 Scott Cunningham/Getty Images

Projected 2013 Preseason AP Ranking: 18
Final 2012 AP Ranking: 25
Final 2012 B/R Ranking: 19
Nebraska's 2012 season can be summed up with one word: almost.
The Cornhuskers won their first Legends Division title this season and almost did what everyone expected: win the Big Ten Championship Game. Wisconsin pummeled the Huskers in Indianapolis, and Nebraska had to settle for a trip to the Capital One Bowl to face Georgia.
In Orlando, Nebraska held tough for three quarters and almost pulled out another win for the Big Ten. But the Bulldogs' 14-point fourth quarter ended any hope of that.
Bo Pelini and his Cornhuskers will need to do some offseason soul-searching if they hope to turn "almost" into "done" in 2013. Taylor Martinez is back for one last shot at a conference crown next season, and he and his six fellow returning offensive starters should be enough to warrant a preseason ranking.
Now if only they can do something with it.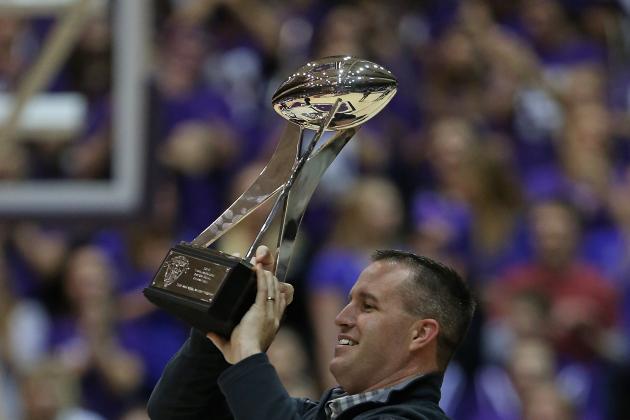 Jonathan Daniel/Getty Images

Projected 2013 Preseason AP Ranking: 17
Final 2012 AP Ranking: 17
Final 2012 B/R Ranking: 18
It's hard not to like the Northwestern Wildcats these days. Any time a perennial doormat wearing purple wins a bowl game for the first time since the 1948 season and does so over the SEC, it has to bring a smile to your face. Unless, of course, you're a Mississippi State fan.
It sounds funny, but Northwestern was the class of the Big Ten this season. Not only did the Wildcats win 10 games, but they were the only Big Ten team to knock off an SEC foe in the postseason.
Pat Fitzgerald has something working in Evanston, and with 15 returning starters, don't be surprised if there are some rumblings about Northwestern being a Legends Division dark horse in 2013.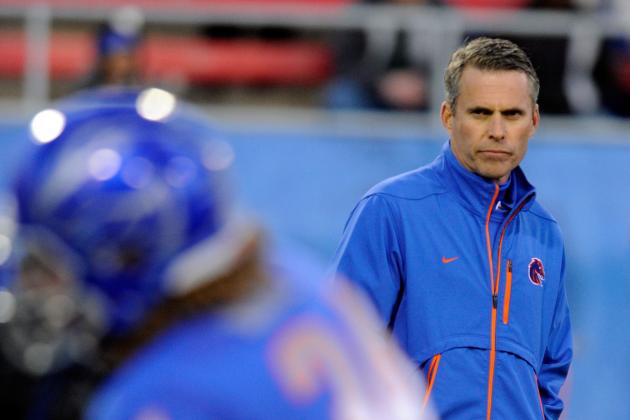 Ethan Miller/Getty Images

Projected 2013 Preseason AP Ranking: 16
Final 2012 AP Ranking: 18
Final 2012 B/R Ranking:17
Right now, Boise State is living off of reputation. The Broncos weren't very good in 2012 but still managed to win 11 games, including the Maaco Bowl Las Vegas over Washington.
Experience was the biggest thing lacking in 2012, and even though seven offensive starters return next season, we can't help but wonder about a linebacker and corner grouping that returns a grand total of zero starters in 2013.
Boise State has opted to stay in the Mountain West next season, reneging on a promise to join the Big East, but we're not sure that will do much in the end for the Broncos' hopes of crashing the BCS party once again.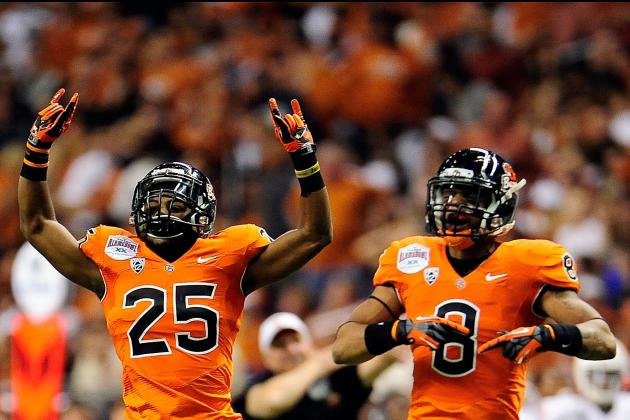 Stacy Revere/Getty Images

Projected 2013 Preseason AP Ranking: 15
Final 2012 AP Ranking: 20
Final 2012 B/R Ranking: 21
Oregon State was the little Pac-12 program that could in 2012.
Nine wins was more than most expected out of the Beavers, but expectations will be much higher in 2013. Oregon State has blown its cover, and now has to set about the task of beating more than just the cellar-dwellers of the conference.
Eight offensive starters return (along with seven on defense) which should give Oregon State ample opportunity to hold serve. Still, we don't think the Beavers are capable of taking on fellow North Division powers like Oregon and Stanford yet, and that will likely hold down their preseason ranking.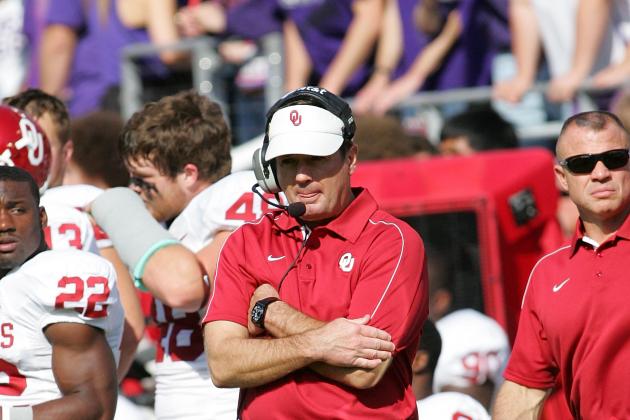 R. Yeatts/Getty Images

Projected 2013 Preseason AP Ranking: 14
Final 2012 AP Ranking: 15
Final 2012 B/R Ranking: 15
The fact that Oklahoma constantly has trouble winning the big games is going to catch up with Bob Stoops sooner or later.
The Sooners are a combined 3-5 in BCS games under Stoops, and with another big bowl loss this season in the Cotton Bowl Classic to Texas A&M, the pollsters may be starting to lose faith in OU and its leadership.
You can always count on Oklahoma to win enough games to stay relevent to the national conversation, but a middle-of-the-pack ranking in the Top 25 is about where we expect the Sooners to finish most seasons these days—and so that's where we're projecting them to start, too.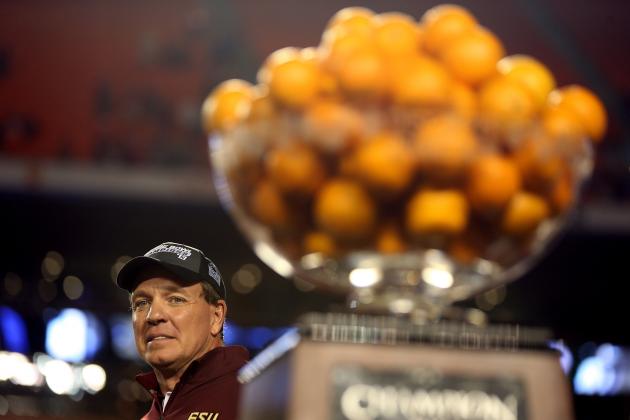 Streeter Lecka/Getty Images

Projected 2013 Preseason AP Ranking: 13
Final 2012 AP Ranking: 10
Final 2012 B/R Ranking: 11
E.J. Manuel gave it his last best effort this season, but the Seminoles still came up short of their ultimate goal of competing for a national championship.
Still, there's a lot to take away from 2012, including an ACC title and Orange Bowl victory—the latter, of course, coming over hapless Northern Illinois.
We have every confidence that Jimbo Fisher and his staff will be able to reload the offense for 2013 as Florida State always has a plethora of top talent to choose from at the quarterback position. It's the defense that has us concerned.
With seven starters from 2012 gone from the roster—including the entire defensive line—there's going to be a learning curve for the Seminoles in 2013. We're not saying FSU is going to start losing games they shouldn't, but it'll need to prove to the AP voters that a higher ranking is deserved—especially after making pollsters look silly the past two seasons when the 'Noles were preseason top five favorites.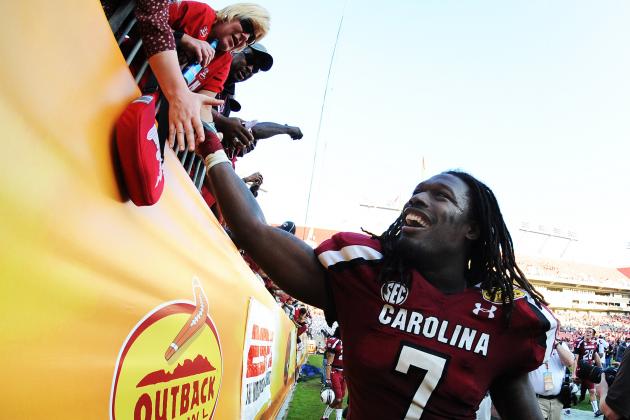 Al Messerschmidt/Getty Images

Projected 2013 Preseason AP Ranking: 12
Final 2012 AP Ranking: 8
Final 2012 B/R Ranking: 8
Even if Jadeveon Clowney was the only returning starter for South Carolina, the Gamecocks would probably still find their way into the preseason Top 25. He's not the only starter coming back, so we have no qualms about placing USC—the only USC we're projecting to earn a Top 25 ranking—just outside the top 10.
While the fact that the Head Ball Coach has just five defensive starters returning might cause some minor alarm for a team competing in the SEC, it's the distribution of those starters that has us confident of South Carolina's chances for a No. 12 preseason ranking.
Three top playmakers in the secondary—Victor Hampton, Jimmy Legree and Brison Williams—will anchor the defensive backfield while Clowney and fellow D-lineman Kelcy Quarles should be able to give a young linebacking corps ample time to adjust.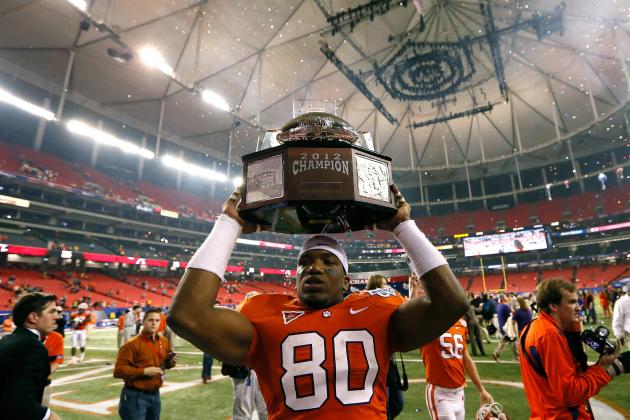 Kevin C. Cox/Getty Images

Projected 2013 Preseason AP Ranking: 11
Final 2012 AP Ranking: 11
Final 2012 B/R Ranking: 9
Clemson suffered in 2012 because of the one thing completely outside of its control: conference divisional alignment.
The Tigers were obviously one of the top two programs in the ACC last season, and the control of the Atlantic Division was decided way back on September 22. The only thing the Tigers could do after the early loss to Florida State was to sit back and hope the Seminoles lost two conference games—which never happened.
Instead of a shot at the conference title and possible BCS berth, Clemson instead found itself heading to the Chick-fil-A Bowl to face LSU.
To their credit, the Tigers found a way to edge past LSU, possibly creating a springboard for next season. With as many as 14 returning starters for 2013, head coach Dabo Swinney will have his club's sights set squarely on the ACC title. But in order to do that, the Tigers will need to shore up their lackluster pass defense.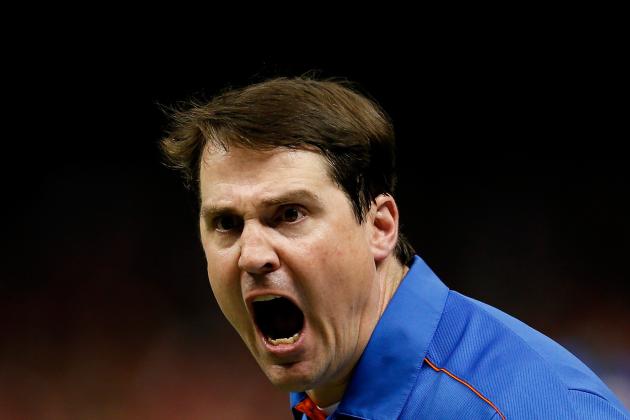 Kevin C. Cox/Getty Images

Projected 2013 Preseason AP Ranking: 10
Final 2012 AP Ranking: 9
Final 2012 B/R Ranking: 10
Florida was really two different teams in 2012: there was the Dr. Jekyll defense and the Mr. Hyde offense.
Florida's defense was one of the very best in the nation, giving up just 286.7 yards per game. The offense, on the other hand, was easily one of the nation's very worst. The Gators were 78th in scoring offense with just 26.5 points per game and a laughable 104th in total offense with 334.0 yards per game.
Add in a crushing defeat to Louisville in the Sugar Bowl, and there's plenty of reason for doubt in Gainesville—especially with only three returning starters from that awesome defense in 2012.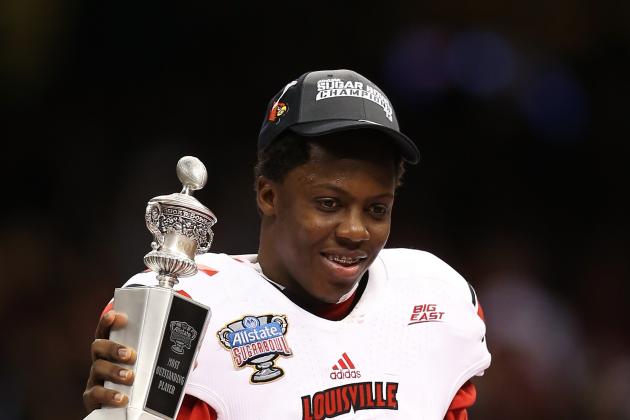 Matthew Stockman/Getty Images

Projected 2013 Preseason AP Ranking: 9
Final 2012 AP Ranking: 13
Final 2012 B/R Ranking: 14
Two words: Teddy Bridgewater.
That's really all you need to know about the success of Louisville. Bridgewater catapulted himself into the discussion for the 2013 Heisman Trophy with an impressive dismantling of the vaunted Florida defense in the Sugar Bowl. What's more, Bridgewater did it with a broken wrist! Is it any wonder college football pundits are crushing hard on this phenom?
While Bridgewater takes a lot of the spotlight, it's also important to note that his cast of supporting characters is as solid as they come. The defensive secondary is good enough to set up Bridgewater with ample opportunities to take shots at the end zone, and Bridgewater is accurate enough to say thank you to the defense with plenty of points.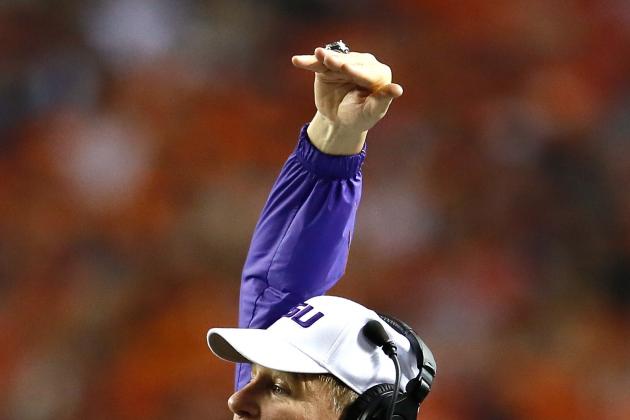 Kevin C. Cox/Getty Images

Projected 2013 Preseason AP Ranking: 8
Final 2012 AP Ranking: 14
Final 2012 B/R Ranking: 13
Don't worry, LSU fans, we're sure this dip into the teens is only temporary.
Les Miles—and Nick Saban before him—has turned LSU into a team that essentially lives in the top 10 each and every season. But we are talking about a three-loss team from 2012 and a program with just four returning defensive starters.
Now, an SEC program with four defensive starters is probably every bit as good as an ACC or Pac-12 or Big Ten team with eight defensive starters, but LSU isn't playing in any of those conferences. If the Tigers hope to return to the SEC Championship Game in 2013, that NFL-caliber defense will need to prove that its depth still exists.
LSU will also need to do something about its anemic passing attack next season. Absolutely no one is afraid of LSU throwing the ball, and stingy defenses like Alabama and Florida were able to expose that weakness.
Heck, even Auburn held LSU to 12 points.
LSU starts 2013 against TCU, UAB and Kent State. Three wins should solidify the Tigers' spot in the top 10.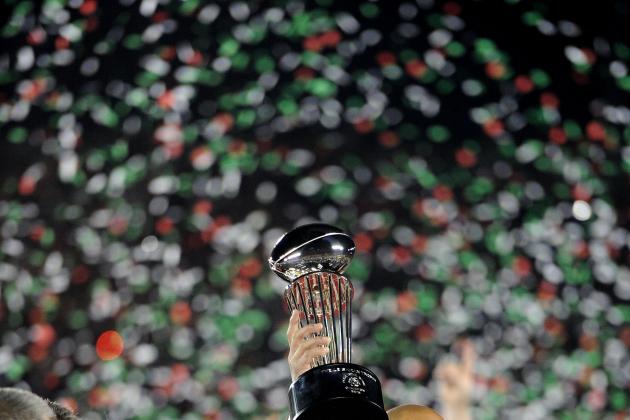 Harry How/Getty Images

Projected 2013 Preseason AP Ranking: 7
Final 2012 AP Ranking: 7
Final 2012 B/R Ranking: 6
Who knew that the successes with Jim Harbaugh and Andrew Luck wouldn't be the pinnacle of achievement for Stanford this decade? That came this past season when the Cardinal did something Luck and Harbaugh didn't: win the conference and earn a Rose Bowl trophy.
Success for any football team begins and ends with the linemen, and Stanford will have one of the best groups returning on both sides of the ball in 2013.
Each squad loses just one starter, and on defense that lineman is the only defensive starter at any position that isn't coming back to defend the Cardinal's conference crown.
The only real question for next season is how Stanford will replace running back Stepfan Taylor. He is the program's all-time leading rusher. Without Taylor, the top ball-carrier the Cardinal have returning is quarterback Kevin Hogan.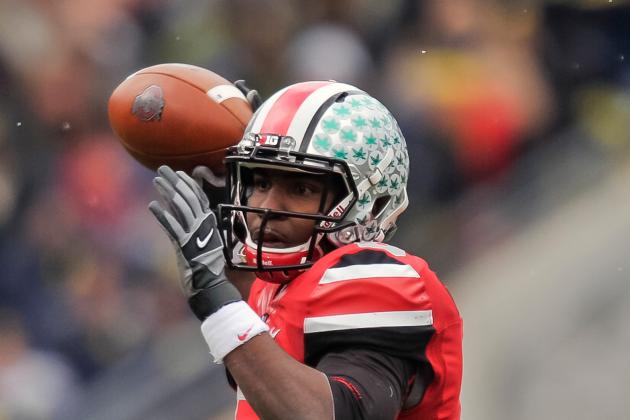 Jamie Sabau/Getty Images

Projected 2013 Preseason AP Ranking: 6
Final 2012 AP Ranking: 3
Final 2012 B/R Ranking: 2
When the final gun of the 2013 BCS National Championship Game sounded, there was just one undefeated team in the nation left standing. Oddly, it was neither team playing in that game, or even a team playing in any bowl game.
The 12-0 Ohio State Buckeyes were sitting at home thanks to Jim Tressel and his cover-up of the comparatively minor "tattoogate" scandal, proving the old adage "it's not the crime, it's the cover-up."
But Ohio State now has the pesky postseason ban in the rear-view mirror, and it's full-speed ahead in 2013 with Urban Meyer at the helm.
While the Buckeyes finished 2012 in the No. 3 spot in the AP Poll and the No. 2 spot in the Bleacher Report Poll, we're projecting them at just ninth to start 2013. As good as Ohio State was in 2012, the Buckeyes were pretty one-dimensional. There's no real passing game to speak of, and the success or failure rests solely on the ball-carrying abilities of Braxton Miller.
What happens if he has a bad game? Or worse, what happens to Ohio State if he gets hurt? The Buckeyes needed every single play to get past teams like Michigan State and Purdue last season. As the rest of the conference tries to take a step up, the Buckeyes could get left behind if the passing game doesn't improve dramatically. And soon.
Still, the hype surrounding a team coming off an undefeated season led by Urban Meyer followed up with one of the top recruiting classes in the nation should be enough to earn a top six spot for the Buckeyes.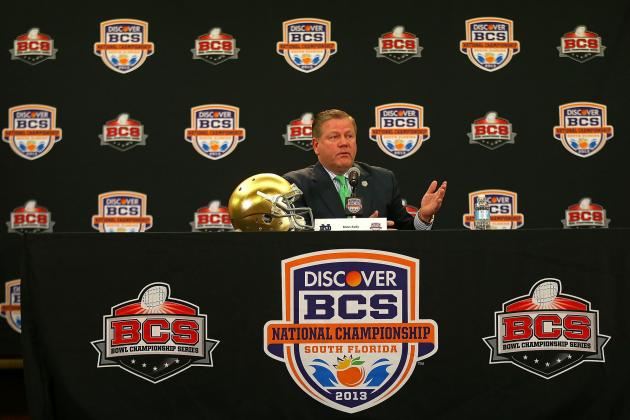 Mike Ehrmann/Getty Images

Projected 2013 Preseason AP Ranking: 5
Final 2012 AP Ranking: 4
Final 2012 B/R Ranking: 4
We don't care if you love the Irish or hate the Irish, but you can't ignore the Irish any more.
For what seems like a lifetime, Notre Dame has been the beneficiary of preseason rankings based more on Knute Rockne than anyone currently alive—or actively involved with the program. The Fighting Irish consistently disappointed and were ridiculed by detractors in the Big Ten, Pac-12, and strangely enough, the SEC (a conference which maintains no active rivalries with Notre Dame).
Now, the Notre Dame haters across America will have to find a new reason to mock the Irish as a 12-1 season that ended with a BCS National Championship Game appearance has put an end to the eye-rolling.
There are some big names leaving Notre Dame, particularly Manti Te'o and Tyler Eifert. But Brian Kelly has 15 returning starters, and the continued growth of youngsters like Everett Golson has the future looking very bright in South Bend.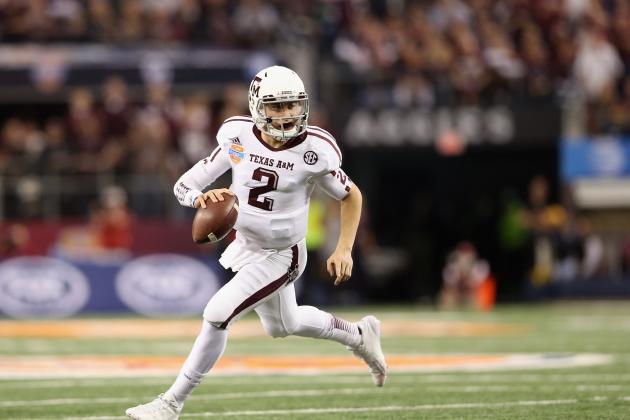 Ronald Martinez/Getty Images

Projected 2013 Preseason AP Ranking: 4
Final 2012 AP Ranking: T-5
Final 2012 B/R Ranking: 7
Just in case the nickname "Johnny Football" didn't tell you that Texas A&M's freshman quarterback was special, becoming the first frosh in college football history to bring home the Heisman Trophy sure did.
Johnny Manziel could end up being a once-in-a-generation quarterback. His almost effortless ability to create something out of nothing confounds defenses and coaches. Were he the only star Texas A&M had, the Aggies would still be a threat to win the SEC West in 2013.
He's not. More than half the starters from 2012 will be returning next season. Manziel will need to break in some new receiving targets next year, but we're confident his feet can buy enough time to do so.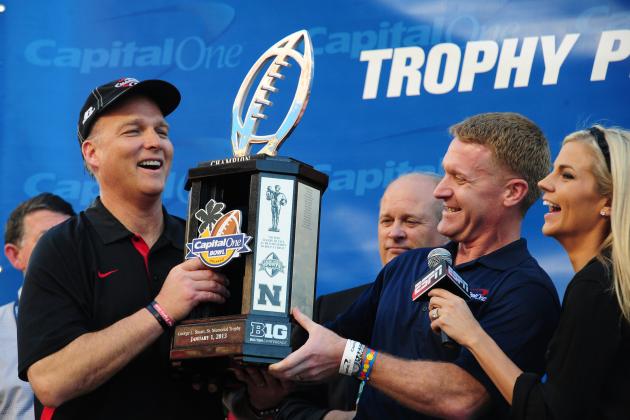 Scott Cunningham/Getty Images

Projected 2013 Preseason AP Ranking: 3
Final 2012 AP Ranking: T-5
Final 2012 B/R Ranking: 5
A few seconds. A few yards. One play.
No matter how you look at it, Georgia was just that close to knocking off Alabama in the SEC Championship Game and ending the West Division's streak of titles.
The Bulldogs instead traveled to Orlando to face the Big Ten runner-up for the second straight season. This time, however, Georgia came out on top.
And Georgia coming out on top is something folks are going to have to get used to in 2013. The Bulldogs have 10 offensive starters returning next season, and even the thinned defense with just five starters back have them spread around the field enough for us to be very excited about what's about to happen in Athens.
Hey, remember that whole "Mark Richt should be fired" thing?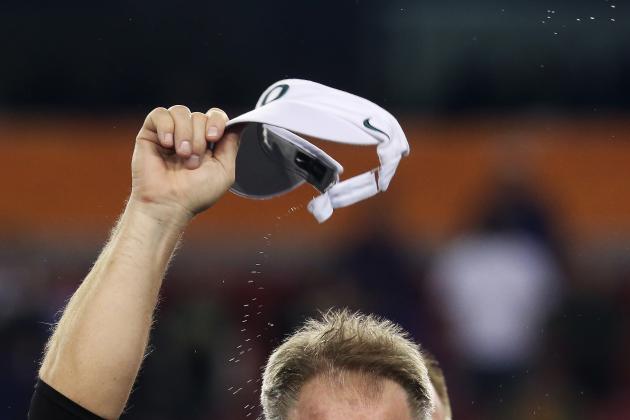 Stephen Dunn/Getty Images

Projected 2013 Preseason AP Ranking: 2
Final 2012 AP Ranking: 2
Final 2012 B/R Ranking: 3
How much longer until that whole playoff thing starts, anyway? The Oregon Ducks made perhaps the strongest case for a playoff we've seen with their dismantling of Kansas State in the Fiesta Bowl.
Come on, be honest, Tide fans. Wouldn't you want to see how Alabama would fare against the 2012 Oregon Ducks? We sure do.
Excluding Ohio State, Oregon was the only team in the nation this season to make it through each and every game without losing in regulation. The only defeat for the Ducks came in overtime to eventual Pac-12 and Rose Bowl champion Stanford.
That could create a decent sympathy vote for the Ducks come the fall—not that they'll need it.
Head coach Chip Kelly, who opted to remain in Eugene despite some obviously lucrative NFL offers, will have more than enough talent coming back to school in the fall to make yet another run at a BCS berth—which would be the Ducks' fifth straight appearance.
With 16 returning starters, including nine on an offense led by quarterback Marcus Mariota, we're betting the Pac-12 will once again come down to just two teams in 2013, and we can guarantee Oregon will be right in the middle of any conference title race come November.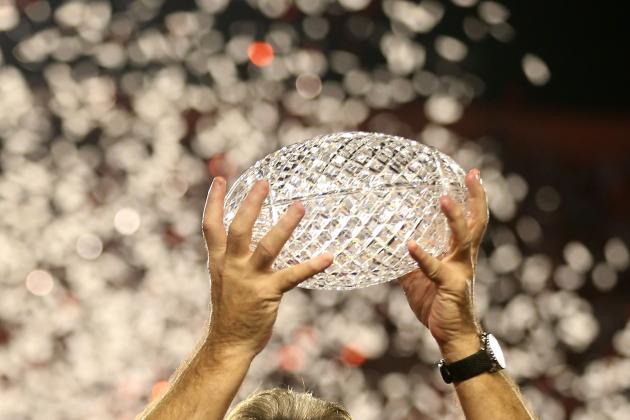 Streeter Lecka/Getty Images

Projected 2013 Preseason AP Ranking: 1
Final 2012 AP Ranking: 1
Final 2012 B/R Ranking: 1
If you were hoping we wouldn't go with the defending national champions as a projected preseason No.1, we're sorry to disappoint. There's just no way we think the Crimson Tide won't be atop the rankings come autumn, especially with all of the talent and experience they return at every single position on the field.
Anyone who still maintains that the 2012 edition of Alabama Crimson Tide football wasn't as dominant as previous incarnations clearly missed the 2013 BCS National Championship Game performance. From start to finish, Alabama had its foot on the accelerator, utterly blowing past a shell-shocked Notre Dame.
With 16 starters back for another run at an unprecedented fourth title in five seasons and a head coach that has already won more than a quarter of all BCS championships, betting against the Tide earning the preseason No. 1 ranking probably isn't a smart idea.