Who Must Stay, Who Must Go for Dallas Cowboys in 2013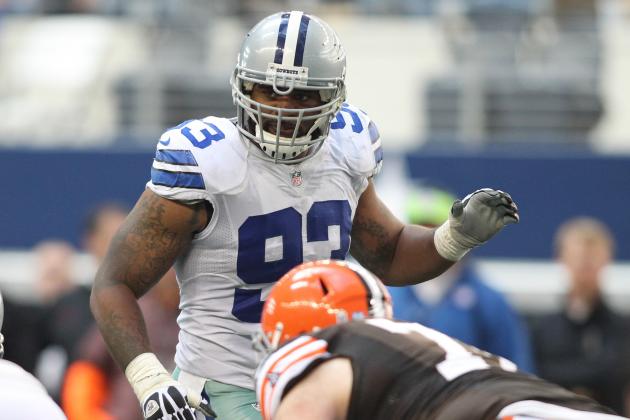 Tim Heitman-USA TODAY Sports

Big changes are coming for the Dallas Cowboys.
At least that's what Jerry Jones promised to begin the offseason.
"I can assure you guys—I can assure our fans—it's going to be very uncomfortable for the next few weeks and months at Valley Ranch," Jones said on 105.3 The Fan.
Jones backed up his talk on Tuesday when he fired defensive coordinator Rob Ryan. However, he has publicly stood behind head coach Jason Garrett and quarterback Tony Romo, so any other changes will have to come elsewhere.
That could be in the form of assistant coaches, players or even practice dummies. Either way, things will be different for Dallas next season. Jones is too stubborn not to back up his boasting.
So, with that in mind, let's dissect the roster, looking at the players that should stay and those that should go for 2013.
Begin Slideshow

»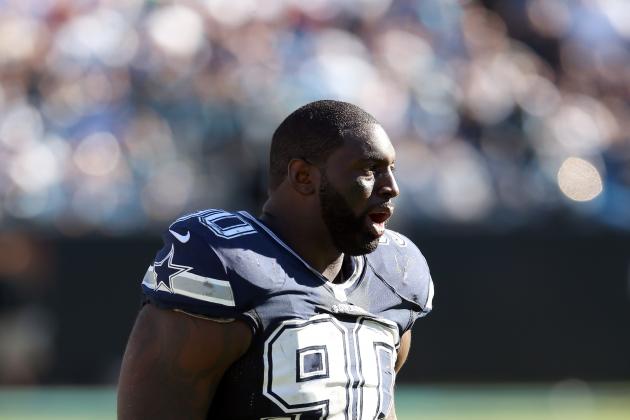 Streeter Lecka/Getty Images

There is no doubt that Jay Ratliff has meant a lot to the Cowboys organization the past few seasons.
However, sentiment can't give way to sense. The amount that Ratliff is paid—seven years, $48 million—means he needs to go.
The Cowboys must find ways to cut salary, and Ratliff is an obvious place to start.
Ratliff, a four-time Pro Bowl selection, failed to play the part in 2012. He was oft injured, inconsistent and frankly, failed to produce. He had 16 tackles and failed to record a single sack.
A switch to the 4-3 system wouldn't fit Ratliff that well either, especially if DeMarcus Ware and Anthony Spencer put their hands on the ground. There would be no room.
Ratliff is too expensive and doesn't really fit into future plans. He needs to go.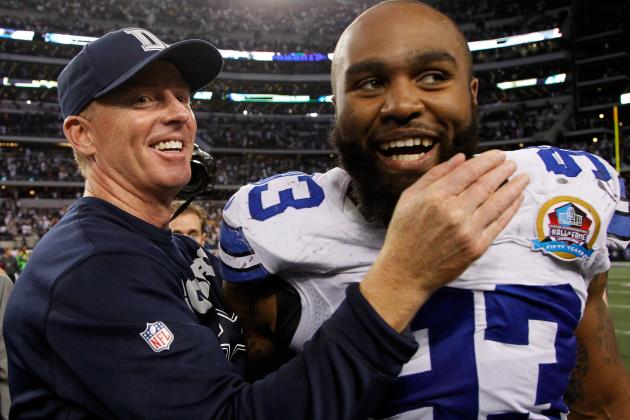 Tom Pennington/Getty Images

It was alluded to in the previous slide, but I believe Anthony Spencer needs to stay in Dallas.
The defense would be significantly less efficient without him.
In 2012, Spencer was the Cowboys' best defensive player. The outside linebacker had 95 tackles, 11 sacks and two forced fumbles, all the while playing effectively in coverage and against the run.
Ryan leaned on Spencer, and it is an ugly picture for Dallas' defense without Spencer lining up every down.
There is no doubt Spencer will be expensive, which is a problem considering how much the Cowboys are up against the cap.
However, Spencer is a necessary expense.
He'll be seeking a long-term contract this spring, and Dallas should give it to him. A five- or six-year deal is cheaper than franchising him again, and it would allow a bit of cap flexibility at the same time.
Elsa/Getty Images

Not much of a surprise here, as Jones has worn out his welcome in Dallas.
The former first-round pick failed to eclipse the 1,000-yard barrier in season—his highest total was 800 yards in 2010. Jones didn't stay healthy, couldn't hold down the starter's role and never lived up to his first-round hype.
He was brilliant in flashes, but never good enough for long-term success.
Jones needs a change of scenery to revitalize his career, and Dallas needs to distance itself from its failed first-round selection.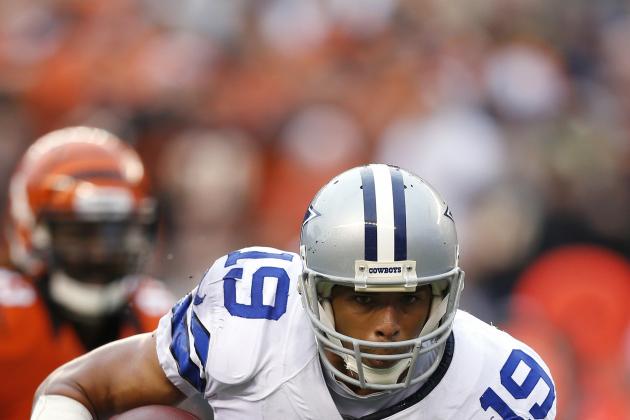 Joe Robbins/Getty Images

There has been quite a bit of fan grumbling about Austin, but the fact remains, he is a top 30 wide out in the NFL. He forms a deadly combination with Dez Bryant, something that could be special for years to come.
The Cowboys shouldn't take that away.
Sure, he's overpaid.
His seven-year, $57 million dollar deal is outrageous for someone who had 943 yards and six touchdowns in 2012. However, his contract is cap friendly moving forward, though his front-loaded deal is the reason the Cowboys will take a $5 million cap hit in 2013.
Austin was bruised and battered this season, but he will come back stronger in 2013.
He, Bryant, Jason Witten and Tony Romo represent one of the best skill combos in the NFL, and it should stay that way.
Austin deserves another season to revert to his Pro Bowl form.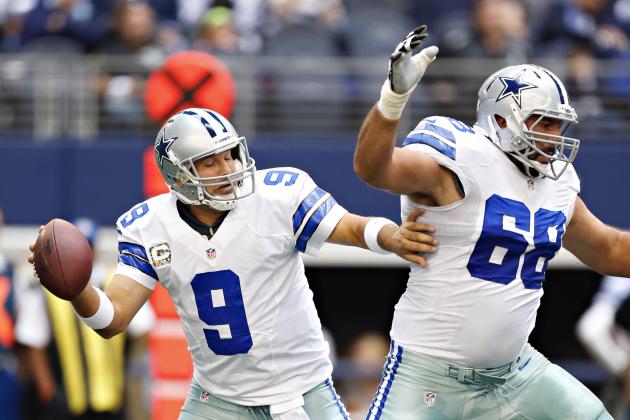 Wesley Hitt/Getty Images

The easiest selection on this list—by far.
Free was horrendous in 2012.
He allowed seven sacks, had five holding calls go against him and eight false starts. It got so bad for Free that the $8 million a year tackle was rotated in and out with journeyman Jermey Parnell to reduce his load.
Yep, the man that was supposed to be Dallas' left tackle of the future, and got paid like it too, couldn't even stay on the field for consecutive series.
It's been an almost unexplainable drop in production for Free from the man that was so great only two years ago. However, Dallas doesn't have the time or the funds to allow Free to fix himself.
Romo has the right idea in the picture above. Push him out the door.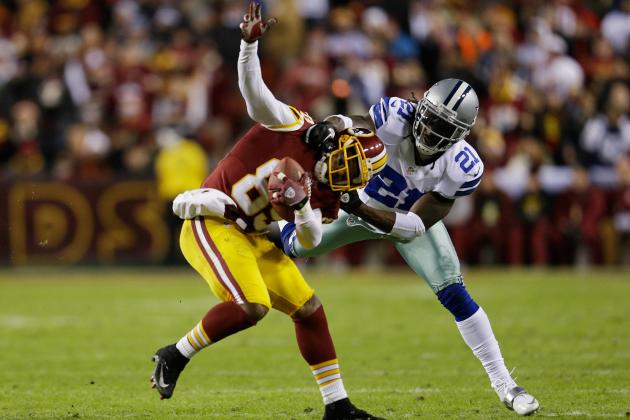 Rob Carr/Getty Images

No disrespect to Mike Jenkins; he is a heck of a football player.
Dallas just can't afford his services.
With Brandon Carr, Morris Claiborne and Orlando Scandrick already locked up to multi-year deals, the Cowboys can't pay another corner multiple millions to patrol their secondary.
Jenkins was a solid player—brilliant at times—for Dallas. Nevertheless, he wants to be paid like a top corner, and the Cowboys don't have the funds to do so.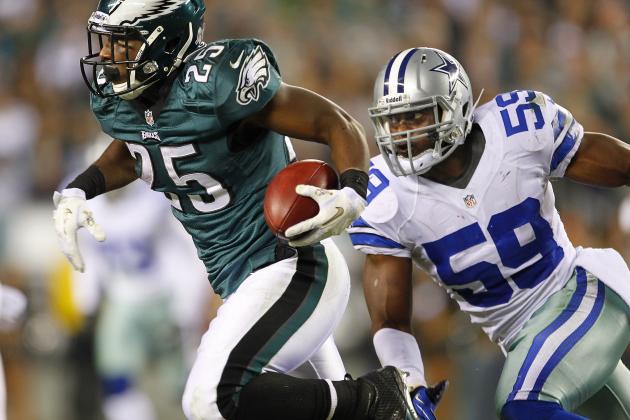 Rich Schultz/Getty Images

A member of the so called "name tag defense," Sims—a former top-10 pick that bounced around early in his career—impressed the second half of the season.
Sims showed great sideline-to-sideline purist to the ball carrier and was effective in pass coverage.
Actually, he was better than Dan Connor, a 2012 free agent signee who Dallas expected to compete for the starting job, as the pair filled in for the injured Sean Lee and Bruce Carter.
I'd like to see Dallas cut Connor and keep Sims, who would be a cheaper option than Connor's $3 million salary in 2013.