Atlanta Hawks vs. Minnesota Timberwolves: Live Score, Results and Game Highlight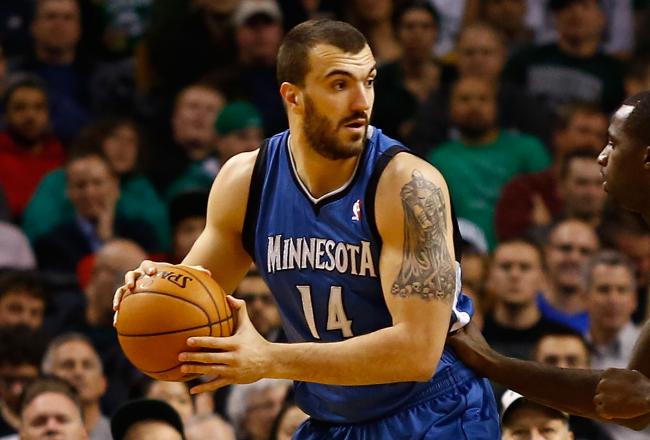 Jared Wickerham/Getty Images
It was a close one in Minnesota as the Wolves hosted the Hawks.
Nikola Pekovic led the way for Minnesota with 25 points and a career-high 18 rebounds.
Josh Smith and Lou Williams led the way for the Hawks with 21 points each.
Keys to the Game
The Wolves played great defense in this game, allowing just 42 points in the first half. Even though, they were outscored 61-50 in the second half, the early lead they were able to accumulate was enough to come up with the win.
Minnesota had 50 points in the paint tonight and pretty much controlled the paint the entire game, allowing just 38 for Atlanta.
Ricky Rubio had a great game. Even though he only scored four points, he had eight assists and controlled the pace of the game when he was in. He had the Wolves' highest +/- with 10.
Derrick Williams had a great game off the bench. He scored 17 points in 21 minutes and was extremely efficient, shooting 7-of-13 (3-of-5 from downtown).
Dante Cunngham's shot to take the lead back to three was huge. To then follow it up with a great defensive play on Atlanta's inbounds was great. While he only had six points, he should get a player of the game award for essentially winning this game.
A steal by Dante Cunningham on the inbounds play. WOW.
Ridnour with the clutch free throws and he closes the game out.
Hawks 103, WOLVES 108 - END OF GAME

No timeouts left for Atlanta.
Horford with a great shot inside, but Cunningham hits a clutch jumper on the other end. Time is running out for the Hawks.
Hawks 103, WOLVES 106 - :15.9 REMAINING IN 4TH QUARTER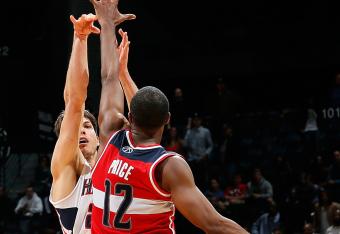 Korver with yet another three. Great screen set by Pachulia
Hawks 101, WOLVES 104 - :52.3 REMAINING IN 4TH QUARTER
Korver answering back with a three of his own. Offensive rebound by Horford set it up. You just can't give Korver too many tries from deep.
We're looking at a great ending here.
Hawks 94, WOLVES 100 - 2:40 REMAINING IN 4TH QUARTER
BOOM! Kirilenko another three. Wolves starting to take control again.
Pek is an absolute beast inside. Offensive board and putback.23 points, 18 boards (career high)
Hawks 89, WOLVES 98 - 4:40 REMAINING IN 4TH QUARTER
That Kirilenko three might be what the Wolves need to get this game back under their control.
Hawks 88, WOLVES 95 - 5:39 REMAINING IN 4TH QUARTER
Atlanta's defense is improving a bit as they're pressing the ball a little more now. They've also been able to cut it single digits.
Lou Williams looks like he's in takeover mode as he hits a DEEP three.
Hawks 86, WOLVES 92 - 6:39 REMAINING IN 4TH QUARTER
Slow start to the fourth quarter as the Wolves have scored just two points. Atlanta is staying aggressive and getting the Wolves to commit fouls.
Hawks 75, WOLVES 87 - 9:50 REMAINING IN 4TH QUARTER
Apparently Tolliver's return to Minnesota is a thing as the fans gave him a nice cheer and round of applause as he entered the court.
Guess the Wolves haven't exactly had a lot of success the last few years.
Hawks 71, WOLVES 85 - END OF 3RD QUARTER

Sloppy playing by Atlanta, getting called for a shot clock violation. Minnesota's pressuring the ball extremely well, though, and it shows as they've extended the lead back to 13.
Hawks 69, WOLVES 82 - :42.2 REMAINING IN 3RD QUARTER
Shved doing it all. Passing, shooting, driving. After hitting a three, an Atlanta turnover leads to an easy and-one opportuinity for him. Missed the free throw, though.
Hawks 65, WOLVES 79 - 2:59 REMAINING IN 3RD QUARTER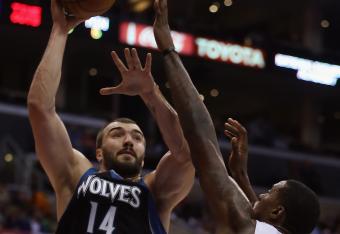 Should Pekovic be in consideration for an All-Star spot? 16 points, 8 rebounds per game and he shoots over 50 percent. Maybe if the West wasn't stacked with frontcourt talent.
Atlanta is still attacking the basket, and they'll have to in order to come back in this game. Horford converts a three-point play and it's down to single digits.
Smith with a three pointer to cut it down to six.
Hawks 60, WOLVES 66 - 7:10 REMAINING IN 3RD QUARTER
Josh Smith coming out hot after halftime. Powerful dunk off a Korver assist and then a block on Pek on the other end.
Kirilenko having a great game, staying aggressive and being very efficient. He converts an and-one opportunity.
Hawks 49, WOLVES 62 - 9:30 REMAINING IN 3RD QUARTER
Derrick Williams dunk after a Hawks turnover.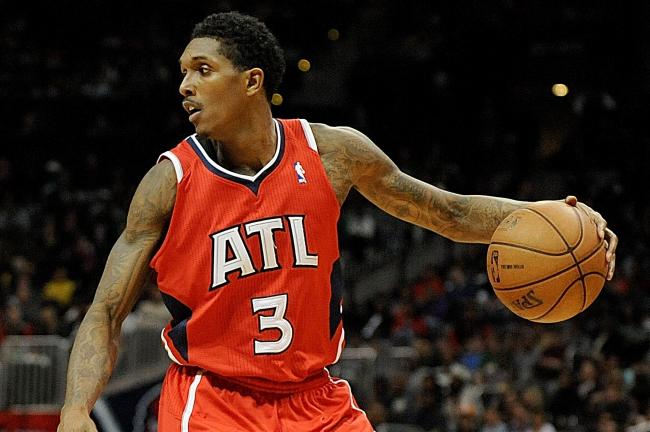 Lou Williams leads the way for Atlanta with 12 points. After his 28-point performance in Boston, I'd keep feeding him the ball and letting him create.
Atlanta's shooting just 42 percent at the halfway point of the game.
With just two seconds left, the Wolves are able to get it inside to Pek and get an easy two points. How you allow that if you're Atlanta, I don't know.
Minnesota dominating after the first half.
Hawks 42, WOLVES 58 - HALFTIME
Minnesota hustling on the boards with 17 second chance points now. They're outworking Atlanta on pretty much every facet of the game right now.
Hawks 36, WOLVES 52 - 3:11 REMAINING IN 2ND QUARTER
John Jenkins is showing he's one of the best shooters in the league. Eight points on 100-percent shooting. Two threes.
Rubio with seven assists now as Shved hits a three. Wolves lighting it up from outside shooting 71 percent.
Hawks 34, WOLVES 49 - 5:35 REMAINING IN 2ND QUARTER
Ricky Rubio hasn't scored, but he's distributing the ball well (five assists) and is playing great defense.
Derrick Williams keeps shooting well with another three! 11 points for him now.
Hawks 29, WOLVES 44 - 7:58 REMAINING IN 2ND QUARTER

After no turnovers in the first quarter, Atlanta turns the ball over three times and it leads to easy points for the Wolves.
Shved drives it in and lays it up to extend the Wolves' lead.
Hawks 25, WOLVES 39 - 9:33 REMAINING IN 2ND QUARTER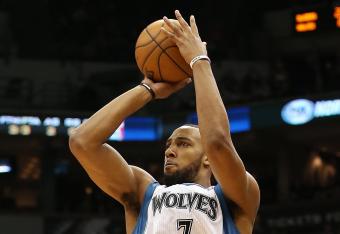 Derrick Williams heating up from the three-point line with two straight threes.
Wolves doing a great job on the other end, forcing Atlanta to take up most of the shot clock.
Hawks 20, WOLVES 30 - END OF 1ST QUARTER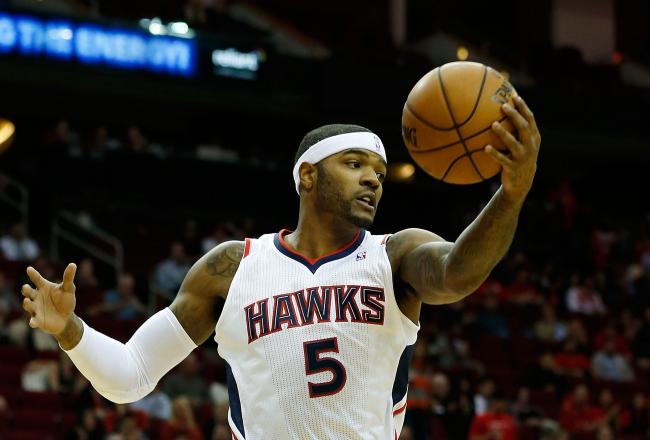 Speaking of Smith, how much longer will he be snubbed from the All-Star team? Should've made it last year with his 18 point, nine rebound average.
Let's get him on the team.
Ricky Rubio checking in for the first time. Should be interesting to see how his game is be affected due to the injury.
Smith continues to be aggressive and has now gone to the line five times.
Hawks 16, WOLVES 20 - 2:56 REMAINING IN 1ST QUARTER

This article is
What is the duplicate article?
Why is this article offensive?
Where is this article plagiarized from?
Why is this article poorly edited?

Minnesota Timberwolves: Like this team?