2013 NFL Mock Draft: Which Defensive Stars Will Have Biggest Impact?
Use your ← → (arrow) keys to browse more stories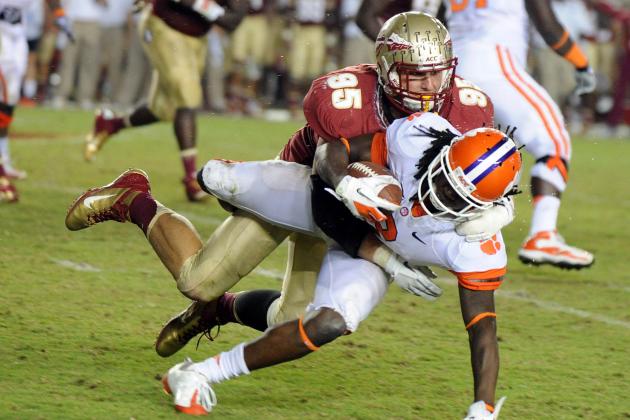 Melina Vastola-USA TODAY Sports

After last year's draft presented the NFL with a number of franchise quarterbacks, this class is dominated by defensive players.
While these players will not excite the average fan as much as Andrew Luck, Robert Griffin III or Russell Wilson, it is likely that a few players make almost as big of an impact.
This group of pass-rushers, top tacklers and shutdown defenders are certain to make an immediate difference at the next level and will be able to improve their teams next season.
Here is the latest mock draft full of elite players on both sides of the ball, with the defenders making the biggest impact italicized.
1. Kansas City Chiefs: Geno Smith, QB, West Virginia
There are playmakers on the Chiefs offense. As soon as the team has someone to get them the ball, they will be much better. Geno Smith knows how to utilize skill players to perfection.
2. Jacksonville Jaguars: Bjoern Werner, DE, Florida State
After finishing the season with only 20 sacks as a team, the Jaguars need some reinforcements. Bjoern Werner is one of the best pass-rushers in the nation and will be able to improve this area for Jacksonville.
3. Oakland Raiders: Star Lotulelei, DT, Utah
Star Lotulelei is great at getting into the backfield and stopping the run. This is exactly what the Raiders need after giving up some big days to opposing running backs this season.
4. Philadelphia Eagles: Jarvis Jones, OLB, Georgia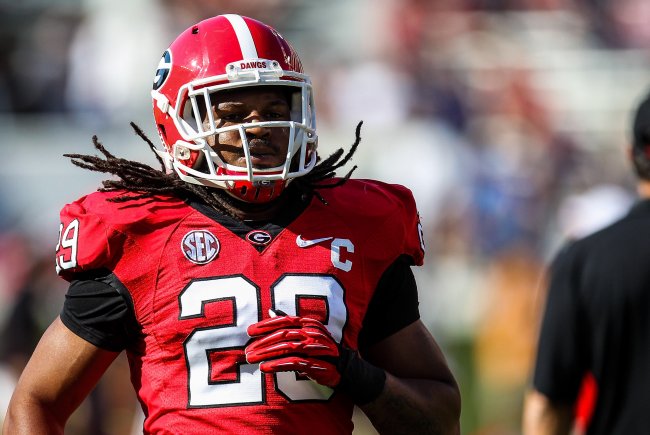 Daniel Shirey-USA TODAY Sports
Although the first thought is that the Eagles need an offensive lineman to protect the quarterback, Jason Peters should be able to return next season after missing 2012 with a leg injury.
With an All-Pro back on offense, the entire unit should be much better.
However, the squad still struggled at getting to the quarterback throughout the year. Jarvis Jones will immediately fix this problem after leading the nation with 14.5 sacks this season with Georgia.
Jones is also impressive at defending the run, which should allow him to be successful anywhere on the field regardless of what type of system the new coach installs.
5. Detroit Lions: Damontre Moore, DE, Texas A&M
With Damontre Moore, the Lions could have one of the top defensive lines in the NFL. He is an impressive athlete that will be able to disrupt anything the offense is trying to do against him.
6. Cleveland Browns: Barkevious Mingo, DE/OLB, LSU
The Browns need either a defensive end or a linebacker. Fortunately, Barkevious Mingo can be either.
Although he had a down year this season, he was the focal point for opposing teams. That will not happen right away at the next level.
7. Arizona Cardinals: Luke Joeckel, OT, Texas A&M
Much more important than adding a quarterback this offseason, the Cardinals must get a solid left tackle. Otherwise, the new quarterback will simply get killed behind this awful offensive line.
8. Buffalo Bills: Tyler Wilson, QB, Arkansas
General Manager Buddy Nix said that his team needs to draft a quarterback (via CBS Sports). Tyler Wilson will be available and should be very skilled at handing the ball to C.J. Spiller.
9. New York Jets: Chance Warmack, OG, Alabama
This is not the sexy pick that will keep fans in New York happy. However, Chance Warmack is the best player to get the Jets back to its roots as a hard-nosed, running team.
10. Tennessee Titans: Manti Te'o, ILB, Notre Dame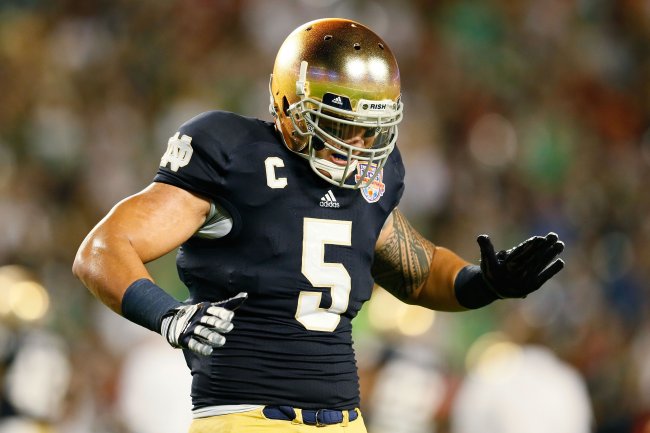 Kevin C. Cox/Getty Images
It is important not to overreact based on one game.
It is obvious that Manti Te'o did not have a good showing against Alabama in the BCS National Championship Game. However, that does not take away from an entire career of great play.
Te'o is easily the best middle linebacker in the class and could be one of the best in the league next season. He can cover the run from sideline to sideline and is very impressive in pass coverage.
Alongside Zach Brown and Akeem Ayers, the Titans could have one of the best young linebacking corps in the league.
11. San Diego Chargers: Taylor Lewan, OT, Michigan
Philip Rivers may or may not be able to get back to the player he once was. On the other hand, he does not have a chance if he cannot stay on his feet. Taylor Lewan is as solid as they come and will be able to do a good job protecting the quarterback.
12. Miami Dolphins: Keenan Allen, WR, California
Ryan Tannehill did about as well as anyone could have expected in his first year. Now, the team must give him offensive weapons in order to succeed.
13. Tampa Bay Buccaneers: Dee Milliner, CB, Alabama
The worst pass defense in the NFL should only be looking at ways to improve in this area. Dee Milliner is the best cornerback in the draft and has the size to stay with even the bigger NFL receivers.
14. Carolina Panthers: Johnathan Hankins, DT, Ohio State
Johnathan Hankins can make the improving young defense even better by clogging up the middle and taking on blockers. This will free up the rest of the unit to make plays on the ball carrier.
15. New Orleans Saints: Eric Reid, S, LSU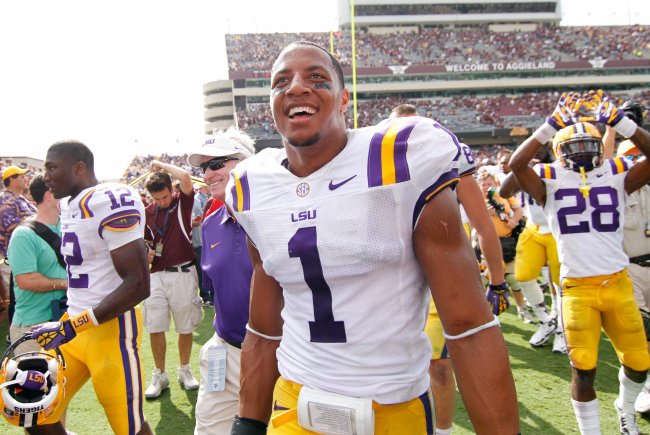 Brett Davis-USA TODAY Sports
This might be a bit of a reach in the top half of the first round, but the Saints need major improvements on the defensive side of the ball.
Eric Reid is a big-time playmaker that has good enough instincts to find where the ball is going and stop it from getting there.
New Orleans allowed the second-most passing yards in the NFL and opposing quarterbacks had a 93.8 passer rating against this unit. Reid's speed and athleticism will certainly improve these numbers next season.
With the way that this offense is capable of scoring, it might only need a slight improvement on defense to reach the playoffs.
16. St. Louis Rams: Eric Fisher, OT, Central Michigan
The Rams have two draft picks in the first round thanks to the trade that gave the Redskins Robert Griffin III. They need to make those selections count, and taking the best tackle in the draft would be a good start.
17. Pittsburgh Steelers: Dion Jordan, DE, Oregon
While last year's draft picks of Mike Adams and David DeCastro were used to strengthen the offensive line, this year needs to be used to get younger on defense. Dion Jordon should eventually be able to take over for James Harrison as the team's top pass-rusher.
18. Dallas Cowboys: Sheldon Richardson, DT, Missouri
Dallas had a lot of problems on the defensive side of the football down the stretch. Even as the team gets healthy, it can use an athletic defensive tackle like Sheldon Richardson to shut down the middle of the field.
19. New York Giants: Alec Ogletree, ILB, Georgia
There is too much talent on the Giants defense for it to suffer this much. It needs a leader in the middle that can give them what Antonio Pierce did a few years ago. Alec Ogletree has that type of ceiling and could be a great player for this defense.
20. Chicago Bears: Lane Johnson, OT, Oklahoma
The Bears need to make sure it gets a top-level offensive tackle in this draft to allow Jay Cutler to be successful. The front office might need to make a trade in order to make sure this happens.
21. Cincinnati Bengals: Matt Elam, S, Florida
Although Cincinnati has a very good defensive front, the secondary had a number of problems this season. Matt Elam will secure a weak part of the team and hopefully help them get past the first round of the playoffs.
22. St. Louis Rams (From Washington Redskins): Khaseem Green, OLB, Rutgers
After getting a solid tackle with the first pick, the Rams should go with one of the best sleepers in the draft to help out the defense. Khaseem Green has impressive speed for his position and should help an already solid defensive unit.
23. Minnesota Vikings: Tavon Austin, WR, West Virginia
As much as it seems like he can, Adrian Peterson cannot do everything for the Vikings offense. The team missed Percy Harvin for much of the year, but Tavon Austin can give them another speedy option that can score from anywhere on the field.
24. Indianapolis Colts: Johnthan Banks, CB, Mississippi State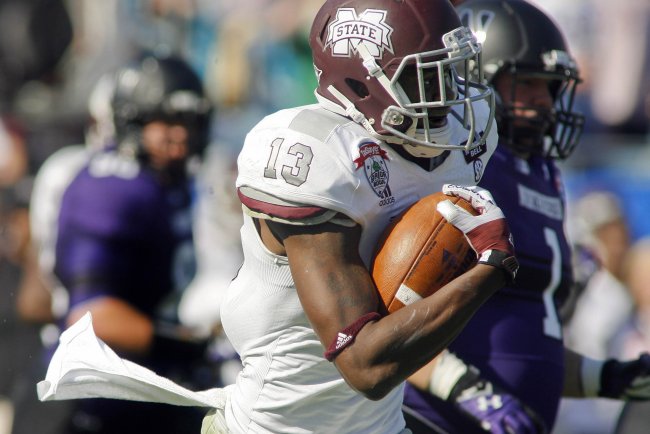 Phil Sears-USA TODAY Sports
The Colts were a great story this season. After going 2-14, the squad was able to reach the playoffs by rallying around a rookie quarterback and a coach with leukemia.
Unfortunately, they will not be able to replicate this level of success next season if they do not improve defensively.
Indianapolis was No. 26 in the league in total yards allowed and ranked only slightly better with 24.2 points allowed per game.
Johnthan Banks could be a difference-maker in the secondary by using his athleticism to take opposing receivers out of the game.
25. Baltimore Ravens: Xavier Rhodes, CB, Florida State
With Ray Lewis retiring and uncertainty surrounding Ed Reed, the Ravens must make sure the defense does not collapse. Xavier Rhodes would perfectly fit into the system and continue the team's great reputation defensively.
26. Seattle Seahawks: Jonathan Jenkins, DT, Georgia
The list of needs is getting smaller as the Seahawks continue to impress in every phase of the game. Seattle could add another receiving target or build up the offensive line, but Jonathan Jenkins would be the best player available and he would solidify one of the best defenses in the NFL.
27. Green Bay Packers: Jonathan Cooper, OG, North Carolina
It does not matter who is standing behind Aaron Rodgers at running back; the Packers will not have an effective run game until the middle of the offensive line is stronger. Jonathan Cooper will clear up space and give the team more balance on offense.
28. Houston Texans: Kenny Vaccaro, S, Texas
The Texans fell apart defensively down the stretch due to its inability to defend the pass. With few quality cornerbacks still on the board, the Texans should look to safety Kenny Vaccaro to improve this secondary.
29. San Francisco 49ers: Barrett Jones, C, Alabama
Barrett Jones is the most versatile lineman the draft has seen in years. He was an All-American as a left tackle and as a center. The 49ers could use his help make one of the top offensive lines even better.
30. New England Patriots: Sam Montgomery, DE, LSU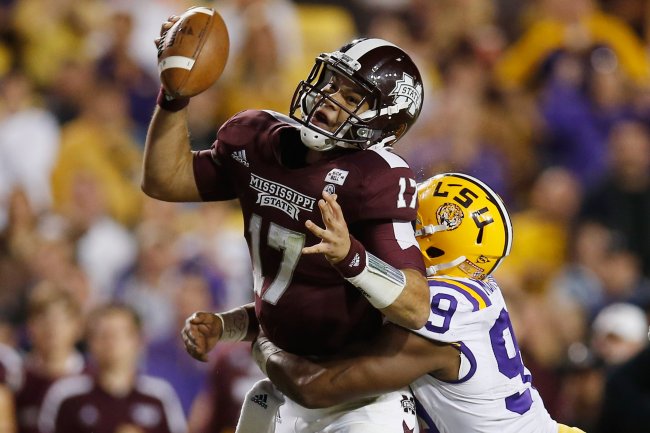 Chris Graythen/Getty Images
The Patriots got a great addition to the defensive line last year when they took Chandler Jones in the first round. However, you can never have too many guys who can get to the quarterback.
Sam Montgomery would make the defense even better by giving the line depth and allowing it to constantly put pressure on the offensive line and opposing passer.
This will also help out the secondary that struggles at times but loves ball-hawking passes.
Although Montgomery was overshadowed a bit in his career at LSU, he has all of the tools necessary to have a good career in the NFL.
31. Atlanta Falcons: Ezekiel Ansah, DE, BYU
Winning 13 games has a way of making people forgetting about your problems. A running back would be useful, but skilled defensive linemen would be even better as the Falcons try to improve defensively.
32. Denver Broncos: Jesse Williams, DT, Alabama
Denver does not have many needs, but defensive tackle is one of them. Jesse Williams played well all year for Alabama and can continue to make the Broncos one of the most complete teams in the league.
For more mock drafts and other NFL info, follow me on Twitter.