Brooklyn Nets vs. Philadelphia 76ers Live Blog: Play-by-Play Analysis, Reaction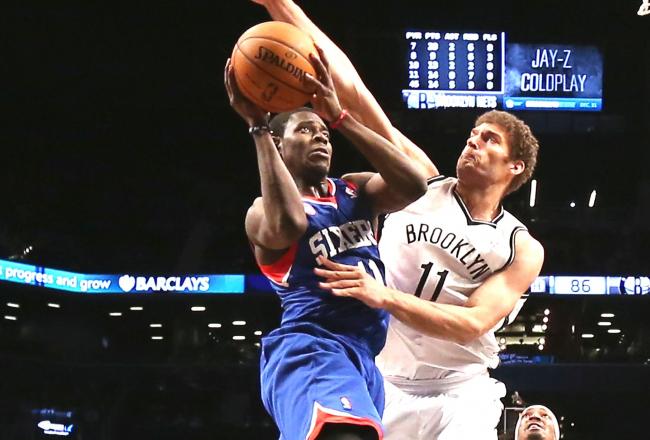 Take away the 3rd quarter and it was close.
Keep it in and you have the actual result, a 109-89 beatdown of the Philadelphia Sixers at the hands of the Brooklyn Nets, led by a season-high 23 rebounds by Reggie Evans and 22 points by Deron Williams.
The Nets extend their winning streak to four games, while the Sixers continue their current slide at four, as well.
Three Reasons Why The Nets Beat The Sixers:
1. Reggie Evans
The high-energy forward continued to pester, distract and outmuscle the Sixers, taking the pressure off of the stars. He's a throwback kind of guy that every aspiring playoff team wants and needs. Performances like tonight's gives some hope for the future for Brooklyn.
2. The 3rd Quarter
The Sixers came out of halftime noticeably lethargic, and the Nets pounced, causing turnovers and dominating the fast break. Take away that quarter and Philly has a 75-74 advantage. Honestly, the Sixers made it easy at times for Brooklyn to put the game out of reach with incredibly sloppy play, but give them credit for taking advantage of the opportunities presented to them.
3. Free throws
They still win even without the free throw discrepancy (which is becoming a disturbing trend for the Sixers), but Brooklyn not only went to the line 12 additional times, but made 13 additional foul shots.
Doug Collins, regarding the Sixers' inability to get to the line: "I've never seen anything like it," then adding that he did not want to continue discussing it because "I don't want to get fined."
Respectfully, coach, your players have not earned the right to get all the calls. They don't penetrate, they are not aggressive.
Star Player Final Stats:
Brooklyn Nets:
Brook Lopez:13 PTS, 2 REB
Joe Johnson:15 PTS, 5 AST, 4 REB
Deron Williams:22 PTS, 5 AST
Philadelphia 76ers:
Jrue Holiday: 19 PTS, 8 AST
Evann Turner: 8 PTS, 7 REB, 5 AST
(Yes, that means that Evans had more rebounds than ANYONE had points!)
Player of the game: An argument could be made for D-Will, but let's give it to Reggie Evans. He came one short of the Wells-Fargo Center record of 24 rebounds in just 27 minutes and an incredible plus-26 during his time on the court.
The type of intangibles (as well as the rebounding tangibles) that Evans brings to the court every night could be the least-talked factor of how far the Nets can go. And perhaps the best move Carlesimo has made in his short tenure thus far is inserting him back into the rotation.
At least it was a quick game.
What looked to be an evenly-matched affair at halftime turned into an outright thrashing.
The Nets, behind 23 rebounds by Evans and 22 points on just 11 shots by D-Will, ensure that both teams' streaks continue: Brooklyn at four straight wins, the Sixers with four straight losses.
Nets 109, Sixers 89 — FINAL
Anyone else want to see Evans in the game to make a shot at 30 rebounds? Or even just make a shot?
He's got 23 boards and 2 points in 27 minutes.
Fans get free Big Macs when the Sixers score over 100 points.
Suggestion for increasing attendance? Give it to them if EITHER team does.
Super size them!
Meanwhile, Wayns looking good in his "second" stint in Philly, doubling his career average with five points.
Silver linings, right?
Nets 105, Sixers 81 — 2:48 REMAINING IN THE 4TH QUARTER
And welcome back, Arnett Moultrie, fresh from his stint in the NBDL! Good times in Philly!
(Ugh)
Nets 97, Sixers 76 — 5:55 REMAINING IN THE 4TH QUARTER
Center Brook Lopez, all seven feet of him, has 13 points and 2 rebounds.
Power forward Reggie Evans, all of 6'8'', has 2 points and 23 rebounds.
Nothing makes sense anymore.
And apparently, like the Sixers, the refs stopped caring, too, calling a continuation basket about ten seconds after the foul.
Nets 87, Sixers 69 — 9:34 REMAINING IN THE 4TH QUARTER
Safe to say that, even in a season with plenty of poor quarters, this may have been the worst of them all for the Sixers.
Outscored 35-14. Ouch.
Jason Richardson shown on the bench, looking as if he just ate his own poop.
And no, that's not a loud "JRUUUUE" we're hearing from the crowd.
Nets 83, Sixers 61 — END OF THE 3RD QUARTER
Evan Turner...where for art thou Evan Turner?
Well, we know where Andray Blatche is. Both tonight as well as 4:00 this morning!
Nets 78, Sixers 58 — 1:00 REMAINING IN THE 3RD QUARTER
Reggie Evans Watch: 23 rebounds.
Sixers' Disaster Watch: Outscored 28-9 in the 3rd so far.
One thing that has been a rarity during Collins' tenure with the Sixers has been questionable effort. Questionable talent? Sure. Toughness? Absolutely. But they always seemed to try.
They don't seem to be trying this half. Players are going half-speed with their heads down.
They should be ashamed of themselves.
Nets 76, Sixers 56 — 3:09 REMAINING IN THE 3RD QUARTER
Wondering how long Brook Lopez will remain a raw talent with tons of potential. He's currently good, has the tools to be great and the hair to be memorable.
On the same token, Joe Johnson might be one of the least-memorable "very good to great" players. He just quiety does his thing and has for some time.
This is getting ugly.
Nets 72, Sixers 56 — 4:12 REMAINING IN THE 3RD QUARTER
Fun — or perhaps depressing — stat so far:
Reggie Evans: 20 rebounds.
The ENTIRE Sixers team: 19 rebounds.
Boston native and die-hard Celtics fan Mark Wahlberg presented a Sixers jersey at halftime. Sure, makes sense.

Next week, we should see Will Smith's jersey hanging from the Boston rafters...
The Sixers look reaaallly confused. And MAN did this get out of hand in a hurry. A 16-2 Nets run.
And, like clockwork, the first boos justifiably begin...
Nets 64, Sixers 49 — 7:30 REMAINING IN THE 2ND QUARTER
So if the Nets pull this out, that brings Carlesimo to 6-1 as the interim coach. It probably behooves the team to keep him at least until the remainder of the year, if for no other reason than to keep a sense of stability to a franchise experiencing so much transience over the past year.

Unless, of course, a certain guy from the area with 11 rings comes knocking...
Meanwhile, Nets come out a LOT better in the 2nd half than they did in the first. Whereas the Sixers may still be in the locker room.
Nets 54, Sixers 47 — 10:08 REMAINING IN THE 3RD QUARTER
Observations thus far:

- Holiday carried the Sixers in the 1st quarter and was practically invisible in the 2nd. In hindsight, Collins should have left him in to continue to the momentum.
- Can anyone box out Evans? Sixteen rebounds already. Two points. Are we approaching some crazy, Rodman-esque disparity?
- D-Will has 13 points on just six shots. A model of efficiency.
- Both teams look pretty evenly matched, if only because each is maximing different strengths on the floor.
Hawes nails another cringe-worthy three and the Sixers keep it close.
Nets shooting just 38 percent compared to Philly's 50, yet somehow find themselves up one at the half.
Free throws and rebounds are the story Brooklyn. As they typically are for teams who have succeeded against the Sixers this year.
Nets 48, Sixers 47 — HALFTIME
I think Wilkins heard me: helluva backdoor reverse.
Nets 45, Sixers 44 — 0:43 REMAINING IN THE 2ND QUARTER
Spencer Hawes taking a three = the epitome of "No-no-no...YES!"
Damian Wilkins, fresh in the game = the epitome of just "No!"


Nets 45, Sixers 42 — 1:40 REMAINING IN THE 2ND QUARTER
Funny how the areas the Sixers lack the most (energy, toughness, rebounding) can be found by their former player on the opposing squad. And could have been had for dirt cheap.
And was recommended to come back by yours truly last summer.
Nets 43, Sixers 38 — 2:43 REMAINING IN THE 2ND QUARTER
Sixers' fear of penetrating + Reggie Evans in beast mode = many, many rebounds for Evans.
7-0 Nets run enough for Collins to give his boys a tongue-lashing.
Nets 43, Sixers 38 — 3:29 REMAINING IN THE 2ND QUARTER
Evan Turner a sweet reverse followed by a fantastic breakaway outlet pass. Problem is, he's been doing it in spurts.
The Nets are really running the offense through Blatche so far.
Nets 36, Sixers 36 — 6:30 REMAINING IN THE 2ND QUARTER
This article is
What is the duplicate article?
Why is this article offensive?
Where is this article plagiarized from?
Why is this article poorly edited?

Philadelphia 76ers: Like this team?