Miami Heat vs. Indiana Pacers: Live Score, Results and Game Highlights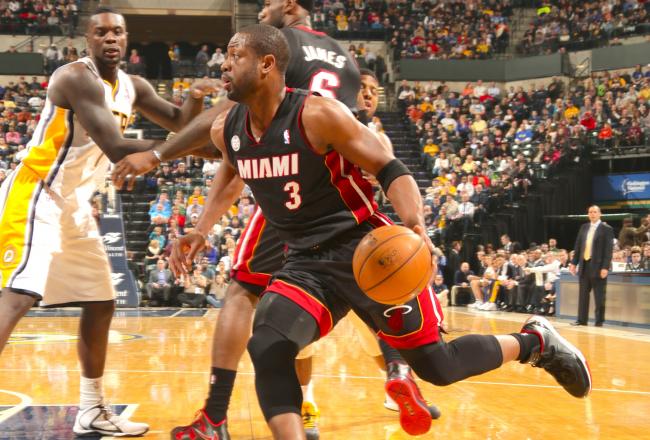 The Indiana Pacers won their eighth straight at home with a 87-77 victory over LeBron James and the Miami Heat on Tuesday (Jan. 8) night.
Let's have a look at the commentary from tonight's Pacers' win!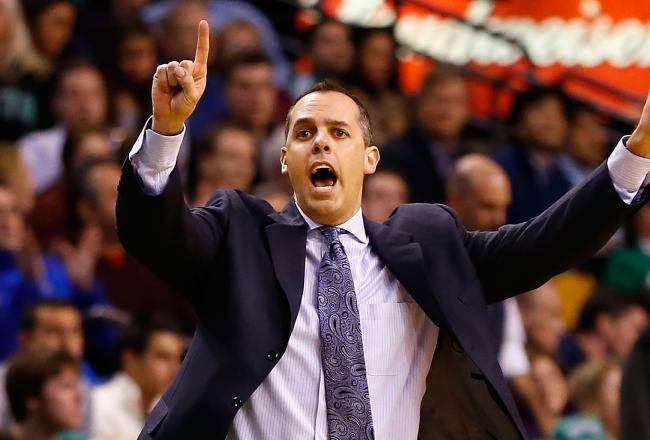 What a way to celebrate a contract extension, Frank Vogel.
Indiana came out tonight against the Heat and did all the small things necessary to win a basketball game. Among the keys to the game were:
1) Rebounding. Indiana out-rebounded the Heat 55-36.
2) Tough Defense on the Big Three:
-Chris Bosh got going early, but was subsequently silenced by both Ian Mahinmi and Roy Hibbert
-Dwyane Wade had a huge first half, but the Pacers began to cut off his drives in the second half.
Lance Stephenson's big frame kept Wade from slipping around him on penetration, and though Wade was hot shooting in the first half, he cooled in the second.
-LeBron James was forced into a lot of tough shots by Paul George, who is showing that he is not only a premier scorer (29 points), but that his calling card continues to be his exceptional defense.
3) Lack of Support from Non-Big Three
Ray Allen failed to score, and the Miami Heat got just 11 points outside of their talented trio. If the Heat are going to score with their Big Three, that's fine. But if you can limit all the role players and shut them down, the Heat aren't going to win the game three-on-five.
4) Varied and Dynamic Pacers offense
Every Pacer that played contributed offensively, save George Hill (0-of-4, zero points) and Orlando Johnson (just four minutes played). The Pacers bench outscored the Heat 25-8.
5) Paul George
Paul George is making the league take note: he is an All-Star talent.
The Pacers came away with an 87-77 victory and reminded people that they can be the best team in the East. And they did this without Danny Granger.
When Granger returns, the East will be on high alert as the Pacers continue to surge. They are now 13-3 at home, and the Heat start off this road trip with a big L.
FINAL SCORE: PACERS 87, HEAT 77
Indiana was able to run the full 24 seconds off the clock on their last possession, which was about the best outcome they could have hoped for, sans a score.
LBJ was able to get into the paint and draw a foul on Paul George, but he hit just 1-of-2 from the line and the Pacers still lead by seven with the clock waning.
PACERS 82, HEAT 75 — 39.2 in Game
The Pacers are playing excellent help-side defense on LBJ and Wade. Wade is having enough trouble breaking down Lance Stephenson, but every half-step he gets is cut off by D.J. Augustin and Paul George.
Wade's huge first half has dissipated into mediocrity, and the Heat are having trouble getting much going offensively.
Defensively, Miami has looked good in the last few possessions, and the Pacers are taking tough, contested shots. But the momentum, and home court advantage, is already in Indiana's pocket coming down the stretch.
PACERS 82, HEAT 74 — 1:05 in 4th
It's looking like the Pacers should be able to hold on in this one. Paul George has been the game changing defensive talent the Pacers needed to contain King James.
James has yet to find his rhythm in the game, and though he has 21 points, they have been a very quiet '21.'
Chris Bosh got hot early, and disappeared thereafter. Dwyane Wade had a monster first half but has scored just two points in the second half.
Outside of their big three, the Heat have received just 11 points from the rest of their team.
The Pacers are exposing their two biggest weaknesses: lack of interior toughness—and a lack of depth.
PACERS 82, HEAT 72 — 3:12 in Game
LeBron James now extended his streak to 33 games with 20-plus point scoring, with a three from the left wing.
I'm sure he's more focused on that right now than the fact the Heat are getting their rears handed to them and abused on the interior.
PACERS 78, HEAT 67 — 5:51 in 4th
Paul George has handily out-played LeBron James, who just picked up an offensive foul in the backcourt as George set himself in front of James to take the charge.
George is making his All-Star case tonight—big time.
PACERS 78, HEAT 65 — 6:39 in 4th
The Pacers have 21 second-chance points in this game to Miami's six. The Heat better start working the trade line to find themselves a rebounder. The Bulls exploited this in Miami, and Indiana is taking advantage tonight.
It's pretty easy to see what I'll be using for my "Achilles' Heel for Every NBA Team" article coming Saturday morning on B/R.
PACERS 73, HEAT 60 — 9:14 in 4th
The Pacers closed the quarter on a 23-6 run in the final eight minutes of the quarter, and they enter the fourth quarter in control.
Still, it's impossible to count the Heat out, even though they have been badly out-hustled and out-played. LeBron James and Dwyane Wade can get the Heat back in the game in a hurry.
The Pacers have possibly two of the best wing defenders in the league to counteract that brilliance though in Paul George and Lance Stephenson, both of whom are having brilliant games.
PACERS 67, HEAT 57 — End of 3rd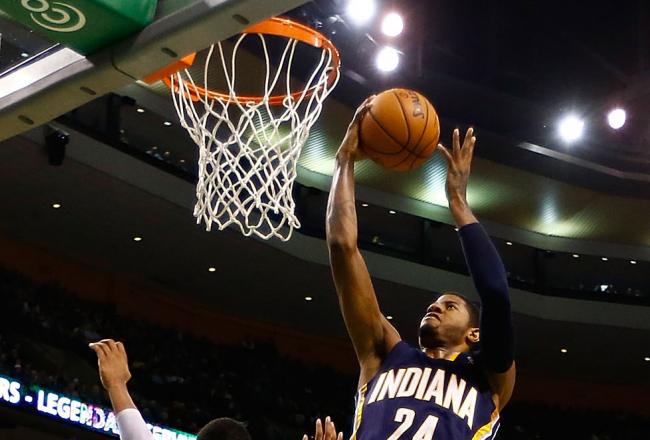 Paul George now has nine in the quarter following a lean in three from the top of the key.
The Pacers have outscored the Heat 25-15 in the quarter, and the momentum is now in their favor. Erik Spoelstra reacted to the run by calling timeout to try to end this 23-6 Pacers' run.
Should George be considered for the Eastern Conference All-Stars? The Pacers have stayed afloat without Danny Granger, and he's a big reason why.
PACERS 67, HEAT 57 — 1:21 in 3rd
Now Paul George is looking to get involved. He's not letting the fact that LeBron James is playing ferocious defense keep him from trying to work his offensive game.
George hit a 16-foot step back jumper at the top of the key and has 13 points on 6-of-16 shooting.
Even if George can't get it cooking, it's vital he stays active to tire LBJ out and prevent him from having as much energy on the offensive end.
PACERS 59, HEAT 55 — 2:55 in 3rd
Lance Stephenson is on fire. He hit his third three about five or six feet behind the line, and the Pacers have rallied from a seven point deficit to take the lead.
So much for bringing on Gerald Green.
PACERS 55, HEAT 53 — 5:17 in 3rd, Heat Timeout
Frank Vogel has left Lance Stephenson on the court. It worked out. Stephenson responded by hitting an open three, his second of the game. He has 10 points for the Pacers, and this is his seventh time in nine games scoring double figures.
HEAT 53, PACERS 49 — 6:14 in 3rd
Lance Stephenson picked up his fourth foul trying to box out Chris Bosh. Stephenson's foul trouble is going to require Gerald Green to log some more minutes.
Green will have his work cut out for him covering Dwyane Wade, but at least his athleticism should cover some of his blunders on the crafty Wade.
HEAT 51, PACERS 46 — 7:19 in 3rd
Mario Chalmers joined the fun by hitting a 27-foot three from the right wing. Chalmers didn't score in the first half, and hasn't scored in double figures since Dec. 26, when he had 17 in a 109-99 loss to the Detroit Pistons.
Chalmers averages just seven points per game on the year, and his role has decreased with the emergence of Waldo Geraldo Faldo—ahem, Norris Cole.
HEAT 51, PACERS 44 — 8:23 in 3rd, Pacers Timeout
LBJ has come out gunning. After a take to the basket, he came back the next possession to hit an 18-foot pull up jumper. James was quiet in the first half, but no one honestly expects him to let Dwyane Wade do all the damage against a Conference rival with so much bad blood.
HEAT 48, PACERS 44 — 9:05 in 3rd
The Heat have started out the quarter on a 4-0 run behind a Chris Bosh jumper and a LeBron James drive to the basket.
Paul George counteracted it with a tip-in on the other end, only further accentuating the Heat's issues on the defensive glass.
HEAT 46, PACERS 44 — 10:10 in 3rd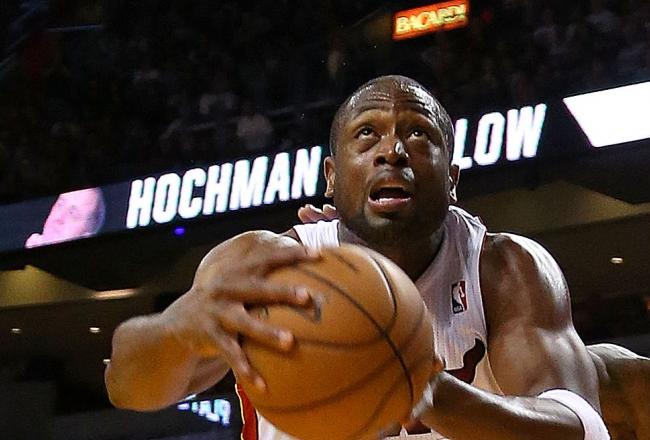 The Pacers are still out-rebounding the Heat 28-21, but the Pacers have to be worried that the score is tied with the relatively quiet first-half LeBron James had. James has just eight points, and the real reason of course is that Paul George is a premier defender who is keeping the MVP out of his sweet spots.
George has made James work on the other end, too, which is going to be a key for this game. If George can establish himself in a game like this against the best competition, it will make more take notice of the sensational third-year player from Fresno State.
Dwyane Wade has almost single handedly keeping the Heat in this game, with 23 first half points. The Pacers have to use George on LBJ, which renders them with either Lance Stephenson or Gerald Green on Wade.
This is where having Danny Granger would have been even more useful, as Granger could D-up LeBron, leaving George to focus on shutting down Wade.
PACERS 42, HEAT 42 — Halftime
The Heat have now gone on an 11-0 run, which was finally stopped by a Roy Hibbert layup.
It's impossible to ever count the Heat out when LBJ is doing his thing. They're getting outplayed badly on the interior, and the Pacers are killing them on the boards. But James is starting to find his rhythm and has eight points.
Dwyane Wade is also forcing Gerald Green into rookie mistakes, not withstanding the fact that Green is not a rookie.
Green bit a ball fake and fouled Wade on a three; although, in Green's defense, Wade had already hit three three-point shots. So, the reaction was quasi-warranted by his hot shooting.
PACERS 40, HEAT 39 — 56 seconds in Half, Wade at the line for three
The Pacers bench has outscored the Heat 15-5. They're getting great well-rounded contributions from their squad, and looking a lot like the team that led the Heat 2-1 in the Playoffs.
Could Indy be the best contending team in the East that no one is giving a chance?
All the talk is about Miami, New York, Chicago and even Boston. But shouldn't the Pacers be in this discussion?
PACERS 38, HEAT 34 — 2:00 in Half
Paul George tried to take it baseline, but was met by Joel Anthony who blocked the dunk attempt.
Gerald Green said "I can do one better," and rose up for an even more impressive swat on the other end. Green's value just continues to rise.
PACERS 38, HEAT 30 — 3:10 in 2nd
Pacers are out-rebounding Heat 24-15. Again, this will spell Miami's demise this year if they don't find either the personnel or internal solution to remedy their issues on the boards.
The Pacers are a very good rebounding team, and every time a shot goes it, it's as though they can sense the blood in the water.
If LBJ wanted to prove his weight as a premier player tonight, he'd go snatch 15 boards.
PACERS 36, HEAT 28 — 5:14 in 2nd, TV Timeout
Gerald Green really wants to prove to the league he is more than a dunker (Subscription required). On a nice alley-oop, Green played it nice and just layed it in. The following possession, Green knocked down a trey from the wing.
Green has seven points and four boards early on and the Pacers are clicking in the second.
PACERS 34, HEAT 28 — 5:50 in 2nd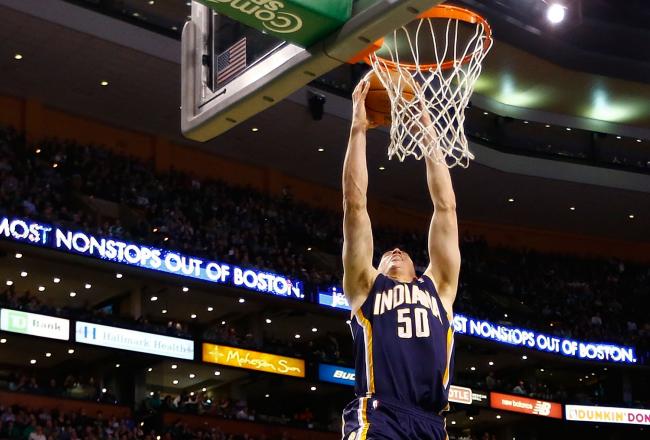 Tyler Hansbrough hit a nice jumper from the top of the key. If the Pacers are going to start having big men launching up J's, Psycho T is the one to do it, not Ian Mahinmi.
Hansbrough has six points in the second quarter (1-of-3 FG, 4-of-4 FT) and the Heat haven't scored in the first (almost) four minutes of the quarter. That nearly matches his season average of 6.5 points per game.
PACERS 26, HEAT 19 – 8:06 2nd Quarter, Heat Timeout
Erik Spoelstra is looking to ride the play of Chris Bosh. He's the only member of the Big Three on the court, and they continue to ride Bosh's offensive play.
Bosh has six points, and has continually drawn double teams. Will Ray Allen reap the benefits of the attention being drawn by Bosh?
PACERS 22, HEAT 19 — 9:23 in 2nd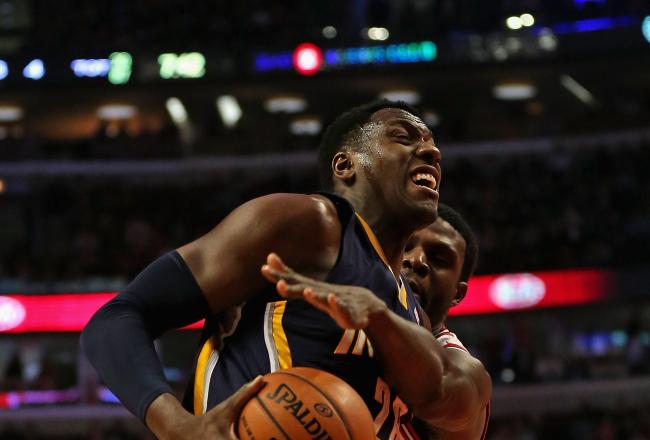 Ian Mahinmi is fearlessly launching jumpers—but he shoudn't be. That's not the shot the Pacers want in the offense, unless forced.
The 6'11" French big man is a 42 percent field goal shooter, and clearly doesn't have the range or game to be taking such shots.
PACERS 20, HEAT 19 — End of 1st
This article is
What is the duplicate article?
Why is this article offensive?
Where is this article plagiarized from?
Why is this article poorly edited?