Oregon Football: 5 Reasons the Ducks Will Dominate Stanford in 2013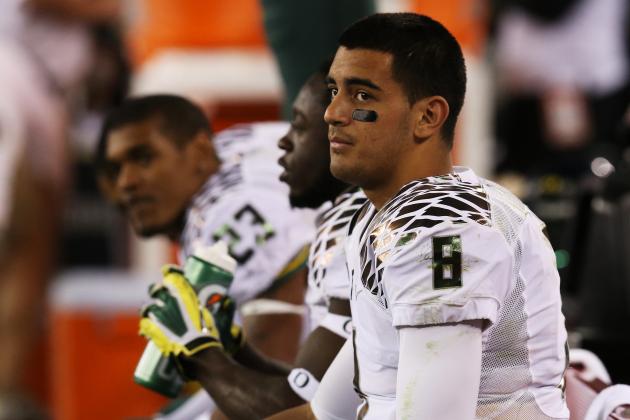 Stephen Dunn/Getty Images

Before you know it, the Oregon football team will have a chance to avenge its 2012 loss to the Stanford Cardinal (17-14 in OT).
Will the Ducks be up to the challenge of knocking off the Pac-12 Conference champion?
In a word, yes.
It's a shame that the two teams who are the current cream of the crop in the Pac-12 Conference, by virtue of the final AP Poll, are in the same division. The Ducks, as they learned this year in one painful weekend, have to go through a very tough, talented Stanford team to accomplish their lofty goals.
The beauty of college football is that dozens of things change every year: It is never static. With that in mind, here are five reasons why the outcome of the Oregon vs. Stanford game will be different in 2013.
Begin Slideshow

»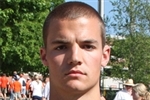 Matt Wogan photo courtesy of 247Sports.com
It is true, of course, that no one player can lose a game in a team sport like football.
Good luck telling that to Oregon fans.
Placekicker Alejandro Maldonado, while probably a nice young man, has missed three crucial field goals in the last two years. The first came in the 2010 USC vs. Oregon game at Autzen Stadium. The kick would have sent the game into overtime. The Ducks had the fourth quarter momentum in that game, and 59,000 fans liked their chances in an overtime period.
Maldonado missed not one, but two essential field goals in the 2012 Oregon vs. Stanford game, also at Autzen. In the third quarter Maldonado kicked wide right on a 42-yard attempt, and then went left on a 41-yarder to open the overtime period.
Were it not for those misses, coupled with No. 1 BCS (at the time) Kansas State's bad loss to Baylor, the No. 2 Ducks would have been on their way to Miami.
Enter Matt Wogan. Oregon has secured a verbal commitment from one of the top kickers in the nation. Wogan has a strong leg and, according to kicking instructor Chris Sailer, is a good athlete with a terrific mental attitude.
In a close game, the addition of Wogan to the Ducks' roster might be the difference.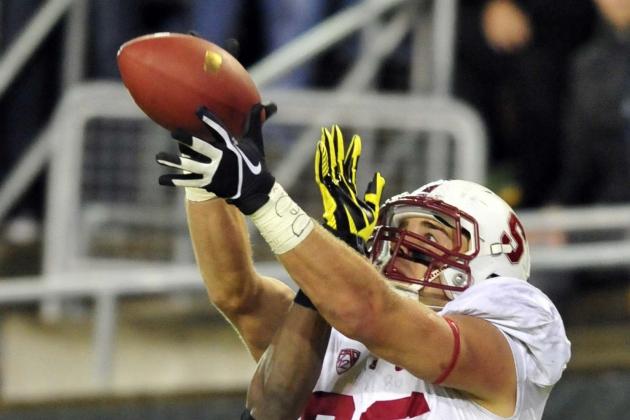 Steve Dykes/Getty Images

Stanford tight end Zach Ertz has been a thorn in Oregon's side for the past three years. That cheer you heard on Jan. 7 came from Eugene, OR when word of Ertz's early departure from Stanford for the NFL was announced.
Some players seem to play their best against certain teams. Following a long line of excellent Stanford tight end performances against the Ducks, Ertz certainly rose to the occasion in 2012. Stanford QB Kevin Hogan hit Ertz with a 10-yard pass to tie the game at 14 with 1:35 to go.
That reception for the unanimous All-American tight end ended up being the game-winning touchdown.
Stanford may very well have a budding young tight end coming up the roster. But with Ertz and fellow Stanford tight end Levine Toilolo both entering the NFL Draft, it will create at least a minor hole in the Cardinal offense.
Ertz seems like a decent enough fellow.
But nice guy or not, let Oregon fans know when you are leaving for the NFL, Mr. Ertz. There will be thousands of Ducks at the airport to happily wave goodbye.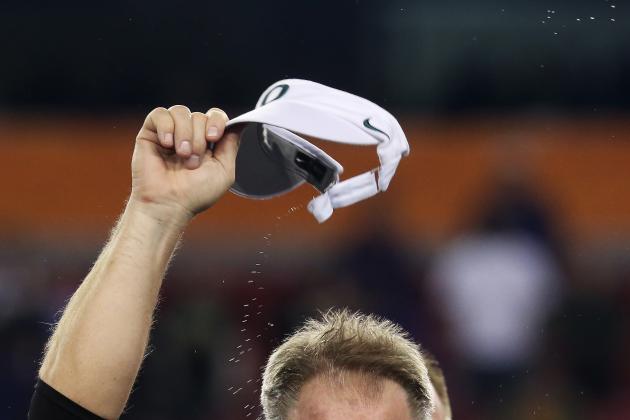 Stephen Dunn/Getty Images

If the Cleveland Browns or Philadelphia Eagles had been successful in their attempts to lure Chip Kelly to the NFL, this article would have had a different headline.
It's likely that Pac-12 Conference commissioner Larry Scott and U of O athletic director Rob Mullens are the only conference big shots who are happy that Kelly is returning to Oregon. While conventional wisdom predicted that the Oregon program would not miss a beat if Kelly left, don't you believe it.
Conference competitors and, yes, more than a few of their head coaches, would have heaved a sigh of relief if they didn't have to face Kelly's genius and tenacity.
There is also one important stat that is relevant to this argument. Kelly's gaudy four-year overall record includes only seven losses to six different teams. Although two of those losses are to Stanford, Kelly has not lost once to a team that beat his Ducks the previous year.
Case in point: Oregon avenged its 2009 loss to Stanford by storming back and thrashing the Cardinal 52-31 in 2010. Another example is Kelly's team losing to USC in 2011, and then taking it to the Trojans at the L.A. Coliseum in 2012 (62-51).
Now, David Shaw is no Lane Kiffin (and that's meant in the nicest possible way.) Shaw will have his Stanford team prepared and ready to face Kelly and the Ducks in 2013.
But remember, as a head coach, Kelly has never lost to the same team in back-to-back years.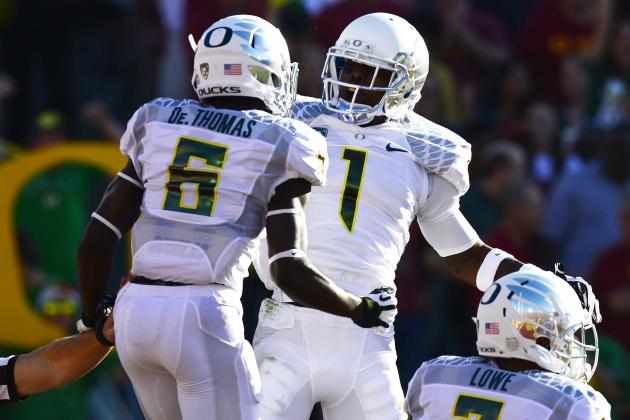 Robert Laberge/Getty Images

Unless there are any surprising early departure to the NFL announcements, Oregon will return 15 of 22 starters in 2013—seven on offense, eight on defense. Included in that returning talent is the Ducks' point man, quarterback Marcus Mariota, who wowed the nation in his first year as Oregon's QB.
Also returning for the Ducks are superstar De'Anthony Thomas, wide receiver Josh Huff and most of Oregon's high-powered offense.
The 2013 Ducks will still be a young team, but seasoned with big-game experience under their belts.
Stanford will welcome back as many as nine starters from their tough defense. But the Cardinal offense will take a real blow losing exceptional running back Stepfan Taylor and productive tight ends Levine Toilolo and Zach Ertz.
Stanford also loses its top three receivers, and five over all. Who will Kevin Hogan throw to and who will run the ball for the Cardinal?
Big questions with no obvious answers.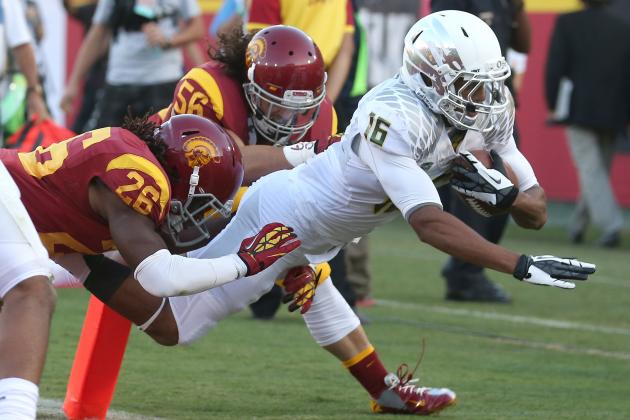 Stephen Dunn/Getty Images

Autzen Stadium is among the loudest and toughest college football stadiums. Autzen's famous noise level prompted a Michigan Daily columnist to write after a 2003 upset of the Wolverines there: "Autzen Stadium is where ranked teams come to die."
So, here's the weird thing: During Chip Kelly's reign, the Ducks have actually won more Pac-12 Conference games on the road than at home. The 2009 loss to Stanford in Palo Alto is, unbelievably, the only away conference loss for Oregon with Kelly as head coach. The Ducks lost to USC (2011) and Stanford (2012) at home for their only other conference losses.
Kelly frequently says that the Ducks will go anywhere and play anyone. Clearly, that holds true for his team as well.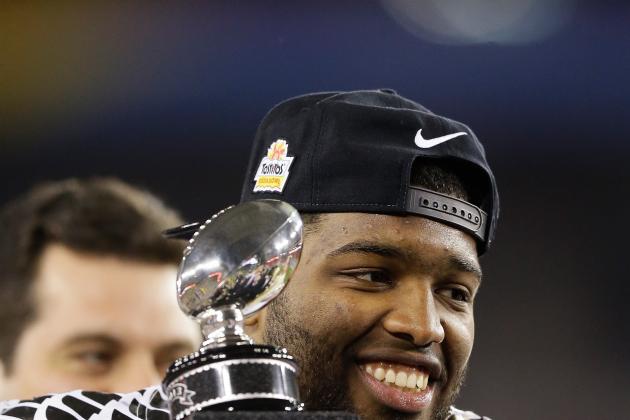 Ezra Shaw/Getty Images

Who will win the Pac-12 North Division—and, therefore, most likely bring home the Pac-12 Conference Championship hardware—in 2013?
Stanford will once again be a worthy foe, but on paper it appears that Oregon returns more talent and depth, and has fewer weaknesses overall this year. Some might also say that Chip Kelly will be on a mission—even more so than last year.
Factor in the revenge motivation for the Ducks (oh, what could have been!), and the Cardinal better bring their "A" game or risk being dominated.
Kay Jennings is a member of the Football Writers Association of America.