Tottenham Hotspur: What Does Villas-Boas Have in Store for Fringe Youngsters?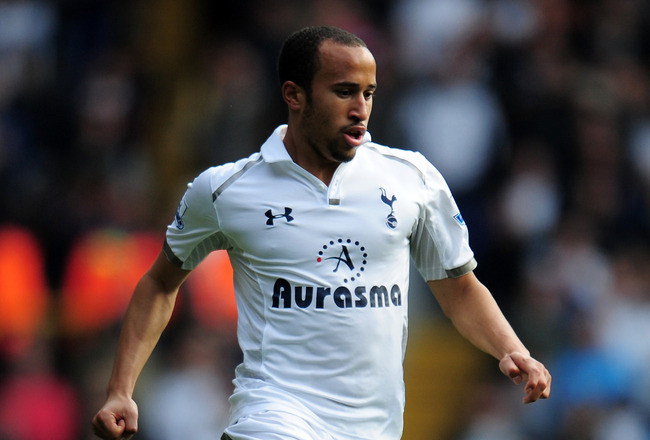 Andros Townsend is one of several youth team products to be currently hovering around the fringes of the Tottenham squad.
Shaun Botterill/Getty Images
With Benoit Assou-Ekotto and Scott Parker back from injury, Tottenham Hotspur manager Andre Villas-Boas has considerable options to choose from in defense and midfield right now.
The return of Parker in particular, though, has consequences for three players who have had varying degrees of game-time in the England international's absence (though not strictly because of it).
Winger Andros Townsend and central midfielders Thomas Carroll and Jake Livermore have progressed through the ranks at Tottenham and have proven themselves of sufficient quality to be regarded as valuable members of the first-team squad.
While their fellow academy graduate Steven Caulker is now regarded as a genuine starting contender in defense, this trio are still seeking to elevate their status above being fringe players.
After time spent on loan they are balancing their occasional first-team appearances with regular showings in the Under-21 Premier League.
Competition for places has only intensified with the return of senior teammates like Parker. So what does the rest of this season have in store for this talented young trio?
Jake Livermore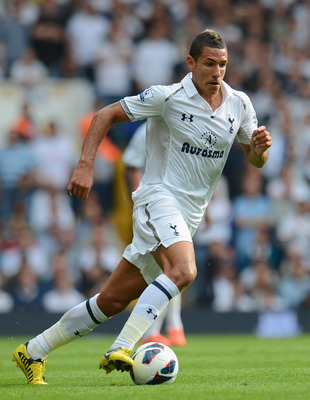 Jake Livermore.
Shaun Botterill/Getty Images
At 23 years of age Jake Livermore is just about within the borders of being someone who can be regarded as a prospect, if only for his lack of appearances compared to others his age.
This season has been tough for the midfielder after being involved regularly last year, even if not always as a starter.
Match time has been limited through a combination of injuries and the changing outlook for his position under Villas-Boas' management. Starting the season in the team alongside Sandro, the overly defensive look of the midfield in those opening games meant Tottenham has sought to work with greater balance since then.
It has paid off in the partnership between Mousa Dembele and Sandro, but the form of the latter in particular has only made it harder for Livermore to stake his claim for the more defensive role. A difficulty that has only been enhanced by Parker's comeback.
Stories in some media outlets (including here from the Daily Telegraph) have Queens Park Rangers manager Harry Redknapp keen to reunite with his former midfielder while on Wednesday the Daily Mail reported Spurs turned down a loan bid from Everton in order avoid strengthening a Champions League rival.
Livermore might relish the opportunity of regular football if it will not be forthcoming at Spurs in the long-run (his prospects have diminished even more with the signing of Lewis Holtby). However Villas-Boas evidently still values his contributions, particularly in shoring his side up late in games, as Livermore was called on to do against Reading last week.
With the manager finding a more workable way of doing this without going unnecessarily negative and costing his side, he could still have use for Livermore. However, if QPR are serious about signing the England international, a decent transfer fee might change the Portuguese's mind mind.
Thomas Carroll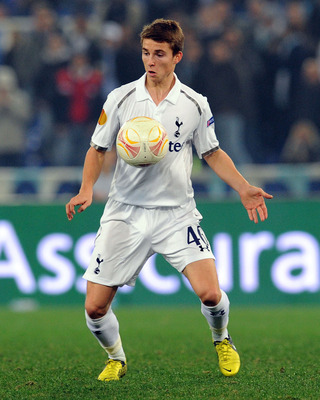 Thomas Carroll.
Giuseppe Bellini/Getty Images
Thomas Carroll caught the eye last season in his first appearances for Tottenham Hotspur.
The midfielder's style bore an uncanny resemblance to his then teammate Luke Modric. Like the Croatian, Carroll was of a shorter stature, but combining a clever eye for a pass and the desire and movement to get on the ball, he found a way to influence proceedings that belied any concerns over his physicality.
Tottenham have moved away from the kind of midfield play Modric was such a large part of last season, but in Carroll they have found someone who offers them that option should they require it.
During Mousa Dembele's absence from injury they found they definitely did.
Carroll was a breath of fresh air for a midfield that looked listless from an attacking sense. Against Arsenal the 20-year-old came on and with his hunger for the ball gave his teammates a passing choice that been severely lacking.
Spurs still went on to lose that game with 10 men, but he showed how they might have stayed competitive had they had someone to help keep possession rather than routinely giving the ball back to the Gunners like they did.
Carroll's Europa League showings were more impressive. Against less imposing opposition he gave an indication of the influential player he might become with time.
Tom Huddlestone might still have the nod over him as the de facto second choice passing midfielder behind Dembele. But Carroll's more senior teammate will almost certainly need to move on with his own first-team chances limited.
That move may not happen until next summer, however Carroll is unlikely to get too many more run outs before then anyway (barring injuries to others).
For now he must continue to hone his craft in the Under-21 League. Ready to come in and play his part if needed, but mostly with an eye on the future.
Carroll has the potential to be a big player for Tottenham, even as they increasingly look to spend and cut it in the big time.
Andros Townsend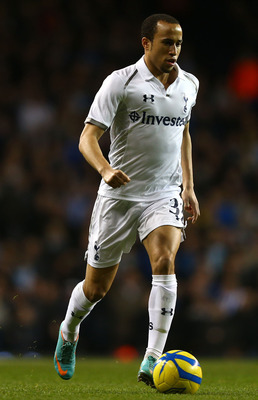 Andros Townsend.
Clive Rose/Getty Images
The additional numbers in central midfield and the more recent use of two strikers has meant Villas-Boas has accommodated players like Clint Dempsey by playing him out wide on occasion.
For a natural wide-man like Andros Townsend, getting ahead of more experienced teammates has been hard as a result.
Yet while situations such as this, and the continued good form of fellow wingers Aaron Lennon and Gareth Bale, have restricted his opportunities, Townsend has progressed this season.
Redknapp gave him sporadic playing opportunities in cup games over the last two seasons but preferred to stick with tried and trusted players.
Significantly, Villas-Boas has seen fit to involve Townsend in league games as well as in the cups. This has given him a taste of top-flight action that will be most helpful if he is called upon to fulfill a more substantial role..
There is an argument to be made the 21-year-old should be utilized more frequently.
Lennon and Bale will almost certainly remain first choice on the wings this season. But with his quickness and courage on the ball, Townsend offers a directness that others like Dempsey and Gylfi Sigurdsson do not.
Townsend's substitute appearance during the 1-0 win over Swansea City injected fresh life into a Spurs side struggling to break down their opponents. He won the free-kick that led to Jan Vertonghen's winner, one of several runs at Swansea that put the Welsh side on the back foot.
Villas-Boas is evidently aware of the benefits of using his young winger. As the season progresses and others grow increasingly tired, do not be surprised to see Townsend asked to come in and give a much-needed energy boost to Tottenham.
Keep Reading

Tottenham Hotspur: Like this team?