20 Biggest Studs and Duds of 2012-2013 College Football Bowl Season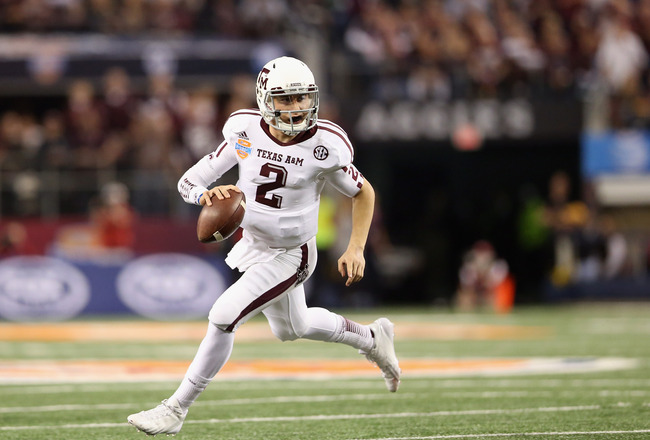 Ronald Martinez/Getty Images
After a one-sided national championship game, the bowl season has come to a close. Arguably the greatest part of the college football season is over, as 35 games flew by.
But before we start counting the minutes until next year and dreading each weekend that doesn't have any college football, we should savor the many fantastic bowl moments. But we should also recall some of the more disappointing games and performances that made you want to hit the restart button.
With another bowl season in the books, here are some of the top duds and studs.
Stud: Jadeveon Clowney and His Monster Hit
This list wouldn't be complete if we didn't include this hit by South Carolina defensive end Jadeveon Clowney. The collision took place on New Year's Day and should already be considered the best football hit in 2013 at any level. We will not witness a more explosive defensive play for the rest of the year.
You can book it.
While this may be the play that gains the most attention, Clowney finished with four tackles and two tackles for loss in the Gamecocks' 33-28 come-from-behind victory over Michigan in the Outback Bowl.
Dud: Oklahoma
Ronald Martinez/Getty Images
How many times is Oklahoma going to enter the season as a national championship contender and fall on its face? The Sooners began the season No. 4 in the country in the AP poll and did not even end up receiving a single first-place vote.
After losing two games in the regular season and looking shaky throughout a few other games, Oklahoma stood no chance whatsoever against Texas A&M in the Cotton Bowl. The Sooners defense allowed 633 total yards, and their explosive offense could only score 13 points in a 41-13 defeat.
Florida State gets criticized often for coming up short as of late, but it is getting to the point where we can start putting Oklahoma in the same boat.
Stud: Kerwynn Williams, RB, Utah State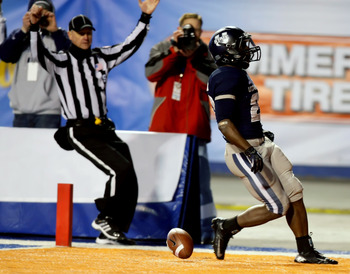 Brian Losness-USA TODAY Sports
With 35 bowl games taking place, it is hard to keep track of all of the players and the wonderful performances. One of the best showings that may have gone unnoticed came courtesy of Utah State running back Kerwynn Williams.
His 235 rushing yards were the most of any player during the bowl season, and his 13.1 yards-per-carry average was one of the best as well. However, what makes Williams' performance so impressive is that 198 of those yards and all three of his touchdowns came in the fourth quarter.
Needless to say, he played a big role in Utah State's 41-15 victory over Toledo in the Idaho Potato Bowl.
Dud: The BCS Bowl Games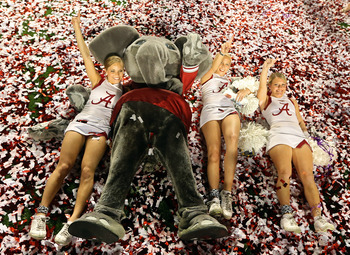 Streeter Lecka/Getty Images
Is that Big Al catching some Z's due to the lousy BCS bowl games? I sure wouldn't blame him.
The national championship was supposed to be a game for the ages. Instead, it was a 42-14 Alabama rout over Notre Dame. Elsewhere, Oregon played like Oregon and took it to Kansas State in the Fiesta Bowl, winning 35-17.
Surprisingly enough, Louisville beat up Florida in the Sugar Bowl, winning 33-23. And Northern Illinois proved to be frauds, losing to Florida State, 31-10.
The only close game out of all the BCS matchups was Stanford-Wisconsin in the Rose Bowl, and even that game could've put you to sleep at times, as the Cardinal prevailed 20-14.
Can the playoffs please start a year early?
Stud: Teddy Bridgewater and Louisville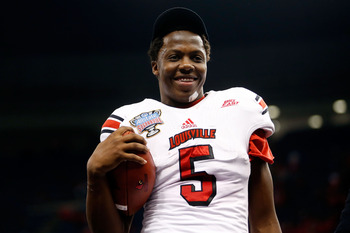 Chris Graythen/Getty Images
An impressive performance in a bowl game can do wonders for a young player. Louisville quarterback Teddy Bridgewater went from being a quarterback with a lukewarm buzz to a serious Heisman candidate in 2013 with his performance against the Florida Gators.
The Cardinals' victory was by far one of the biggest surprises of the bowl season, and it was Bridgewater who helped lead the way. The sophomore completed 62.5 percent of his passes and threw for 266 yards and two touchdowns in the victory, simply shredding the Florida secondary.
Next season should be interesting for this Louisville bunch.
Dud: The Nebraska Defense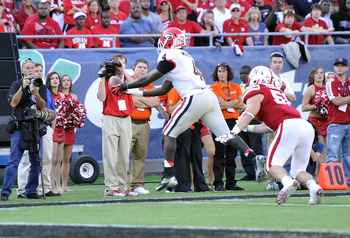 Brad Barr-USA TODAY Sports
Nebraska is a program that prides itself on tradition and hard-nosed play on defense. With that being said, it should be ashamed of itself for its defensive performance against Georgia in the Capital One Bowl.
The Cornhuskers allowed 589 total yards in a 45-31 loss to the Bulldogs. Georgia converted 12 of its 17 third downs, as quarterback Aaron Murray was breaking school bowl records along the way.
Maybe this was just one bad game, but keep in mind that Nebraska allowed Wisconsin to score 70 points and rush for 539 yards in the Big Ten championship game a month prior.
That Nebraska defense has seen better days.
Stud: Kyle Van Noy, OLB, BYU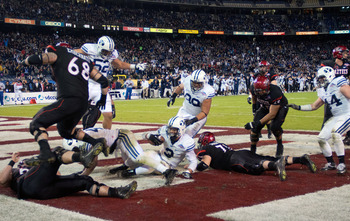 Kent Horner/Getty Images
When your offense can't seem to produce points, it is up to those playmakers on defense to get the job done. BYU linebacker Kyle Van Noy did just that in the Cougars' 23-6 victory over San Diego State.
He helped score the team's first touchdown, sacking the San Diego State quarterback in the end zone, which caused a fumble that BYU recovered for a touchdown. He later intercepted a pass and ran it back for another score. And he blocked a punt.
His was easily one of the better defensive performances of the bowl season, and it is good to know that Van Noy will return for his senior year.
Dud: West Virginia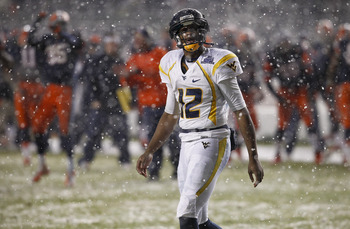 Jeff Zelevansky/Getty Images
We all know now West Virginia wasn't as good as most thought at the beginning of the year. When the Mountaineers lost five of their last seven games, people jumped off that bandwagon faster than Usain Bolt.
Still, their offense was capable of scoring quickly. But even it found a way to let us down against Syracuse in the Pinstripe Bowl.
In a game that was supposed to be high scoring, West Virginia only scored 14 points and was 0-for-10 on third down. Even with all that firepower on the offensive side of the ball, West Virginia was stymied by a team from the Big East.
Many will wonder what could have been this season in Morgantown.
Stud: Tajh Boyd, QB, Clemson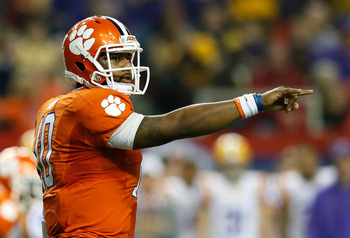 Kevin C. Cox/Getty Images
Remember how LSU was supposed to cream the Clemson Tigers in the Chick-fil-A Bowl? Thanks to quarterback Tajh Boyd, the complete opposite occurred in arguably the best bowl game of the year.
Boyd finally had the breakout moment in his career, completing 72 percent of his passes for 346 yards and two touchdowns. He also ran for 22 yards and an extra score in Clemson's 25-24 win.
Boyd made the LSU defense look mediocre all night. It makes you wonder if this performance will carry over to next season.
Boyd should be on everybody's Heisman radar in 2013.
Dud: LSU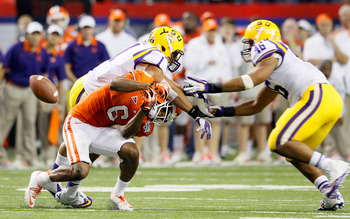 Kevin C. Cox/Getty Images
Despite losing key players to the draft and Tyrann Mathieu's suspension for the season, many in college football believed that this LSU team was more talented than last year's. At times this season, you could make that argument. But the bowl matchup against Clemson wasn't one of them.
The Clemson defense was one of the worst in the country, but it was able to hold LSU to 219 total yards, including only 99 rushing. Many thought the LSU defense was going to have its way with the Clemson offense, but 445 total yards later, it showed that Les Miles has some tweaking to do before his team is back on top.
The Chick-fil-A Bowl was one of the best bowl games of the season, but LSU really dropped the ball in this one.
Stud: Ace Sanders, WR, South Carolina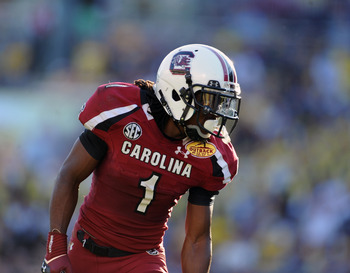 Al Messerschmidt/Getty Images
Since running back Marcus Lattimore ended up getting hurt again, wide receiver Ace Sanders decided that he was going to step up for the South Carolina offense.
The junior could not be stopped by the Michigan secondary, as he hauled in nine receptions for 92 yards and two scores. He also returned a punt 63 yards for his third touchdown of the game, showing NFL scouts that he could be a valuable slot receiver despite having flown under the radar for quite some time.
Sanders has a chance to do some big things next year.
Dud: Kansas State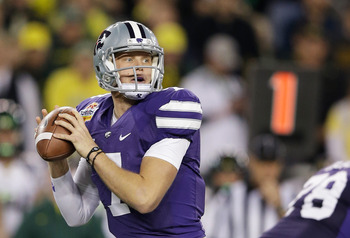 Ezra Shaw/Getty Images
There is nothing more frustrating than a team playing well all season and then forgetting how to produce in a bowl game. Even if the team was going to lose, at least show up and show some type of pride.
Kansas State was one of the more consistent teams throughout the year, but it had a hard time against the Oregon Ducks. The Wildcats scored a season-low 17 points as quarterback Collin Klein wasn't his usual self.
The defense did a respectable job, holding Oregon to fewer than 400 yards, but you never had the feeling that Kansas State could win.
On paper, the BCS Fiesta Bowl was one of the most exciting of the bowl matchups, but it let everybody across the country down with a dismal performance from the Wildcats.
Stud: The Arizona Comeback
Be honest: You thought the New Mexico Bowl game between Arizona-Nevada game was over. I'll admit it if you will.
I turned off the television thinking that the Wildcats had lost their first bowl game under head coach Rich Rodriguez. I didn't see what happened until later in the afternoon when catching the highlights.
Arizona was down by 13 with less than two minutes remaining when its offense scored a touchdown. With only a few ticks left on the clock, Arizona then recovered the onside kick and went 51 yards for another touchdown in only 23 seconds to win 49-48.
Somehow, some way, the Wildcats found a way to pull off the most exciting comeback of the 2013 bowl season.
I will never again turn off the television before the clock hits zero.
Dud: Jordan Lynch, QB, Northern Illinois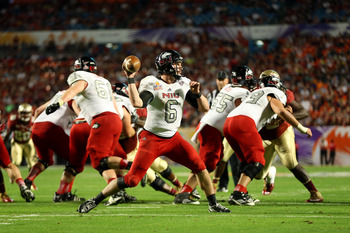 Mike Ehrmann/Getty Images
There weren't many who believed that Northern Illinois could knock off Florida State. Even if you were picking the Huskies to beat the Seminoles, you knew in the back of your mind that something just didn't feel right.
The reason that a handful were on the Northern Illinois bandwagon was because of quarterback Jordan Lynch. He proved to be an exciting quarterback all season, passing for more than 3,000 yards and rushing for more than 1,800 yards.
But against the Seminoles, the junior completed 36 percent of his passes, threw for one touchdown and had 44 yards on the ground.
And just like that, Northern Illinois showed just how broken the BCS system is.
Stud: Aaron Murray, QB, Georgia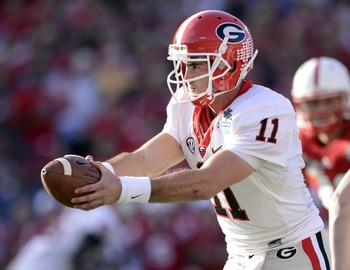 Brad Barr-USA TODAY Sports
After a heartbreaking loss in the SEC championship game, Georgia quarterback Aaron Murray decided to take some of his frustrations out on the poor Nebraska defense.
He ended up throwing for 427 yards and five touchdowns in the 45-31 Georgia win. The passing yards were the most of any quarterback this bowl season, and the touchdowns set a school record for a bowl game.
Murray actually looked like a future NFL quarterback in this game. For Bulldog fans, let's hope this performance will be a preview of how he plays his senior year.
Dud: Mike Glennon, QB, North Carolina State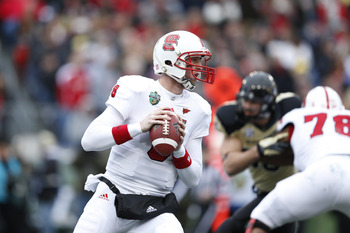 Joe Robbins/Getty Images
Mike Glennon could be the best quarterback in the 2013 draft class, according to draft guru Mel Kiper of ESPN. After his performance against Vanderbilt, it would be wise for NFL teams to begin looking elsewhere.
The North Carolina State senior did complete 66 percent of his passes, but he also threw three interceptions and made terrible reads with the football.
He showed limited athletic ability and didn't handle pressure well when Vanderbilt defenders got in his face. Keep in mind that this was against Vanderbilt, a team that isn't exactly filled with 5-star players.
Glennon and his performance didn't help the Wolfpack in their 38-24 loss in the Music City Bowl.
Stud: Johnny Manziel, QB, Texas A&M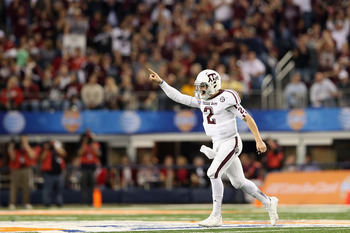 Ronald Martinez/Getty Images
Is there anything that Johnny Manziel can't do?
At one point, you thought it was a fluke, but even with a month to prepare, Oklahoma had no answer for the freshman Heisman winner. Manziel finished with more than 500 total yards and scored four touchdowns in Texas A&M's 41-13 win over the Sooners in the Cotton Bowl.
The Aggies quarterback is by far the most exciting player in the country. It is going to be a blast watching him mature heading into next season.
Dud: USC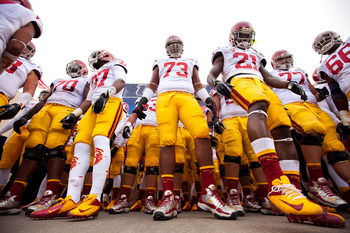 Ivan Pierre Aguirre-USA TODAY Sports
Just when you thought things couldn't get any worse for USC, they did. The Trojans lost 21-7 to Georgia Tech in the Sun Bowl. The Yellow Jackets had 369 total yards while holding USC, which turned the ball over three times, to 10 first downs.
Sure, we can make the excuse that Matt Barkley didn't play and USC wasn't motivated. But what was the team's excuse for the horrible play all season? A loss to a subpar team from the ACC was USC's fifth in its last six games and raises serious questions about the program heading into next season.
A year that was supposed to be full of success for USC quickly turned into the season that couldn't end too soon.
Stud: Alabama Crimson Tide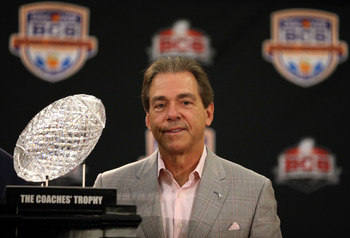 Streeter Lecka/Getty Images
Is there any explanation needed for why the Alabama Crimson Tide are considered studs for the bowl season? Well, besides the whole A.J. McCarron and his girlfriend talk, the team has now won three of the last four national titles.
The Crimson Tide took it to an undefeated Notre Dame team that couldn't figure anything out on either side of the ball. Everybody on the Alabama roster played well, which allowed head coach Nick Saban to join elite company with his fourth national title.
Life can't be too bad if you are a fan of the crimson and white.
Dud: Notre Dame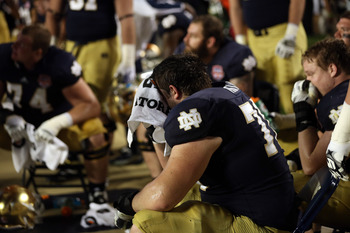 Streeter Lecka/Getty Images
Notre Dame had a successful season just by beating the odds and making it to the BCS National Championship game. However, the Irish didn't stand a chance from the opening kickoff. Alabama just rammed the ball down their throat.
It is one thing to be outmatched on the football field, but Notre Dame had the goods, particularly on defense, to make this game at least somewhat competitive.
This was supposed to be a class matchup between two historic teams. But thanks to a regrettable effort by the Irish, it was another forgettable national championship game.
Keep Reading