Five Penguins Prospects That Could Transform the Pens' Defense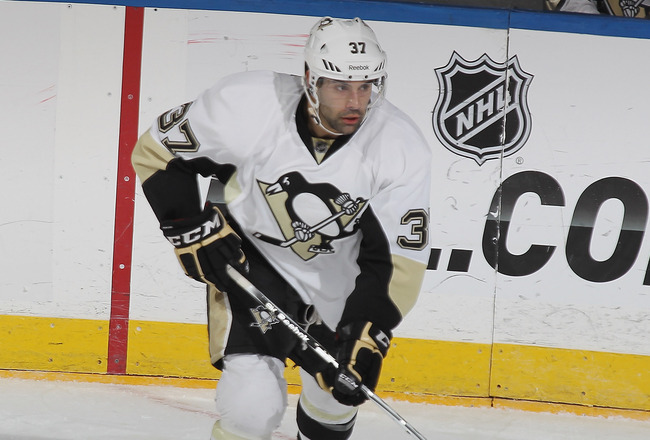 Bruce Bennett/Getty Images
The sportsbooks in Las Vegas have the Pittsburgh Penguins as the odds-on favorites to take home the 2012-2013 Stanley Cup at 8-to-1. Certainly a strong case can be made for the Pens as they enter the season with a (finally) healthy Sidney Crosby, defending Hart/Calder/Ted Lindsay winner Evgeni Malkin and sniper-in-the-making James Neal. With that said questions remain for the offense.

Does Tyler Kennedy skate with Sidney Crosby on the top line or does head coach Dan Bylsma break up the Kunitz-Malkin-Neal juggernaut of last season in order to reunite Chris Kunitz with Pascal Dupuis and Crosby?

Where do Dustin Jeffrey and Eric Tangradi fit in with this team, if at all?

Are there any Wilkes-Barre/Scranton Pens that have a shot of cracking the top-12 in this organization?

Bylsma and company will be under the gun with only one week of training camp to assemble a roster before the season opens on January 19th and what to do up front undoubtedly will be examined at length. But as any Pens fan can tell you, scoring goals last season was not half as much a problem for the Pens as was preventing them.

A share of this blame falls upon the shoulders of goaltender Marc-Andre Fleury and his (now replaced) backup Brent Johnson. But the implosion that ravaged the Pens Stanley Cup run last season runs much deeper. No player along the blue line had an honorable series against the Flyers.

Norris trophy nominee Kris Letang played like an out-of-control rookie.

The generally-feared Brooks Orpik experienced a sudden and inexplicable regression when his team needed him most.

The much-maligned $5 million man, Paul Martin, continued to struggle amplifying calls by fans for management to buy-out the rest of his deal.

If the Penguins are planning on seriously contending this season, general manager Ray Shero and Bylsma will need to seriously scrutinize their blue line. Where do they go after last season's disaster?

One thing is for certain---despite how poorly the three aforementioned blueliners played in last season's playoffs---they will remain the core of the Pens defensive structure along with Matt Niskanen (who played as close to respectably as anyone in the playoffs). The last two roster spots appear to be open for competition.

Deryk Engelland and Ben Lovejoy---the two players who often rounded out the Pens top six last season---are far from guaranteed a spot in Pittsburgh again this season. The Penguins have drafted defensemen heavily the past few years and have a nice stable of talent developing in the AHL.

Are any of these players ready to make the leap to the NHL this season? Within I rank the top-5 young, up-and-coming defensemen in the Penguins organization to see who may make the big club this season.
5. Philip Samuelsson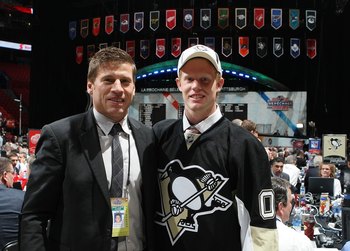 Samuelsson with his father, former Pens wrecking-ball Ulf.
Bruce Bennett/Getty Images
6'2" 190 lbs.
Age: 21
Shoots: L
Drafted: 2009, 61st (2nd rd.) by Pittsburgh Penguins
Does the last name look familiar? It should. Philip---son of former Penguin tough guy Ulf---Samuelsson is cut from the same cloth as his father as a true-blue defenseman.
While he's been developing nicely, he is not quite NHL ready. His speed is lacking and he hasn't learned how to use his 6'2" frame as well as you would like. He'll hit but not nearly with the force of his father.

His ability to move the puck out of his own zone has improved greatly and he's ferocious at defending the triangle between the faceoff dots and his goaltender. As his skating and shot improve he'll become a more viable NHL defenseman (although never expect him to be an offensive force).

Samuelsson has the potential to be a true shutdown player in time, but it is unlikely he'll be in Pittsburgh this season
4. Joe Morrow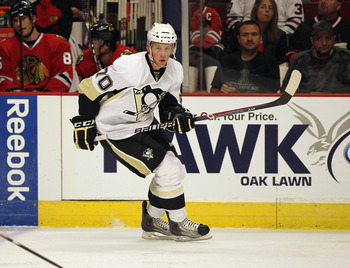 Jonathan Daniel/Getty Images
6'1" 198 lbs.
Age: 20
Shoots: Left
Drafted: 2011, 23rd (1st rd.) by Pittsburgh Penguins
Joe Morrow burst on the scene last season in Penguins training camp. The rookie stole the show with his blazing speed and surprising strength. His offensive prowess is well advanced for someone in only his second season, punctuated by an NHL-caliber slap shot and crisp passing abilities.

Morrow is prone to defensive zone lapses, which is not that uncommon among defensemen with such advanced offensive skills. This (along with his age) will likely keep him out of Pittsburgh while he develops for another season or longer.

With the Pens needing defensive strength Morrow is unlikely to be Ray Shero's first choice from Wilkes-Barre/Scranton, but there is little doubt that Morrow's future is bright within the organization.
3. Simon Despres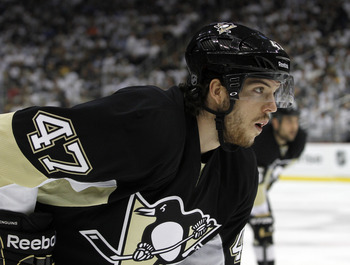 Justin K. Aller/Getty Images
6' 3" 217 lbs.
Age: 21
Shoots: Left
Drafted: 2009, 30th (1st rd.) by Pittsburgh Penguins

Highly touted from the QMJHL, Depres has all the physical makings of a top-4 defenseman. For a big body he is a remarkably smooth skater and can play two ways. He has a strong physical game and is rarely beaten off the puck, something that troubled the Pens in last season's Stanley Cup playoffs against Philadelphia. In Wilkes-Barre/Scranton he has run the point on the power play and---while he's no Sergei Gonchar---he has the potential to make a solid second-line power play captain.

Despres saw limited exposure in the NHL last season filling in for injured players as needed. In 21 games (three of which came in the playoffs) he racked up one goal, three assists and a plus-5 rating. He's had a strong start to the 2012-13 AHL season and has almost assuredly earned himself an invitation to training camp.
2. Robert Bortuzzo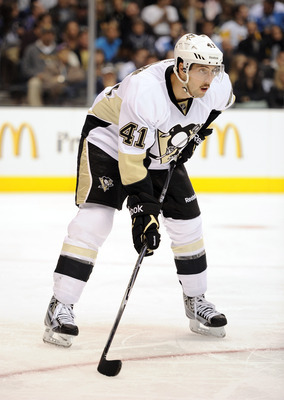 Harry How/Getty Images
6'4: 219 lbs.
Age: 23
Shoots: R
Drafted: 2007, 78th (3rd rd.) by Pittsburgh Penguins

Bortuzzo is a big, physical presence who possesses a level of offensive ability greater than that of fellow bruiser Brooks Orpik. He's exceedingly physical inside his own blue line, wins battles along the boards and can move the puck out of danger quickly (prerequisites in Dan Bylsma's system).

The past two regular seasons in Wilkes-Barre/Scranton he is a plus-38 in 156 games despite playing against the AHL's best offensive players. And we the 156 games he's played in two seasons displaying a Jay Bouwmeester-like level of durability can't be overlooked.
Bortuzzo is NHL ready but would perhaps benefit from another half-season in the AHL.
No. 1 on the list is ready right now, and I suspect Pens fans will see quite a bit of him this season.
1. Brian Strait
Paul Bereswill/Getty Images
Brian Strait
6'1" 201 lbs.
Age: 25
Shoots: L
Drafted: 2006, 65th (3rd rd.) by Pittsburgh Penguins

At age 25, Strait is just about as old as an up-and-comer can be. But don't be mistaken, he is ready for the NHL today. He and Bortuzzo were paired together the last couple seasons, and wreaked havoc on AHL offenses. Strait possesses all the skills of a prototypical Dan Bylsma-style defender. He can move the puck, skate, play shut-down defense and kill penalties. Killing penalties is something the Penguins struggled with down the stretch last season and Strait can clearly help them out in that department.

Strait is not the kind of player who will give you goals (in 236 AHL games, including playoffs, his line is 9-37-46, or roughly one point every five games), but he's a consistent plus-player (career plus-46) who can eat up big minutes and take away the ice from opposing team's best offensive players. He's not afraid to lay a hit and be physical while playing a highly disciplined game.

Solid mentally, physically impressive and strongly defensive minded, Strait is the most likely defenseman from the Baby Pens to earn a jersey in Pittsburgh this season.
Keep Reading

Pittsburgh Penguins: Like this team?