2013 NFL Draft: 5 Players Who Are Sure to Be Busts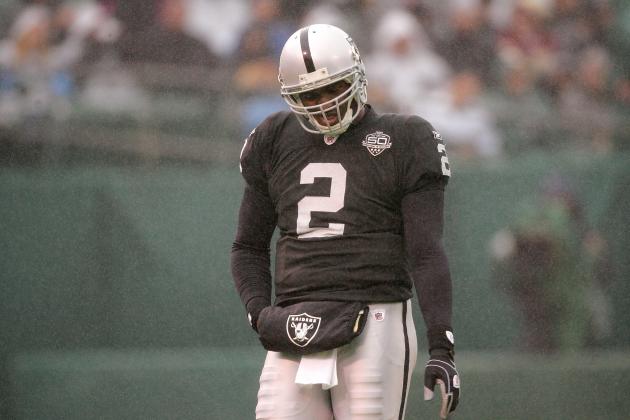 Ezra Shaw/Getty Images

It's inevitable. Sooner or later, we all come into contact with it. Like a bad cold, no one is immune or can avoid it completely. Sure, there are steps we can take to prevent it from happening, or at the very least lower our chances of being infected. However, sooner or later it finds you and knocks you off-balance.
Preparation and quality experience in diagnosing the signs beforehand are all key to avoiding the sickness and protecting yourself from this crippling disorder.
What's the sickness I speak of, you ask? Busts.
Each year, certain players display certain characteristics or traits that put into question their propensity to become good NFL players.
Infatuation and even stubbornness are at the very root of the problem and often predispose a team into making a mistake. General Managers and coaches who see the problems and detect the warning signs early, only to make excuses and figure they can fix the problems themselves are at the greatest risk.
Like a bad cold, these players cause setbacks and diminish your chances to be successful on any given day. They shake your very core, kill your optimism and can leave you scrambling to get caught up.
However, just like with any cold or sickness, the key is early detection and taking the proper steps to reduce your chance of infection. Here's a closer look at five players who have already begun to cause a tickle in my throat.
Begin Slideshow

»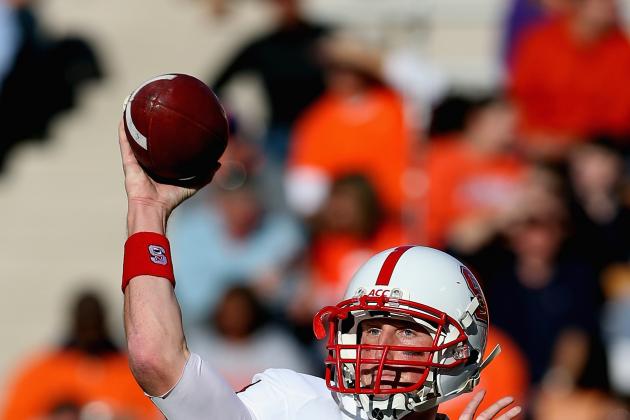 Streeter Lecka/Getty Images

What's not to like? Glennon's got prototypical size at 6'5" and 230 pounds. He played in an NFL-style offense, and shows very good arm strength to make all the throws. His accuracy on short-to-intermediate routes is very good, and he has a knack for hanging in the pocket and delivering under duress.
Like a duck on water, everything appears to be cool and calm on the surface. But deeper film study shows a player who has flaws and is panicking beneath it all.
Peeling back the superficial layer, you see a quarterback who struggles with interior pressure and lacks the internal clock and pocket presence to escape when his protection breaks down.
With a clean pocket, Glennon is very good. He has a classic overhand release, spinning a tight spiral to his intended target with correct ball placement and trajectory.
With that said, how often does an NFL quarterback get perfect protection and a pocket to step into?
Today's NFL quarterbacks must be able to slide and maneuver in the pocket to extend the play. But Glennon is more of a statue and sitting duck than a player capable of improvising when things go awry.
This is not to say that Glennon can never become a franchise quarterback, however. He does have a nice set of skills to work with.
But that's not my biggest fear.
My fear is that, in a weak draft class for quarterbacks, Glennon will likely stand out and become the new face of the franchise before he is truly ready and get drafted before he probably should.
Even though he's more of a second-round talent, it wouldn't surprise me in the least to see him drafted in the top 10 overall based on his upside—his potential—alone.
If this happens, though, it will be a mistake. Glennon needs time to learn and is more of a project than anything else at this point. The team that drafts Glennon will need to realize this and not force its hand.
Sometimes that is easier said than done when dealing with an impatient fanbase.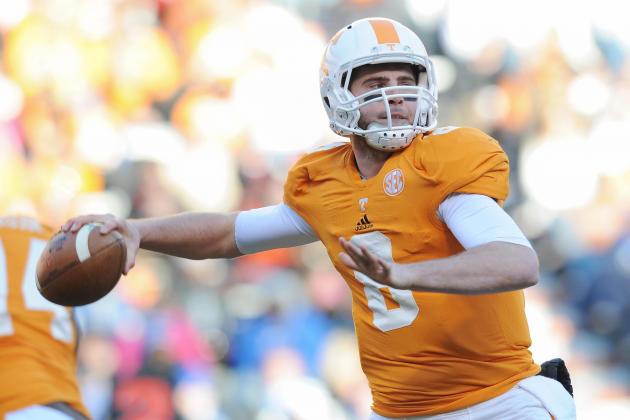 Randy Sartin-USA TODAY Sports

Just like Glennon, Bray has also become one of the more polarizing quarterback prospects in this class. Blessed with a huge arm and ball that explodes off his fingertips, Bray slings the ball better than any other prospect in this class.
His confidence in his arm and ability to thread the needle into tight windows leaves evaluators in awe at his potential to make all the throws at the next level.
Despite his immense potential, Bray remains a very raw prospect overall. He must focus on the finer points of his game if he ever is to become the player he is capable of becoming.
For one, Bray must learn to make things easier on himself and not consistently rely on his arm strength. Although he has shown the ability to throw accurately from varying arm slots and platforms, Bray is both inconsistent and lazy with his mechanics. These flaws in both footwork and fundamentals leave a lot to be desired, as Bray seems more comfortable falling away from his passes than stepping into his throws.
This, coupled with his lack of mobility, questionable decision making under pressure and relative inability to read coverages and look off the safety are all major red flags.
There are a lot of teams in need of a quarterback in this draft, but they would be wise to avoid Bray altogether. Perfecting the craft of quarterbacking is an art form, and Bray is far away from reaching that ideal.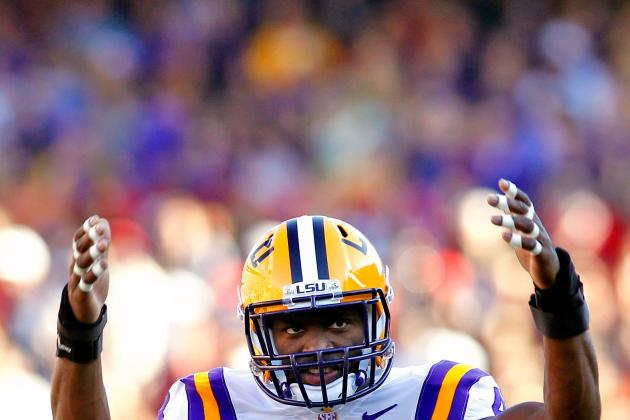 Crystal Logiudice-USA TODAY Sports

Not many players boast both a distinctive name and freakish athleticism, but that's exactly what Barkevious "KeKe" Mingo does. Standing a slight 6'5" 240 pounds, Mingo is anything but your typical football player.
Blessed with insane physical attributes and tools, Mingo has the type of quick-twitch athleticism and explosion to consistently challenge as an edge pass-rusher. His agility and ability to dip and bend around the corner is also very good, which makes you wonder why he has been so largely ineffective this season.
As we often see with pass rushers, the best ones are those who can both convert speed to power and parlay between the two in order to keep opponents off-balance and constantly guessing. This is where Mingo must improve if he is ever to take full advantage of his God-given abilities.
Although he has surprisingly strong hands, Mingo is much more bark than bite as he lacks the physical strength to bull rush. Essentially a one-trick pony, Mingo must not only get stronger but also work on his pass rush moves and develop an arsenal of techniques that will give him greater flexibility to get after the quarterback.
Mingo is your classic boom-or-bust type of player who is a better athlete than football player. He must devote time in the weight room as well as continue to work on the technical aspects of his position. Otherwise, NFL lineman will surely match his athleticism and neutralize him at the point of attack.
It's likely that a team will risk an early first-round pick on Mingo due to his enormous upside. But based on production and talent alone, Mingo is more of a project and carries significant risk as a boom-or-bust type of player.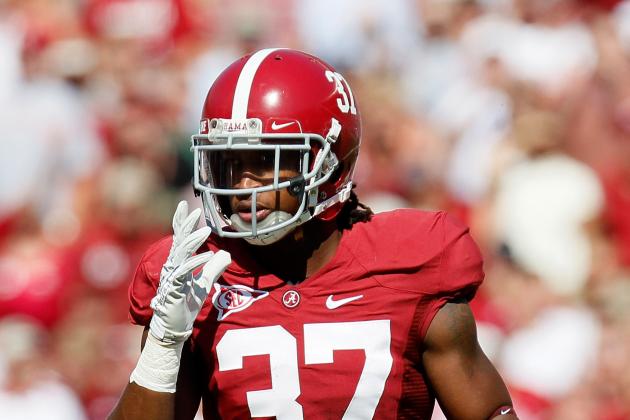 Kevin C. Cox/Getty Images

A three-year starter and Nick Saban pupil, Lester's name might seem a poor fit to be on this list. How does a player who has now started on two national championship teams find his way on to a list no prospect ever wants to see his name associated with?
Simple. Lester lacks the discipline and integrity to be a staple on the back end of an NFL defense.
Sure, he has ideal size at 6'2" and 210 pounds. But Lester lacks an explosive element to his game, as well as the straight-line speed to play the deep half.
His 14 career interceptions against SEC talent are nothing to scoff at. But despite his ball skills and experience, Lester's over aggressive and undisciplined technique makes him more of a gambler than a true playmaker.
Questionable pursuit angles and indecisiveness in deciphering the run versus the pass all make for a prospect with questionable instincts. It's shocking to think that an Alabama defensive player would be such a liability and struggle with the fundamentals, but that is exactly what has happened with Lester this season.
Evaluators I have spoken with this year feel that Lester has hurt his stock as much as anyone in this draft. His questionable run fits and exposed stiffness in coverage make him a player who lacks much upside and makes him more of a risk on the back end as your last line of defense.
Despite his name recognition and the fact that he hails from Alabama, Lester's film reeks of bust potential.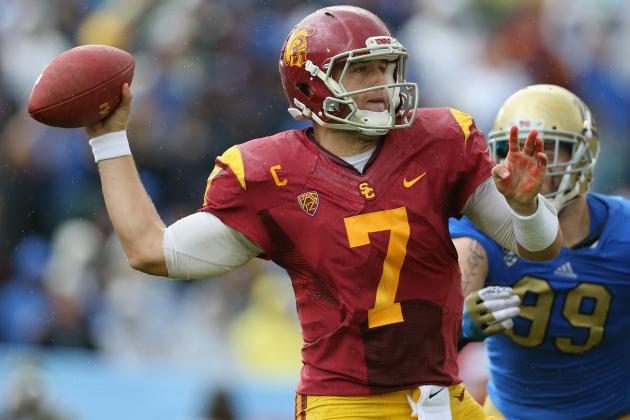 Jeff Gross/Getty Images

I saved this one for last because it's likely to generate the most debate and discussion. With Barkley, we now have three quarterbacks on this list, which speaks largely to how devoid of talent the current crop of draft-eligible quarterbacks happens to be.
Barkley was a solid college quarterback. Although he failed to live up to expectations this year, he should be considered one of the better Trojans of all time.
With that said, I simply do not see an NFL-caliber quarterback you can consistently win with. His arm is just above average, his height is lacking and his mobility and overall athleticism are average at best.
Don't get me wrong. I think he is a commendable leader and a stand-up guy.
But it's hard to imagine him doing much in the NFL when he couldn't get it done with the talent he had around him at USC.
With Barkley, what you see is what you get. He's a solid player who can be a good game manager and should enjoy some success at the next level. He needs an offensive coordinator and coaching staff that can build the necessary pieces around him and develop a scheme that plays into his strengths as passer.
Barkley excels in the short-to-intermediate game, where he can make necessary pre-snap reads and decisions to get the ball out quickly. Essentially a rhythm passer, Barkley would fit best in a West Coast offense where he can dink and dunk his way down the field.
Like the other two quarterbacks on this list, Barkley's true bust potential depends largely on where he is drafted and what will be asked of him out of the gate. However, as he's a guy who lacks the arm talent to challenge the deep parts of the field, Barkley will likely be limited in just how effective he can become at the next level.