Philadelphia Flyers: Predicting the Stats for Their Top 10 Players in 2013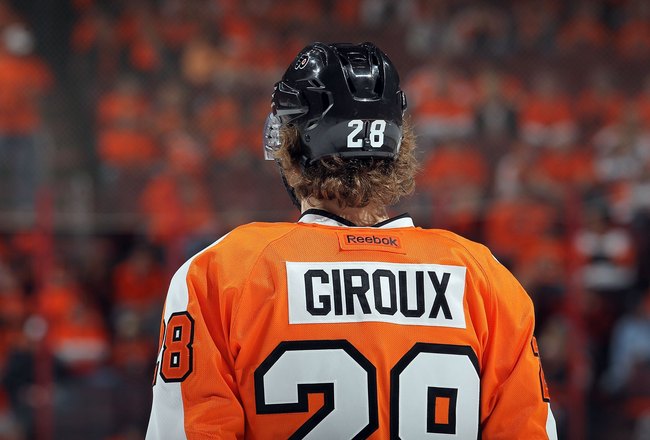 Jim McIsaac/Getty Images
The Philadelphia Flyers, along with the rest of the teams in the NHL, are preparing for the start of the 2012-13 NHL season after the lockout ended this past weekend.
Stats are tough to predict this year because of the unique situation of an extremely short preseason and shortened regular season as well. Players may simply get hot quickly and end up being near the top of the league because the season wasn't long enough for them to cool back down.
At the same time, it may take longer for others to get going, and they won't have the luxury of the second half of a season to really hit their stride and start producing.
It may also benefit older players, who won't be as worn down as they would be at the end of an 82-game season. At the same time, one injury could effectively throw things off completely for a player who misses just a few weeks while recovering.
So as volatile and difficult as it may be, I'm going to take a stab at predicting the stats for the top players on the Flyers for this lockout-shortened season.
In order to come up with this list, I simply chose the players who had the ten highest point totals for the Flyers last season. (Jaromir Jagr and Matt Carle were replaced with Sean Couturier and Brayden Schenn.)
Claude Giroux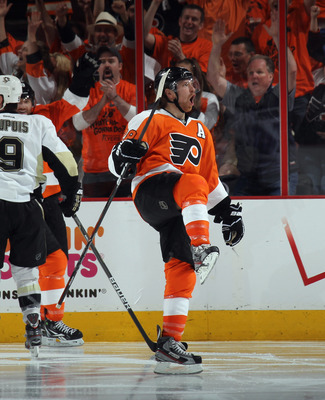 Bruce Bennett/Getty Images
2013 Stat Prediction: 21 G, 45 A, +4
I expect Giroux to score a little more than he did last season. With Jake Voracek most likely replacing Jaromir Jagr on the top line with Giroux and Scott Hartnell, Giroux will have to take a more shoot-first approach.
Voracek is a fantastic set-up man, and will force Giroux to be a little more selfish. As a result, I see Giroux utilizing his deadly wrist shot more and piling up the goals as a result.
Scott Hartnell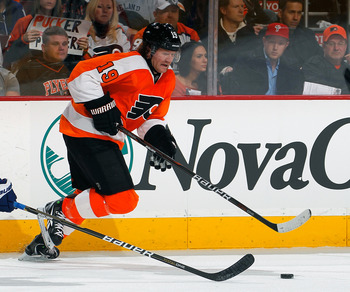 Paul Bereswill/Getty Images
2013 Stat Prediction: 20 G, 12 A, +8
Last season, Hartnell took advantage of Giroux's breakout season to sneak by defenses and put the puck in the net. He was often an afterthought, and teams took him lightly.
But after leading the Flyers with 37 goals last season, Hartnell will no longer have the advantage of being overlooked. I think he will still get his share of goals, but at a slightly lesser pace than last season.
Danny Briere
Bruce Bennett/Getty Images
2013 Stat Prediction: 8 G, 20 A, +2
Briere is slowly regressing, although I think this lockout will be good for him in that he'll have plenty of energy left for the playoffs—which is when he really shines.
But he seemed off last season, and I doubt that the lockout did much to fix that. He'll still get some clutch points, as he always does, but I think the emergence of Brayden Schenn and Sean Couturier will further take away from Briere's production.
Jake Voracek
Paul Bereswill/Getty Images
2013 Stat Prediction: 9 G, 30 A, +10
Voracek is going to step up in a big way this season. Last year, he really started to come into his own, showing the maturity and confidence that he sometimes lacked as a youngster in Columbus.
Voracek had 31 assists all of last season, and I think he'll come close to matching that total while playing with Giroux and Hartnell. Voracek should also take over the reins on the powerplay, getting to play the point and racking up assists there.
Wayne Simmonds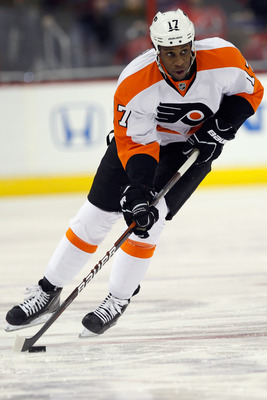 Rob Carr/Getty Images
2013 Stat Prediction: 16 G, 13 A, -3
Simmonds was the most underrated player on the Flyers last year. He's a perfect fit in Philadelphia, where fans value the tough, athletic and hardworking guys who do all the little things on the ice.
Simmonds fits that description perfectly. But he's more skilled than he gets credit for, and his goals don't all come from rebounds and re-directions around the net. He's going to get a little more involved this year, and I see him starting hot and maintaining it throughout most of the season.
Matt Read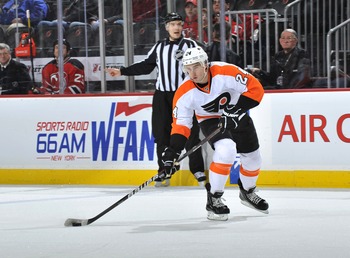 Norman Y. Lono/Getty Images
2013 Stat Prediction: 12 G, 10 A, +5
A huge unknown to everyone last season, Read will not have the element of surprise on his side this year. I also think that he may have already reached his ceiling last year, and I don't expect him to improve on his totals from last season all that much.
I think this could be a little bit of an up-and-down stretch for Read, and ultimately, his totals will be on par—percentage-wise—with last year's numbers.
Kimmo Timonen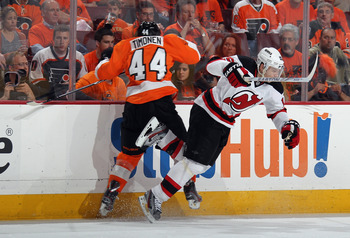 Bruce Bennett/Getty Images
2013 Stat Prediction: 1 G, 20 A, +2
Some people are starting to sour on Timonen, and while I understand why, I think that he still has some great hockey left in him. He is almost 38 years old, but he's always been more reliant on instincts and experience than anything else.
If he stays healthy, I don't think he'll be too slowed at all. In fact, he may actually end up playing more minutes per game because of the lack of depth on the Flyers blue line. His plus-minus may take a little bit of a hit, but overall, Timonen should be just fine.
Max Talbot
Bruce Bennett/Getty Images
2013 Stat Prediction: 6 G, 7 A, -2
In terms of production, Talbot had a really fantastic 2011-2012 season. But I think that, like Briere, his production will be hindered this year by the emergence of Couturier and Schenn.
Talbot should get more time against the other team's top forwards lines this season, but I don't think he'll be able to make up for it offensively as much as last season—hence the negative plus-minus rating. Talbot will likely take more of a defensive, checking-line, leadership role this season, and I think that he's perfectly suited for that.
Sean Couturier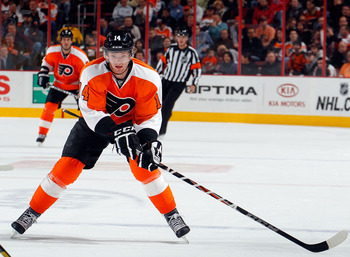 Paul Bereswill/Getty Images
2013 Stat Prediction: 7 G, 11 A, +8
Couturier will hopefully avoid a sophomore slump after a fantastic rookie season. The 19-year-old is years ahead of his age, in terms of both physical and mental development, but there is still plenty of room for improvement.
Couturier should get a bigger role after playing mostly on the fourth line last season. He'll most likely spend a lot of time shutting down the opposition's star players—much like he did in the playoffs to Evgeni Malkin—which may cut into his offensive production a bit.
But Couturier may end up already being the Flyers second-best player this season—after Giroux of course.
Brayden Schenn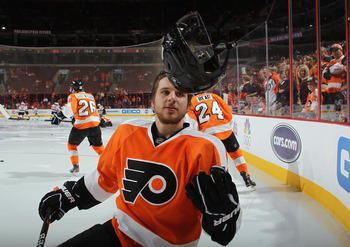 Bruce Bennett/Getty Images
2013 Stat Prediction: 13 G, 13 A, +5
Last but certainly not least is my pick for the Flyers' breakout star of the lockout-shortened season, Brayden Schenn. Last season, the forward spent some time in the AHL and dealt with nagging injuries, so he never really settled in at the NHL level.
But at the end of the season, and especially in the playoffs, Schenn showed why he was the top prospect in hockey just a couple years ago. I think he'll take Philadelphia by storm this year, reminding fans of Mike Richards with a little more speed and offensive talent.
Keep Reading

Philadelphia Flyers: Like this team?