NHL Trade Rumors: Most Intriguing Reports Entering 2013 Season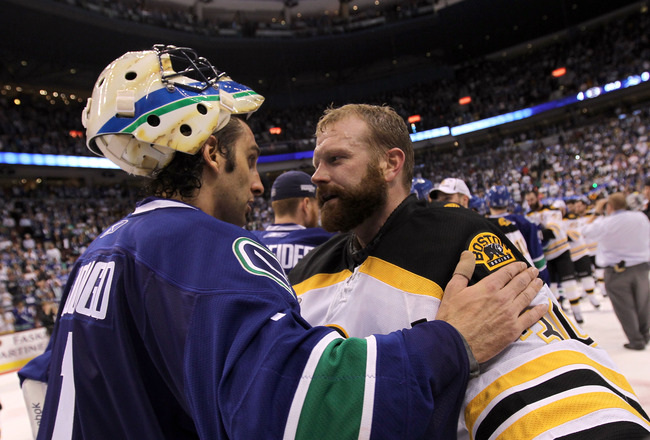 Bruce Bennett/Getty Images
The rules of the new collective bargaining agreement (CBA) could create an exciting period of trades made between NHL teams once the deal is ratified by the owners and the NHLPA.
Washington Capitals general manager George McPhee talked about the possibility of trades over the next few weeks on Tuesday (via Greg Wyshynski of Yahoo! Sports):
GMGM says trade activity could be heavy before season. Already getting calls before CBA ratified.

— Greg Wyshynski (@wyshynski) January 8, 2013
Just to clarify: Trade activity in NHL, not necessarily for Caps

— Greg Wyshynski (@wyshynski) January 8, 2013
Let's look at the most intriguing reports entering the 2012-13 lockout-shortened season.
Where Will Roberto Luongo Play This Season?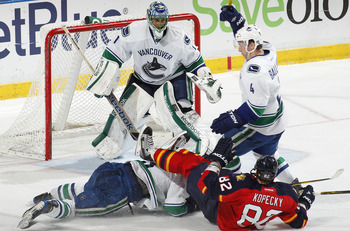 Joel Auerbach/Getty Images
The never-ending rumors and speculation stories surrounding Vancouver Canucks goaltender Roberto Luongo are dominating headlines across Canada.
Even though the Canucks wouldn't have a reliable backup goalie if they traded Luongo, it would be surprising if he is still with Vancouver past the trade deadline.
Bruce Garrioch of the Ottawa Sun explains the current situation:
If the Toronto Maple Leafs are going to deal for Roberto Luongo they're going to have to sweeten the pot. League sources say Leafs GM Brian Burke and his Canucks counterpart Mike Gillis haven't spoken about the possibility of a Luongo trade since September.
Garrioch also talks about another potential suitor for the 33-year-old goalie:
Luongo won't be dealt to the Florida Panthers, which is where he really wants to go, unless they, too, sweeten the pot.
The Leafs have few reasons to not pull the trigger on a Luongo trade. Toronto hasn't finished better than 21st in goals against since the 2004-05 lockout, and even though Luongo's contract has 10 years left on it, there is no better option for the Leafs to upgrade their goaltending.
Meanwhile, the Panthers have zero reasons to make a deal for Luongo, who played for the franchise from 2000-01 through 2005-06.
It's time for top prospect Jacob Markstrom to take over the No. 1 goaltender job in Florida, and acquiring Luongo would only delay that move.
Jarome Iginla's Future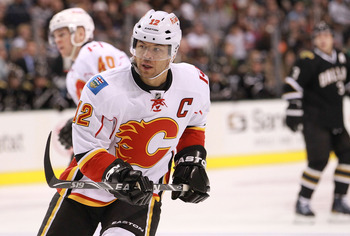 Ronald Martinez/Getty Images
Calgary Flames star Jarome Iginla could be in his last season with the team, but to no one's surprise, he doesn't seem eager to leave town anytime soon (via Randy Sportak of the Calgary Sun):
#Flames Jarome Iginla on his pending free agent status "It would be my preference to stay here"

— Randy Sportak (@SUNRandySportak) January 7, 2013
Flames fans will be happy to hear those comments, but does it make sense for Calgary to sign their captain to a new long-term contract?
Iginla has played all 82 games in six of the past seven seasons and is still a near-lock to score 30 goals and reach 65 points in a full season.
With the salary cap dropping to $64.3 million for the 2013-14 season, the Flames may have to make some roster moves that shed salary over the next few months.
As the team's highest-paid player ($7 million salary) with the largest cap hit ($7 million), the Flames cannot overpay to keep Iginla if he wants to re-sign in the summer.
Fortunately for the Flames, Iginla doesn't seem like the kind of player who would demand a large salary to stay. If there's anyone in the NHL who would probably be willing to sign a team-friendly, it's Iginla.
Tim Thomas to Stay Away from NHL?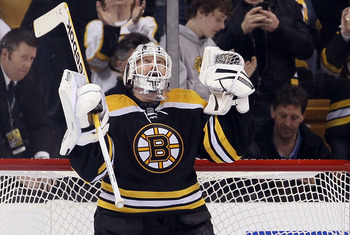 Elsa/Getty Images
Tim Thomas is still in Colorado with his family, and according to TSN's Bob McKenzie, it doesn't sound like the Boston Bruins goaltender is going to step into an NHL rink as a player anytime soon.
As of now, subject to usual "could change mind later" qualifiers, TIm Thomas is not interested in ending his self-imposed hockey exile.

— Bob McKenzie (@TSNBobMcKenzie) January 6, 2013
It's very rare that you see 38-year-old players walk away from a $3 million salary, especially NHL players because stars like Thomas aren't paid as much as the top players in the NBA, MLB and NFL.
When he sees his teammates and friends having fun playing hockey this season, will Thomas remain in Colorado? He's a competitive person, and it will be interesting to see if he's willing to sit out the entire year after last season ended in a disappointing fashion for the Bruins.
What will happen if Thomas needs to make some money or misses the competition and excitement of the NHL? Don't expect him to wear the Bruins sweater ever again.
Bruins defenseman Andrew Ference recently talked about Thomas in an interview with Boston sports radio station 93.7 WEEI (via CSNNE.com's Joe Haggerty):
Andrew Ference on @weei as to whether there's any chance Tim Thomas returns to Bruins: "I don't think anybody expects to see him at all."

— Joe Haggerty (@HackswithHaggs) January 7, 2013
After Thomas quit on his Bruins teammates by deciding to take a year off, it's hard to imagine that he would be welcomed back into the locker room at TD Garden if he decided to honor the final year of his deal.
Keep Reading