2013 NHL Power Rankings by Conference: Post-Lockout Edition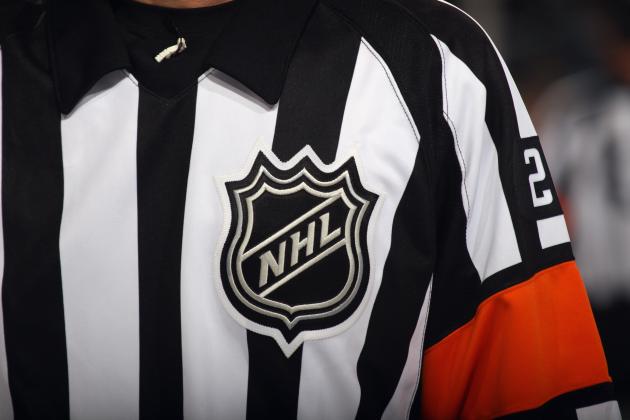 Bruce Bennett/Getty Images

With news of a new Collective Bargaining Agreement finally being agreed to by the NHL owners and the NHLPA, it's time to focus on what the 2013 season will bring. What better way to do that than looking at team power rankings for the Eastern and Western Conferences?
While a 48 game season isn't what fans (or teams) wanted, it's hard to argue that half a season of hockey isn't better than none at all. It seems like ages ago that Zach Parise and Ryan Suter teamed up to play for the Wild, or that Nick Lidstrom retired from a stellar, hall of fame career. But once the first puck drops on Jan. 19, most grudges will be forgiven and the game we all love will be be back in full force.
A shorter season poses many new and exciting opportunities for teams around the league, and this year's Stanley Cup race could be wide open as a result. Teams still have plenty of time to improve before Jan. 19 strikes and rosters could still change quite a bit. The following slide show discusses my rankings for each conference, Eastern and Western, as of today and how I see the rosters in terms of talent, promise and current standing. Where will your team land?
With all of that being said, let's jump into the team rankings in this year's NHL Power Rankings: Post Lockout Edition.
Begin Slideshow

»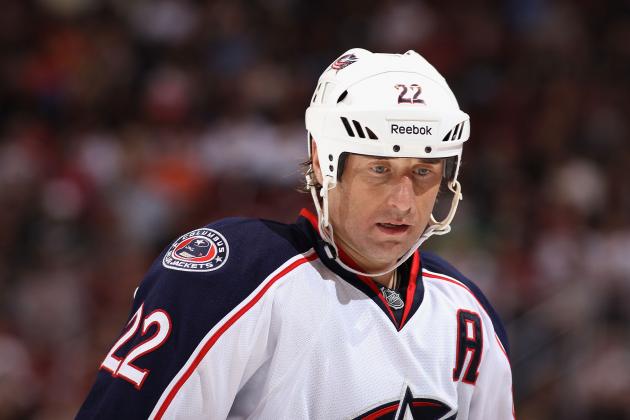 Christian Petersen/Getty Images

Alas, some poor team has to occupy the NHL basement. Unfortunately for the Jackets, 2013 is probably going to be that year again. Columbus finished 2012 with a lowly 65 points, far and away the worst in the league.
They began the offseason by trading away the face of their franchise, Rick Nash, to the New York Rangers for a package of Brandon Dubinsky, Artem Anisimov, prospect Tom Erixon and a first round pick in June's draft.
It's hard to put a finger on exactly what Columbus' problem was in 2012: they had one of the lowest goal scoring totals in the league with 202, but also let up the third most goals allowed at 262. That's a goal differential of minus-60.
But despite all of those colossal negatives, Blue Jackets fans do have a bright future to look forward to. While Nash is gone, both Dubinsky and Anisimov have proven that they can score goals. While they alone will not be able to replace Nash's and Kristian Huselius' (who sadly retired today from injury) production, it is a start. Dubinsky and Anisimov will pair with fellow newcomer Nick Foligno to provide a building block for the future.
The Jackets are also loaded with defensive prospects. First round choice Ryan Murray fits in very nicely with a blue chip blue line core that also includes John Moore, David Savard and the newly acquired Erixon. Familiar names James Wisniewski and Jack Johnson are back and Russian pairing Nikita Nikitin and Fedor Tyutin will look to build on an encouraging 2012.
So while the future is bright for Jacket's fans, it is still the future. For 2013 however, Columbus has just as good of a chance at nabbing Nathan MacKinnon as anyone and that might not turn out to be such a bad thing.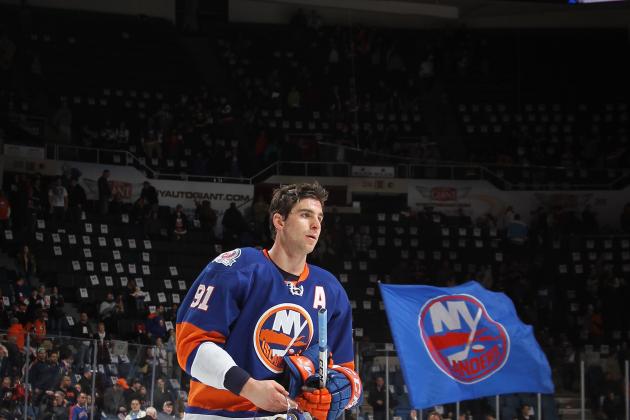 Bruce Bennett/Getty Images

We all know about John Tavares. And after his spell in Switzerland over the course of the lockout, the rest of the world knows all about him too. But Tavares can't carry this Islanders team to glory all by himself, at least not yet.
That's not to say that Tavares doesn't have support on the Island. The team also boasts a slew of young talent including Matt Moulson, Michael Grabner, Kyle Okposo, Frans Nielsen and Jesse Josensuu, but the Islanders have more negatives than positives at it stands right now.
The bottom six is weak and the defensive depth is just not there. Mark Streit and Travis Hamonic are the only standout names on the blue line, and Hamonic is still developing.
While Evgeni Nabokov showed flashes of his San Jose talent after finally reporting to the Islanders; he is 37. While that is technically young in goaltending years based on what we have seen recently from Tim Thomas and others, I wonder how long he will be able to hold up carrying the team.
They also play in the Atlantic Division and while the season has been cut in half, all signs point to division games being kept at six each. That means exactly 24 games against the Penguins, Rangers, Flyers and Devils; half of their schedule.
The Islanders are a tricky team to rank. They have all of the offensive talent to make a playoff run if the young guns can mature, but also have weak depth and a weak defense that more than likely means they will still occupy the bottom of the Eastern Conference for at least one more year.
Next year could be a very different story and they may even shock the hockey world in a shortened season. As we know crazy things tend to happen in such seasons.
But based off of the team as a whole, not just the top heavy offensive part, the basement seems likely in 2013.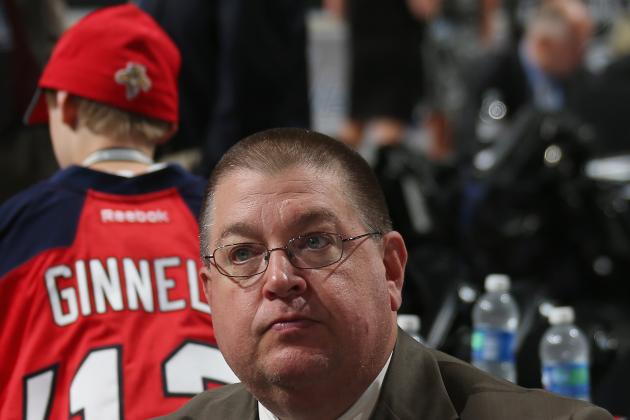 Bruce Bennett/Getty Images

What has happened to the Flames, seriously?
Calgary began its offseason with an immediate head-scratcher in the entry draft, taking Mark Jankowski. After the initial shock set in and the highlight tapes were rolled and we all got a chance to learn more about Jankowski, it became obvious that this kid has the potential to be one of the more talented offensive players in the draft, but how long will it be before he is NHL ready?
And surely he could have been had later in the draft on top of some of the other available top prospects. These are the two main points I've seen echoed by Flames fans, and who can blame them?
But the most frustrating thing about the Flames is lack of direction from the top. That means you Jay Feaster.
Are the Flames attempting to rebuild, or restock? At the moment it seems as if they are caught between the two, and they aren't doing it correctly. That isn't to say the Flames front office doesn't have a dilemma; they do.
Calgary is a strong Canadian market that expects a winning team, but surely the fans will be patient if they are confident that a young, winning franchise is being sewn together. Heck, they've been patient with a mediocre team that has been doing just enough to finish within a few spots of the top eight the past few years.
The thing is that the Flames have begun to do the rebuilding part well in the past few years. Imagine what they could be doing if they just went all in. Jankowski is just the latest blue chip prospect to have been added to a system that already boasts names like Sven Baertschi, T.J. Brodie, Greg Nemisz and Max Reinhart. Names like these show responsible, careful building. Signing Dennis Wideman to a 5 year, $25 million deal does not.
Calgary has repeatedly had the chance to trade Jarome Iginla for a crop of top prospects to add to the aforementioned names. Is this the year when they finally cave?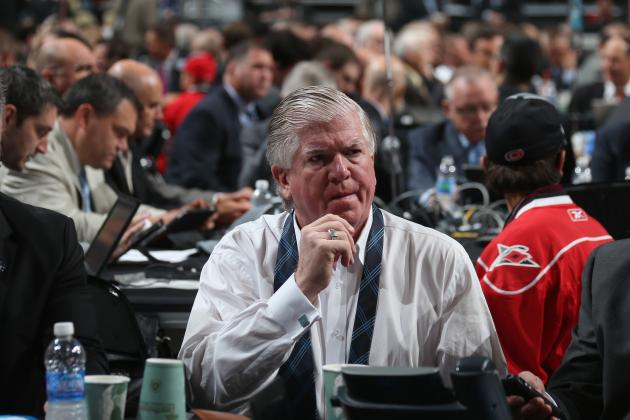 Bruce Bennett/Getty Images

The Toronto Maple Leafs are still not a great hockey team, and a lockout shortened season can not change that. There are bright spots for sure, but not enough to realistically grant them a position higher up in this list.
Phil Kessel is an established goal scoring beast. The problem is finding more offense to compliment him that can take some of that burden off his back. Last year it was Joffrey Lupul and Mikhail Grabovski and the latter was rewarded with a large new contract for it.
Toronto will be hoping that Lupul and Grabovski can both repeat and build off their 2012 performances and hope that a change of scenery will help to bring new arrival James van Riemsdyk to his full potential.
Defensivley, the Leafs do have some bright spots to look forward too. Opinions have been slightly mixed on Dion Phaneuf's performance since being brought to Toronto, but any revival under the roof of the ACC will start with his leadership.
Young blue-line guns Jake Gardiner and Morgan Reilly (who may be a few years away) give the Leafs promise at the position, it is just a matter of their game translating to the NHL after successful careers in the AHL and CHL respectively.
Offensively, prospects Carter Ashton, Tyler Biggs, Nazem Kadri, Joe Colborne, Greg McKegg and Matt Frattin provide the Leafs with options to beef up their bottom six in the next few years if development continues to go well. That being said, the only names likely to contend for a spot in this position come the start of this year are Kadri, Colborne and Frattin and the question then becomes: are they NHL ready?
If these three are, Leafs fans have something to look forward to. If the answer to that is no, the bottom six in Toronto could potentially be the worst in the Northeast Division.
Depth at the center position is a major question and is undoubtedly the Leafs weakest position. Tyler Bozak is better off as a third center on a contending team, and Grabovski as a second line center is strong too. Jay McClement was a solid free agent addition, but he is likely no more than a gritty fourth liner.
Until Toronto lands a legitimate No. 1 center to complete the group of Bozak, Grabovski and McClement, they are not a true threat to being involved in the playoff race.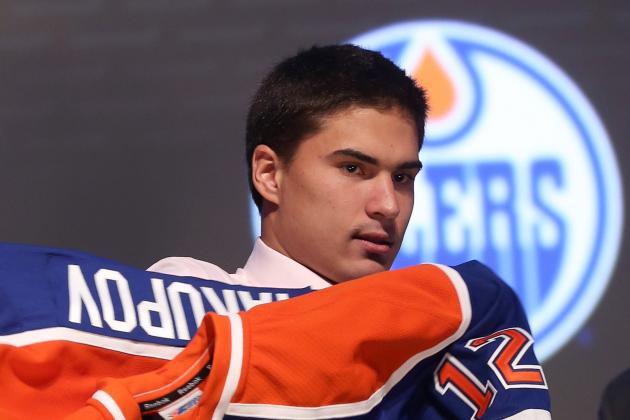 Bruce Bennett/Getty Images

There's two pieces of good news. 1) They got both Nail Yakupov and Justin Schultz. 2) Their defense is still cringe worthy at best.
The Oilers are another very interesting team and I feel much the same about them that I do about the Islanders: extremely top heavy top-six loaded with much of the game's premier young talent, but no defensive or bottom six depth to back it up. While a deadly top six can win its fair share of hockey games, a weak bottom six and lowly defense can do the exact opposite. In this way, the Oilers are in the same boat as New York.
Yakupov had a very successful World Juniors tournament and the Taylor Hall-Jordan Eberle partnership is single-handedly lighting up the AHL. But if we're being honest with ourselves, both of those things were expected and are no guarantee of success in the NHL.
Building a competent defense is the most important road to success for Edmonton, as with the Islanders. Many felt that the Oilers should have passed on Yakupov in favor of one of the defensive stalwart prospects who came out in June. It's hard to argue against that, but taking Yakupov has set their top six for the forseeable future.
While adding Justin Schultz should help, it will be interesting to see how he transitions from the NCAA to the NHL. He alone can not solve Edmonton's defensive woes, and in the end that is what will likely sink this team.
All that being said, I will write again what I just said in the last slide: I would not be surprised at all to see the oil men make a playoff run in this shortened season, but I also wouldn't be surprised to see them in the basement.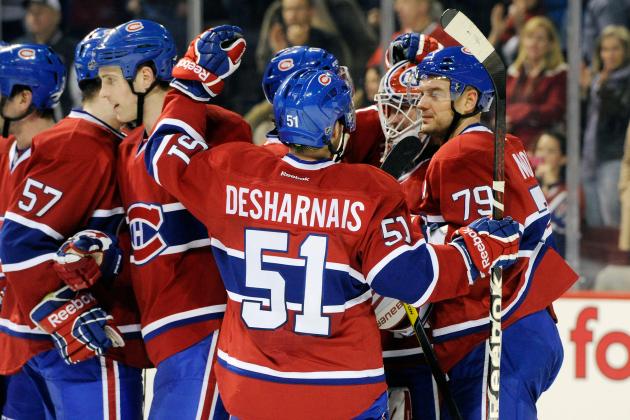 Richard Wolowicz/Getty Images

Not many teams had a better few days at the 2012 entry draft than Montreal. However, not many teams had a more disappointing season than the 2012 Montreal Canadiens. The good news is that Carey Price will be around for the foreseeable future. The bad news is that apart from signing Brandon Prust for what many believe was a large over payment, the offseason didn't have many newsworthy events.
Montreal is facing many issues. Rene Borque has been a massive flop since being swapped for Michael Cammalleri, Andrei Markov faced yet another injury filled year and P.K. Subban is currently without a contract. While unlikely, a major offer sheet for Subban could handicap the team financially and make their deal for Prust even more questionable.
One of the more interesting stories for the 2013 season will be Alex Galchenyuk's development. If he can prove to be NHL ready, he will help a center core that is fairly solid but lacking that true No. 1. Tomas Plekanec has shown flashes of brilliance and along with Max Paccioretty will be heavily leaned on to provide offense.
Lars Eller and David Desharnais must further their development if Montreal has any hope of keeping up offensively. And as for the elephant in the room, the duo of Brian Gionta and Scott Gomez is still hanging around, weighing down the books even further. Will 2013 signal any signs of life form the two?
Recent events say probably not.
If, and it's a massive if, Andrei Markov can stay healthy, the defense should be sound. It's likely that Subban will sign a long term deal, and the physical play exhibited by Alexei Emelin in 2012 is a welcome sign amongst an otherwise soft blue-line core.
Along with Galchenyuk, help is on the way in the form of a solid prospect group that includes Nathan Beaulieu, Jarred Tinordi, Dalton Thrower and Sebastien Collberg, but these players are at least a year away, and are not a guarantee to move Montreal too far up these rankings for 2013.
Bruce Bennett/Getty Images

The pieces are in place for a bright future in Colorado, highlighted by the man in that picture. Gabriel Landeskog exceeded all expectations and then some in 2012, and he was rewarded with the team captaincy.
That the Avalanche have a strong young core is without question, but can the pieces around them provide enough support? As of right now the answer is likely no.
Apart from Landeskog, Paul Stastny, Matt Duchene and Erik Johnson is a core that any franchise would be proud to build around. Two key pieces, Milan Hejduk and David Jones, resigned for the team and P.A. Parenteau is a nice free agent addition. But some grit and leadership was lost with Jay McClement, weakening the bottom six. Talented forward Peter Mueller also left to join Florida.
Ensuring a new deal for Ryan Reilly should be a priority as well as adding some blue-line help as the core as a whole is rather weak. Greg Zanon is likely not the free agent piece to compliment Erik Johnson, and the goalie tandem of J.S. Giguere and Semyon Varlamov could use some help from them. Speaking of Varlamov, that first round pick would have looked nice this year.
Colorado has a good team, but not great. Their bottom six could use some beefing up, and the defense is very weak. I would expect the team to let up a lot of goals and they may struggle to make up for it.
Their 2012 total of minus-12 in the goal differential department is likely going to be repeated in 2013 unless they can seriously improve on the defensive side of the puck and limit opponents offense.
The Avalanche should score goals in 2013 and if they can get their goal differential out of the red, they could be a team to watch out for. Unfortunately, the Northwest improved in many areas, and I expect to see Colorado suffer as a result.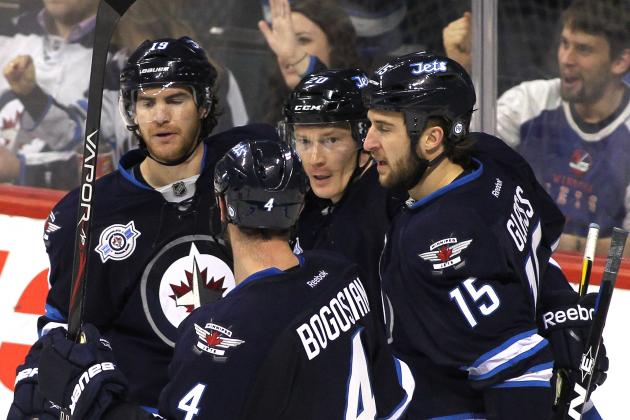 Marianne Helm/Getty Images

There's no question that the NHL is a better league with the Jets back in Winnipeg. It's just too bad for the Jets that they can't play all of their games there.
The Jets struggled mightily on the road in 2012, and it will be important to bring their home performance on the plane with them in 2013. This season sees the Jets remaining in the Southeast Division and as a result the travel schedule hasn't gotten any easier. Especially in a shortened season.
The blue line is extremely solid and is, without a doubt, the strength of the team. The forward core will have to out perform their 2012 numbers if they want to make a serious playoff run, and it is remotely possible. Emphasis on remotely. But the fact remains that Winnipeg finished 8 points out of the playoffs in 2012, and will have to see a major turn around in 2013 if that is to happen.
The addition of Olli Jokinen was a great signing, but not enough to revamp a team that only potted 225 goals last year, six less than the Leafs. There will be a lot of pressure for Evander Kane and Blake Wheeler to build off of their career years in 2012, and it's no guarantee that they can.
While Mark Scheifele is developing as a bright young prospect, the Jets could have sure used the grit and production that Sean Couturier provided a year ago for the Flyers.
If Bryan Little can get back on track to his level of production in Atlanta it could go a long way in providing depth scoring for the Jets, but it would be foolish to make any bets about the Jets being a serious playoff contender. At least not this season.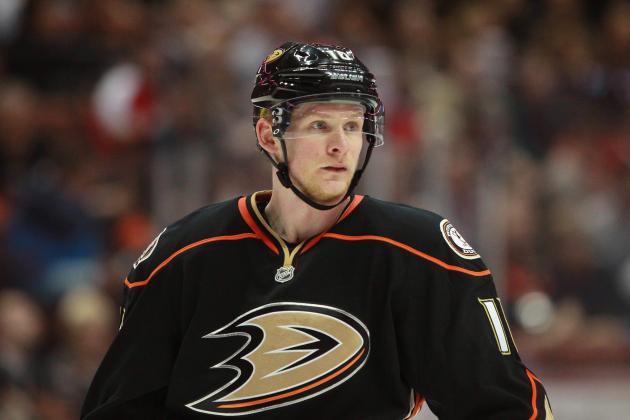 Jeff Gross/Getty Images

There is no question that the Ducks have talent. Corey Perry, Bobby Ryan, Teemu Selanne and Ryan Getzlaf are household names, but the lack of depth on both offensive and defense make it hard to see this team making the playoffs.
The good news is that the future isn't bleak. Youngsters like Cam Fowler and Devante Smith-Pelly have already begun to make their mark at the NHL level and 2013 will be a good chance for them to build on these accomplishments.
After losing out on Justin Schultz to the Oilers, defense is an area of question for the Ducks. While it is getting better, it is still a young corps and it will be a big ask to contain the goal scorers that make their home in the Pacific Division.
Ryan Getzlaf must perform better if the team is to make a recovery, but he needs his linemates around him to do so. There had been rumors swirling that Bobby Ryan wants out—though Ryan attempted to distance himself from them, via the Orange County Register—and Corey Perry is in a contract year. If Getzlaf can rebound, Ryan stays and Perry puts up career stats in his walk year, the Ducks have a chance to be successful on the offensive side of the puck.
New blue-line addition Sheldon Souray will be asked to fill the void left by Lubomir Visnovsky to complete a top four that includes Fowler, Luca Sbisa and Francois Beauchemin. This top four has potential to be sound, but they must be consistent and compliment the offense. Having 231 goals allowed and a goal differential of minus-27 (tied with the Oilers) is no way to win.
The Ducks know this, it's just a matter of buckling down and doing the job. Unfortunately, however, these tasks may be a little too much to ask for a team that has weak forward depth after their top two lines, and will likely just miss out on a playoff spot.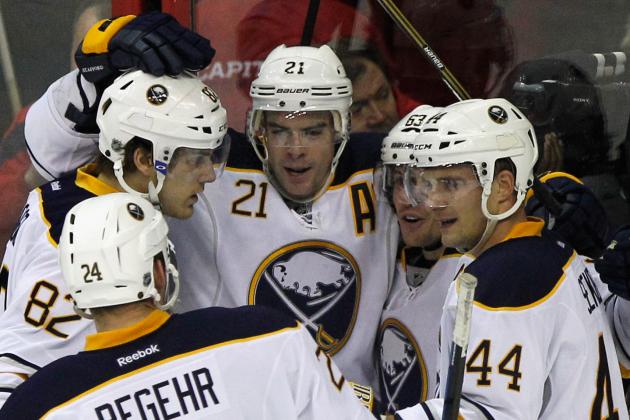 Rob Carr/Getty Images

Buffalo's main goal throughout the offseason so far has seemingly been to become a tougher, more gritty team. In this manner, mission accomplished. In are John Scott and Steve Ott, out is Derek Roy. Steve Ott should successfully join Patrick Kaleta as the most obnoxious pair of teammates in the NHL, but is it enough to win hockey games? Probably not.
You could make the case that Roy is damaged goods, and you'd probably be right. But that doesn't change the fact that when he is healthy he can play the role of No. 1 center. Sabres management and fans will be hoping that Cody Hodgson can build on his promising career in Vancouver and step in to fill Roy's role. I think he can, but not this year.
Thomas Vanek, Jason Pomminville, Tyler Ennis, Drew Stafford and Nathan Gerbe is a solid core to help Hodgson fulfill that potential, but depth could be an issue this season. A more compacted schedule will require teams to have four deep lines and the Sabres will be relying on youth to fill these roles this year. It would be nice to see some signs of life from Ville Leino.
If Buffalo is going to make a playoff run, it is their defense that has the potential to carry them. Tyler Myers, Christian Ehrhoff, Andrej Sekera and Robyn Regehr is a solid top four and they know what to expect from the man at the back in Ryan Miller.
In the end, however, I think Buffalo is at least a year away from really competing. Hodgson may be ready to take over for Roy, but I think this brief schedule will limit his development for the season. It will be up to the wings to score and carry a youthful bottom six. Injuries on the defensive front or a recurring concussion for Miller could sink the team and I don't see the Sabres as a viable playoff squad for 2013.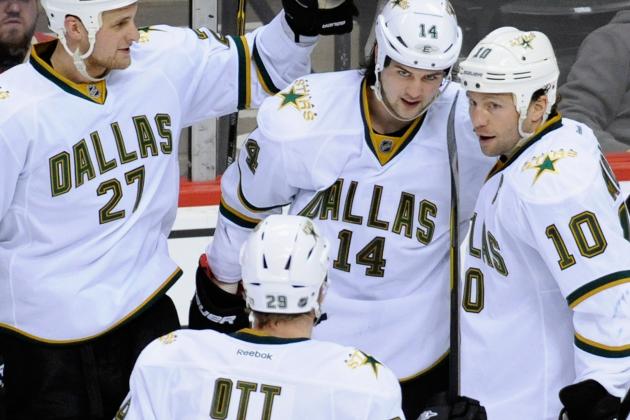 Hannah Foslien/Getty Images

Two things are for sure about the Dallas Stars this offseason; they got older and their defense got no better. The former isn't so much of a problem. The additions of Jaromir Jagr and Ray Whitney are great signings and should help to bolster a top six that already included Jaime Benn, Loui Eriksson, Michael Ryder and Brenden Morrow. The latter is a legitimate issue.
As if the defensive wasn't weak enough, Sheldon Souray has gone to Anaheim, and the Stars haven't made any major moves to replace him besides signing a mediocre player in Aaron Rome. With Alex Goligoski, Stephane Robidas and Kari Lehtonen returning, there are some quality defensive pieces, but not enough to make the playoffs. Dallas' offense will carry the team, but it can only go so far with a bare blue line.
One major concern for Dallas is that aforementioned superstar Jamie Benn is currently without a contract. The Stars will need to remedy this situation quickly now that the lockout is over because they can ill afford an offer sheet to be sent Benn's way. The quicker that situation is resolved, the better for Dallas.
The 2013 Dallas Stars look like a team that will finish just outside the playoffs. Unfortunately for the city of Dallas, that is something that they are becoming too accustomed to lately.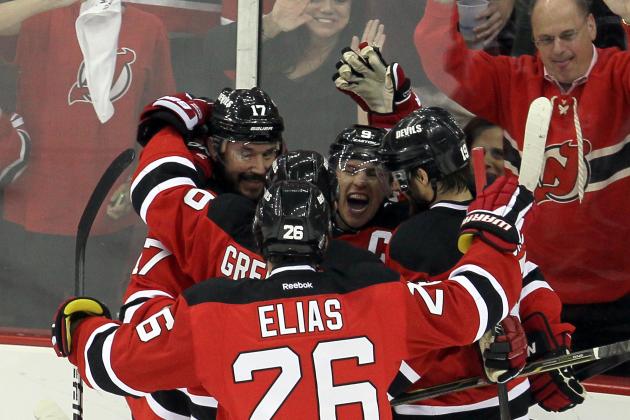 Jim McIsaac/Getty Images

Captain Zach Parise has long since fled to Minnesota and the Devils have made no major moves to replace him. Ilya Kovalchuk can only do so much, and I fear a massive let down for Devils fans in 2013. Lou Lamoriello has proven predictions like this wrong on plenty of occasions, though. The 2013 season is an opportunity for him, coach Peter DeBoer, and the team to do so again.
The Devils have an interesting mix of youth and veteran players. Martin Brodeur, Bryce Salvador, Patrik Elias and Petr Sykora are all on the wrong side of 30. Youngsters Travis Zajac, Dainius Zubrus, Adam Larsson, Stephen Gionta and Ryan Carter all impressed in the playoffs, but can they fill the void left by Parise?
David Clarkson will be a very important piece to the 2013 New Jersey Devils and if he can repeat, and build on, 2012, the team will have taken its first step in replacing Parise. But without any real major free agent signings it seems that Lamoriello has made the choice to replace Parise internally. This could be a problem as the Devils have no real prospects carrying star potential coming through their organization.
Beyond Stefan Matteau, the prospect pool is weak. As a result, any repeat of 2012 will come from the forwards already on the roster. But for a team that honestly overachieved throughout the 2012 playoffs it's, hard to see that happening again.
Unless Kovalchuk plays out of his mind and the youngsters make another major stride, the Devils could miss the playoffs. As it stands right now, lack of depth and age puts the Devils roster right around 10th best in the East.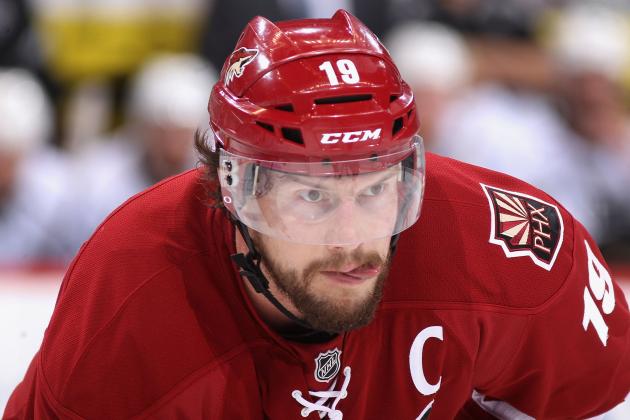 Christian Petersen/Getty Images

The Coyotes have lots of questions heading into 2013.
Can they repeat last year's deep run? Can Mike Smith repeat his stellar performance and remain consistent? Can they replace Ray Whitney's leadership and stats?
If the answer to the last two questions is no, it's hard to see Phoenix being a legitimate threat in 2013.
Phoenix had a hectic offseason. It began with fans wondering whether or not the team would even be playing its home games in the desert come 2013. Now that this issue has been settled, the team was able to address its second major concern, would the captain and heart of the team, Shane Doan, be coming back?
That answer was yes, too.
There is no doubt that the Coyotes stunned the hockey world after making it to the Western Conference Finals. Their 97 point output was astonishing, and their triumphs against Chicago and Nashville raised many eyebrows. But any notion of a repeat is very unlikely. As previously mentioned, team points leader Ray Whitney has packed up and moved to Dallas, and Mike Smith played over his head for large portions of the season.
The blue line is strong, headlined by young stars Keith Yandle and Oliver Ekman-Larsson and if the 'Yotes want to get back into the playoffs, defense will be the name of the game. Steve Sulivan and David Moss were good depth signings that should help the bottom six, but it will be up to Doan, Antoine Vermette, Mikkel Boedker and Martin Hanzal to score goals and put up points.
If they can't band together to replace Whitney's production and too much pressure falls on the defense, Phoenix could be on the outside looking in.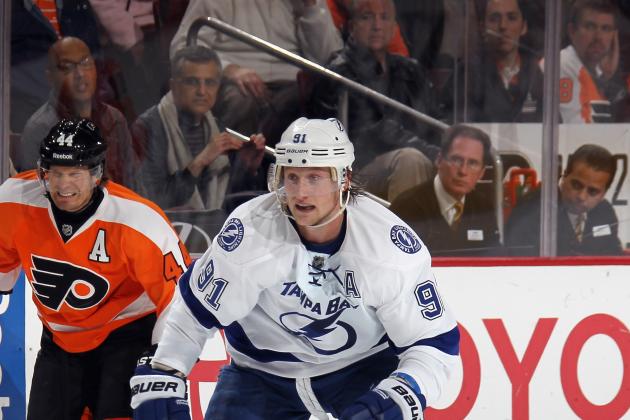 Bruce Bennett/Getty Images

Steven Stamkos may just be the best pure goal scorer in the league, but can the rest of the team follow suit?
They couldn't in 2012.
On top of that, defense and goaltending was a major issue as Tampa finished 2012 with a mind boggling goal differential of minus-46.
General Manager Steve Yzerman's first goal of the offseason was to address his team's defensive ineptitude, and he has made strides in doing so. The team acquired goalie Anders Lindback from Nashville and followed suit by signing defenseman Matt Carle and Sami Salo. While these three players will not solve Tampa's defensive woes completely, they go a long way in providing depth in an area of need.
Tampa Bay can score goals.
They did so to the tune of 235 this past season; more than playoff teams New York, Florida, New Jersey and Washington. If Vinny Lecalvier can put an up and down 2012 behind him and rekindle his offense, Tampa can role out two solid lines.
Martin St. Louis, although aging, can still get the job done and Ryan Malone and Teddy Purcell are nice complimentary offensive pieces.
Tampa Bay could very realistically make a playoff push in 2013, but they will have to do so in a strengthened division. Carolina and Washington are two teams likely to qualify for the playoffs, and Florida's veteran leadership proved it can carry them to new heights.
Making the playoffs is going to be a tough task, and I think Tampa ends up falling just short.
Christian Petersen/Getty Images

The good news for the 2013 Nashville Predators is that captain Shea Weber is back for the foreseeable future. The bad news is that Ryan Suter, Andrei Kostitsyn, Jordin Tootoo and Alexander Radulov have all left. Fans might not miss the latter, but the Predators' depth chart certainly will.
The trade deadline addition of Paul Gaustad that cost the Preds some high draft selections didn't come in and put the team over the top like they thought he would. With a strong 2013 season, Gaustad can atone for that and he will attempt to solidify a bottom six that will need to improve. Depth as a whole is an issue for Nashville and it will show in 2013.
Even with the loss of Suter, the Preds should feel confident at the back as long as Pekka Rinne is wearing blue and yellow.
Young defensemen Kevin Klein and Roman Josi must play above their heads if they're going to be a strong defensive squad again and take some of the pressure off of Weber. Josi had an encouraging 2012 campaign, and has potential to fill into that top two role abandoned by Suter. Veteran Hal Gill is still around as well.
The good news for Nashville is that there are enough solid veterans in town to get the team back into the playoffs. Mike Fisher, Martin Erat, Patric Hornqvist, David Legwand and Sergei Kostitsyn are all quality hockey players and should be able to band together to put up enough points to compete in the West.
Coach Barry Trotz hasn't gone anywhere, and he has shown time and time again that he can make the playoffs with less than impressive rosters. I don't see any reason why 2013 should be any different.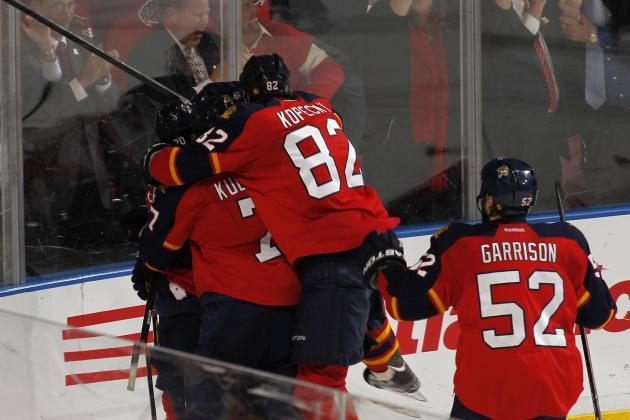 Joel Auerbach/Getty Images

The Panthers were one of the best surprises of the 2012 season, but their offseason hasn't been the strongest. They lost Jason Garrison to Vancouver, but they also signed Peter Mueller whom they hope can solidify a core of veteran forwards.
The biggest task for Florida will be to maintain the sense of team that they so perfectly put together in 2012. Florida proved what a squad of veteran players with experience can do, even if they often had to do it in front of half empty houses at home.
A staunch blue line that includes Brian Campbell, Ed Jovanovski, newcomer Filip Kuba, Mike Weaver and youngsters Keaton Ellerby and Erik Gudbransson should be able to band together to replace the loss of Garrison. Speaking of youngsters, the Panthers could also see contributions from other top prospects Jonathan Huberdeau, Nick Bjugstad and goalie Jacob Markstom at some point during the season.
The team also added some grit, signing veteran heavyweight George Parros to compliment a strong core of veterans that includes Scott Upshall, Kris Versteeg, Jerred Smithson, Tomas Fleischmann and others. Steven Weiss tasted the playoffs for the first time in Florida and should be hungry for more.
If the team can fight off age and put together a similar campaign to 2012, I see no reason why the team can't sneak back into the playoffs for 2013.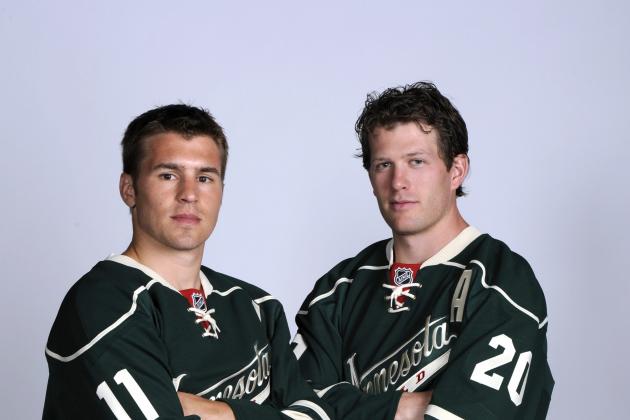 Hannah Foslien/Getty Images

And now for the big movers of the 2012 offseason. The Minnesota Wild's summer, and now winter, has been exciting to say the least. The team signed the two premier free agents on the market and look poised to make a playoff run.
Finally, Minnesota has a professional hockey team to look forward to again.
Many critics still don't see the Wild as a playoff threat, but I think they are underestimating the potential that this team has. The lockout was, in one way, helpful to the team. Pierre Marc Bouchard, one of the teams key forwards and top six players, has had additional time to recover from a severe concussion.
News from Yahoo Sports yesterday indicated that Bouchard may be ready for the start of the season on Jan. 19, something he would not have been able to otherwise do.
The lockout has hurt the Wild in that it has not allowed the team to gel yet. Apart from Zach Parise and Ryan Suter joining the team, young stud forward Mikael Granlund has been forced to place his NHL debut on hold. It will be up to veteran Wild players Danny Heatley, Mikko Koivu, Niklas Backstrom, Cal Clutterbuck and Matt Cullen to bring this team together.
There's no question the Wild have talent.
Apart from all of the aforementioned names, Devin Setoguchi, Kyle Brodziak, Clayton Stoner, Justin Falk and Jared Spurgeon are other young names that will benefit from another year. With young goalies Josh Harding and Matt Hacket waiting in the wings, and one of the leagues best prospect pools coming up within the next few years, hockey is back in Minnesota.
Now it's just a matter of putting the pieces together and building off a hot start from last season. Parise and Suter should come in and help the team finish the deal this time around.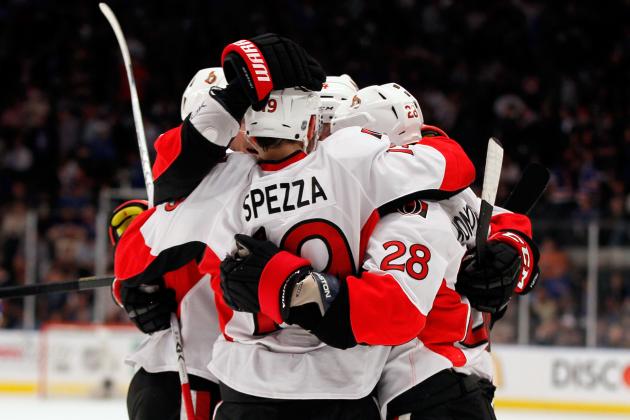 Mike Stobe/Getty Images

After their surprising 2012 season that shocked the hockey world in many ways, Ottawa will look to build on their success and come out flying in 2013.
The good news for the team is that its three best players, Daniel Alfredsson, Jason Spezza and Erik Karlsson, are returning. The bad news is that the defense has become quite thin to say the least.
Ottawa began its offseason with the head scratching trade of Nick Foligno to Columbus for Mark Methot. Many Senators fans were left wondering why, and rightfully so, after Foligno really started to show promise as a talented, physical presence on the wing. One thing's for sure, fans around the rest of the Northeast Division won't miss him.
In some ways I guess the trade makes sense as it fills an area of need for Ottawa and trades away from an area in which they have a surplus of young talent coming in. Methot should slide in to a top four that features Karlsson, Sergei Gonchar and Chris Phillips, but that may not be a good enough core to make a deep run. After all, Erik Karlsson is at times a very, very weak defensive player despite what Norris voters had to say.
If the defense can play over its head and the third pairing can be just competent enough in their own end, Ottawa could role back into the playoffs.
Guillaume Latendresse was a solid veteran signing, and the team could see solid ice time from Swedish superstar prospects Jakob Silfverberg and Mika Zibanejad. Alfredsson, Spezza and Milan Michalek need no introduction and should be able to provide enough offense to keep the team relevant and competing.
If Kyle Turris can build on a successful 2012 and Chris Neil comes out as the dominant force he proved he can be in the playoffs against the Rangers, Sens fans can look forward to another fun year.
Ottawa should be the second team behind the Boston Bruins to come out of the Northeast in this year's playoff picture.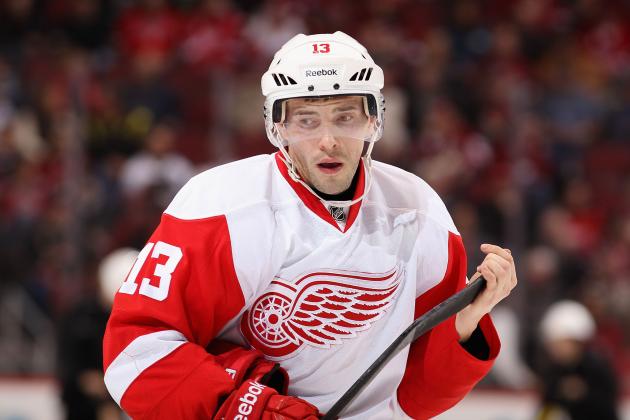 Christian Petersen/Getty Images

The Red Wings have a lot to deal with entering the 2013 campaign. Nick Lidstrom has retired and the two remaining core players, Pavel Datsyuk and Henrik Zetterberg, are a year older. That being said, it's hard to find two more skilled veteran players than Datsyuk and Zetterberg, the team's newly appointed Captain.
While this season could be a letdown for fans in "Hockeytown" based off of their year to year expectations, the organization posses just enough young talent to keep the team in the playoff race for 2013.
While the team has already seen quality performances from youngsters Brendan Smith and Gustav Nyquist, other names such as center Calle Jarnkrok, wingers Tomas Tatar and Martin Frk, and defenseman Ryan Sproul all figure to impact the Wings in the near future. On top of all that, Damien Brunner lit up the Swiss league during the lockout and will attempt to carry his goal scoring form over to North America.
Johan Franzen and Valtteri Filppula must band together to replace the offense lost from the departed Jiri Hudler, but they have shown the ability to do so seamlessly in the past.
As if the team was't already gritty enough with Dan Cleary and Todd Bertuzzi, the team also added Jordin Tootoo who should help bolster the bottom six.
While defense is an area of weakness with Lidstrom's departure, youngsters Kyle Quincey and Jakub Kindl will look to help the team improve this area and they could come out and surprise some people. Niklas Kronwall should step in and provide leadership on the blue line...at the very least, he'll provide physicality.
Detroit is still a playoff team and a contender if their remaining core plays at the level they're expected to and the touted youngsters come in and produce. Any notion of the team not making the playoffs is foolish, the team is still good enough to qualify, at the least.
Grant Halverson/Getty Images

Over the course of one offseason, the Hurricanes went from an average team to one that can be a legitimate playoff contender. While they likely aren't Stanley Cup contenders, if all goes right they should make the playoffs.
New arrivals Jordan Staal and Alexander Semin compliment a core of star players including Eric Staal, Cam Ward and Jeff Skinner to give the team more depth and goal scoring prowess.
Offensive depth is now an area of strength for Carolina. Jussi Jokinen is back along with promising youngster Jiri Tlusty. The bottom six is filled out by center Tim Brent and if all goes well, Carolina has the potential to pot more than its fair share of goals. This was an area of concern in 2012 as they were one of the weakest goal scoring teams in the Eastern Conference with only 213.
The blue line is an area that has the potential to be fairly solid as well this year as Tim Gleason survived the trade 2012 deadline and figures to anchor a top four that also includes youngster Jamie McBain, Joni Pitkanen and Justin Faulk.
That being said, the team will have to do a lot better than the 243 goals it allowed last year. A goal differential of minus-30 should be improved by more goals scored and acquiring one of the game's better two-way centers in Jordan Staal, but it will be on the defense and Cam Ward if Carolina is to make the playoffs in 2013. Key forward Tuomo Ruutu has recently been sidelined with a hip injury that will see him out until at least April, so the 'Canes will need to find a way to make up for his scoring.
All in all though, the 'Canes are a much improved squad over the team it iced in 2012. An improvement on the back end with two brand new shiny acquisitions to fill out the top six put Carolina on pace to roll into the playoffs. Anything less would be considered a disappointment.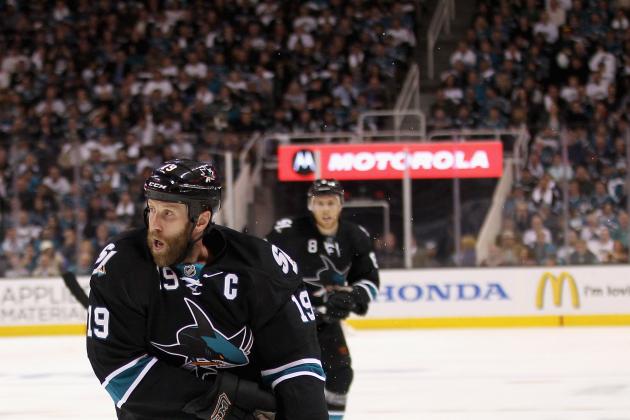 Ezra Shaw/Getty Images

The Sharks are getting older and their window to win a championship is rapidly closing. While a lockout shortened season creates a more even playing field for teams around the league, the compacted schedule could have a negative effect on the Sharks aging core. On talent alone, however, the Sharks have just as good of a chance to compete this season as anyone.
Joe Thornton returns as Captain and will attempt to lead a mini-revival for a San Jose team that finished the 2012 season in a disappointing seventh place that gave them the pleasure of meeting the Blues in round one.
Until late in the season it was unclear whether or not the Sharks would even reach the playoffs, a relatively new feeling for a fan base who has seen its team waltz into the playoffs with ease since Thornton arrived.
While Thornton, Patrick Marleau, Martin Havlat, Douglas Murray and Dan Boyle are all another year older, there is still plenty to look forward to.
The team boasts a solid core of younger players including Logan Couture, Joe Pavelski, Ryan Clowe and Brent Burns. Brad Stuart is a solid veteran addition to the blue line, and the bottom six has been filled out nicely by general manager Doug Wilson with trade deadline and summer acquisitions of Dominic Moore, T.J. Galiardi and Jamie McGinn.
Apart from Murray, Boyle, and Burns, the defensive corps figures some promising young pieces that include Jason Demers, Marc-Edouard Vlasic and Justin Braun who will, if nothing else, relieve Sharks fans of ever having to see Colin White suit up in teal and black again.
After a disappointing 2012, the Sharks have all the tools to turn things around in 2013 and get right back into the playoffs. After all, their window hasn't quite closed yet.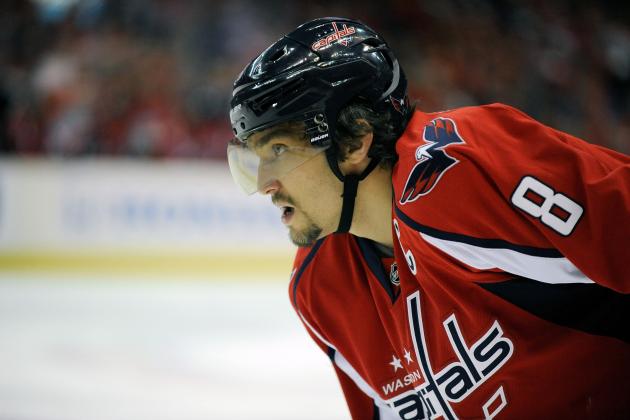 Greg Fiume/Getty Images

Similar to San Jose, the Capitals took their fans on a whirlwind ride in 2012 that began with the firing of head coach Bruce Boudreau and ended with a wire to wire finish that saw the team barely make the playoffs.
2013 promises to return the Capitals to prominence and land them back at the top of the Southeast Division, where they probably felt they would never fall under the reign of No. 8.
One good piece of news for Capitals fans is that Alex Ovechkin and Nicklas Backstrom played together in the KHL and dominated. Odds are that both players will bring this form back over to North America and slide back into the NHL seamlessly to create one of the league's scariest first lines.
Alex Semin joined division rivals Carolina in the offseason, but the Caps will hope that new addition Mike Ribeiro can slot into the second center position to provide the team with more depth. Young defense pairing John Carlson and Karl Alzner proved their worth in the playoffs against both Boston and the Rangers, and they will hope to build off these successes in 2013.
The end of the season and playoff run saw a revival of Mike Green's talent, and to compete in 2013 it will be important for Green to completely rediscover his offensive edge that gave the Capitals a deadly power play the past few years.
Youngster Braden Holtby will look to hold off Michal Neuvirth between the pipes and the battle could be healthy for the both of them. Can Holtby replicate his playoff success for a full (well, half) season? If he can, the Caps should be solid in net and make a run back into the playoffs.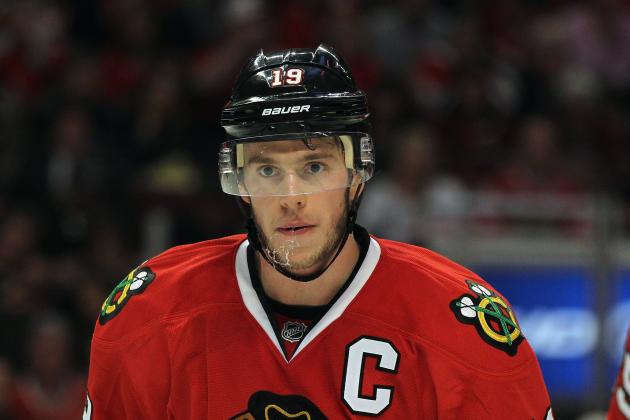 Jonathan Daniel/Getty Images

A healthy roster will go a long way towards bringing the Chicago Blackhawks back into serious contention. For the start of 2013, that looks to be what they will have.
Marian Hossa has been medically cleared to play come Jan. 19, and Captain Jonathan Toews looks to be a hundred percent fit for the start of the new campaign.
Patrick Kane has returned back to Chicago after a successful, albeit short, foray into the Siwss League.
Patrick Sharp has showed no indication of slowing down, and Dave Bolland is as solid and gritty as ever.
Defense is an area of contention for the 'Hawks. It has the potential for a great top four with Brent Seabrook and Duncan Keith anchoring down the top two spots and youngsters Nick Leddy and Niklas Hjalmarsson looking promising.
Size could be an issue on the blue line, and teams with bigger forwards will surely look to exploit it. But if they can use their speed and prowess on the offensive side of the puck, they could form a very underrated group. In a division that lost both Nicklas Lidstrom and Ryan Suter, the Blackhawks have the potential to ice one of the better defensive groups in the Central.
After rumors from the Boston Globe of Tim Thomas coming to Chicago (via Pro Hockey Talk), the Blackhawks made no changes in their goalkeeping tandem. Corey Crawford will be relied on to solidify the back end and rebound from a very disappointing 2012, and Ray Emery will be handed backup duties. If Crawford can rebound, the Blackhawks should be fine. If he cannot, we may see a repeat of 2012.
Health is the key for the team, but a weakened division can't hurt either.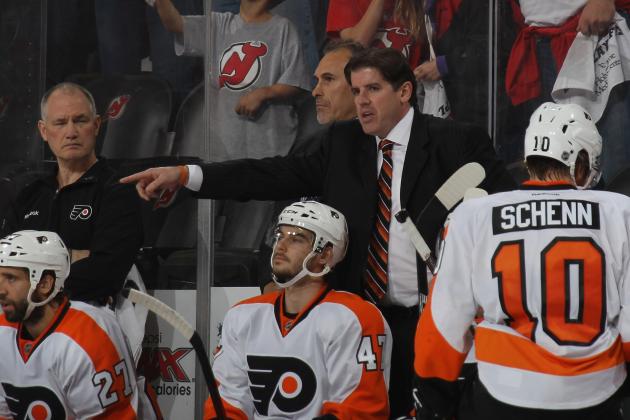 Bruce Bennett/Getty Images

For a moment this offseason it seemed like the Flyers were about to solve their defensive woes in one fell swoop. But then Nashville matched their offer for Shea Weber and the Flyers were forced to scramble to find a new replacement for Chris Pronger. They still haven't. On top of that, Andrej Meszaros is out with a longterm injury and Matt Carle has a new, probably beachfront, home in Tampa Bay.
Now, Philly will have to roll with what they have, and that is not something Flyers fans should be happy about.
Luckily, though, the Flyers have the potential to be a dominant offensive team. Claude Giroux is one of the game's superstars. Jakub Voracek, Wayne Simmonds, Brayden Schenn, Sean Couturier and Matt Read are all still under the age of 25, and solid veterans Scott Hartnell, Danny Briere and Max Talbot are all returning.
As long as defense is an issue, though, the Flyers aren't likely to make a serious Cup run.
Their hopes in 2012 were dashed by a Devils team that was not as deep or talented offensively, but held their offense in check. The remainder of the offseason and trade deadline may change Philly's defensive configuration, but until then the offense will have to carry the team. But that can only take them so far.
While we're talking about Shea Weber, P.K. Subban is still without a contract. Maybe the Flyers could throw an offer sheet his way (kidding).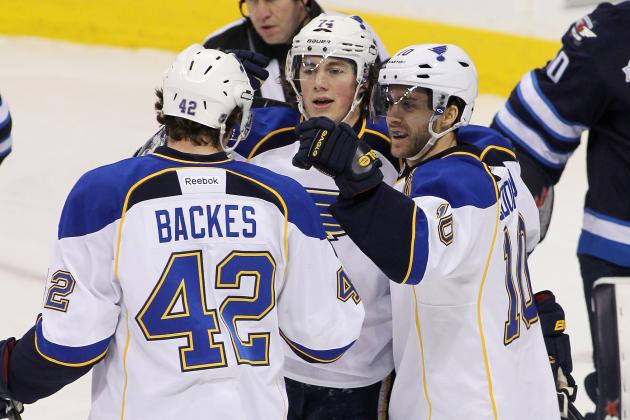 Marianne Helm/Getty Images

An amazing 2012 season came crashing down on the Blues after they were embarrassed by the Kings in the second round of the playoffs. In that series, the Blues were beat in every aspect of the game: defense, offense, goaltending and coaching. With a year of experience together as a team, all that could change in 2013.
The Blues are like the Bruins of the Western Conference. They have tough gritty forwards who can play in the dirty areas but also score with skill. But while scoring consistently was an issue for the Blues in 2012, they're hoping this year leads to different results and they have good reason to hope.
Rookie Vladimir Tarasenko is coming over from Russia and he already possesses arguably the most raw offensive talent on the team. Tarasenko will fit perfectly into a Blues team that can provide him with support and help him deal with the learning curve that comes along with playing in the NHL. Fellow wing prospect Jaden Schwartz could also see time this year in St. Louis and the pair could reek some serious havoc.
If St. Louis can make strides offensively, there is no doubt that they can compete with Los Angeles and Vancouver.
David Backes, David Perron, T.J. Oshie and Andy McDonald is a strong core to build around and young stud blueliners Alex Pietrangelo and Kevin Shattenkirk should provide solid support on the back end. If Ken Hitchcock can get Chris Stewart's offensive game back on track, the Blues' attack will be even deeper.
One of St. Louis' major questions heading into 2013 is: was the goaltending a fluke? I'm not sure if fluke is quite the right word, but the tandem of Jaroslav Halak and Brian Elliot could be hard pressed to repeat the numbers they put up. If St. Louis has a chance to win a Cup soon, a repeat performance from the due will be required.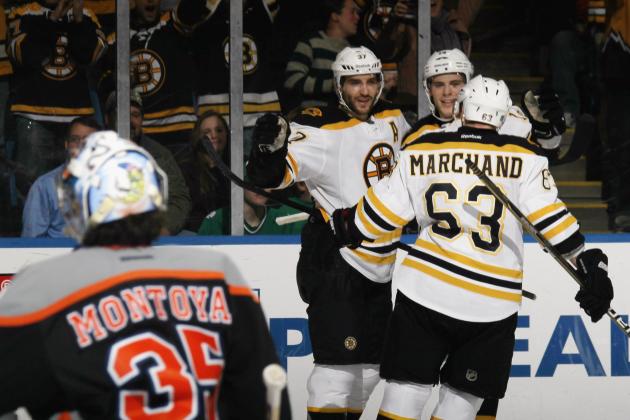 Bruce Bennett/Getty Images

With the entire 2012 core returning plus a healthy Nathan Horton, the Bruins will look to avenge last year's embarrassing playoff exit at the hands of the Washington Capitals.
Coming into 2013, there are three potential issues that the Bruins could face. Depth at the forward position could pose trouble if injuries become frequent, so another veteran depth signing would be ideal. Jordan Caron is injured to start the season and all signs point to Chris Borque starting at third line LW on the 19th. See what I mean?
The Bruins do have plenty of internal options to fill holes for injuries, the question is simply whether or not they are NHL ready. Ryan Spooner, Jared Knight and Alexander Khokhlachev all look to have spots nailed down in Boston when the time comes, but they are still young and raw. It is important for the B's not to rush them and, as a result, Boston fans will likely be watching Borque for a few weeks.
The second area of concern for Boston is defensive depth. By all accounts rookie Dougie Hamilton is set to wearing the "Spoked B" in a few weeks, but his inexperience is a concern. That being said, his size and power play ability are not.
Third pairing defenseman Adam McQuaid is recovering from blood clot surgery and may miss some time to start the year. That means veteran and former Blue Jackets cast-off Aaron Johnson is in line to see some starts. If the phrase "former Blue Jackets cast-off" scares you...well, it should. But Johnson should be able to provide stability and consistency and that's all you can ask for in a third pairing d-man.
The third area of concern is between the pipes. Is Tuukka Rask truly ready? All signs point to yes, but any rough start could see Bruins fans clamoring for a Tim Thomas return. The team will be hoping that's not the case.
In the end, though, the Bruins have it all when healthy. They can roll out four lines, have probably the best 4th line in hockey, can score with skill, or play with grit. There's not many other teams that can win all those ways.
Christian Petersen/Getty Images

They say the only thing harder than winning the Stanley Cup is defending it. But with a shortened season the Kings have just as good of a chance as anybody. To do that, though, they can ill afford to start the season the way they did in 2012.
The beginning of this upcoming campaign will immediately test their mettle as No. 1 center Anze Kopitar was injured in Europe and Conn Smythe winning goalie Jonathan Quick is recovering from back surgery.
A hangover in 2013 is certainly possible, but the Kings roster is so complete it's hard to rank them any lower than third in the West. The Kings have it all: depth in both their top and bottom six, a rock solid top four defense and Vezina caliber goaltending. They proved they could play skilfully against Vancouver in round one of last years playoffs, but also gritty and tough against St. Louis and Phoenix in the following two rounds.
The main area of concern for the Kings is getting off on the right foot. As mentioned, the talent is there at all positions. But up until the last month of last season and the playoffs, the talent didn't really show itself.
The Kings struggled to score goals and win games and if not for a late surge, we wouldn't be talking about the Kings as defending Cup champs, and they probably wouldn't be ranked this high.
In my mind, the only two things that can derail this team from not making the playoffs is slow recoveries from Kopitar and Quick, and a slow start that they will not be able to recover from. Goal scoring shouldn't be an issue, but the same team that scored seemingly at will during June only netted 194 during the regular season. That was the second lowest total in the league.
While I don't see L.A. repeating come this June, they are certainly the best team in the Pacific Division and a shoe in to a top three ranking.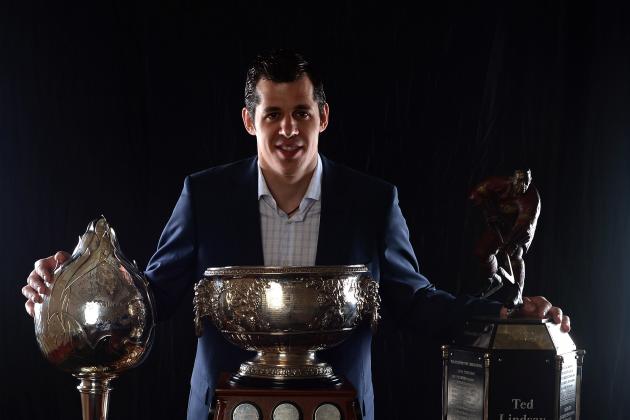 Harry How/Getty Images

What more can you say about Evgeni Malkin? I think the above photo tells you all you need to know. Coupled with a healthy Sidney Crosby (and another breakout year from James Neal) in 2013 and you're looking at the best center combination in the entire league, if not the world.
Pittsburgh's only real issue coming into the season is the blue line. Even the most hardcore Penguins fan will tell you it's not that good, and it was the reason for their first round exit last May.
Apart from Kris Letang, the rest of the defensive corps was just plain bad and Letang's only real redeeming factor was his offense.
But that doesn't mean there isn't something to look forward to on that side of the puck. As bad as the current crop of Pittsburgh defensemen is, the talent coming in is that good.
Simon Despres has impressed at all levels and fellow youngsters Joe Morrow, Derrick Pouliot, Olli Maatta and Brian Dumoulin will look to arrive in Pittsburgh sooner than later.
Until all those players are fully developed, though, the Pens will have to roll with what they have.
Any kind of rebound from Paul Martin could go a long way in revamping the defense and Brooks Orpik should be able to successfully rebound to his usual self for 2013. If Matt Niskanen can play competently, he has the potential to make Penguins fans forget the team traded away Zbynek Michalek when they really could have used him.
At the very least the blue line is better than Philadelphia's, which should make Penguins fans happy, right?
And any signs of life from Marc-Andre Fleury could be helpful too.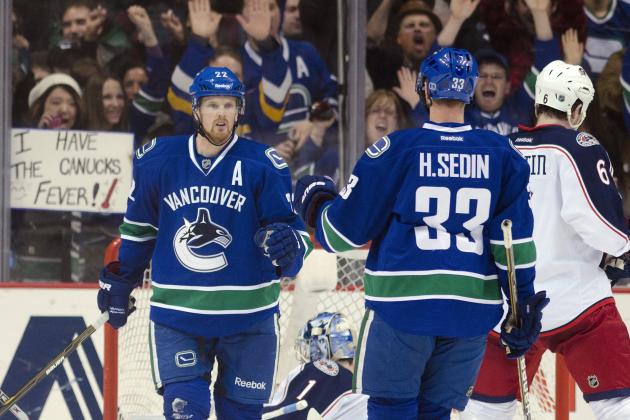 Rich Lam/Getty Images

Ryan Kesler will be out to start the season, but Vancouver still boasts one of the best first lines in hockey. If I was a betting man, I'd probably pencil the Canucks into their third straight President's Trophy (they like those things in Vancouver, right?).
The main reason I place Vancouver here is because the Northwest Division is, at times, comically bad. With Minnesota becoming rapidly stronger, maybe there can finally be a new bully on the Northwest block, but probably not until next year at the earliest.
The sooner the Roberto Luongo situation ends, the better for the team. The entire affair has been nothing more than a colossal distraction; one that, quite frankly, the team doesn't need. But once hockey starts again, I fully expect the Canucks to finish atop the West regardless of who is in net. They have proven that they are regular season champs, it's just the playoffs that poses a problem.
Much like San Jose, the Canucks' window to win a title is closing. The Sedins are aging and Ryan Kesler has become more injury prone as the years have worn on. So is this finally the year? It's hard to say for sure and if I had to guess I would say no. With Kesler out to start the year, it becomes even easier now to question the Cody Hodgson trade and it seems like the Canucks offense has a bit of a hole in its bottom six.
Meanwhile, the blue line looks like an area of strength for the 'Nucks again. New addition Jason Garrison should fit in nicely with Kevin Bieksa and Alexander Edler to form a stout power play. But are they physical enough? That is a question they have the chance to answer in 2013.
So for now, the Canucks get the pleasure of sitting atop my Western Conference rankings. For the regular season, anyway.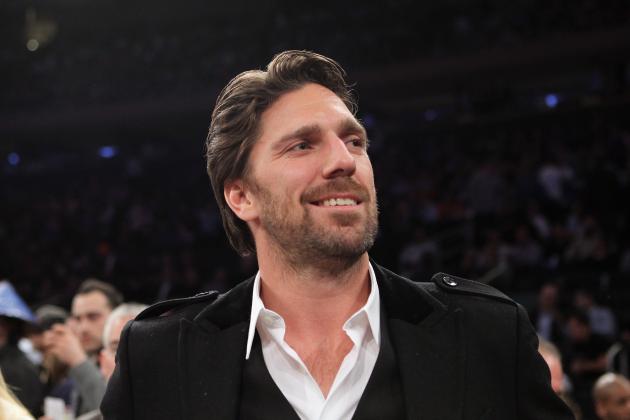 Bruce Bennett/Getty Images

On paper, it's hard to say the Rangers don't deserve the preseason title of No. 1 in the East. The acquisition of Rick Nash should help to form one of the best lines in hockey with a healthy Marian Gaborik and Brad Richards. Pittsburgh and Philadelphia have defensive issues, and the Rangers have Henrik Lundqvist in net.
What's not to like?
But that doesn't mean there aren't potential stumbling blocks for the Rangers. Like the Wild, there are many new faces and the lockout hasn't given the team a chance to gel. While Nash is a great player, the team gave up two roster players, Brandon Dubinsky and Artem Anisimov, to get him. They also lost Brandon Prust to Montreal. What kind of affect will this have on the team camaraderie and in the dressing room?
Watching how Nash adapts to head coach John Tortorella's system is also something to keep an eye on. Torts emphasizes defensive grit and requires all of his players to put their bodies on the line to block shots. That includes the superstars. Will Nash be willing to put it all on the line to win? It's something he hasn't had to do while floundering in Columbus.
Michael Del Zotto is also currently without a contract so that should be the first item addressed by New York's front office as soon as the new CBA is ratified.
One major positive for the Rangers is that they will get a full season of rookie Chris Kreider. While Kreider has been massively disappointing in the AHL this season, his speed on and off of the puck is something that any team could use. As for his current goal scoring drought, maybe he's just waiting for the playoffs?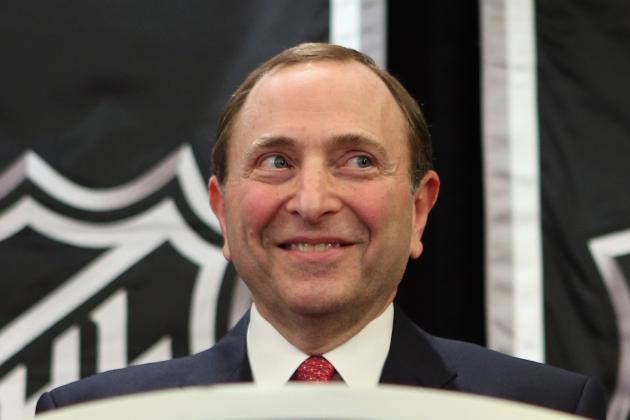 Bruce Bennett/Getty Images

Those are my rankings for the upcoming season based on how the rosters look right now.
What do you think?
Who would you move up and down?