Alistair Overeem Licenced to Fight Antonio Silva at UFC 156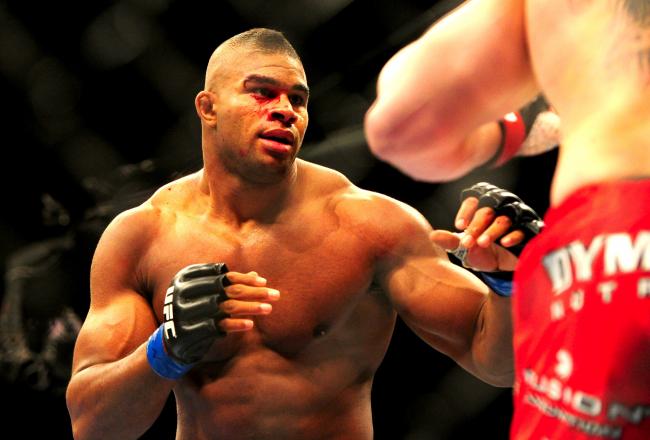 His wait is over. After serving out a nine-month suspension for failing a drug test last year, the Nevada State Athletic Commission (NSAC) has given Alistair Overeem a licence to fight Antonio Silva at UFC 156 this February.
Overeem was suspended ahead of a planned UFC heavyweight title fight against Junior Dos Santos last May due to an elevated testosterone, epitestosterone ratio, which he claims was due to the actions of an unscrupulous doctor.
Still sticking to that explanation, the fighter told a commission hearing (H/T MMA Junkie):
"I think we've done everything we could to correct ourselves from the errors that were made, and I'm just ready to get my life back on track… I'm ready to get back to fighting."
According to MMA Junkie, Overeem submitted five voluntary tests during his suspension and was also subjected to NSAC-administered blood and urine testing on Nov. 16 and Dec. 21—all of which came back negative. After the hearing, the NSAC voted unanimously to grant him a licence.
Overeem has been dogged by steroid rumours for years, especially after putting on a dramatic amount of muscle mass while he was fighting in Japan under Pride. When he joined the UFC in 2011, those rumours grew after he missed a scheduled drug test in the run-up to his debut fight against Brock Lesnar.
It was his subsequent agreement to submit to two random tests before his title fight against Dos Santos in the run-up to UFC 146 that led to him getting popped back in April.
Overeem told MMA Junkie that he was now looking forward to getting back in the gym and back to training. "I'm already basically in shape, so it's just a couple more weeks of grinding it, and then it's going to be showtime again," said Overeem. "I just invested in getting to the next level; 2012 was not a lost year… It was a year of learning from mistakes and preparing for a better 2013."
UFC 156 takes place on Feb. 2 at the Mandalay Bay, Las Vegas.
This article is
What is the duplicate article?
Why is this article offensive?
Where is this article plagiarized from?
Why is this article poorly edited?