Todd Monken's decision to take the head coaching job at Southern Mississippi could have a huge impact on which Oklahoma State quarterback lines up under center to begin the 2013 campaign.
Much like head coach Mike Gundy, Monken was a proponent of the Air Raid offense, which calls for an accurate quarterback who can get the ball out quickly to avoid the blitzes that come because of the wide splits the offensive line sets up in.
Not only that, but the quarterback also needs to be intelligent, as they are called to make more changes at the line of scrimmage than most college signal callers.
Mike Gundy has already gone on record to say that the team will stick to the Air Raid scheme, regardless of who takes the offensive coordinator job.
However, there are also reports that the team is looking into bringing in former Missouri offensive coordinator David Yost.
During his time with Missouri, Yost made his offense churn by employing a dangerous dual-threat quarterback like James Franklin, Chase Daniel and Blaine Gabbert.
This is where things get interesting.
If the team sticks to the Air Raid, then either Clint Chelf or Wes Lunt would probably begin the season as the starter.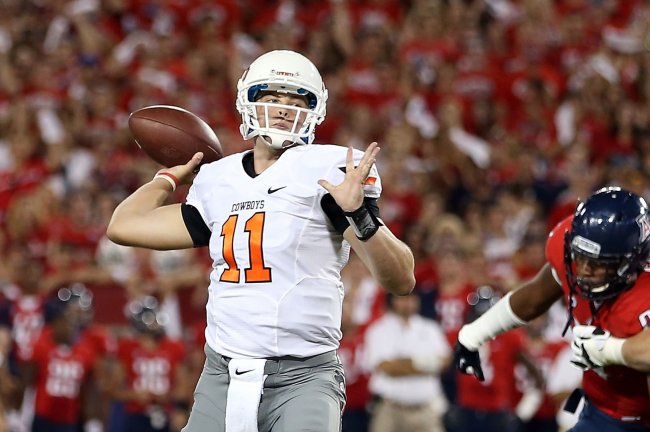 Christian Petersen/Getty Images
Lunt is the better pure quarterback and should win the job, as he did to begin the 2012 season.
However, Lunt did struggle on the road as a freshman, as seen in his games against Arizona and Kansas State.
Chelf, on the other hand, showed the poise and leadership one would expect in a veteran and lead the team to a 58-14 drubbing of Purdue in the bowl game, along with a host of solid performances late in the season.
At this point, it's difficult to tell which of these two give Oklahoma State the best chance at winning in 2013, but it's hard to see Chelf losing the job he performed so admirably unless Lunt makes some strides in his mental game.
With all of that said, if David Yost is hired as the coordinator, then dual-threat quarterback J.W. Walsh becomes an even more intriguing option for the Cowboys.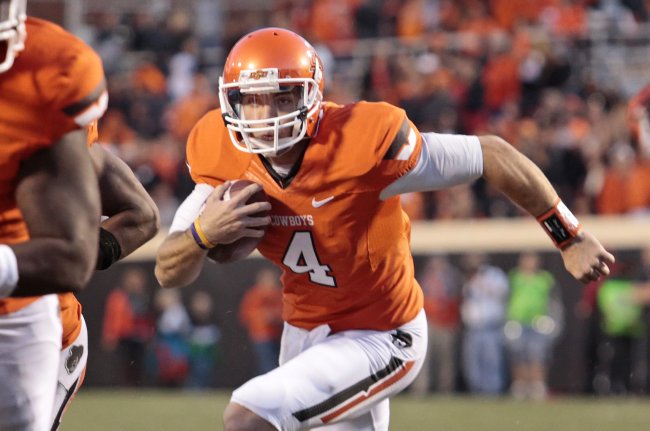 Brett Deering/Getty Images
In the Air Raid, it's likely that Walsh would continue to line up in goal-line situations and give the Cowboys a more potent offensive attack in the red zone.
However, if Yost brings in at least parts of his own system, then Walsh could become starting quarterback, as he's the most dangerous runner among the trio of quarterbacks.
This is all hypothetical though, as Gundy has yet to decide whom he wants to bring in and the Yost rumors are just that, rumors.
Regardless of who is calling plays next season, the Cowboys' quarterback situation is much like it would be if Monken had never left, up in the air.
After all, the team has proven they can win with any of the three quarterbacks, giving credence to an argument for either of them to start.
It's safe to say that we'll have to wait until someone is actually hired before we really know what's going to happen, and even then, the QB situation is going to be a very difficult decision for anyone to make.