Power Ranking the Best Secondaries Remaining in the NFL Divisional Round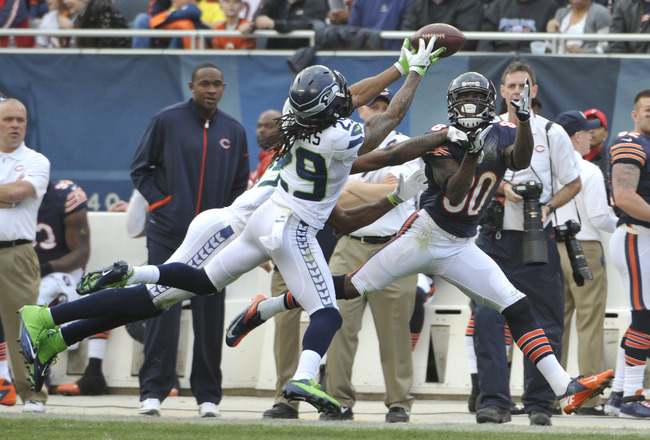 Earl Thomas leads the Seattle Seahawks' stout secondary.
David Banks/Getty Images
With a lot more passing in line for the Divisional Round of NFL postseason play, the secondary units could determine who lives to fight another week.
The first round featured some ugly battles impaired by eye-gauging displays through the air. But before discrediting the new era of high-powered aerial offenses because of last week's games, consider that Aaron Rodgers was the only true stud who took the field.
Now Matt Ryan, Tom Brady and Peyton Manning join the party in place of Joe Webb, Andy Dalton and a one-legged Robert Griffin III. While Colin Kaepernick is still unproven, he can actually run five yards before grimacing to the sideline in clear pain.
That doesn't mean big gains will come easily for these top quarterbacks.
While many teams in last year's postseason hid porous secondaries through dazzling offenses, this year's batch of playoff squads boast above-average defensive units. All eight teams ranked among the top 12 in points allowed this season.
For the most part, the cornerbacks and safeties have played a pivotal role in impeding opposing offenses. Some of the secondaries of the final eight playoff teams can certainly be exposed, though.
Here's how the remaining secondary units stack up heading into the Divisional Round.
8. New England Patriots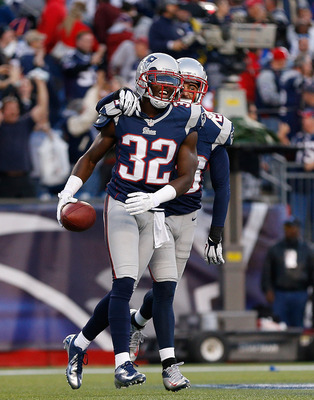 Devin McCourty picked off five passes this year.
Jim Rogash/Getty Images
Well, they're not constantly one of the NFL's best because of defense.
A team can mask plenty of shortcomings with Tom Brady under center. After all, the New England Patriots led the league in total yards and points this season.
But out of the eight remaining playoff squads, New England probably possesses the shakiest secondary and overall defense.
They showed improvement, limiting the opposition to 20.7 points per game despite ranking 29th in the NFL with 271.4 passing yards allowed per contest. That type of bend-but-don't-break approach, however, eventually ends up haunting a team.
When putting New England's defensive advancements in perspective, it's also important to note that they played six games against Mark Sanchez, Ryan Fitzpatrick and Ryan Tannehill.
The only elite signal-caller they encountered is the man who they might meet again in the AFC Championship Game. Although they topped the Denver Broncos in their regular-season matchup, Peyton Manning torched the Patriots for 345 yards and three touchdowns.
This unit has enjoyed little stability due to injuries that have forced Devin McCourty to shift back and forth from safety to cornerback. Formerly a cornerback, McCourty found success in his new role, intercepting three passes during six games while filling in for the injured Steve Gregory and Patrick Chung.
Then rookie corner Alfonzo Dennard and newly-acquired Aqib Talib went down, forcing McCourty to move back to his old position.
With Dennard and Talib expected to play, McCourty could maneuver back to the safety role, where he will be tasked with leading a defense that allowed more passes spanning 20 yards or more than any other team in the NFL this season.
7. Baltimore Ravens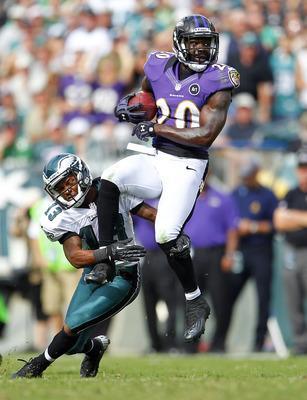 Ed Reed has made a living as a ball-hawker.
Rich Schultz/Getty Images
They're not bad, but this is not the same Baltimore Ravens defense that tortured offenses over the past decade.
The Ravens placed near the middle of the pack with 228.1 passing yards allowed per contest. Andrew Luck moved the ball on them during the opening round, but was unable to find the end zone.
Out of the eight teams standing, the Ravens have caught the least interceptions this season with 14. Not what you'd expect from a group led by Ed Reed.
Losing Lardarius Webb early in the season did a number on the team's already depleted cornerback core. The 27-year-old emerged as the No. 1 corner before tearing his ACL.
Cary Williams and Corey Graham have stepped in amicably as starters, but both are far from shutdown corners.
Injuries to Chris Johnson and Jimmy Smith will force Chykie Brown to serve as the nickel corner on Saturday, creating a mismatch Manning will almost certainly look to exploit.
For Baltimore to channel the fierce defense of old, it needs the front seven to apply consistent pressure on the quarterback and patch up a shaky rushing defense. The Ravens exhibited such success in Week 16 to lock up a playoff berth against the New York Giants, but they proved inept at stopping Charlie Batch and Kirk Cousins in two consecutive losses.
If they want to contain Manning, they might need the Reed of old to show up and majestically soar through the air to perfectly time an interception. But the man is 34 years old already.
6. Atlanta Falcons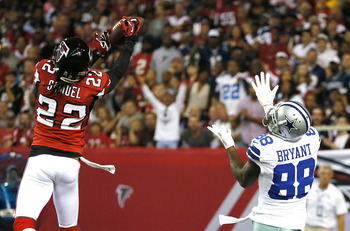 Asante Samuel is always looking to force a turnover.
Kevin C. Cox/Getty Images
The Atlanta Falcons defense consisting of few household names leads the charge in the nation's reluctance to embrace them as a legitimate Super Bowl contender.
Their passing game exploded once Matt Ryan was finally handed the keys to a previously conservative offense, but most fans aren't quite sure how to gauge the defensive unit.
Asante Samuel is the big name from the secondary. He has snatched 50 interceptions over his career. He added five more to that tally this year.
But free safety Thomas DeCoud also made his presence felt in Atlanta's secondary, reeling in six interceptions along with 76 tackles and nine pass deflections. DeCoud easily could have made a case for a spot on the Pro Bowl roster.
The rest of Atlanta's unit enters Sunday's bout banged up, but William Moore, Dunta Robinson and Christopher Owens are all expected to suit up,
Atlanta averaged 242.2 passing yards allowed this season, which ranked 23rd in the league, but they also yielded a league-low 14 touchdowns through the air.
Then again, they had to deal with both Manning brothers, Tony Romo, Matthew Stafford, Griffin (without a terrified Dr. James Andrews watching from the sideline) and Drew Brees and Cam Newton twice apiece.
5. Houston Texans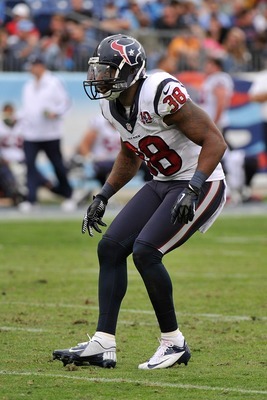 Danieal Manning is part of a Houston secondary that faltered late.
Frederick Breedon/Getty Images
Houston touts a fierce front seven led by Defensive Player of the Year front-runner J.J. Watt, but the secondary struggled to keep up toward the end of the season.
It all started when Chad Henne nearly led the Jacksonville Jaguars to an incredible upset, throwing for 354 yards and four touchdowns. Since then, Houston has failed to insert its dominance that led to the NFL's hottest start.
By the end of the regular season, Houston fell to 16th in the NFL with 225.8 passing yards per game, but they managed to maintain the NFL's lowest opposing completion percentage at 53.0.
They played strong last Saturday, but stopping the Cincinnati Bengals does not prepare them for New England's juggernaut offense.
That particular matchup allowed star corner Johnathan Joseph to swarm A.J. Green without having to fret anyone else making a big play.
Take one receiver out of the game, and Brady will just pick them apart with someone else.
When they faced Brady earlier in what was a highly anticipated matchup, Houston's secondary couldn't hold a candle to Brady. The Pats took a rousing 21-0 lead before the Texans could blink, and Brady finished with 296 passing yards and four touchdowns in a 42-14 victory.
Beyond their starting two cornerbacks (Joseph and Kareem Jackson) and safeties (Danieal Manning and Glover Quin), Houston's lack of depth could hurt them against a New England offense overflowing with weapons.
4. Green Bay Packers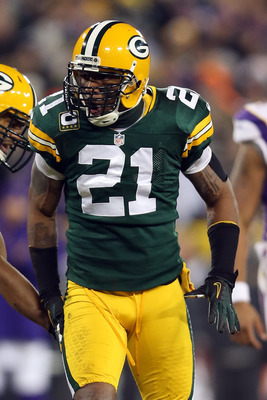 Charles Woodson returned to action last week.
Andy Lyons/Getty Images
All the spotlight goes to Rodgers and a deep receiving corps, but the secondary deserves some praise as well.
Situating just outside the top 10, Green Bay ranked 11th with 218.3 passing yards surrendered per contest. Opponents completed just 55.1 percent of their passes, which gave the Packers the NFL's fourth-best rate.
The Packers are also getting healthy at the right time. Defensive back Charles Woodson came back for last week's Wild Card bout with the Minnesota Vikings.
Woodson's return offers more of a boost to Green Bay's rushing defense, as evidenced by their past two games against Minnesota in as many weeks.
Adrian Peterson rushed for 199 yards without Woodson and 99 with Woodson around to monitor the edges.
Cornerback Sam Shields also resurfaced from an ankle injury a few weeks ago. In his third year, the 25-year-old has emerged as a talented all-around defender who can now tackle as well as cover.
Alongside Shields, rookie Casey Hayward has provided Green Bay with an improved group that helps them manage Woodson's move to safety. One of the premier rookies on the defensive side, the second-rounder recorded 53 tackles and six interceptions.
The passing defense did not have to break a sweat against Webb, but it will face a much more potent dual-threat quarterback in Kaepernick this Saturday. Considering that Alex Smith completed 20 of his 26 passes during their Week 1 matchup, Green Bay probably won't mind trying to stifle the scrambler instead.
3. San Francisco 49ers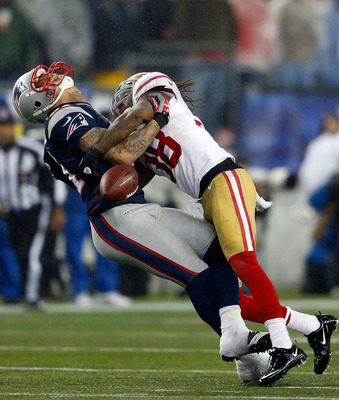 Dashon Goldson earned a Pro-Bowl bid this season.
Jim Rogash/Getty Images
We all know about NaVorro Bowman, Patrick Willis, Justin Smith and Aldon Smith, but what about the San Francisco 49ers secondary?
Both starting safeties were voted to start in the Pro Bowl this season. Whether or not Dashon Goldson and Donte Whitner deserve the roster slot along with six other teammates, they are both fine players.
With those two manning the field, San Francisco allowed 6.1 yards per attempt and 38 passes greater than 20 yards, both placing in the top five.
Although Carlos Rogers did not live up to his resurgent 2011 comeback year, he has still found a home as a starting cornerback in San Francisco.
Tarell Brown registered 55 tackles and deflected 11 passes playing opposite of Rogers, and Chris Culliver's physical style of play in the slot complements the two starters well.
They will have their hands full this weekend against the NFL's deepest receiving unit, but this group previously kept Green Bay's passing game in check.
Nobody is expecting them to shut down Rodgers; just prevent the big play and let a vicious pass rush do its thing against the Packers' unstable offensive line.
2. Denver Broncos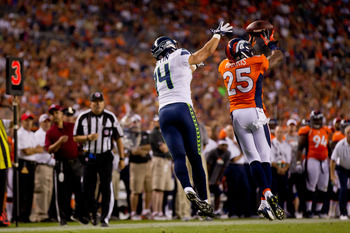 Chris Harris has given the Broncos a dynamic duo at cornerback.
Justin Edmonds/Getty Images
As the only team to sport a top-five offense and defense, the Broncos enter the playoffs as the NFL's hottest squad.
Denver placed third in the NFL with 199.1 passing yards allowed per game, posting a 57.4 opposing completion percentage.
When mentioning Denver cornerbacks, Champ Bailey is frequently the first name to come to mind. He may no longer be the best corner around, but offenses are still wary of throwing the football in No. 24's direction.
Unfortunately for them, Denver has a new sidekick patrolling the other side of the field. In his sophomore season, Chris Harris deflected 12 passes and tallied three interceptions, two of which he returned all the way for scores.
From the safety spot, Rahim Moore has progressed in his second year to solidify a starting role. The 22-year-old resolved tackling woes from his rookie season, bringing down opponents 72 times in 2012.
If Joe Flacco wants to earn consideration among the league's top signal-callers, he will have to step up against a secondary far superior to the Indianapolis Colts. Bailey and Harris aren't going to let Anquan Boldin and Torrey Smith bully them on deep jump balls.
And just to make sure nobody intercepts Manning to end the Super Bowl, the Broncos added Tracy Porter, who hasn't played since Week 6.
1. Seattle Seahawks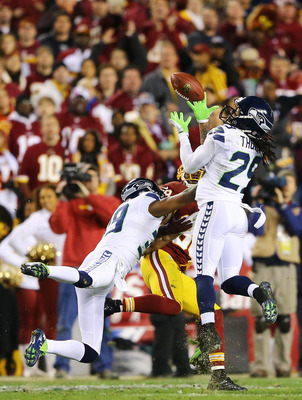 Earl Thomas secured a key interception in last week's Wild Card game.
Al Bello/Getty Images
Russell Wilson was only part of the Seattle Seahawks' meteoric rise up the NFC ladder.
Leading the league with only 15.3 allowed points per game, Seattle can make a case for possessing the NFL's top defensive squad.
Offenses netted 203.1 passing yards per game against the Seahawks, who also grabbed 18 interceptions and forced 16 fumbles.
Earl Thomas and Kam Chancellor may represent the NFL's best safety duo. Earning a Pro Bowl nod, Thomas amassed 66 tackles while capturing three interceptions, not including the pick last week that helped Seattle pull off a come-from-behind playoff win.
For the second straight season, Chancellor recorded 97 tackles, and this is just his second season starting.
They also have two incredibly physical cornerbacks at their disposal. Richard Sherman and Brandon Browner have given wide receivers fits all year against premium competition.
These corners have shut down star wideouts better than anybody else. Larry Fitzgerald (in two tries), Dez Bryant, Steve Smith, Percy Harvin, Greg Jennings and Calvin Johnson all failed to top 100 receiving yards against the Seahawks this season.
Seattle will need its secondary to live up to the hype against Roddy White, Julio Jones and Tony Gonzalez. Considering this group has already stymied the Patriots and Packers, don't put it past Seattle to cool down Matty Ice and make a Super Bowl run.
Keep Reading