NFL Playoff Schedule: Predicting Biggest Matchups, Winners of Divisional Round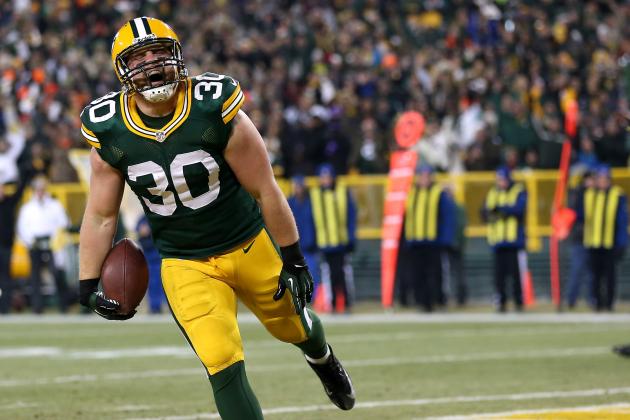 Jonathan Daniel/Getty Images

With the conclusion of the Wild Card Round, the National Football League playoffs turn up another gear as we head into the Divisional Round of competition.
Eight teams remain alive with a chance at Super Bowl glory this season, and this weekend features another fantastic slate of matchups and key battles.
Will it be more success from the San Francisco 49ers at home, and can the Seattle Seahawks continue their incredible winning streak? Do the Ravens have enough left to topple Peyton Manning in Denver, and will Tom Brady's Patriots move on to another AFC Championship Game?
All of that, and much, more more, will be decided this week. Read on to see the biggest matchups and how they'll play out in the Divisional Round of the playoffs.
Begin Slideshow

»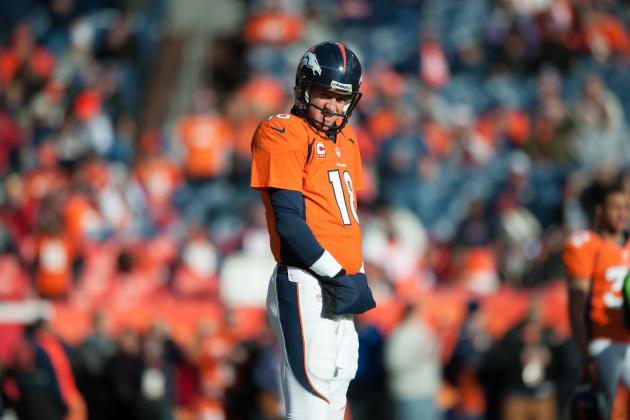 Dustin Bradford/Getty Images

Having churned out a strong win against the Indianapolis Colts in Baltimore last week, the Ravens now face the tough task of traveling to Denver to play for a spot in the AFC Championship Game.
Mile High Stadium is a very tough place to play on the best of days, but given the current climate and altitude, it suddenly becomes one of the tougher playoff destinations available.
And it features Peyton Manning.
The MVP-candidate has had a simply brilliant season under center for the Broncos this year and will be very tough to beat at home in the playoffs this week.
Manning is well-rested after the Broncos' first-round bye and he boasts a 7-1 home record for the year, with his only defeat coming to the hands of the Houston Texans in Week 3.
Since then, the veteran quarterback hasn't been beaten in Denver while the Ravens have gone 4-4 on the road this season, including losses in their past two away games.
If the Broncos can beat up on Baltimore in Baltimore, you'd have to think they have a distinct advantage playing them in Denver this weekend.
Predicted advantage: Being at Denver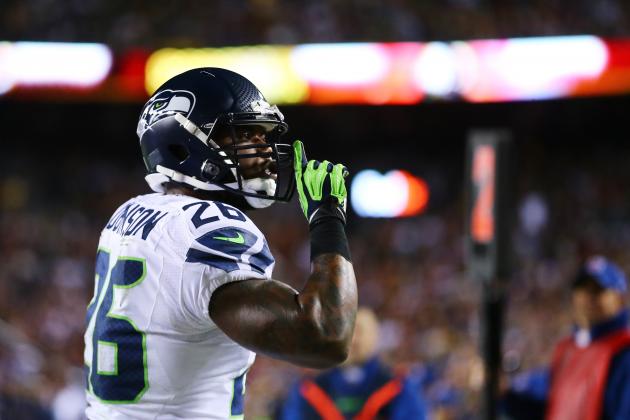 Al Bello/Getty Images

The Seattle Seahawks' terrible road record was mentioned this year prior to their match against the Washington Redskins last week, which they managed to win.
Granted, that was on the road, but they did only just beat a guy with less than half a knee hanging on—which doesn't really leave much room for confidence.
It seems that this week we'll finally get our answer as to whether Seattle can play well away from home or not with a tough trip to Atlanta.
The Falcons only lost once at home during the regular season and picked up big home wins over the likes of Denver and the New York Giants. The Georgia Dome will no doubt be rocking this week as Matt Ryan tries to prove that his team is a genuine playoff contender this season, and it certainly won't be an easy trip for the Russel Wilson-led Seahawks.
Seattle has already lost to the likes of Arizona, Detroit, Miami and St. Louis this year; can they pull another shock win out this week in Atlanta?
Perhaps, but being on the road won't be a helpful factor at all.
Predicted advantage: Being on the road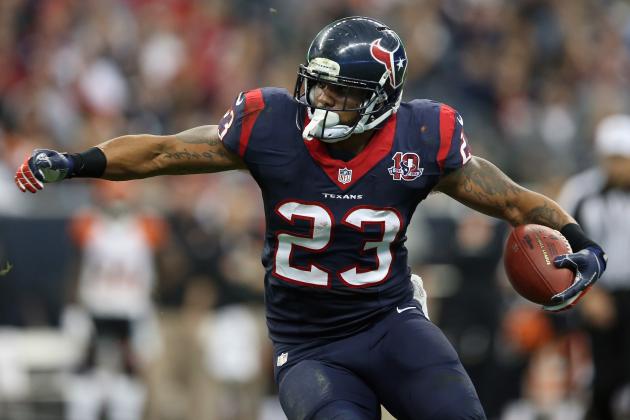 Ronald Martinez/Getty Images

Last week, Arian Foster lined up against one of the better run defenses in the league and had an absolute field day—as many expected him to.
The Houston Texans running back finished with 140 yards and a touchdown on 32 carries and was simply devastating through the backfield for the Cincinnati Bengals.
How he fares this week against the run defense of the New England Patriots will be a very interesting matchup to watch, with the Patriots much stronger on the ground than they are probably given credit for.
They completely stuffed Foster when the two faced off in New England back in Week 10—conceding just 46 yards to the running back—and look to have the edge here this week as well.
Averaging just 20 points against per game, the Patriots rank highly in every run defense category around—average yards per game, average yards per carry. They lead the league in fumbles created (19, with the next-best being 12), but have been particularly good in stopping the big plays this year.
New England leads the league in 20-yard plus rushes allowed with five and are one of the very few teams this year not to allow a 40-yard plus run this season.
The Patriots run defense has already stuffed the likes of Marshawn Lynch, C.J. Spiller, Willis McGahee, Reggie Bush and Arian Foster this year. Expect it to have another big night at home in its first playoff game this postseason.
Predicted advantage: Patriots run defense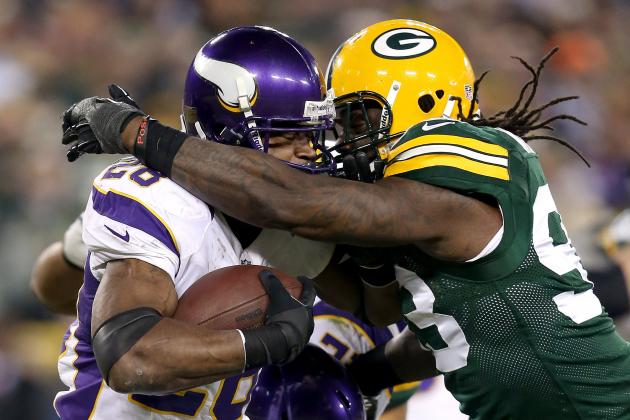 Andy Lyons/Getty Images

What about the run defense of the Green Bay Packers, then?
They managed to hold Adrian Peterson well short of the 200 yards he chalked up against them two weeks back with a better performance in the Wild Card Round of the playoffs.
Granted, the Vikings star still tallied 99 rushing yards on the night, but it was a much more patient and disciplined showing from the Packers defense that was most important. They didn't allow Peterson to get outside too often and forced him to make cuts far too often to avoid trouble—getting good penetration to stuff the running back in his tracks.
But can they do it again this week against Frank Gore—one of the most powerful and tough running backs in the league today?
Gore chalked up 112 yards against the Packers when the two teams met at Candlestick Park in the opening week of the season, so the obvious answer would be to say yes. However, consider that since that day, the only two times that Green Bay has allowed more than 100 rushing yards to an opponent were the two times they played Adrian Peterson—and that's it.
Expect the Niners back to still get good yardage and plenty of carries this week and he probably deserves the advantage in this matchup here. But don't rule out the Packers defense from making some key stops on Gore throughout the game.
Predicted advantage: Frank Gore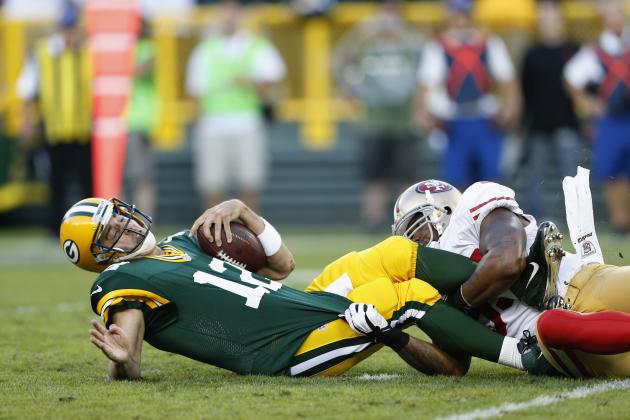 Joe Robbins/Getty Images

If San Francisco is going to stop Aaron Rodgers like they did in the opening week of the season, they must get good pressure on the star quarterback and reigning MVP.
In Week 1, the Niners picked off Rodgers once and sacked him three times, but the most telling sign was in the pressure that they got against him. That pressure showed itself in the five hits and nine hurries they got on the quarterback, and they know that they'll need to do so again this week if they are to progress through to the NFC Championship Game.
For Rodgers, this week can't be about his offensive line—this week, he needs to get rid of the ball quickly and not get trapped inside the pocket too often. He is a great runner of the ball when he opts to and he must not suffer too many third-and-long situations throughout this one if possible.
Keeping San Francisco away from good field position will be key to staying alive in this one, and that's only possible by not suffering negative yardage too often.
Expect the Niners defense to be strong, but expect Rodgers to be very good this week—countering for that pressure and showing why he's one of the best.
Predicted advantage: Aaron Rodgers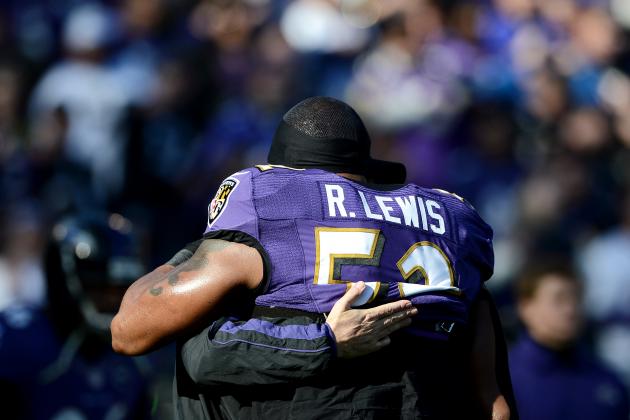 Patrick Smith/Getty Images

Our final matchup this week comes between Ray Lewis and his impending retirement, given the news that the linebacker will not be playing on after this season.
Lewis has had a remarkable career in the NFL both as a player and a leader and will be sourly missed by all involved—especially those at the Ravens organization.
They'll be looking to keep their time with Lewis alive this week against Denver, knowing that a single loss will mean that their star player is now no more.
So can Ray hold out for one more week, or will retirement finally catch him?
There's no doubt it will be close, but playing at Denver is no easy feat—even for a team that has all to prove and everything to play for like Baltimore. Peyton Manning is simply incredible and he just doesn't make too many mistakes, which the Ravens will need if they are to succeed.
This could very well be the week that retirement beats Lewis.
Predicted advantage: Retirement
Who do you think will win these matchups in the NFL this week?
Comment below or hit me up on Twitter: Follow @dantalintyre