NFC North Power Rankings: The 7 Most Disappointing Players of 2012-13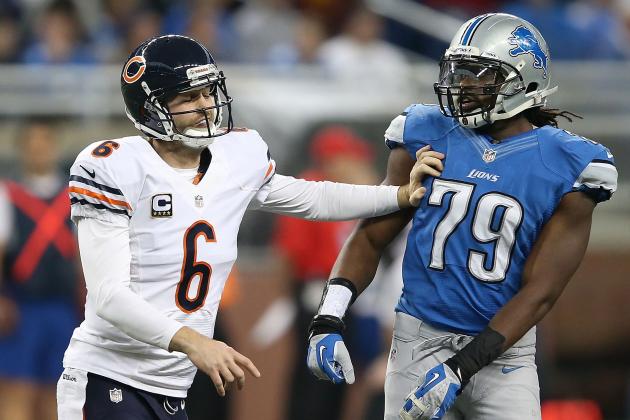 Leon Halip/Getty Images

The NFC North proved to be a competitive division with the Minnesota Vikings exceeding expectations, the Detroit Lions and Chicago Bears falling short and Green Bay Packers meeting theirs by winning the division.
With only the champion Packers still alive in the playoffs, it's time to look at the players in the division who fell short of expectations in the 2012-13 season.
Begin Slideshow

»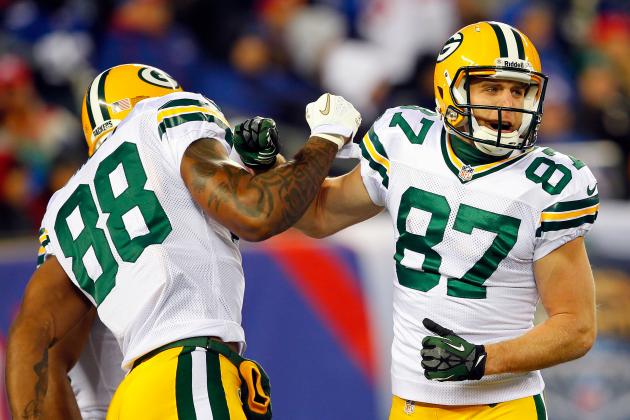 Rich Schultz/Getty Images

After a strong playoff run in 2010 and an explosive 15-touchdown season in 2011, Nelson was expected to continue to terrorize the NFC North, but his play dropped off in 2012, finishing with 49 catches and 745 yards in 12 games.
A major part of the problem for Nelson was injuries, but he failed to register 100 yards in any of his first five games and had just one touchdown and five dropped passes—after dropping a total of three a year ago—in that span. He seemed to come back to life with 243 yards and four touchdowns in wins over Houston and St. Louis, but then injuries struck.
Another part of Nelson's lack of productivity was the emergence of Randall Cobb and James Jones, who led the league in touchdown receptions. Nelson is still a major part of what the Packers do and seems to be getting back in shape as the Packers look to make another playoff push.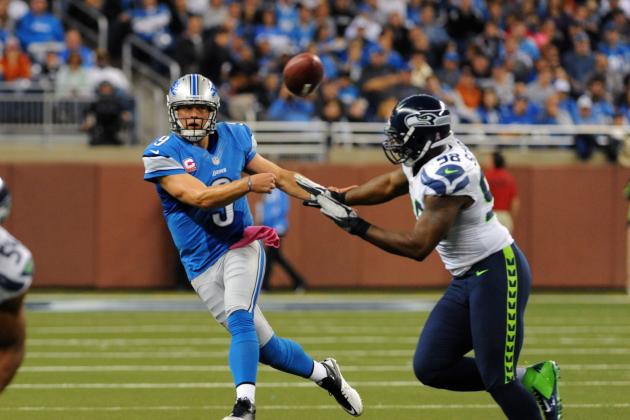 Al Messerschmidt/Getty Images

After a breakout 2011 season, Matt Stafford saw his production drop across the board as he threw 21 fewer touchdowns, one more interception and his passer rating plummeted by over 17 points. More importantly, his team went from 10 wins to just four.
His regression is confusing for a number of reasons. Although his raw numbers would've been hard to duplicate, many expected Stafford to continue to improve and mature as a player at just 24 years old, but he still made a number of big mistakes and puzzling decisions.
It's also odd because Stafford seemed to have more talent around him this year. Pro Football Focus rated the Lions' offensive line as the third best pass blocking unit in the league, while both the wide receivers and running backs received much better grades than they did in 2011 as well.
Despite the drop in his raw numbers, Stafford also received a slightly higher grade from PFF, but it would've been hard for him not to given the improvements around him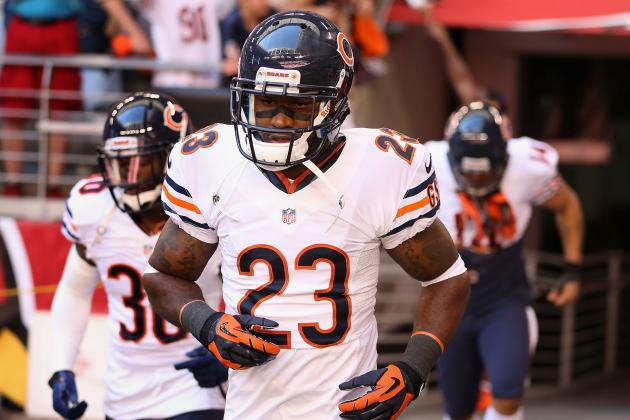 Christian Petersen/Getty Images

Although expectations of Hester as a receiver always seem to be overblown, he was still an electrifying return man in each of the last two seasons, but was nowhere near that level this season.
Last season, Hester averaged 16.2 yards per punt return and had two touchdowns, this season, he averaged about half the yardage—8.3—and didn't get a single touchdown despite having 12 more returns.
After the season, few found it as a surprise when he said he wasn't sure if he wanted to continue playing football any longer. He ran tentatively and made a number of odd decisions to avoid contact as the season progressed.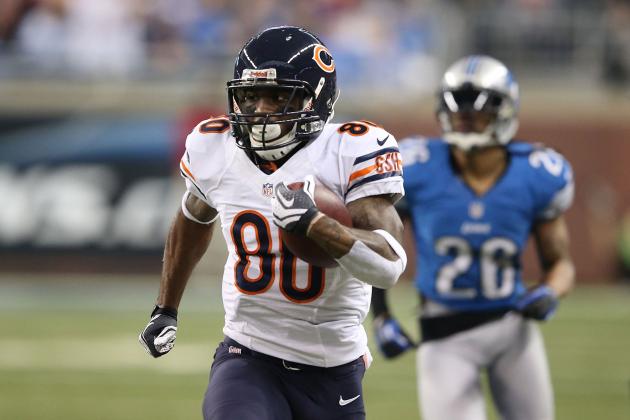 Leon Halip/Getty Images

Statistically, Bennett was actually better than he ended up in 2011—catching five more passes and one more touchdown—but Bennett fell well short of expectations this season.
Bennett's 2011 campaign can't be judged by the final numbers. After an early season injury, he averaged nearly five catches and 84 yards over a three game stretch before quarterback Jay Cutler broke this thumb. He struggled over the final six games with Caleb Hanie and Josh McCown as his quarterbacks, but was expected to come close to that production with Cutler returning and Brandon Marshall coming on board to take the pressure off.
Bennett was MIA for most of the Bears' games this season before closing with a 100-yard performance in the final game.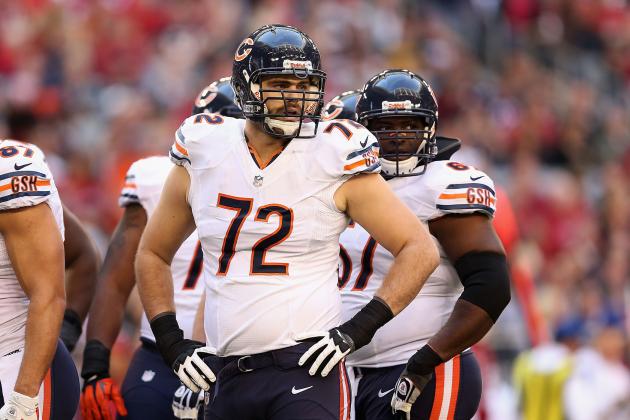 Christian Petersen/Getty Images

Heading into the season, the Bears thought they were set on the right side of their offensive line with Carimi and Lance Louis, but Carimi turned out to be a colossal bust.
Offensive coordinator Mike Tice said Carimi was his best offensive lineman when he was injured in the second game of his rookie season and he graded out positively.
This season, however, he was among the worst pass blockers in the league, giving up 32 hurries, seven sacks and committing 12 penalties before eventually losing his starting job to journeyman Jonathan Scott. Overall Carimi graded out positively as a guard, but eventually lost his starting job there as well.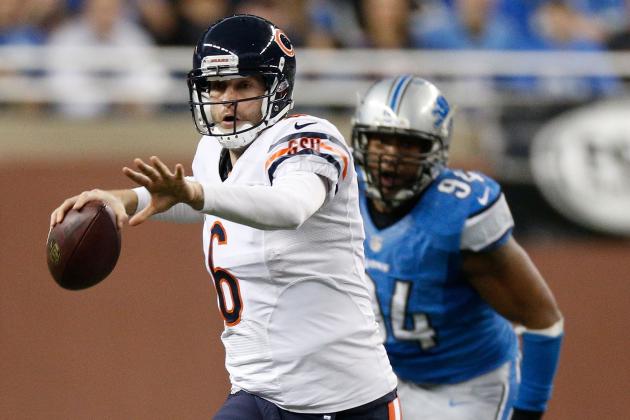 Gregory Shamus/Getty Images

With Brandon Marshall coming to town and a change at offensive coordinator, the expectations for Cutler were sky high, but his rating dropped by over four points as the Bears missed the playoffs.
Many of Cutler's statistical problems aren't his fault. Nobody on the outside knew Mike Tice had a high school playbook and his offensive line is still amongst the worst in the league—the fifth worst pass-blocking unit in the league according to Pro Football Focus. His receivers and tight ends also didn't help him much as they, dropped 37 passes, including at least 10 potential touchdowns. According to Advanced NFL Stats, only 36.2 percent of his passing yards came via yards after the catch, fourth lowest in the league.
Still, Cutler's raw numbers are far lower than what was expected of him as the Bears were left watching the playoffs again this year.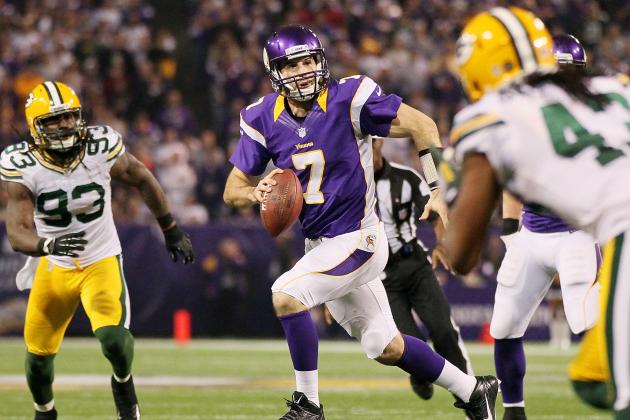 Andy King/Getty Images

Ponder showed flashes of being a very good NFL quarterback in his rookie season, but he continued to struggle with consistency in his second season. Statistically, Ponder was better in 2012 than 2011, but he was still a liability for the team throughout the season.
Even with teams stacking the box to stop Adrian Peterson, Ponder had a hard time getting the ball down the field, finishing with a passer rating of 50.25 on throws over 10 yards down the field, according to Pro Football Focus.
Ponder improved his completion percentage by eight points and his overall rating by 11, but that had much more to do with the talent around him than his play. According to Advanced NFL Stats 55.5 percent of Ponder's passing yards came via yards after the catch, the highest percentage in the league.