Seahawks vs. Falcons: 5 Keys to a Seattle Upset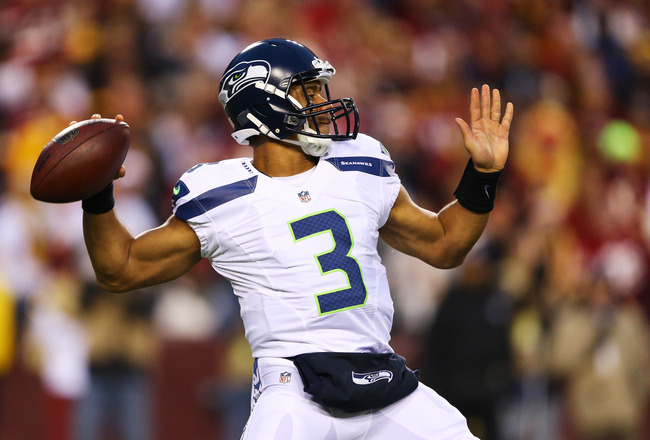 Al Bello/Getty Images
Russell Wilson and the Seattle Seahawks have a great upset opportunity in the 2013 NFL playoffs.
Playing on the road against Matt Ryan and the Atlanta Falcons, Seattle looks for a berth in the NFC Championship while preventing the Dirty Birds from their first postseason win since 2004.
During the Ryan and Mike Smith era, which began in 2008, Atlanta is 0-3 in the playoffs despite consistently impressive regular season success. The Seahawks are in the postseason for a second time under Pete Carroll and 2012 is the team's first winning campaign since 2007—winning the NFC West at 7-9 in 2010.
Fielding one of pro football's best defenses and rushing offenses, Seattle matches up quite well with the NFC's No. 1 seed. And the preview ahead leaves Atlanta vulnerable to a meltdown this weekend.
Marshawn Lynch's Impact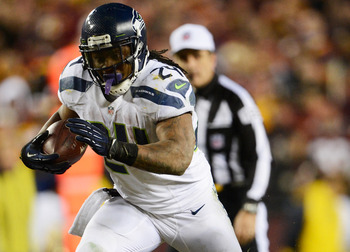 Patrick McDermott/Getty Images
Regardless of Marshawn Lynch's numbers against the Falcons, it's his impact that will help determine this game.
In other words, how often is Atlanta stacking the box to stop him?
Or, are the Falcons using a Cover 2 scheme so the corners can set the edge and allow the front seven to run-blitz?
All this ties into Seattle winning the possession battle and keeping Matt Ryan off the field. Lynch's presence in the backfield needs to draw up that extra defender into the box, because Russell Wilson can work even better off play-action.
The Seahawks must also never abandon the run, because Atlanta gives up an average of 4.8 yards per rushing attempt. Include Lynch averaging five per carry in the regular season, as well as 6.6 against the Washington Redskins, and the Falcons will key on him.
Thereafter it is relying on Wilson to keep the Dirty Birds honest.
Russell Wilson's Decision-Making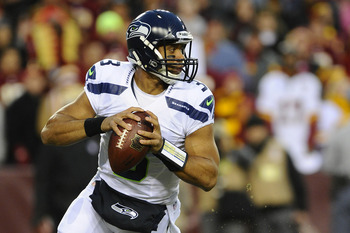 USA TODAY Sports
With the Falcons focusing on Marshawn Lynch, Russell Wilson has to capitalize on that vulnerability.
Atlanta knows it must stop the run, but doing so makes it susceptible to play-action, Wilson rolling out and making plays with his feet.
Against the Redskins he accounted for 67 rushing yards on eight attempts, 28 of which came because Washington failed to put a linebacker spy on him. We can certainly expect the Falcons to be wary of this dynamic, so anticipate any blitz coming from the outside.
Even still, Wilson can dice up Atlanta's pass defense.
Despite being opportunistic throughout 2012, the Falcons gave up a 61.2 completion percentage and managed only 29 sacks. So the pass rush won't be much of a factor, and Wilson's mobility reduces that impact for Atlanta even more.
The rookie knows how to spread the field incredibly well, and completing 64.1 percent of his throws in the regular season speaks volumes. Having tossed only 10 picks on the year, Wilson won't give the Falcons many play-making chances when dropping back.
Suffocating Man Coverage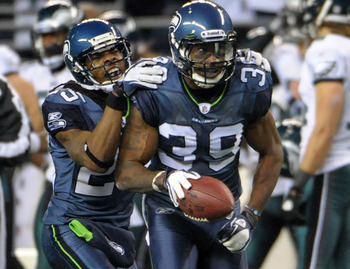 Kirby Lee-USA TODAY Sports
Richard Sherman and Brandon Browner will dictate how well the Seahawks defense performs.
And it's solely because of Atlanta's offense featuring receivers Roddy White and Julio Jones.
Sherman and Browner must lock down man-to-man and constantly re-route Matt Ryan's two favorite targets. For the most part, utilizing inside leverage with press coverage will immediately force Ryan to look elsewhere.
Shielding White and Jones from the inside gets the boundary to act as an extra defender, which increases the difficulty of Ryan's marksmanship. Back shoulder throws can be made by Atlanta's signal-caller, but throughout the duration of this game against Seattle's defense will be his toughest challenge yet.
Pete Carroll's cornerbacks isolating in man coverage also opens up the rest of the defense. The safeties can mix up between a traditional Cover 1—a robber, where one drops underneath the other in the middle—or a Cover 2.
A byproduct of that comes from the front seven given the luxury of strictly focusing on controlling the line: Which is desperately needed because of a key injury.
Bruce Irvin Stepping Up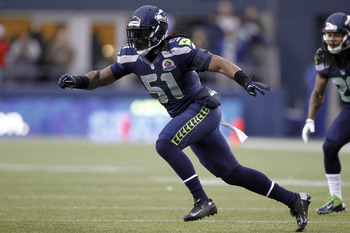 Joe Nicholson-USA TODAY Sports
Time for rookie Bruce Irvin to show why the Seahawks took him in Round 1 of the 2012 NFL draft.
According to Ian Rapoport of NFL.com:
#Seahawks DE Chris Clemons does have a torn ACL & meniscus, I'm told. Appointment with Dr. James Andrews Monday. Swelling not bad at least

— Ian Rapoport (@RapSheet) January 7, 2013
This is simply unfortunate for Chris Clemons, but at the same time it's an opportunity for Irvin to really prove himself.
Although he finished with eight sacks in the regular season, which was second on the team, Irvin had just 17 total tackles. Obviously that's due to him being restricted to passing situations, so Atlanta will attack his side with Michael Turner.
Even if Irvin doesn't make plays at the line to stuff the run, squeezing the edge and not giving up contain is all that's needed. Provided the secondary blankets in coverage as expected, Irvin and the front seven can stifle the run and apply constant pressure to Matt Ryan.
We know Irvin's capable of wrecking the backfield, but it's also a matter of adapting to every down play calls and recognizing screens and draws. The Falcons will try to take advantage, so Irvin must get it done.
Third Down Situations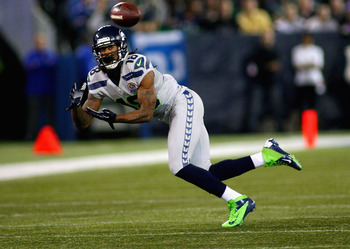 Rick Stewart/Getty Images
The most important down is third down, period.
Teams that convert offensively and lock it up defensively are unsurprisingly those with much success each year.
As for the Falcons and Seahawks, this is an interesting area.
Atlanta ranks No. 2 in third down conversion rate (45.1 percent) and the Seahawks are No. 12 (40.2 percent). On the other hand, Seattle is No. 17 for third down defense (allows a 38.4 conversion percentage) and the Falcons are No. 25 (gives up a 40.5 percent).
The offenses are certainly more efficient here, so the pressure is greater on the defenses to step up.
One distinct area where Seattle does have the advantage regarding third down, is strength of schedule. The Seahawks played five games against postseason teams (four different teams) compared to only two for the Falcons.
Now factor Seattle's offensive balance, stronger man coverage defense and a better pass rush, the 'Hawks win this aspect and ultimately the game.


Seahawks 23, Falcons 20
Follow John Rozum on Twitter.
Keep Reading

Seattle Seahawks: Like this team?