Kentucky Basketball 2012-13: Why Ryan Harrow Will Win SEC Player of the Year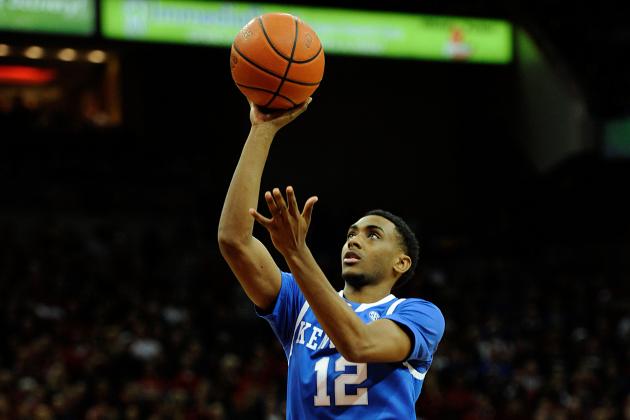 Jamie Rhodes-USA TODAY Sports
Kentucky sophomore Ryan Harrow
Ryan Harrow will win Player of the Year in the SEC for 2012-13.
With conference play getting ready to kick off this week, we will hear a lot about the stars of the SEC this year—Phil Pressey, Nerlens Noel, Kenny Boynton and B.J. Young. But none of them will have the impact that Harrow will have on Kentucky.
Many people will question what Harrow has to even be named to the All-Conference Team, let alone Player of the Year.
The following slides will break down every reason why Harrow will win SEC Player of the Year this season.
Begin Slideshow

»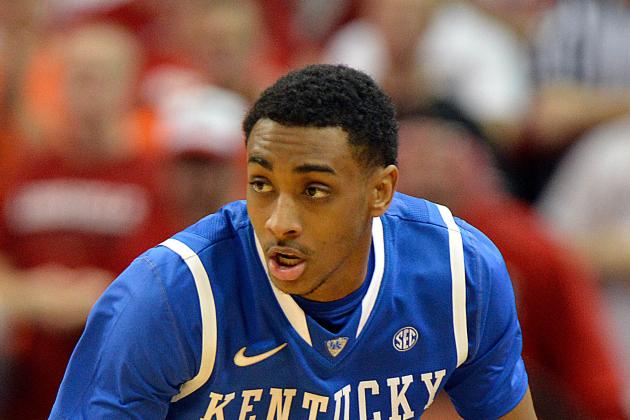 Jamie Rhodes-USA TODAY Sports

Simply put, Ryan Harrow doesn't turn the ball over. For Kentucky and John Caipari's system, it's simply unheard of for a point guard to average one turnover per game.
Calipari is continuing to get on Harrow to push the tempo and play more fast-paced this season, which Kentucky started doing against Louisville. While that usually leads to more turnovers, Harrow has been careful with the ball, including zero turnovers in 39 minutes against Louisville.
In comparison, here is what other Calipari point guards have done at Kentucky:
John Wall (2009-10)—4.0 turnovers per game
Brandon Knight (2010-11)—3.2 turnovers per game
Marquis Teague (2011-12)—2.7 turnovers per game
Ryan Harrow (2012-13)—1.0 turnovers per game
In comparison, Wall won SEC Player of the Year despite his four turnovers per game. Presently, Pressey is averaging over three turnovers per game for Missouri.
If Harrow continues to protect the ball, his turnovers per game will go down even below one per game and set a new standard for point guards, not only at Kentucky, but in the entire conference.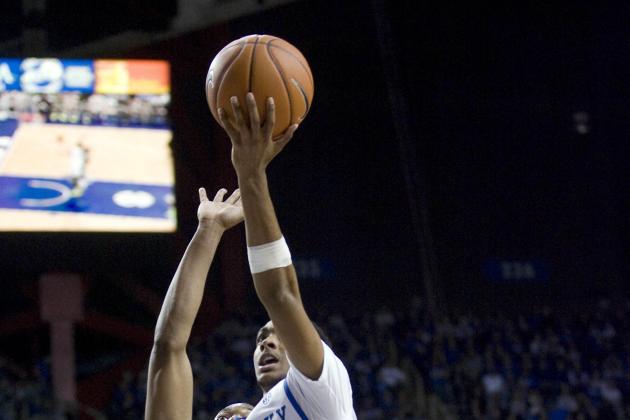 Mark Zerof-USA TODAY Sports

Harrow is currently averaging just nine points per game. However, a lot of that can be chalked up to his early season problems with leaving the team due to an illness and a family emergency.
Since his return, though, Harrow has been a wrecking ball and arguably Kentucky's best offensive weapon. In the last four games, Harrow is averaging 16.7 points per game while shooting over 51 percent from the field, as well as from behind the arc.
Sure, Harrow may not continue to shoot over 50 percent from the three-point line, but there's no reason to think he can't continue to shoot that well from the field.
With Harrow finding his groove and getting in rhythm with the rest of the Wildcats, Harrow can take full advantage of the Calipari system. He does a great job of getting into the lane, and with teams starting to have respect for Noel's offensive game, Harrow is able to get to the rim and finish easier. He also has an impressive runner that is near-impossible to defend.
There's no reason to think he can't bring his average up to 14 points per game, which is two points less than Wall had during his Player of the Year season.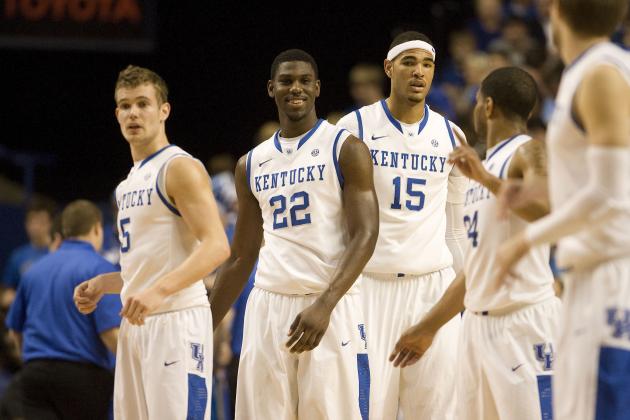 Mark Zerof-USA TODAY Sports

Simply put, Harrow has options to pass to. With the likes of Noel and Willie Cauley-Stein coming into their own down low and Kyle Wiltjer finding his shooting stroke again, Harrow will be able to rack up the assists.
Harrow is currently averaging 3.4 assists per game but, again, in recent games he has logged over four assists per game, including eight in Kentucky's last outing against Eastern Michigan.
With his return to the roster and starting lineup, Kentucky is starting to find their role offensively and score much better. Kentucky has scored under 80 points only once in their last six games. Much of that can be attributed directly to Harrow's return and Wiltjer's shooting.
Not only will his teammates be able to help Harrow's assist total, but like I mentioned in the last post, it will allow him to play more one-on-one against his man. Very few people can stay in front of Harrow, especially with his craft ball-handling skills and finishes well at the rim.
Jamie Rhodes-USA TODAY Sports

The schedule works out perfectly for Kentucky and Harrow to make a run in the SEC this year. Kentucky plays only Missouri once and it's at Rupp Arena, and outside of playing at Florida, their toughest road game is this week in Nashville against Vanderbilt.
With one matchup against Missouri, it means there will be only one time Harrow and Pressey, preseason Player of the Year, face off against each other in the regular season.
With those two being the top two point guards in the conference this season, it can come down to the head-to-head matchup for Player of the Year.
More importantly, and in the favor of Harrow, the game is at Rupp Arena when ESPN Gameday will be there. It is also the game after Missouri plays Florida. With Big Blue Nation in full force and Missouri's only second big road game of the year, Pressey and Missouri could be in for a bad game.
With Harrow and Kentucky hitting stride during this part of the year, this could be the game that wins Harrow Player of the Year, as he dominates Pressey and leads Kentucky to a big win in the primetime game of the week.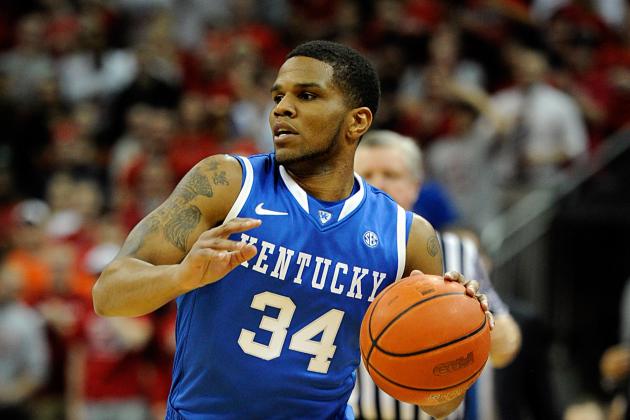 Jamie Rhodes-USA TODAY Sports

Kentucky will win the SEC this year. There won't be a tie at the top of the standings, but it's not unrealistic Kentucky could lose only one game this season in conference.
With Kentucky running to a SEC Championship, it will be hard not to name a player from Kentucky as Player of the Year. The hopes of this reside on Harrow's shoulders.
Everyone in America saw what happened to Kentucky earlier this season when Harrow was absent. Losses to Duke and Baylor, but also how bad and out of sorts Kentucky looked on offense.
With the Wildcats having Harrow back at point guard and Archie Goodwin back at his natural position of shooting guard, they are starting to click and run like the way Calipari wants them to. This, along with the way Calipari coaches, is the reason Kentucky will win the conference.
Calipari is coaching this team for March. They saw their lumps earlier this season and have looked good as of late, even in the loss to rival Louisville. Everyone on the team is starting to learn their roles within the offense and it can be attributed to Harrow.
Harrow is just the latest of top point guards under Calipari and Kentucky, and he could go down as one of the best overall as he is expected to play the large majority of minutes in conference play. He is not necessarily more talented than Wall or Knight, but he will be doing more with less talent around him.
These are the reasons my pick for SEC Player of the Year, when it's all said and done, is Ryan Harrow.