Novak Djokovic: Ranking Greatest Moments of Djoker's Illustrious Career
Michael Dodge/Getty Images
Novak Djokovic is widely acclaimed as one of the greatest tennis players of all-time. Given his record of five Grand Slam titles and finishing the past two seasons as the No. 1 player on the ATP circuit, it is justified.
There are moments from his career which should be remembered and appreciated. Here are 10 of the greatest moments from Djoker's career.
10. Djokovic Wins the Masters Series Rogers Cup in Montreal in 2007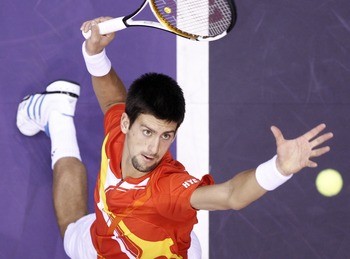 Jasper Juinen/Getty Images
Novak Djokovic became the first player since Boris Becker in 1994 to defeat No. 1, 2 and 3 in the same tournament. Most notably, the two top players at the time were Roger Federer and Rafael Nadal.
Defeating two of the best players at the time, and of all-time, opened the lock to Djokovic breaking through into the ATP Top-10 for the first time in his career.
As a result of it all, the tennis world was put on notice of the tremendous skill that Djokovic presents. It was able to see that Djokovic would eventually become one of the game's great players.
9. Won ESPY for Male Tennis Player of the Year in 2012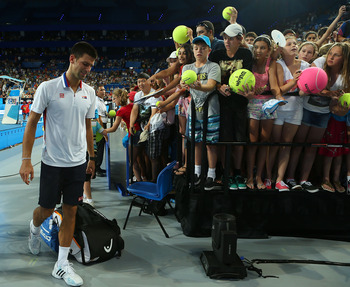 Paul Kane/Getty Images
It may seem like a superfluous award, but an ESPY is still an award that any athlete would be appreciative of winning. Djokovic won in 2012 mostly for his work in 2011 when he won three of the four Grand Slam events.
He also won the Laureus World Sports Award as Sportsman of the Year in 2011.
As superfluous as they may be, Djokovic has become one of tennis' four most beloved stars in the decade.
8. Bronze Medal at the 2008 Beijing Olympics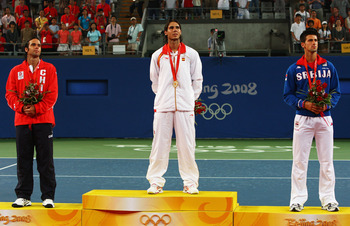 Clive Brunskill/Getty Images
Djokovic won the bronze medal for his native Serbia at the Beijing Olympics in 2008. Few things in sport are as rewarding as competing for, and winning, a medal for an athlete's native country.
At the time, Djokovic was still coming into his own and not universally thought of as one of the best players in the world.
His bronze medal in Beijing further proved to the world that he was the real deal.
7. Named 2011 & '12 ATP Player of the Year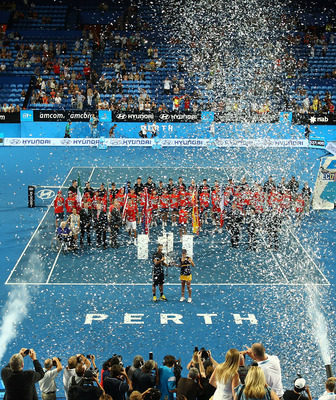 Paul Kane/Getty Images
A consecutive winner of the ATP Player of the Year, Djokovic has established himself as the best player in tennis over the past two seasons.
As noted previously, he ended 2011 and 2012 as the ATP No. 1 player in the official rankings. His election as player of the year was merely the formal recommendation and commendation of tennis writers that his play matched his ATP point total.
With the dominance he showed against the entire tennis world, and his success against Rafael Nadal, Roger Federer and Andy Murray, Djokovic was more than deserving of this honor.
6. Reached Final at French Open in 2012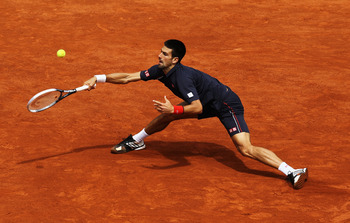 Matthew Stockman/Getty Images
The French Open was the only Grand Slam in which Novak Djokovic hadn't at least reached the final since he won his first major in 2008. That changed in 2012 when Djoker walked through his competition en route to a date with Rafael Nadal.
It was the fourth consecutive time the two had met in a Grand Slam final. It became just the second time in tennis history that two players had matched each other in four consecutive Grand Slam final events.
Djokovic lost the match, but finally showed he could sustain success on the clay surface in the same manner he had on the other playing surfaces.
5. 2nd Australian Open Victory in 2011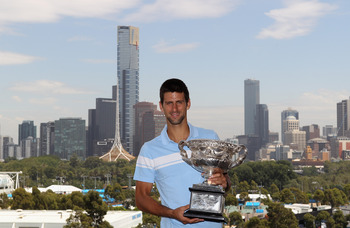 Clive Brunskill/Getty Images
Novak Djokovic's sandwiched second Australian Open victory in 2011 didn't provide any truly memorable moments. It was a rather workmanlike approach that Djokovic brought to Melbourne.
The result was a methodical and boring victory.
But that didn't make it any less sweet for Djokovic. That's because major tournament victories are never guaranteed, nor are they to be taken for granted. They should always be celebrated.
That is precisely why Djokovic earns the No. 5 spot.
4. Won the 2011 US Open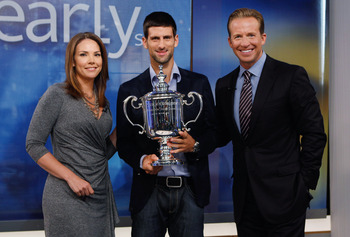 Mike Stobe/Getty Images
Novak Djokovic's lone victory at Flushing Meadows came in 2011 over rival Rafael Nadal. It was his third major title of the season—in four events—and the fourth victory of his career.
After this victory there was little doubt that Djokovic was the No. 1 player in the world. In fact, Boris Becker affectionately declared Djoker's season "one of the very best years in tennis of all time".
Still this victory was not as important as the Grand Slam victory that preceded it.
3. Won the Championships, Wimbledon 2011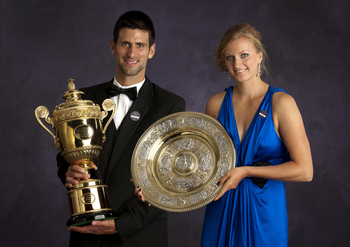 Pool/Getty Images
The Championships, Wimbledon marked the first time Djokovic defeated his primary tennis rival, Rafael Nadal, in a major Grand Slam event (final or not). He did it in four rather dominating sets to gain his lone Wimbledon victory.
Of course, it would become the first of three final match victories over Nadal. This victory announced his era of dominance.
2. Won His First Major at the 2008 Australian Open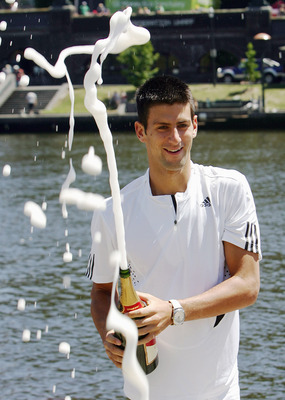 James Knowler/Getty Images
The first time is almost always the best time, for anything. In Djokovic's case, it is the runner-up in a magnificent tennis career.
Djokovic was 20 years old at the time of his first career victory. It was his fourth major final appearance, so winning the match over Jo-Wilfried Tsonga was more of a relief than a gigantic shock and celebration.
Still Djokovic was more than excited to capture a major. Defeating Roger Federer in the semis would have been a nice consolation prize. But Djokovic figured after defeating the world's best at the time, he might as well go all the way.
1. Won a Marathon Final over Rafael Nadal in 2012 at Australian Open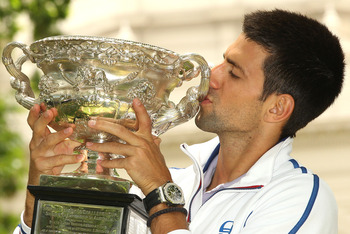 Lucas Dawson/Getty Images
The man who has become Djokovic's newest rival, Andy Murray, helped usher in a great 2012 tennis calendar year. Djokovic and Murray battled for five sets in the semifinals in a not so brisk four hours, 50 minutes.
Two days later, Rafael Nadal and Djokovic gave the Melbourne crowd its price of admission and then some, as the two battled for a record five hours, 53 minutes.
Australia's winter is the equivalent of American summer. It's reasonable to assume that the heat and effort put forth left Djokovic exhausted for days after his spectacular victory.
He deserved any and every minute of relaxation he took after the tournament. It was his greatest victory in one of the most spectacular tennis careers we have seen in recent decades.
Keep Reading