7 NBA Superstars Whose Games Are Still Evolving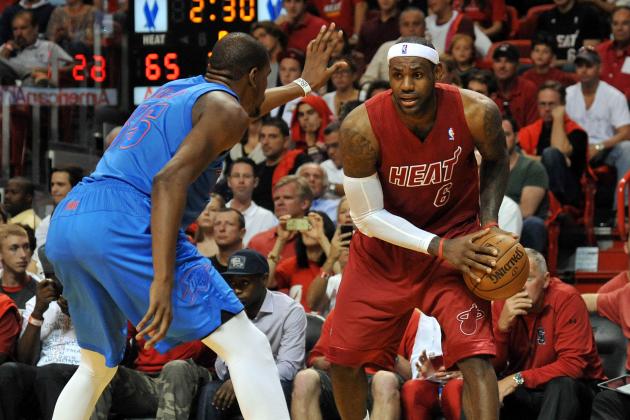 USA TODAY Sports

It's an exciting time to be an NBA fan, because some of the absolute best players in the league are still developing and improving.
Megastars such as Blake Griffin and Kevin Durant have more tricks up their sleeves and seem to be getting better every night.
Meanwhile, proven champions like LeBron James and Rajon Rondo are still progressing as they tweak their approach to stay ahead of the pack.
Today's NBA is fast and explosive and leaves little margin for error. Fortunately, these superstars are improving and maintaining an advantage.
Which studs are still evolving, and how exactly are their games developing?
*Superstars included in this article were drafted in or before the 2009 draft.
**Statistics gathered from Basketball-Reference.com and ESPN.com, accurate as of 1/9/13.
Begin Slideshow

»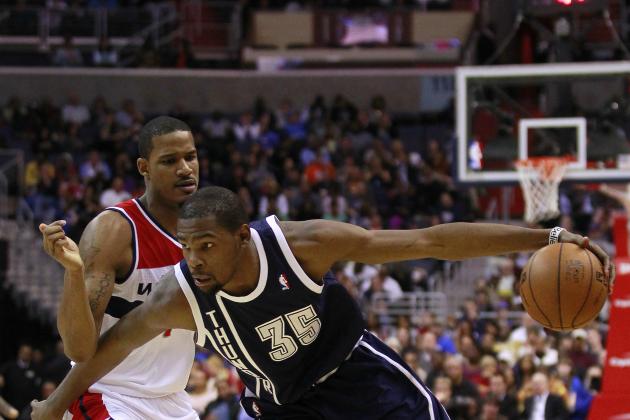 Geoff Burke-USA TODAY Sports

It's no accident that Kevin Durant's PER (28.1) is at an all-time high in 2012-13.
Oklahoma City's beloved star is still young, and his game is changing to improve the Thunder's title hopes. Most notably, Durant has improved his facilitating skills.
Durant, with his 6'9" frame and seven-foot wingspan, was already a great ball-handler for a big guy. He's even better this season, showcasing an upgraded crossover and protecting the ball more effectively.
James Harden's departure forced Durant to evolve into a better passer, and No. 35 has passed the test.
The proof is in the numbers: In 2011-12, Durant posted 3.5 assists and 3.8 turnovers per game (0.9 assist-to-turnover ratio); in 2012-13, he's notching 4.3 assists and 3.3 turnovers per game (1.3 ratio).
A not-so-minor footnote: His rebounding and defense are also getting better, although to a lesser extent than ball-handling.
Victor Decolongon/Getty Images

Despite getting sidetracked by Kevin Garnett, New York Knicks forward Carmelo Anthony has demonstrated in 2012-13 that his hoops approach is still developing and maturing.
For starters, he's a more pace-efficient scorer. He's realizing that the longer he postures and jabs one-on-one, the easier it is for help defense to step in and recover.
Consequently, he's posting a career-best points-per-attempt (1.4) clip this season, according to Basketball-Reference.com.
Melo's back-to-the-basket game has also gone from good to great. He has excelled in his transition to regularly starting at the 4 and is taking better advantage of mismatches and double-teams.
Finally, his three-point shooting is more consistent. At 43 percent, he's currently on pace to shatter his previous career high of 38 percent.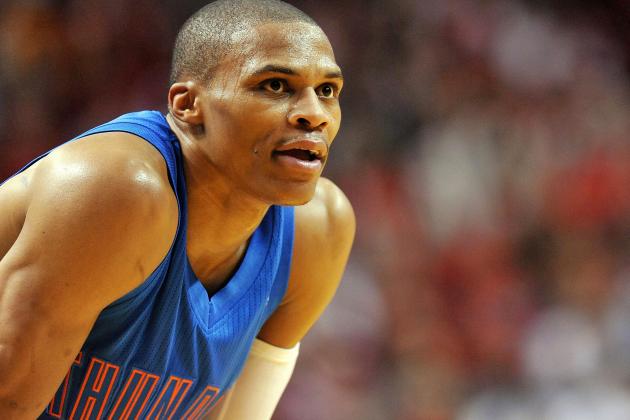 USA TODAY Sports

Although Russell Westbrook is gradually becoming a better point guard, his growth on the defensive end impresses me most.
Sure, he suffers the occasional assignment lapse, but he's worked over the last month to clean those up. What's most striking is his rapid improvement at being an efficient thief.
Teammate Nick Collison explained to Thunder Rumblings that Westbrook is trying primarily to stay in front of the ball-handler and make smarter steal attempts:
Steals are good, but him staying in front of the ball better than he has is more important to our defense. He's fighting over screens. When he's really good at the point of the ball, it makes such a difference. It's not just him, but whoever's guarding the ball it makes such a difference when you don't have to help.
Westbrook is snatching a career-high 2.1 steals per game, and his gambles aren't compromising the team defense as much anymore: yet another reason why Oklahoma City is such a strong all-around unit.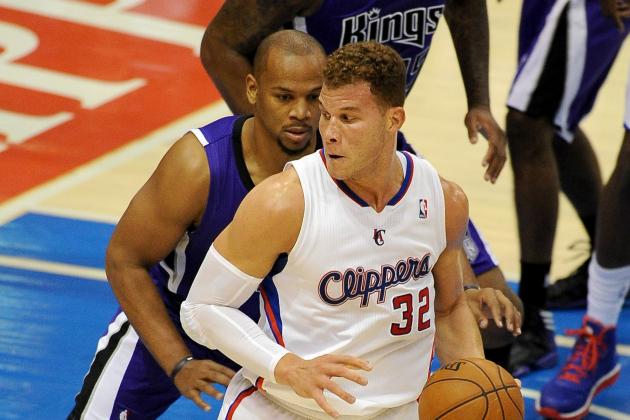 Jayne Kamin-Oncea-USA TODAY Sports

Blake Griffin's development has been masked by the Los Angeles Clippers' depth, and much of his progression is the kind of stuff that doesn't show up in the box score.
Conventional stat sheets don't track "left-handed baby-hooks," "transition ball-handling" or "leadership and communication on defense."
Griffin has improved in all those areas, plus jump-shooting, and thus the Clippers are one of the most uncontainable teams in the Association.
He's seeing fewer minutes per contest to make room for DeAndre Jordan, but he's still the leader of the frontcourt and the No. 1 wide receiver for Chris Paul.
Griffin's evolution is inspiring for Clipper followers, but it won't be truly appreciated league-wide unless Los Angeles makes a deep run in the playoffs.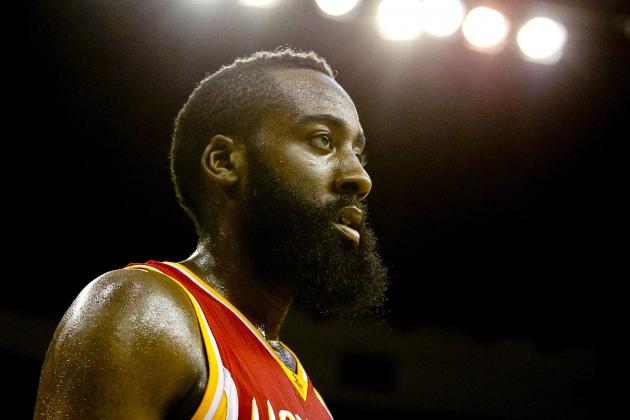 USA Today Sports

There were some stretches in 2011-12 when James Harden was asked to take over the Oklahoma City offense.
Now that he's the top dog in Houston, he's asked to do it on a nightly basis. Fortunately for head coach Kevin McHale, Harden has adapted quickly and is showing superb development as a featured scorer.
You know you're a blossoming star when the increase in production drastically exceeds the increase in playing time. Harden is seeing just 18 percent more court time per game, but he has increased his scoring by 37 percent, assists by 31 percent and steals by 47 percent.
Harden has almost seamlessly transitioned from being a pressureless support player to a franchise-leading superstar. And the progress is far from over.
Not bad for a 23-year-old.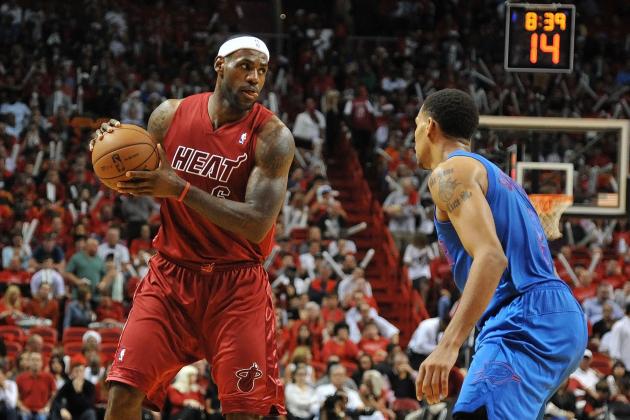 USA TODAY Sports

LeBron James' attack has evolved because he's making better decisions.
The Miami Heat aren't a deep bunch, so every possession counts. King James is ensuring that every touch he gets is as effective as possible.
He's more calculated in his approach and more refined in his shot selection, both inside and out. LeBron is picking the right times to operate in the post, and he's a more dangerous outside shooter.
Not convinced that he's actually improving? Look no further than his career-best field-goal percentage (54 percent), three-point percentage (42 percent) and turnovers per game (2.9).
Erik Spoelstra asks so much of James every night, and LeBron's most productive season might not even result in a repeat title. But his continued evolution will certainly give Miami a fighting chance.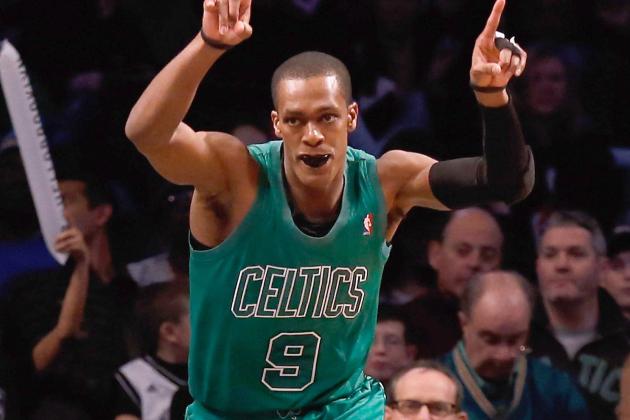 Mike Stobe/Getty Images

Rajon Rondo's game hasn't changed monumentally in recent months, but there's one area where he's showing increased involvement as this season unfolds.
He's becoming a more assertive scorer, both as a shooter and a slasher. He's gradually realizing how much this Boston Celtics outfit needs him to score in the wake of Ray Allen's departure.
Bleacher Report NBA columnist Josh Benjamin notes Rondo's adjusted approach:
Boston's Big Three was broken up over the summer when shooting guard Ray Allen signed with the Miami Heat, and Rondo realized it was his time to step up and in for his former teammate. What has resulted is intelligent, and non-hesitant, shot selection...
According to ESPN.com, Rondo's shot attempts per game have gone up each month so far this season (10.8 in November, 11.3 in December and 13.0 in January). What will his average be at season's end?
For more hoops talk, follow me on Twitter: