Daniel Cormier Has One Eye on Frank Mir Ahead of His Last Strikeforce Bout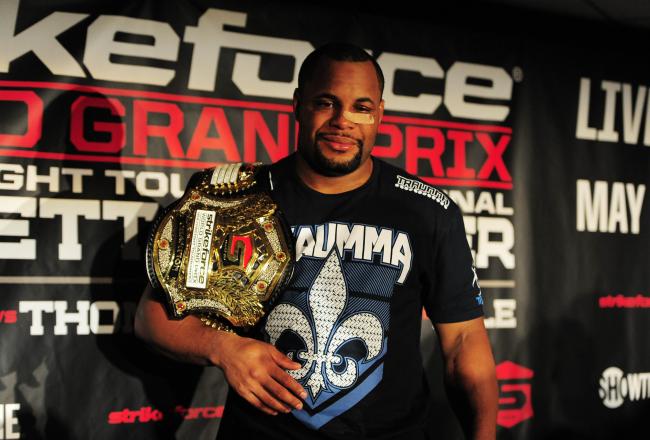 Kyle Terada-USA TODAY Sports
Daniel Cormier knows that the final opponent on his Strikeforce contract, Dion Staring, is a dangerous man. But the heavyweight says that he's looking forward to getting his fight at the Chesapeake Energy Arena in Oklahoma City on Jan. 12 out of the way so that he can concentrate on his career in the UFC, possibly debuting against Frank Mir.
Speaking on The Ultimate Show, Cormier suggested that his career had led him to face increasingly dangerous men, culminating in his victory over Josh Barnett at the Strikeforce Heavyweight Tournament final last year. Mir, as his next opponent, made sense to Cormier.
I just had my mind set on that as being the first humongous fight I've been in following Josh Barnett, it followed the pattern—my career got from the better guy to the better guy to the better guy. Frank Mir may not have been better than Josh Barnett, but he followed the pattern of going up in terms of my opponents and my opposition.
Cormier, who's only been fighting since 2009 but is already being spoken of as one of the top five heavyweights in the world, was originally scheduled to face Mir on Nov. 3 to complete the last fight mandated by his contract with Strikeforce.
However, with Mir's injury, those plans were sidelined, and Staring, the little-known Dutch heavyweight, has been brought in to replace him.
Cormier can barely hide his frustration at this turn of events.
I think Frank's a great guy. He's the former champion two times, he's done great things in the sport. But my focus was on him for eight weeks of a training camp for a fight that never happened. By the time Frank got hurt, I was already six weeks into a training camp.
Cormier says that considering the time that he spent focusing on Mir, he would like to fight the former UFC heavyweight champion.
Mir is already healed, and he says that he is ready to welcome Cormier to the UFC, whose parent company, Zuffa, purchased Strikeforce in 2011.
There has been much speculation on whom Cormier would face if he joins the promotion where his close training partner, Cain Velasquez, is champion. While Junior Dos Santos was the titleholder, there was still a chance of him going for the heavyweight belt, but with Velasquez at the top of the pile, it is likely that Cormier will eventually drop to 205 pounds and face young light heavyweight champion Jon Jones.
But in the meantime, he has two heavyweights, Staring and Mir, in front of him.
Cormier takes on Staring at the Strikeforce: Marquardt vs. Saffedine event in Oklahoma this Saturday.
This article is
What is the duplicate article?
Why is this article offensive?
Where is this article plagiarized from?
Why is this article poorly edited?