Humbling Moments That Turned Around the Careers of NBA Superstars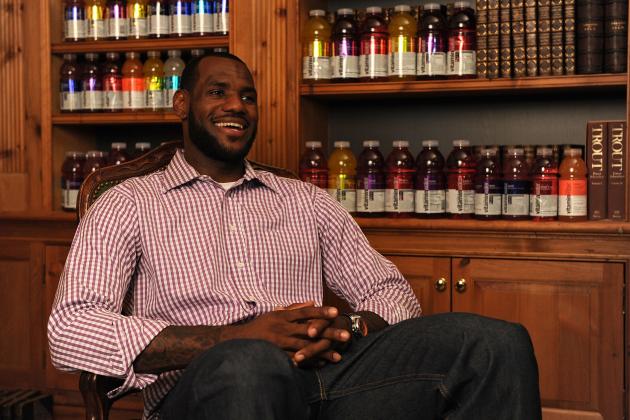 Larry Busacca/Getty Images
Lots of Vitamin Water to wash away the shame of the Decision
"Pride goeth before destruction, and an haughty spirit before a fall."
- Proverbs 16:18
"Pride and excess bring disaster for man."
- Xun Zi
"I know you'd like to thank your [stuff] don't stank, but lean a little bit closer, see that roses really smell like poo."
- Andre 3000
Every man and woman could learn from these words. NBA players are no exception, especially some of the superstars. Not every single one has had moments of searing humility. And those that have had it, didn't necessarily learn a lick from the experience. But several of them have felt the singe of failure and have realized valuable lessons.
From these ashes of failure often rises a stronger player, a wiser person. There comes a true appreciation for what makes their own abilities special. Gratitude is found for the coaches and teammates who've helped all along, even if the star never truly noticed. This full realization of what it takes for greatness creates total fulfillment.
There's a reason Bill Russell was at a total loss for words when he won his 11th and final title in 1969. His Celtics were battered, bruised and beaten. Forsaken and forgotten. Yet, they triumphed through their individual and collective tribulations. The following players have all experienced moments of doubt that create moments of pure, sometimes wordless, joy.
Begin Slideshow

»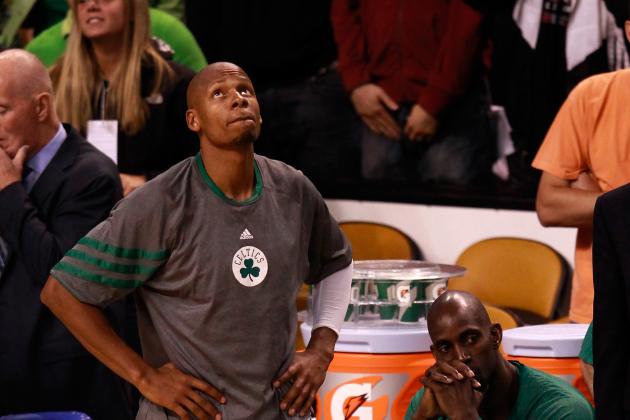 Jared Wickerham/Getty Images

Ray Allen is one the NBA's true marksmen and class acts.
Early in his career, he teamed with Glenn Robinson and Sam Cassell to push the Milwaukee Bucks to within one game of the NBA Finals in 2001. With the Seattle SuperSonics, Allen teamed with Rashard Lewis to give Seattle a surprisingly competitive bunch in 2006. That's the postseason that earned Jerome James his infamous contract from Isiah Thomas and the Knicks, by the way.
Then in the summer of 2007, Allen was traded to the Boston Celtics. The seasoned veterans of Allen, Paul Pierce and Kevin Garnett won the NBA title in 2008. In 2010 they came within minutes of securing a second title, but fell short against the Lakers. In 2012, they were a game away from yet another NBA Finals appearance.
But that last postseason was filled with tribulation for Ray Allen that ultimately led to his departure from Boston. Gary Washburn of The Boston Globe captured the reasons for Allen's departure succinctly in July 2012:
Allen was unhappy during his final season in Boston, again placed on the trading block because of his expiring contract. He was forced to approach coach Doc Rivers about moving to the bench when second-year guard Avery Bradley began to blossom as a defensive force.

The Celtics attempted a late run at Allen, offering $6 million per season for two years and promising a more defined role. But the signing of Jason Terry, another 3-point marksman, clouded Allen's status.
Allen was a member of Boston's BIG 3, but was always the expendable one. The one that was most easily and readily dangled in trade discussions. He was the future Hall of Famer usurped by a young and hungry player.
At first, he was benched as a measure to help him ease back from a heel injury. Then during the postseason, coach Doc Rivers continued bringing Allen off the bench because he simply felt Avery Bradley gave Boston the best chance to win.
This was a huge blow to someone with Allen's pride and work ethic. Prior to the 2011-12 season, he had played in 1,212 games in the regular season and playoffs. He had started all but three of those games. Now in the span of one season, he had started only 46 of the 64 games.
And the only reason he started at all during the playoffs was because Avery Bradley was felled by a shoulder injury.
Allen's career turnaround is happening right now. He may have been unwilling to be a bench player in Boston, but he's recognized that at this point in his career he is a bench player.
The initial hubris has passed and that's definitely not a given for an NBA star. See Allen Iverson's career demise for someone who was never willing to accept fate and create a dignified destiny.
At 37 years old, Allen has already played longer than most NBA players could ever hope for. Now over the next few seasons, he can possibly add another title or two to his Hall of Fame resume. Add a few more thousand points. Most importantly, it seems to a man like Allen, he can keep playing in meaningful basketball games as a meaningful player.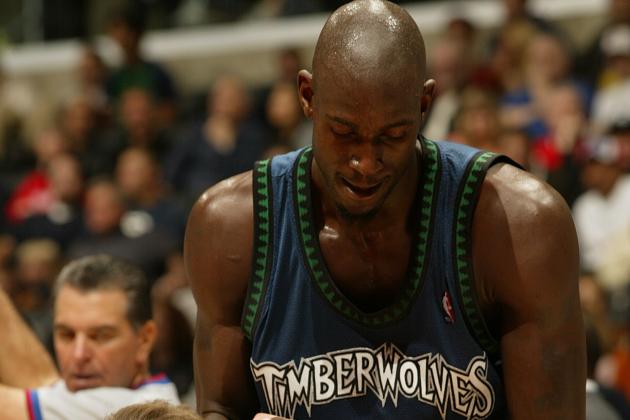 Chris Chambers/Getty Images

Ray Allen's compatriot in Boston for five years, Kevin Garnett had his moment of humility years earlier. Garnett reflected in 2010 on his trade to Boston and on his many years sticking out hard times in Minnesota:
Loyalty is something that hurts you at times, because you can't get youth back. I can honestly say that if I could go back and do my situation over, knowing what I know now with this organization [the Celtics], I'd have done it a little sooner.

The loyalty that Garnett gave Minnesota, indeed cost him his youth. He came to the Timberwolves in 1995 as a 19-year-old. He was the first high school student to go directly to the NBA in a generation.
The Kid blossomed and carried Minnesota to its first-ever playoff berth in just his second season. Seven more postseasons followed for Garnett's Timberwolves. However, Minnesota only won two playoff series. Both of them in the same season, 2003-04.
His magnum opus that year was a 32-point, 21-rebound, five-block, four-steal Game 7 performance against Sacramento in the second round. Minnesota needed every ounce of Garnett's gargantuan play to win the game 83-80.
That game was emblematic of that season. He led the league in total points scored and rebounds collected. He was an All-Star, All-Defensive First Team and All-NBA First Team.
He was the MVP.
But his loyalty was never equally matched by the acumen of Minnesota's front office. Bungled trades followed lackluster free agent signings followed spurious draft picks. This bottomed out in 2006-07 when Minnesota surrounded KG with an abysmal roster. That they won 32 games is a testament to Garnett's abilities.
That season proved Garnett's breaking point, though. Unabashed loyalty had proven to be a thorn in his side. Ultimately, a hindrance to his success. Quietly, he welcomed a trade to Boston following the 2006-07 season.
Now 30 years old, the veteran Kid had learned quite a bit. Loyalty did mean giving a full-throttle effort every night on the court. However, the Big Ticket had learned that success demanded that form of loyalty from the player and a dedication from management to competently field a competitive roster.
Garnett found that managerial effort in Boston. Even after a devastating knee injury in 2009, the sage Garnett continued...nay, continues to find ways to be effective. Amazingly so at the age of 36 this season.
The humiliation of losing after having given so much dedicated loyalty didn't spoil Garnett's career. It was the crucible that created a fierce defensive maniac that gave Boston its first title in over two decades.
That kind of crazed hunger didn't grow from constantly being satiated. It came from the pangs of disappointment Garnett faced year after year in Minnesota.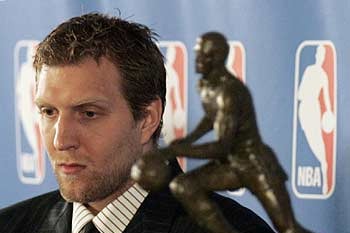 Business Pundit
Back in 2007, this photograph was both the pinnacle and nadir of Dirk Nowitzki's career.
Pinnacle
Dirk Nowitzki's arrival in Dallas for the lockout shortened 1999 season was a tremendous blessing for Mavericks fans. Since 1991, the franchise had suffered miserable losing seasons and failed to make the playoffs. Within a couple of seasons, Nowitzki had lifted the club to the playoffs and started them on a journey of 11 straight 50-win seasons.
In the 2006 playoffs, Nowitzki's heroics had dethroned the defending champion San Antonio Spurs in a classic seven-game series. The Mavericks pummeled the Phoenix Suns in the Western Conference Finals and were off to the NBA Finals.
Although grabbing a 2-0 series lead, the Mavericks were defeated by the Miami Heat in six games. The Finals demise hit hard, but the Mavericks came back in 2007 stronger than ever. The team won 67 games during the regular season and were the favorites to capture the NBA title.
Nowitzki was summarily immortalized as the league's MVP.
Nadir
So why the despondent look for Dirk as he's awarded his MVP trophy?
The 67-win Mavericks had been upset in the very first round of the playoffs by the Golden State Warriors. With only 42 wins, the Warriors had barely snagged the eighth and final playoff spot. Despite their seeding, they were the perfect opponent to challenge and defeat Dallas.
Following this premature ouster, Nowitzki was a bit distraught in a 2007 interview with Reuters:
"I still feel totally empty," Nowitzki, 28, said in Frankfurt, where he received a German Basketball Association award for outstanding achievement.

"But I hope the team stays together so that we can still achieve something in the future," he added...

"Once a few weeks go past, I think I'll then be able to see what an unbelievable season we had. It was a super year...until the playoffs."
For the next few seasons, Dallas continued its 50-win seasons, but title success eluded the franchise.
Redemption
In the 2010-11 season Nowitzki's Mavericks had a stellar 57-win regular season, but not much was expected of them in the playoffs. Surprising the sports world, the Mavericks swept the defending champion Lakers in the second round of that postseason. They dispatched the Oklahoma City Thunder in five games during the Conference Finals.
In the NBA Finals, Nowitzki lead the Mavericks' six-game upset of the favored Miami Heat. Much was made of Nowitzki finally finding some sort of killer instinct or having a winner's mentality. In truth he was playing that season exactly as he'd always played. The difference was his teammates had found some cohesion and perfectly fit his style of play.
When the Mavericks won the title, Dirk secluded himself for a few moments to take in the glory of his accomplishment. It was also time to take measure of all his disheartening defeats. His post game press conference was the ramblings of a man who'd finally cast aside the shackles and burdens of his playoff demons.
And a joyous casting aside it was.
Otto Greule Jr/Getty Images

The first half of Dirk Nowitzki's amazing run of success was done alongside Steve Nash. The point guard was a two-time All-Star during his tenure as a Maverick. Despite those accolades and averaging 14 PPG with seven APG, Mavericks owner Mark Cuban balked at giving Nash a lengthy contract in 2004.
Spurned by the Mavericks, Nash signed a five-year, $65 million contract with Phoenix. Cuban's offer was reportedly $20 million lower than that offered by the Suns. The monetary discrepancy revealed the doubts Cuban and the Mavericks had about Nash.
The doubts of the Mavericks can be gleamed by the words of Nash's agent regarding the signing:
Phoenix came up to the plate and put together a very significant offer and we accepted it. The numbers were significant, but it was also the years. It was a five-year deal and that is very significant for someone Steve's age.
Steve's age was 30 years old in 2004. The Mavericks were not enthused to give such an old point guard such a long contract. Worse yet, this was an old point guard with a history of a balky back.
Nash even gave the Mavericks a chance to match the Phoenix offer, but Dallas refused. Steve doesn't seem like a vengeful man, but surely he had to have some sweet satisfaction in how his game subsequently skyrocketed in Phoenix.
During his first two seasons in Arizona, Nash won the MVP award and helped rejuvenate the NBA. The league was stuck in a horrific morass of slow-it-down, drag-it-out and muck-it-up basketball. Scores were low, the games often ugly. Nash's spirited running of Mike D'Antoni's offense helped reverse these awful trends.
Amazingly, Nash is now 39 and still playing as one of the better point guards in the league for the Los Angeles Lakers. His quest for a title with them is going rather badly at the moment. Regardless of where his career goes from here, Nash can be proud. He can always look back at his prolific days in Phoenix as the perfect retort to Cuban's doubts over whether he was worth the money.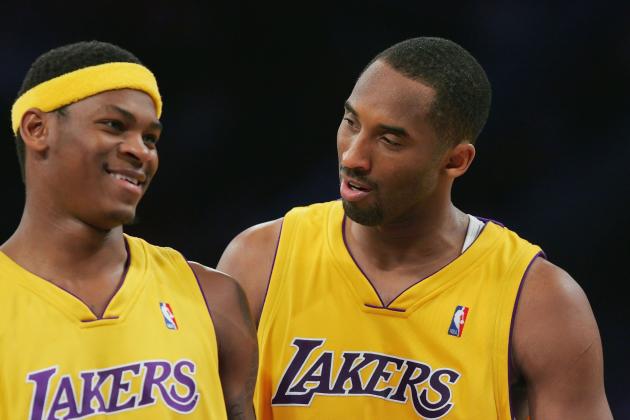 Lisa Blumenfeld/Getty Images

Any other player put in Kobe Bryant's situation would surely be humbled beyond belief. However, this is Kobe Bryant and I doubt he'd ever describe his mid-2000s sojourn as a humbling experience.
Let's just say it somewhat altered his outlook on basketball.
After years of putting up with Shaquille O'Neal's less than flattering fitness regimen, Kobe Bryant became The Man in Los Angeles in 2004. Shaq was traded to Miami, Bryant signed a gargantuan new contract, Phil Jackson wasn't retained as coach and...
And the Lakers collapsed.
The Lakers bungled their way to 34 wins in the 2004-05 season. That's the second-lowest since the franchise moved from Minneapolis to California. The team also missed the postseason for the first time since 1994.
The next two seasons were better with the return of Phil Jackson, but they were marked by early first round exits. In 2006 the Phoenix Suns stormed back from a 3-1 series deficit and blew the Lakers out 121-90 in Game 7. In 2007 the Suns dispatched the Lakers again, this time in just five games.
But at least Bryant was scoring 35 PPG during this Laker malaise. So satisfied was he with the course of events, he told Stephen A. Smith the following in May of 2007:
I would like to be traded, yeah. Tough as it is to come to that conclusion there's no other alternative, you know?

At this point I'll go play on Pluto.
Bryant was, of course, not traded, but instead had Pau Gasol delivered on a silver platter midway through the 2007-08 season. The Lakers went on to make three NBA Finals behind that tandem, winning two of them.
Kobe's demeanor didn't change all too much through this, but the subtlety of the changes can be detected. Yes, he still criticizes his big man teammates with candor, but he seems to do so with some warped conception of love.
Most tellingly he repaired his fractious relationship with Phil Jackson. The youthful Kobe thought Jackson was a hindrance to his success. But one season without Jackson revealed to Kobe that any success was predicated on having Jackson by his side.
This surely isn't a profile in humility, but Kobe's subtle changes still show a man who was awakened to certain facts. He might be able to score 81 points in a game, but it won't translate to a title without the aid of a prodding and sometimes annoying coach. The help of a skilled center is tremendous as well.
Go figure.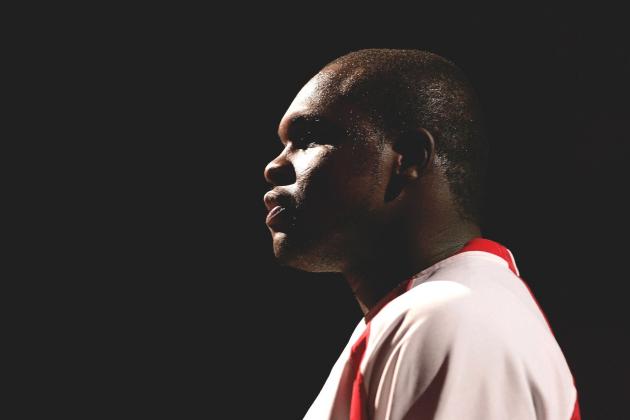 Jonathan Ferrey/Getty Images

Zach Randolph's career began inauspiciously.
He was drafted by the Portland Trail Blazers in 2001. Portland was more popularly known as the "Jail Blazers" back then for its roster's various run-ins with the law. This amazing piece at Grantland by Jonathan Abrams helps recall the chaotic Blazers:
"There was one year where the longest stretch where a player wasn't arrested, suspended by the league, by the team or the police weren't called to their home was 17 days," Quick said.
That's the environment that Zach Randolph began his NBA training. It took years to unlearn the unsavory habits.
Randolph was dumped onto the New York Knicks in the summer of 2007. The Knicks then dumped him midway through the 2008-09 season to the Los Angeles Clippers. The Clippers then dumped him onto the Memphis Grizzlies prior to the 2009-10 season.
His individual talent was certainly recognized but his reputation more than preceded him. Randolph appeared to be a player who'd never play for any meaningful team in a meaningful game. Empty seasons of 20/10 nights seemed to be his calling.
His statistics in his first year with the Grizzlies mirrored those of his days in Portland, New York and Los Angeles. However, the same numbers were seemingly being produced by a different player.
The player, the man was actually pretty much the same. It was the setting that brought out the best in Randolph. His previous stops were ill-suited for his personality. In Memphis, Randolph was immediately beloved by the people and he reciprocated the love:
"This town has a relationship with me," Randolph explained. "It's not the white side, the black side, it's the whole town. They understand the grind. They've been through it. It's a blue-collar town. People work hard. When you talk about Memphis, it's usually First 48 or something bad. But there's good people everywhere. And you don't look bad on nobody because somebody went to the penitentiary or somebody did this. You treat everybody the same because everybody's got skeletons. Some people just hide them more. Some don't get brought to the light, but ain't nobody perfect. Nobody."
In his first season in Memphis, Randolph propelled the Grizzlies to a respectable 40-42 season. In 2010-11, the Grizzlies upset the San Antonio Spurs in the first round of the playoffs and pushed the Thunder to seven games in the second round. Randolph was lauded for his stellar play and deservedly so.
Randolph is the perfect example of a player just needing to find the right environment to artfully ply his skills and talents. Fortunately he found his Eden. Some players never receive that fortune.
No man has done more to sully his reputation over the past two years than Dwight Howard. And all the sullying was done on Howard's own volition. No unfortunate accidents. No impossible situations created by others. No injuries to mar his play, at least initially.
"It's hard to talk, hard to think."
That was Dwight Howard during his introductory press conference as a Los Angeles Laker after being presented a jersey by Lakers GM Mitch Kupchak. The same words could describe the previous two years of the Dwightmare.
Howard vacillated on his demands to Orlando. On some occasions he expressed desire to stay a Magic for life, unequivocally. Then other expressions of love were on the condition that the Magic give him some hand in personnel decisions. Apparently, the Gilbert Arenas trade had Dwight's seal of approval.
That's a red flag to not take his personnel opinions, by the way.
Other times Howard was unequivocal on his desire to leave Orlando. Then he surprisingly decided to exercise his option and remain an Orlando Magic through the end of the 2011-12 season. Then he quickly told the world he felt blackmailed into the decision by Orlando.
In the most ludicrous episode of this surreal saga, Orlando coach Stan Van Gundy told the media that he was aware Dwight wanted him fired. Howard stepped into the scrum and the most embarrassing moment of recent basketball history happened as you can see in the video above.
So, after all that self-induced humiliation, one can only hope Dwight Howard has learned a lesson or two.
The primary lesson is that Stan Van Gundy may have been demanding and overly negative to Dwight's sun shiny disposition. However, those demands exacted the best basketball Dwight has ever played.
His current rash of injuries are clearly hampering his ability, but Dwight may come to rue the day he demanded out of Stan Van Gundy's tutelage. Only time will tell how this story of humbled pride will play out.
LeBron James was wearing the right shirt for a picnic, but the aftermath of The Decision was anything but that.
As has been rehashed a million times, James' actual decision to sign with Miami wasn't a travesty, but his televised spectacle was. It was callous and egocentric. Fans from across America rallied to despise James and the Miami Heat. Jerseys were burned in the streets, boos rained from the rafters of every arena and felicitous joy was taken in Miami's finals collapse in 2011.
From these scenes of intense emotion, LeBron James came away a mentally stronger player.
The 2011-12 Heat operated totally at his disposal and he unleashed a season few NBA players have ever been able to approach. Rarely was he flustered. Rarely did he seek approval of others. He just went out and did what he wanted on the court.
Without Chris Bosh for significant stretches of the postseason, James shifted over to power forward and still kept the NBA at his mercy. He averaged 30 points and 10 rebounds for the postseason and easily earned the Finals MVP as the Heat dismissed the OKC Thunder in five games.
This season LeBron is playing with a calmness that seems like the calm that lies before a storm. He plays along smoothly and easily until the time comes for the necessary fury. Concerted, concentrated fury. No more moments of aimless reaching and fruitlessly seeking public approval.
The hubris of The Decision has been replaced by the assured demeanor of a man doing things his way.
Let the championships fall where they may.