Recruiting may be the only thing worth talking about in regards to Notre Dame football after their abysmal loss to the Alabama Crimson Tide in the BCS Championship.
This game was huge for Notre Dame, for all the obvious reasons. Winning a National Championship is always the goal, but this matchup almost seemed personal. Many didn't believe the Fighting Irish could compete with the likes of Nick Saban and the mighty Crimson Tide.
Many didn't believe that the Fighting Irish were legitimate championship contenders, and many, many more claimed that Notre Dame didn't stand a chance against the powerful SEC's most dominant program.
Are you surprised ND lost by so much?
There was a lot on the line for Notre Dame, and pride was at the forefront. This extended far beyond the football field as well and into the realm of recruiting. Notre Dame needed to win to prove to elite recruits that the Fighting Irish are indeed back and that the SEC and more specifically—Alabama—isn't the only premier destination for elite recruits that want to win Championships.
The stakes were high both on and off the field, and Notre Dame didn't even show up.
42-14 will be the two numbers that haunt Notre Dame recruiting for the next season. 42-14 will be the lasting impression the Fighting Irish make with 2013 recruits and the first thing 2014 recruits think about when considering the Fighting Irish.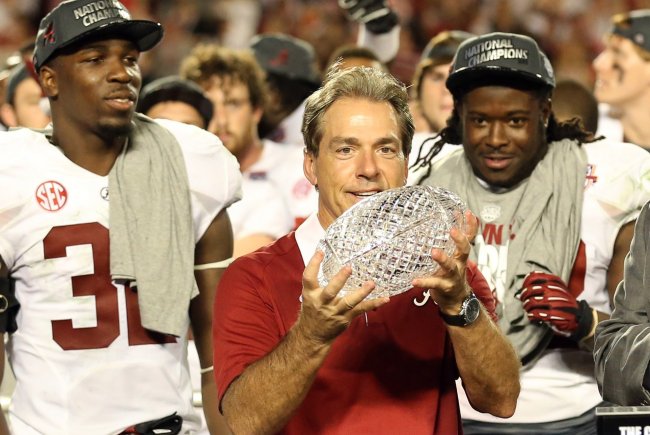 Matthew Emmons-USA TODAY Sports
Notre Dame didn't belong on that field against Alabama. The Fighting Irish were outmatched in every single way.
Alabama just looked bigger, stronger, more experienced and poised.
Kelly's program, on the other hand, well, they looked like the JV squad coming up to help the Varsity practice. It was an embarrassing loss on the biggest stage in college football.
All that said, the future of this program is still very bright.
The Fighting Irish still have the No. 1 overall recruiting class according to Rivals and they still have commitments from some marquee recruits that will be big-time players in the future.
5-star outside linebacker Jaylon Smith is going to be a star, and 5-star running back Greg Bryant will be a No. 1 caliber running back for the Fighting Irish. That's not to mention 5-star safety Max Redfield, 4-star outside linebacker Alex Anzalone, 4-star wide receiver Corey Robinson and 4-star quarterback Malik Zaire—and many other talented recruits.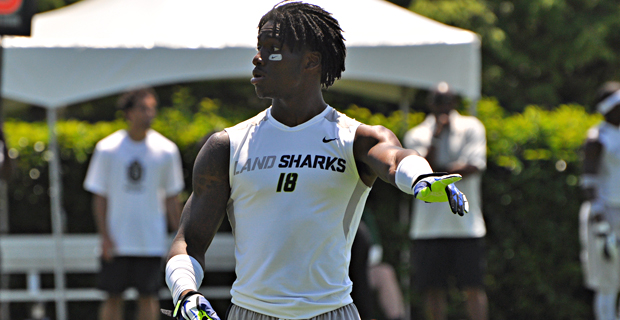 The immediate impact of last night's game will be that Kelly and his staff will have to make sure this core group of players still believes in the program and is still firmly committed. The other major negative right away will be the impact the loss has on elite recruits considering Notre Dame—5-star defensive tackle Eddie Vanderdoes (top five according to 247Sports) and 5-star cornerback Priest Willis (top seven according to 247Sports) being the main two recruits on the board.
If there is a bright spot the day after this BCS loss for Notre Dame, it's that the bar is now set, and there's no denying it.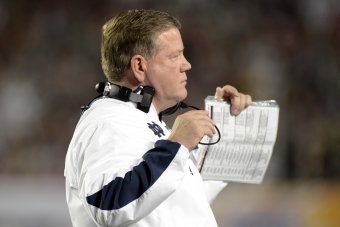 John David Mercer-USA TODAY Sports
Kelly, his staff, his players and now his recruits know that the program as it is, is not good enough to win a National Championship. That's what will make this current recruiting class so important though. Notre Dame needs to get bigger, more physical and the new upperclassmen will have to learn and lead from this experience.
Don't get me wrong, I still believe Notre Dame is a program that will compete for the National Championship again and even win one in the next few years. I just didn't think they had such a long way to go to get to that point.
42-14 is a number that will go down in Fighting Irish history for all the wrong reasons.
Hopefully it's not a number that will impact Notre Dame's current recruiting class for all the wrong reasons as well.