Manchester United vs. Liverpool: Predicting United's Starting XI vs Liverpool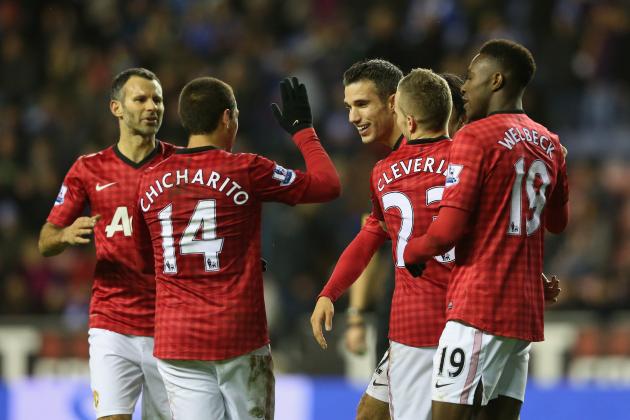 David Rogers/Getty Images

This weekend, Manchester United will host Liverpool in the return fixture of the 2-1 win away at Anfield in September last year.
Twenty-one games into the season and Liverpool lie in 8th place, a whopping 21 points behind league leaders Manchester United. However, the last time the two sides met, the difference was anything but clear. A late Robin Van Persie penalty gave Manchester United the win, but Liverpool dominated the game for large periods despite playing with 10 men.
With eight goals scored and just one conceded in their last three games, Liverpool come into this match in a position of strength. Sir Alex's selection for the match will need to be able to match that threat.
Here are my predictions for United's starting lineup against Liverpool.
Begin Slideshow

»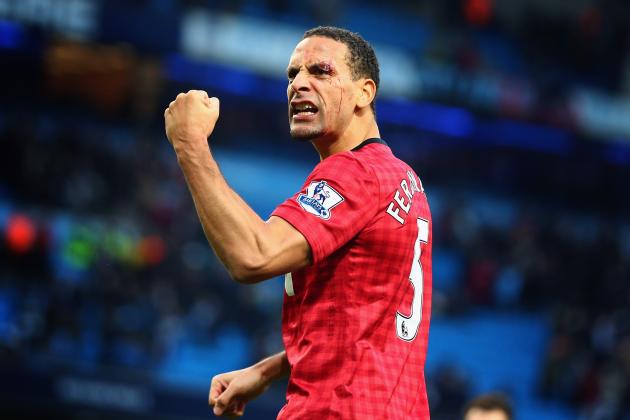 Clive Mason/Getty Images

GK: David de Gea
Earlier in the season, much was made of Sir Alex's decision to not pick a number one goalkeeper, but to instead rotate between David de Gea and Anders Lindegaard. At the time, it seemed a potentially useful decision that would foster the sort of competition that would bring the best out of the two goalkeepers. However, that move coupled with injuries to United's defense meant it didn't work.
The team was conceding a lot of goals in matches and the lack of continuity in goal was highlighted as one of the reasons for that. Of late, Sir Alex seems to have changed his stance—having started David de Gea in United's last eight matches—and it has certainly helped the team.
This match would be an odd time for Sir Alex to change things around, so de Gea should start.
LB: Patrice Evra
Having been rested for United's FA Cup tie against West Ham, Patrice Evra should be fit and ready to take on Liverpool.
RB: Rafael
Rafael's season thus far has being a revelation in many ways. His skill in the tackle, and his knack for attacking have been a regular feature of United's play this season.
An injury ruled him out of the side for a few games in December, with Chris Smalling deputizing in his absence, but the Brazilian is back at a good time for United and should start against Liverpool.
CB: Jonny Evans
With doubts about Nemanja Vidic's full fitness still floating around, Jonny Evans seems Sir Alex's best choice for the rigors that Liverpool will bring. However, Vidic started against against West Ham in the FA Cup, and may well be picked to start this match.
CB: Rio Ferdinand
Rio Ferdinand was rested for the FA Cup, and I believe it was with the Liverpool game in mind. Barring injury, it would be a pretty big leap of faith to start Vidic ahead of him, so Ferdinand to partner Evans.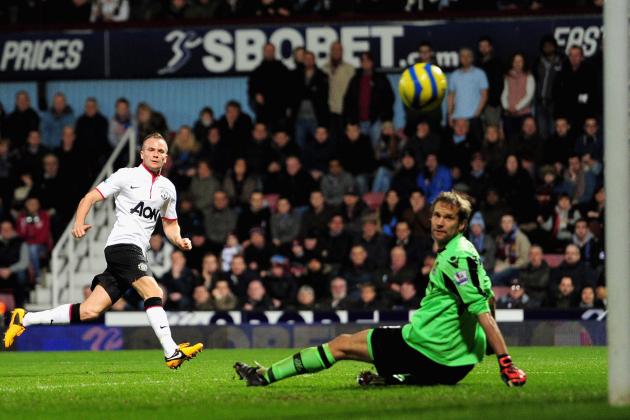 Jamie McDonald/Getty Images

CM: Tom Cleverley
CM: Michael Carrick
LM: Ashley Young
RM: Antonio Valencia
Ever since Manchester United's win over their neighborhood rivals Manchester City, Sir Alex has stuck to this midfield combination in the Premier League.
Ashley Young has undergone a revival of sorts after a lackluster start to the season, and has often played the role of provider and motivator.
Despite losing a little bit of his verve from seasons prior, Antonio Valencia has been doing more or less what we have come to expect from him: turning defenders and creating doubt in their minds, putting crosses into danger areas, and linking beautifully with Rafael in a partnership on the right hand side that will inevitably be recognized as the best in the league by season's end. And he does all this with a smile on his face. Or just imagine the smile.
In the center of midfield, there's no doubting Michael Carrick's selection in the team come Sunday. Sir Alex has placed a lot of trust in his transition man and with Tom Cleverley providing the mobility and willingness to run that Paul Scholes no longer can, there is a better balance to the midfield than there was last year.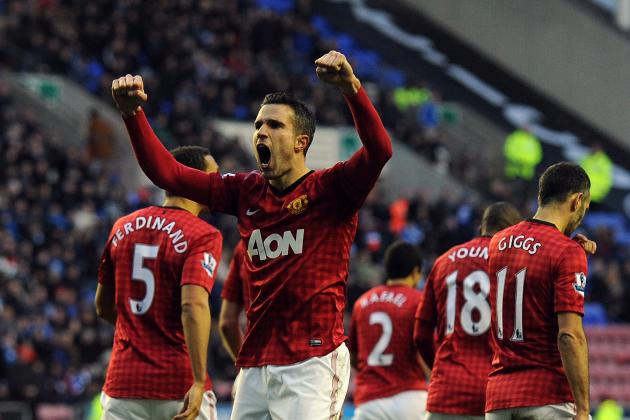 Chris Brunskill/Getty Images

SC: Robin Van Persie
Many in the Premier League, and certainly Old Trafford, will have been peeved by the absence of Robin Van Persie in FIFA's World Team of the Year, but they won't be peeved by the goal returns the Dutch striker has provided.
Does anyone doubt he will start?
SC: Javier Hernandez
I am in a bit of a quandary regarding this one. Hernandez is in good form and his goal returns are mirroring that of his excellent first season. However, he sometimes seems a better impact player than a starter (I hark back to he chances he squandered in the Newcastle game on Boxing day).
It is possible that Van Persie may play as a lone striker with Shinji Kagawa acting as support. However, given that United are at home, I think Sir Alex will be more adventurous. I can see United playing with two strikers, and with Rooney out with injury—and presuming Sir Alex knows better than to start Danny Welbeck—Hernandez should start.