Potential Saints Free Agent Targets Still in Playoffs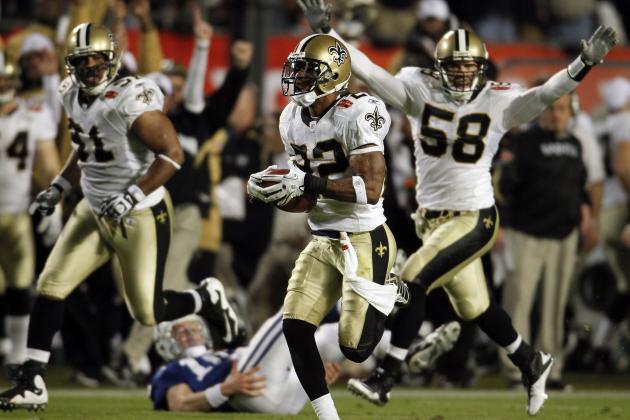 Donald Miralle/Getty Images

The New Orleans Saints are annually an active team in the free agency period which officially commences the NFL calendar year. This year the free agency period officially begins on March 12.
At 12:01 AM eastern time, NFL teams will be allowed to officially sign free agent players.
Before the Saints can sign anyone, though, they must identify players that fit the current roster and its primary holes. A great way to identify such players is by perusing the rosters of the eight remaining playoff teams for unappreciated talent.
Of course the Saints will look for potential additions from squads who did not share the same kind of success this season as the eight remaining teams.
But here are the potential Saints' free agent targets still in the playoffs (listed in alphabetical order by the city of the team that player currently plays for).
Begin Slideshow

»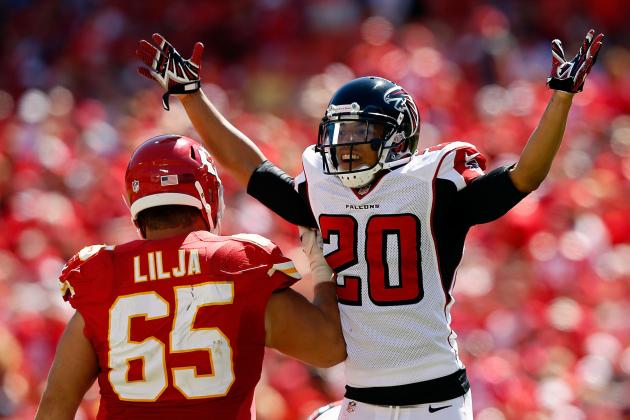 Jamie Squire/Getty Images

Brent Grimes, CB
Brent Grimes was lost in the season's first game with an Achilles injury. That injury could cause Grimes to be an underrated player on the free agent market.
He has been an underrated player for two or three years. The Falcons allowed another underrated member of its' squad leave after last season. That man (Curtis Lofton) was snatched up by the Saints and became a valuable member of a defense which showed vast improvement from Week 1 to Week 16.
Grimes may be as close to a No. 1 corner as will be available on the free-agent market. Patrick Robinson is an ideal No. 2 corner and Jabari Greer has proven he is no longer worthy of starting, but would be wonderful in nickel situations.
Sam Baker, OT
Sam Baker was a first-round pick the same year the Falcons took Matt Ryan No. 3 out of Boston College. Baker was supposed to protect Ryan's blind spot for 10-plus years.
The former USC Trojan has been a disappointment as a professional, but could be a godsend at right tackle for the New Orleans Saints. He also should come relatively cheap.
Lawrence Sidbury, DE
Lawrence Sidbury was considered an upper-echelon talent out of Richmond a few short years ago. He never could prove himself as a pass-rusher in Atlanta. As a nickel pass-rush specialist in New Orleans under Steve Spagnuolo he could possibly resurrect his career.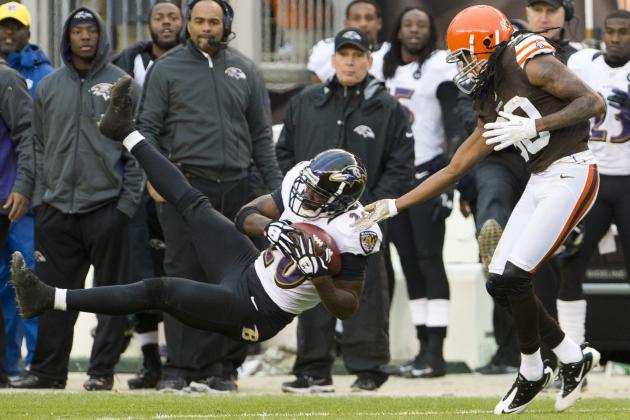 Jason Miller/Getty Images

Ed Reed, S
Everybody and their brother in the Gulf Coast would love to see Ed Reed return "home" to finish his NFL career with the New Orleans Saints. As the best safety in the NFL since the turn of the century and a sure first-ballot Hall of Famer, Reed would not come cheap.
It seems unlikely anyway, as Reed is more likely to retire than finish his career in another uniform. His play has dropped off this season, and the Saints should stay away from him. But the Destrehan native ending his career with his hometown team is not the most inconceivable notion ever placed on the Internet.
Paul Kruger, DE/OLB
Paul Kruger dominated the Indianapolis Colts on Sunday afternoon, recording 2.5 sacks and nearly completing a few more takedowns of rookie quarterback Andrew Luck.
It took Kruger a few years to reach his full potential, but through one playoff game it seems Kruger has done just that. The Ravens are sure to extend him and make him an offseason priority. But if for some reason they do not, the Saints would be foolish to ignore him.
Dannell Ellerbe, LB
The former Georgia Bulldog was an underrated player in the NFL draft, and has continued to be just that as an NFL linebacker playing next to Ray Lewis. He is undoubtedly the future for the Ravens at that spot.
But if for whatever reason Ozzie Newsome doesn't see things that way, Ellerbe possesses the skill set to make the transition to outside linebacker in the Saints' 4-3 defensive scheme.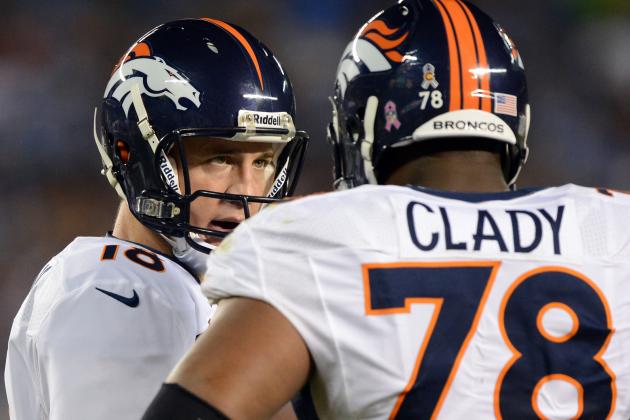 Harry How/Getty Images

Ryan Clady, OT
In a pipe-dream world, Ryan Clady would become a New Orleans Saint. Imagine the left side of the line with one of the three best left tackles in the game, and possibly the best left guard (Ben Grubbs).
Of course, Clady is not going anywhere, and will be John Elway's lone concern prior to the start of free agency. Saints fans should not get their hopes up.
Tracy Porter, CB
No team is more familiar with Tracy Porter's work than the New Orleans Saints. After a disappointing season, Porter's stock is not very high. Therefore his price tag should drop significantly from the 2012 offseason.
Porter is a conceivable option, though at the end of the day the Saints will likely look away from one of the franchise's most beloved players.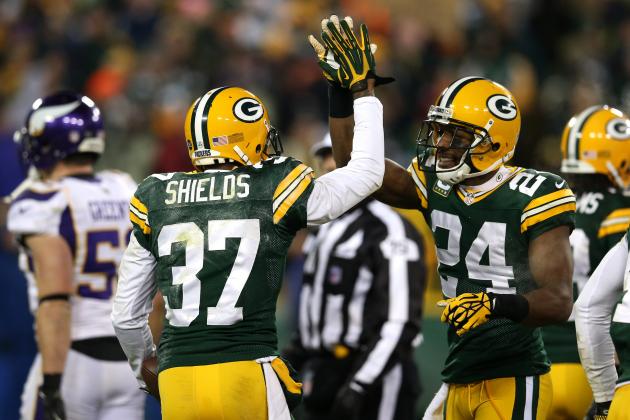 Jonathan Daniel/Getty Images

Sam Shields, CB (Restricted)
Sam Shields is the lone restricted free agent on this list because of the price a team has to pay to acquire one of these players (not only the players' salary but a lost draft pick or two). Shields is the only Packer that the Saints would have any reason to target this offseason.
Shields is a big, physical corner who played wide receiver at Miami before making the transition to corner upon his arrival in the NFL.
It would likely cost a significant draft pick to make a play for Shields, and the Packers are likely to extend Shields almost no matter the cost.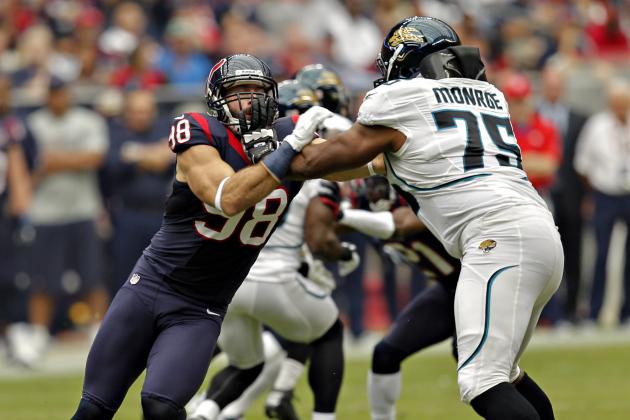 Bob Levey/Getty Images

Connor Barwin, DE/OLB
Connor Barwin is almost a clone of Paul Kruger. The two are hybrid defensive end/outside linebackers playing base 3-4 defenses. But each possesses the skill set to transition to a 4-3 end if necessary.
Barwin is also an explosive pass-rusher who is underrated and often overlooked because of a star-studded cast around him (or in Barwin's case, J.J. Watt).
The former Cincinnati Bearcat would look good in black and gold rushing off the end in nickel situations and could seemingly handle his own in base down situations.
Antoine Caldwell, C
There is a glaring hole at center for the Saints. Brian de la Puente simply doesn't cut it. And the Saints under Sean Payton have employed a next man up philosophy at the center position. It's unlikely the Saints would waste a ton of money on the position.
Caldwell also figures to be re-signed by Houston to resume his duties at guard, but with the Saints would move back to the center position he so adroitly played at Alabama.
James Casey, H-Back
James Casey is a freak athlete who Sean Payton would undoubtedly love to get his hands on. To think of the matchup problems he could cause is almost unfathomable.
He is also an apt blocker in the run game and more than adequate in pass protection. If the team decides David Thomas has had his better days, Casey could be the solution.
Brice McCain, CB
Brice McCain was a player I loved coming out of Utah. He came into the NFL in the same year that Sean Smith was a Dolphins draft pick. Though most analysts believed Smith to be the better player, I was higher on McCain.
In the pros, McCain has been an underrated player, while Smith has faced his share of criticism. McCain is an option similar to D.J. Moore to take over the nickel spot. The only difference is that he lacks the elite play-making gene of Moore.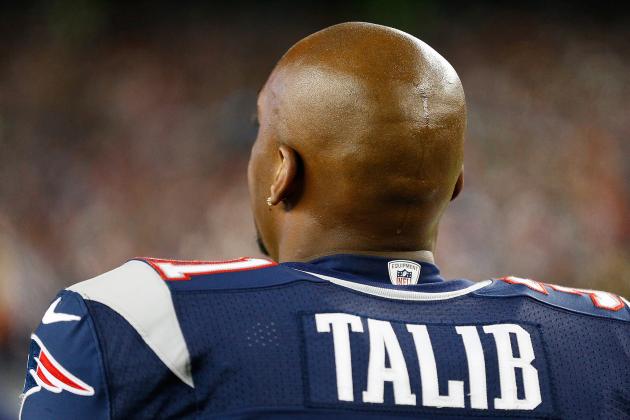 Jim Rogash/Getty Images

Aqib Talib, CB
With a murky past and an unsettling exit out of Tampa Bay, Aqib Talib should be considered a risky proposition in this year's free-agent market despite the success he's had in half a season under Bill Belichick in New England.
Talib, though, would be a perfect fit for Steve Spagnuolo's style of defense. In fact, the guy is practically the cookie-cutter plug-and-play corner Spagnuolo is looking for in his defense.
Luckily, he would come relatively cheap for a cash-strapped Saints franchise.
Sebastian Vollmer, OT
Sebastian Vollmer is an offensive tackle that the Patriots may decide isn't worth keeping on past this season. He has been a mostly solid starter for the Patriots—a team who employs a similar quick-read passing game with downfield shots mostly taken off play-action.
If Vollmer is allowed to walk by New England (and given Belichick's propensity to not pay anyone not named Tom Brady, it is likely), he could be the perfect fit for New Orleans as a relatively cheap alternative to Jermon Bushrod.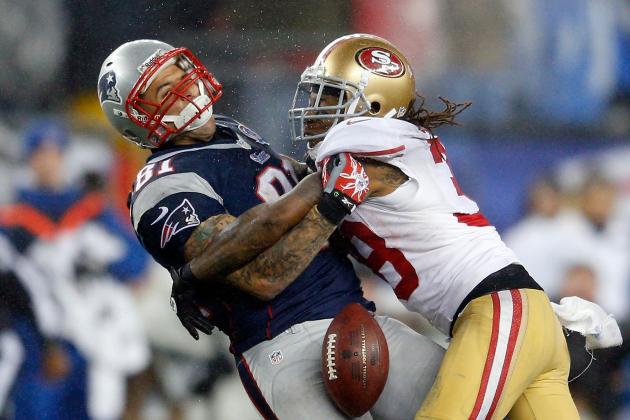 Jim Rogash/Getty Images

Dashon Goldson, S
Mike Triplett of the Times-Picayune and nola.com and I are in agreement that the Saints safeties are an underrated unit who can still improve.
... I still think Jenkins and Harper have the kind of dynamic potential the #Saints need more of - not less.
— Mike Triplett (@TripTP) January 4, 2013


Still, if the Saints could somehow acquire a player with the talent, production and attitude of Dashon Goldson, the team should not hesitate for even a second to make the move.
Goldson is the best safety in football right now. Why wouldn't the team consider him, if the opportunity were to arise?
But don't get too excited. Like the Broncos with Clady, Goldson figures to be of preeminent importance for Trent Baalke (the San Francisco general manager) and the 49ers in the 2013 offseason.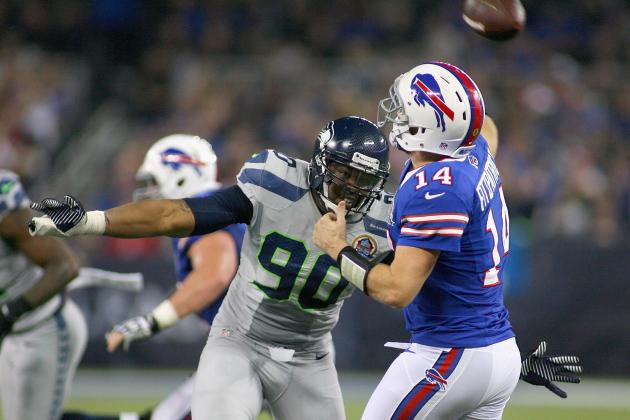 Rick Stewart/Getty Images

Jason Jones, DT/DE
Jason Jones is a free agent who has been adequate in Seattle's hard-to-explain defense. It is a 4-3 defense that uses mostly 3-4 principles. In that defense, Jones is an odd fit, but has found a way to make it work.
As a player who began his career as a 4-3 end in Tennesse, before moving inside when Albert Haynesworth left via free agency, Jones has a unique blend of size and speed for the defensive tackle spot.
He is seemingly the ideal fit for the under tackle spot (three-technique) in Steve Spagnuolo's complicated 4-3 defense. He can penetration gaps and pressure the quarterback.
He would be another plug-and-play guy for Spagnuolo to utilize in 2013, and maybe beyond.
As with each of the players listed here, Jones has been a valuable member of the Seattle defense, and thus will be in at least somewhat high demand.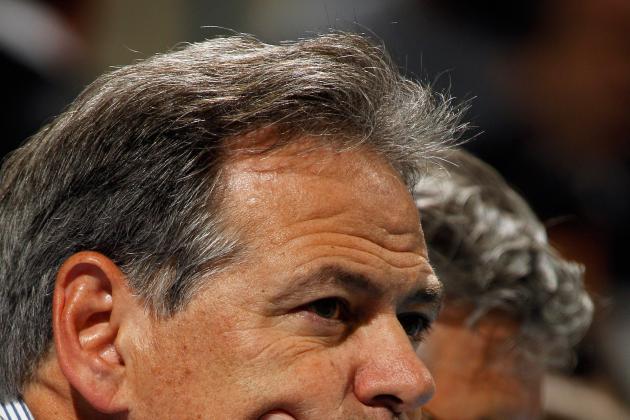 Chris Graythen/Getty Images

Grabbing any of these players would be a tremendous coup for a Saints franchise which values leadership, doing your job and overall character.
Each player here displays those traits, and should be considered by the Saints in the event that they make their way onto the actual free-agent market come March 12.