Arizona Wildcats Basketball: 5 Biggest Selling Points for Aaron Gordon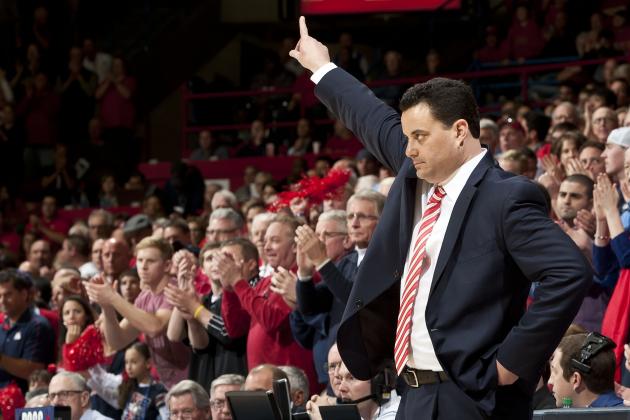 Casey Sapio-USA TODAY Sports

Aaron Gordon is one of the most dynamic players in the class of 2013. If you haven't seen him play, watch this, this or this.
The guy is ridiculous and would be the biggest pickup in coach Sean Miller's tenure. He is tall, long, quick, freakishly athletic and has a frame to play several positions.
As far as basketball skills are concerned, he is very polished. He can handle the ball, has a consistent jumper, is great in the post and can defend nearly all five positions.
He is a recruit that all programs, including Kentucky, dream about. If he were to add himself to the Arizona commit list, the Wildcats' recruiting class would jump into the top five.
If Keith Frazier added at some point as well, U of A has another top-three class. But Gordon is the big fish. The comparisons made to Blake Griffin are not hyperbole, and he would make Arizona unquestionably one of the favorites for the 2014 National Championship.
Currently Gordon has three schools on his list: Arizona, Washington and Kentucky.
Arizona and Washington seem to be the leaders out of the three. Gordon has ties to Washington, as Lorenzo Romar grew up with Gordon's dad, Ed, in Los Angeles, and Washington began recruiting Aaron at the age of 13.
However, Gordon has said the race is wide open amongst the three schools on his list. With the recruitment of this stud 17-year-old in full swing, Arizona has five selling points that would appeal to any recruit.
Begin Slideshow

»
Casey Sapio-USA TODAY Sports

The Wildcats have begun to make their way back on to the national scene. As the program ascends, more and more of their play will be seen by a national audience.
And this season, after every game since entering the Top 10, their highlights have been on ESPN. Several games have been nationally televised. This will only increase next season, because they will again have another stellar year.
Add to this that the Pac-12 Network will televise nearly every game not picked up nationally, and Gordon can be told every one of his games will be seen by millions of people.
And most importantly to Aaron Gordon, his family, who lives in Northern California, can watch all them.
Exposure like this will increase his NBA prospects, as he will be seen more. Scouts and teams will have him on the radar earlier than if he were to go to a place with less exposure (Washington).
And as he will be more recognizable because of the added exposure, his ability to make more cash earlier in his career is a reality.
Exposure becomes one big talking point for Arizona's recruiting.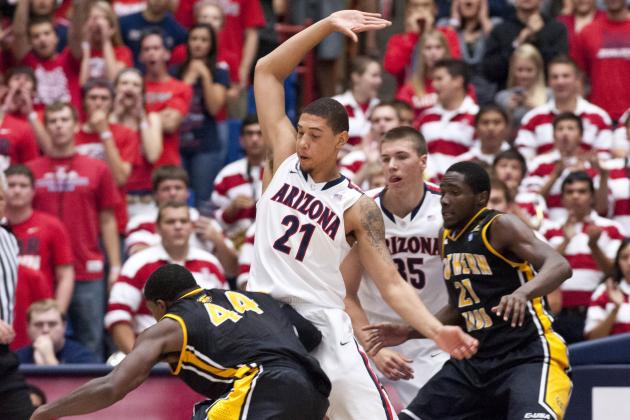 Casey Sapio-USA TODAY Sports

For upper-echelon recruits like Gordon, playing time isn't all that much of a consideration, because they are so good.
However, the more saturated a program is with talent, the more minutes will be taken away. At Kentucky, this would have to be taken into account.
Last year Kentucky had the second-ranked recruiting class in the country, and it looks as though a couple of its players will not go straight to the NBA.
This year is shaping up to be what might be the greatest class in history. Minutes would be minimized for any player going into that program.
While Arizona is loaded with talent, Gordon will definitely slide into a starting forward slot. He would be the most talented player on the team from the get-go, and there could not be much debate on this.
Minutes would not be an issue, and while he would be the most talented player on Arizona's roster, he wouldn't have to worry about carrying the team on his back like he would at Washington.
The 2013-14 Wildcats are a national title threat even with Gordon, and with him, I think they become the preseason No. 1.
Gordon would be perfectly situated to play on a team where he would get all the minutes he could want, but on one which is playing in the Final Four.
Casey Sapio-USA TODAY Sports

Arizona plays an uptempo, shoot-when-open, high intensity brand of basketball. Most players don't want to play like they have at ASU (until this season) or play the drab style at UCLA.
Young guys who can run and dunk want to be able to run and dunk, which is exactly what Arizona's style would allow Gordon to do—in case you haven't watched Aaron Gordon dunk, enjoy about four minutes of it here.
Playing in Arizona's style is just more fun than other places.But more convincingly for a recruit like Gordon, is that Arizona's style of play will improve his game.
Aaron Gordon models his game after Scottie Pippen. He wants to be a player who can do all things on the basketball court. He wants to go to a school that can help him play positions 1-4.
In Miller's style, Gordon would be playing at all points on the court. He would be handling the ball, posting up, defending centers, forwards and guards and would shoot the ball a lot.
In other words,Gordon would improve in all facets of the game, and for a guy who prides himself on being multidimensional, this is a great recruiting tool.
The style of play in Tucson is a perfect fit for Aaron Gordon and the things he wants to accomplish during his short stint in college.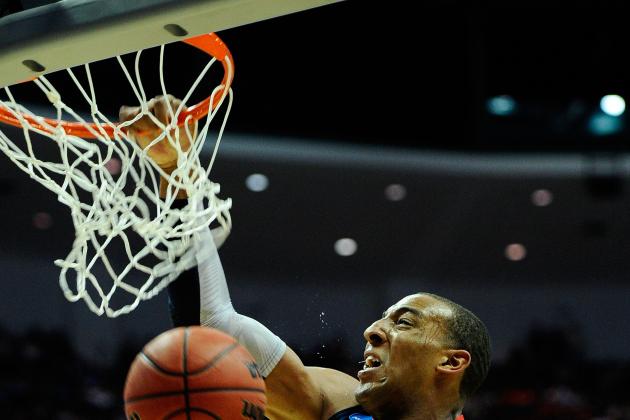 Kevork Djansezian/Getty Images

Above all else, the goal for an elite-level recruit is playing in the NBA—Gordon has said as much.
He wants to spend only a year in college and then go into the NBA. Most of the kids at the highest end of the high school basketball spectrum would be going straight to the NBA if it weren't for the one year out of high school rule.
College then becomes a training ground where the biggest question is, who will train the player the best?
Kentucky obviously dominates on this front. John Calipari has been able to turn his program into a factory of NBA players. Whether the Kentucky program is responsible for this or not is irrelevant—star players believe Kentucky gives them the best chance to get to the NBA.
Arizona's best recruiting tool, which is directly responsible for 2012's monster class and also shows the power of the NBA sell, is Derrick Williams.
Sean Miller and company were able to go into every home and say, "We took Derrick Williams from 3-star nobody to second pick in the draft." As a result, Arizona arguably had the best class in 2012.
The shine has dimmed a bit from Williams' star, but Arizona can still be sold on his back. Adding to Williams' success is the fact that nearly all of Sean Miller's players are substantially better players each year they stay with the program.
Further, the Cats have a ridiculous weight training program led by Chris Rounds, which turns all the players into bodies who can survive the rigors of an NBA season.
The NBA sell is a solid one for Arizona. It isn't nearly as strong as Kentucky, but as Miller gets more players in, that gap will be closed.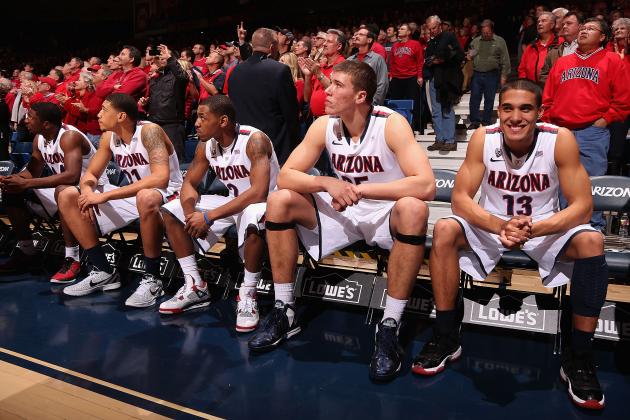 Christian Petersen/Getty Images

The chance to win a national championship still must mean something, even in 2012. While most top-tier players are most focused on getting to the NBA, they also want to win wherever they go.
And Arizona is going to win and win big in 2013-14. If Gordon is added to the mix, Arizona becomes the preseason No. 1.
All three big guys are coming back (keeping my fingers crossed), Nick Johnson will be back for his junior year, a true point guard in T.J. McConnell will be his backcourt mate, Gabe York will be a year better, Angelo Chol will again be solid, and then 5-star recruits Aaron Gordon and Rondae Jefferson will be on board.
The deck will be absolutely stacked for Miller. As talented as this year's undefeated team is, next year's would tear them apart if Gordon is a part if it.
Being on a team who can make history will be a big part of any recruiting pitch to Gordon. Even though most players' sights are set on the next level, Gordon seems to be enough of a basketball historian to know that a championship at the college level or even a Final Four appearance is something that will be valued forever.
The next version of the Wildcats has a very good chance to win a title, something Washington does not have, and the importance of this opportunity should be conveyed to Gordon during the recruiting chase.
Recruiting ratings and information courtesy of ESPN.