TNA: Jeff Hardy and the 8 Best Finishing Moves of All Time on Impact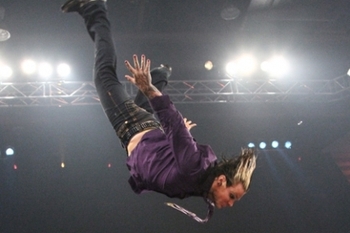 Jeff Hardy performing the Swanton Bomb. Photo by: TNA
Finishing moves are a major part of professional wrestling. They signal when the match is over or close to it, and it helps with the development of a character.
Each finishing move defines a superstar and what their style is.
Whether it's a high-flying dive or a high-impact bomb, those moves stand out from the rest of the moves in the match.
Each finisher is something different, which is what makes professional wrestling so unique.
TNA, compared to WWE, has some awesome finishers because of their talented wrestlers. Some of the superstars pull out all of the stops when they entertain the fans. They put their bodies on the line with their finishers, and it's amazing that they don't seriously injure themselves when doing these moves.
Honorable Mentions
Before I get into my list, here are two finishers that just missed the cut.
Tara: Widow's Peak
Tara was the only Knockout to earn a mention. She's been using the finisher since her days as Victoria with the WWE.
The move is set up by Tara lifting her opponent in a powerbomb position, but she slides her opponent past her head so that they are back to back. She then grabs the head of her opponent and drops to a seated position. Her opponent's knees drive into the mat, sending a jolt up their spine.
Compared to all of the other Knockout's finishing moves, this is definitely the best.
Homicide: Gringo Killer
Just like the Widow's Peak, the Gringo Killer targets the neck and back of the wrestler receiving the move.
Homicide locks in a reverse double underhook, resulting in the two wrestlers back to back. He then drops to a sitting position, driving the opponent's head and neck into the mat.
It's scary seeing a wrestler's neck or head getting driven into the mat. However, the impact of the Gringo Killer and the strength needed by Homicide to lift his opponent is truly remarkable.
No. 8 Jeff Hardy: Swanton Bomb

Jeff can hit the Swanton Bomb from any height.

Since his days with the WWE, Jeff Hardy has been known as a high flyer.
One of his most memorable moments is when he hit the Swanton Bomb on Bubba Ray Dudley at WrestleMania 2000 through multiple tables.
Once his opponent is down on the mat, Jeff climbs up to the top rope and then jumps off of it. Jeff then flips over at the last second, sending is body into the stomach of his opponent.
I don't consider the Twist of Fate as Jeff's finisher, despite its recent use. That move belongs to his brother, Matt.
Jeff has been seen jumping from high places to execute this move, taking out himself along with his opponents.
No. 7 Doug Williams: Chaos Theory
Doug William's finisher, Chaos Theory, may not look like a typical finisher, but it is a lot more than a German suplex.
First, he locks his hands around his opponent's waist from behind. He then runs with them towards the corner. While still holding on, they move away from the corner and do a somersault together. Finally, they get to their feet and Williams connects with a German suplex.
This move requires much strength from Williams to keep his hands locked around his adversary's waist and continue momentum, leading to the German suplex.
Williams is an underrated superstar within the business, but his finisher is not.
No. 6 Matt Morgan: Carbon Footprint
Matt Morgan takes a normal big boot and steps it up a notch.
He usually sends the other wrestler into the ropes in order to set up. While they are running back, Morgan takes a step with his right foot, lifts his left foot into the air and then extends his right foot and sends it into the face of his opponent.
The move comes out of nowhere because it is done at such a high speed and catches his opponent off-guard.
It's very impressive to see a man of his stature (7'0") execute the Carbon Footprint with such agility.
No. 5 AJ Styles: Styles Clash
The first TNA original to crack my list is The Phenomenal One, AJ Styles and his Styles Clash finisher.
Styles lifts his rival up in a belly to back position. While the wrestler hangs upside down, Styles puts his legs in front of that person's arms. He then plants his opponent into the mat.
With the arms secured by Styles' legs, his opponent cannot protect themselves from further damage.
He's also been seen executing the move off of the second rope to induce even more damage onto his rival.
No. 4 Samoa Joe: Muscle Buster
The second TNA original, Samoa Joe, comes in at No. 4.
When going for the Muscle Buster, Joe sits his opponent up on the top rope and then hooks the other wrestler's legs while the wrestler's head is tucked behind Joe's neck.
He then moves away from the corner, standing straight up while his opponent is upside down. Joe jumps up and drops backwards, sending his opponent shoulder first into the mat.
Joe is a strong superstar, and his finishing move is impressive. It causes serious pain to the neck and back of his opponent.
No. 3 Christopher Daniels: Angel's Wings/BME
Christopher Daniels is the only superstar qualified to include two finishing moves.
The first finisher is called Angel's Wings. Daniels hooks both arms of his opponent. He then lifts the wrestler up and plants that person face first into the mat while the arms are still hooked.
This move is set up like a pedigree, but Daniels ends up in a seated position, and there is more impact on the opponents.
The second move is the Best Moonsault Ever. While the rival is laying face up on the mat, Daniels jumps onto the second rope then onto the top rope and connects with a moonsault.
Daniels hits the moonsault flawlessly every time.
No. 2 Kazarian: Flux Capacitor
Frankie Kazarian has been an exciting performer in recent weeks. His partnership with Daniels has been one of the bright spots in TNA.
However, Kaz is always a great in-ring performer, especially within the X-Division.
Kaz's finishing move, the Flux Capacitor, is one of the best TNA has ever seen. Both Kaz and his opponent stand on the top rope. Kaz faces outward while the other wrestler faces inward. Kaz grabs his rival around the head, and they both jump. Kaz then does a moonsault and slams his opponent on the mat.
It is a very high-impact maneuver, which seems to hurt Kaz some of the time as well.
He's been using Fade to Black, a reverse Tombstone Piledriver, but the Flux Capacitor is much better.
No. 1 Petey Williams: Canadian Destroyer
In all my years watching professional wrestling, the Canadian Destroyer is one of the few moves that left me in shock, which is why it comes in at No. 1.
Petey Williams sets his opponents up in a piledriver position. He then takes it to the extreme and flips while holding onto his opponent before connecting with the piledriver.
The strength used by Williams to pull off this move is unbelievable. It's a move that has never been imitated or duplicated.
Williams needs to come back to TNA or sign with WWE because this move is too good to be kept off of television.
That said, I don't think we would see the Canadian Destroyer on WWE because of their style of sports entertainment. They have a cookie-cutter style and the Canadian Destroyer breaks the mold.
Keep Reading