Transfer season is only beginning and the rumor mills are reliably churning. It's easy to get swept up in the speculations. Only a few days ago, reports surfaced (via Sportige.com) that Madrid would make a Figo-like swoop for Sergio Busquets in a move that would turn the footballing world upside down.
In the midst of the mayhem, I call on Barcelona supporters to reach a new state of transfer zen, put aside the rumors and focus on football. Like the political junkie who gets fixated on the daily movement in the polls, the football fan who follows all the rumors misses the big picture. We can get distracted by the noise in the market while missing the signal that's right in front of our very eyes.
The big picture is this: January's major moves won't be in or out of the Camp Nou and won't make make or break the Blaugrana's season.
Some rumors are so implausible that they need not be taken seriously, like the speculated move noted above. Might Busquets end up at Madrid? Crazier things have happened, of course. But a January transfer that upsets the balance in a near perfect midfield? A midseason transfer between bitter rivals when the league title is all but won, and the player in question would be cup-tied out of the Champions League? Surely not.
As for plausible moves out of the Camp Nou, the biggest—and most consequential—question mark on the agenda is David Villa.
No one would be more upset than to see El Guaje leave than I would. But as time marches on, I'm more and more resigned to his marginalization in the current team. For whatever reason, Tito doesn't seem to see him as an answer. If—God forbid—Messi suffered an injury, Vilanova's tune might change. Barring that, it doesn't seem that David Villa has a large role to play in his plans, and won't be terrible happy or productive as a perennial 70th minute substitute. Accordingly, it seems he wants out (via Daily Mail Online).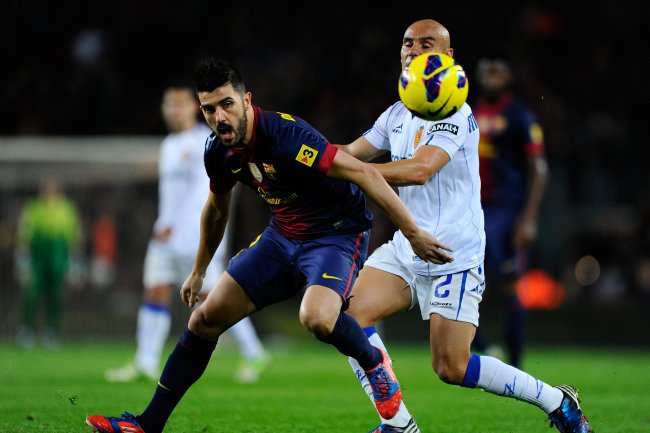 David Ramos/Getty Images
As for moves into the Camp Nou, what players could make an impact in the current campaign? Sure, the Blaugrana could use a reinforcement in central defense, and a new goalkeeper will be needed at some point to replace the aging Pinto. A reserve striker could help, should Villa end up leaving.
But with Eric Abidal soon to return to fitness, it's difficult to find any positions where an incoming transfer could get much time in the first team.
It may be a cliche in modern football that no team can rest on its laurels, but at the same time, transfers should never be an end in and of themselves. They can upset a delicate team dynamic and make it harder for young talent to break into the first team. And homegrown talent is, of course, one of the secrets to Barcelona's resounding success.
So this January, sit back, relax and watch as other teams duke it out in the transfer market. Come what may, we Blaugrana supporters can easily accept it with equanimity.