WWE Monday Night Raw, Jan. 7, 2013: Top 5 Questions Left Unanswered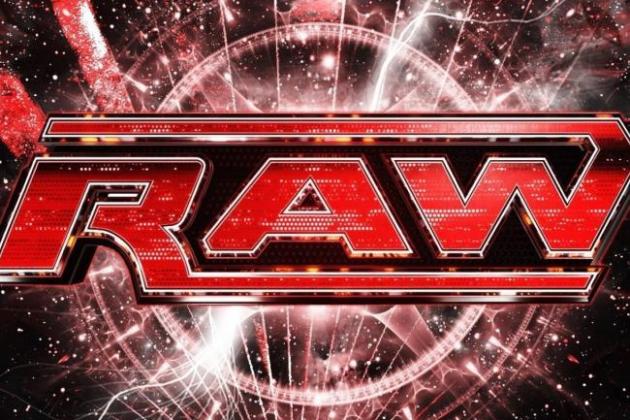 photo courtesy of wwe.com
The very first Monday Night Raw of 2013 provided WWE fans with the first step on the road to WrestleMania. The Rock made his return to Raw and confronted the WWE Champion, Eve Torres defended her divas title and CM Punk faced Ryback in a TLC match for the WWE Championship.
However, did anyone bother to ask what the Rock will be doing until Royal Rumble?
While we learned many answers such as who the Rock will face at Royal Rumble and a few more participants in the rumble match, fans were left with questions unanswered.
As I have done with past episodes of Raw, I will discuss the top five questions left unanswered after tonight's episode of Monday Night Raw.
Begin Slideshow

»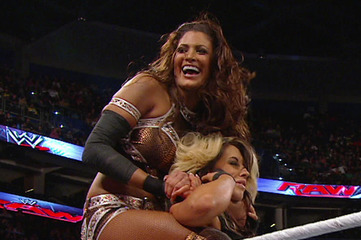 photo courtesy of wwe.com
Kaitlyn was lucky enough to get another chance at Eve Torres' WWE Divas Championship. However, just like in the past, Kaitlyn won the match, but not the title.
So will Kaitlyn get yet another opportunity at the Divas title?
Next week is Raw's 20th Anniversary is in Kaitlyn's hometown of Houston. Could the WWE be building towards the diva's first title win in her hometown?
With Kaitlyn continuously unsuccessful at claiming the gold, the only way she should earn another shot is if WWE plans on putting the belt around her waist for the very first time.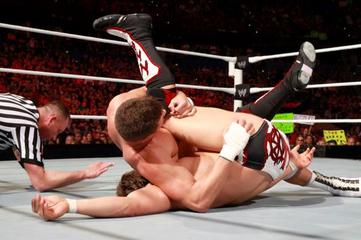 photo courtesy of wwe.com
Team Rhodes Scholars have been feuding with WWE Tag Team Champions Team Hell No for months now, but have yet to win the titles. Tonight on Raw, Cody Rhodes pinned Daniel Bryan in a non-title tag team match, suggesting this feud may not be over.
It seemed as though Team Rhodes Scholars may have been on the verge of winning the titles until Rhodes was injured during a match for Main Event. Cody returned with a moustache and the two teams continued where they left off.
Will Team Rhodes Scholars get another shot at the WWE Tag Team Championships? After their win tonight, the answer must be yes. However, the question remains when?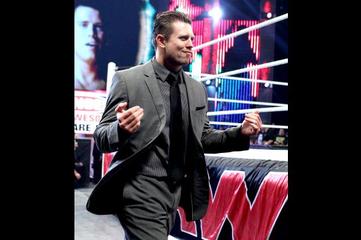 photo courtesy of wwe.com
This past Wednesday on Main Event, Antonio Cesaro faced the Great Khali with the Miz looking on. It was like deja-vu all over again on Raw. For some reason, we saw a rematch between Cesaro and Khali. The Miz joined the commentary table, suggesting a feud between the two is coming.
So when will the Miz get a match with Antonio Cesaro?
While, it is possible they square off at Royal Rumble, these two superstars will almost definitely be in the Rumble match. Hopefully, we do not see this match on a random episode of Raw or SmackDown.
WWE needs to build this feud. Antonio Cesaro has yet to have an established feud with a legitimate contender to his U.S. title. I suggested the Miz as one possible challenger to Cesaro for his first real competition.
Let's hope the Miz gets an opportunity soon either at Royal Rumble or build the feud until Elimination Chamber.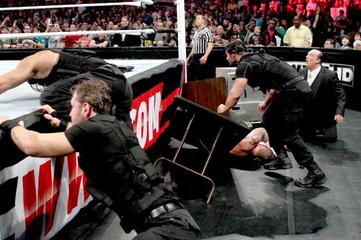 photo courtesy of wwe.com
Once again the Shield have helped CM Punk retain his WWE Championship against Ryback. As Michael Cole discussed at the conclusion of the match, it seems as though the Shield may be in cahoots with CM Punk.
Even though the Shield continues to help CM Punk, they may just be feuding with Ryback. Just because they always help CM Punk, their focus may be more on who they are helping him against. They may just be fighting injustice against all babyfaces. They have attacked Sheamus, Randy Orton, John Cena and Ryback.
The Shield may not be working for CM Punk, but working for all heels in the WWE. CM Punk denied to be working with the Shield again tonight, but we still don't know who the Shield is working for if anyone.
Also, who turned the lights off and allowed them to enter?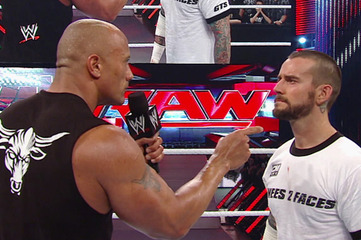 photo courtesy of wwe.com
Finally, the Rock returned to Monday Night Raw. Despite only appearing just before 11 p.m. EST, The Rock certainly delivered in his promo.
However, one must wonder, what will the Rock do from now until the Royal Rumble pay-per-view? He is scheduled to appear on Raw and SmackDown from now through sometime in February.
While it would be surprising to see the Rock in a match prior to Royal Rumble, it should be considered. As great as his promos are, the Rock can't just make jokes and deliver Rock Bottoms to CM Punk at every show.
So what will the Rock do next Monday on Raw?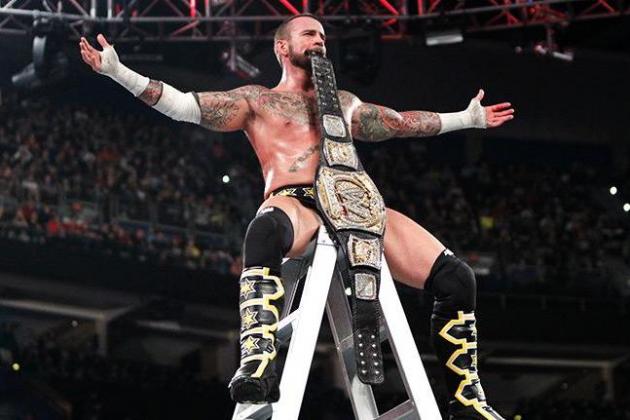 photo courtesy of wwe.com
The popular guess was to see CM Punk retain his WWE Championship against Ryback and go on to face The Rock at Royal Rumble. There were no surprises as it relates to this. It was also not surprising to see the Shield help out and cost Ryback the match.
However, the best episodes of Monday Night Raw leave you with a cliffhanger or two. In this case, I left you with five.
Sincerely,
Seth
How would you have answered these questions? What questions were you left with unanswered after tonight's episode of Raw? Please leave your comments, ideas and questions in the section below.
Follow me on Twitter (@sethgutt) and check out guttwrenchpowerblog.com.
You can like GWP on Facebook here.
Also, tune in every Wednesday night at 9 p.m. EST on PWPRadio as I host OH YOU DIDN'T KNOW!? wrestling news and rumors at http://www.blogtalkradio.com/pwpradio.