The Boston Celtics have started to turn themselves around, winning their past three games and rounding into old form, punching teams in the mouth as hard as they can. But, can that style of play help them make their way back to the Eastern Conference Finals.
Their most recent game, a 102-96 win over the New York Knicks showed a lot of what they've been able to do over the past three games that they couldn't do for the majority of the season.
While they were still out-rebounded (roughly a billion Tyson Chandler tap-backs will do that to you), they grabbed ahold of the paint, refused to let the Knicks get out and run and forced enough turnovers to fuel their offense.
What's more impressive, they did it all without Rajon Rondo.
Since the calendar turned over to 2013, Boston has given up just over 86 points per game, 10 fewer points per game than their season average. They're 3-1 in that four-game stretch.
Some of the credit has to be given to Avery Bradley, who has come back and played fine defense over the course of his four games back:
Steal by Bradley: "And Avery, amongst all the redwoods, comes out with the ball."

— Tommy

Heinsohn

(@CSNTommy) January 8, 2013
However, Kevin Garnett has been much more vicious than he has been throughout the course of the season (his battle with Tyson Chandler is a key example of that), while Paul Pierce's perimeter defense has looked as good as it has all season long:
Oh, KG elbowed Melo high in the post, then Melo elbowed him in the back when he turned around.

— Hardwood Paroxysm (@HPbasketball) January 8, 2013
Add that to Jeff Green doing more than just existing and Jared Sullinger starting to learn to take up space like the big body that he is, and the Celtics defense has looked much more stout over the past few games.
So, is this tiny transformation enough to get them back to the point they were at a season ago?
That is, can they punch, kick, scratch and bruise their way to the Eastern Conference Finals?
The fact is, Boston is going back to their roots, mashing about and playing extremely physical basketball. Just ask J.R. Smith about what went down:
J.R. Smith returns w/ nasty gash to shoot free throws late in the 4th: twitter.com/BeyondTheBuzze…

— Beyond The Buzzer(@BeyondTheBuzzer) January 8, 2013
Or better yet, check out Garnett and Carmelo Anthony on the verge of a UFC fight for the better part of a possession here.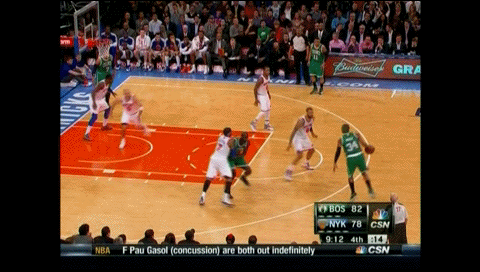 We've seen the Celtics play this way before, and I'd have to say that this is extremely conducive to productive basketball, if you know how to do it right.
Teams can't just go out and try to get into a fight every time there's an elbow thrown or a rough drive to the rim. They have to play mind games, get the other team frustrated so they start to escalate things, making them the reason for the rough play.
At least that way there's plausible deniability in the course of whatever "fights" or, more likely, shoving matches they may get into.
As for the roster the Celtics have, they are terrifically built for a low-scoring slobber-knocker.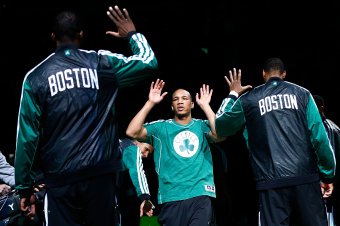 Jared Wickerham/Getty Images
They've got a post presence in Garnett, an isolation player in Pierce, a point guard who is capable of finding passes that few others on the floor can find in Rondo, a microwave with Jason Terry and a decent enough bench to score every once in a while.
With their main scorers (Pierce, Garnett and Terry), they can easily buckle down and turn the game into a bar fight.
That, plus the inexperience of the Eastern Conference, makes it seem that if they play like they've played over the course of the past three games, there's every chance that they can make a run in the playoffs.
The Knicks have won all of one playoff game with most of their current group, the Indiana Pacers look woefully incompetent on offense, I can't trust the Atlanta Hawks until they do something in the playoffs and the Chicago Bulls will have to prove they can do something offensively when Derrick Rose comes back.
If they revert to their mediocre-defense, mediocre-offense having selves, they've got no chance. But the way they've played over the last few games is quite impressive.