You Make the Call: Kick-Catch Interference or a Fumble?
Use your ← → (arrow) keys to browse more stories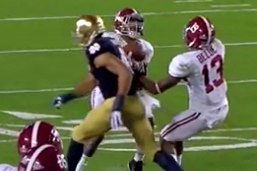 Hindsight is always 20/20, especially with the benefit of instant replay from multiple angles, but some might argue this game could have easily been 7-3 or even 7-7 early. During a Notre Dame punt, Alabama returner Christion Jones signaled for a fair catch at about the 25-yard line. Notre Dame's Matthias Farley avoided contact with Jones by stepping to his left while Alabama's Deion Belue hit Jones causing him to fumble (thanks to throwtheflagblog.com for the video)...