Boston Celtics Are Right to Back Doc Rivers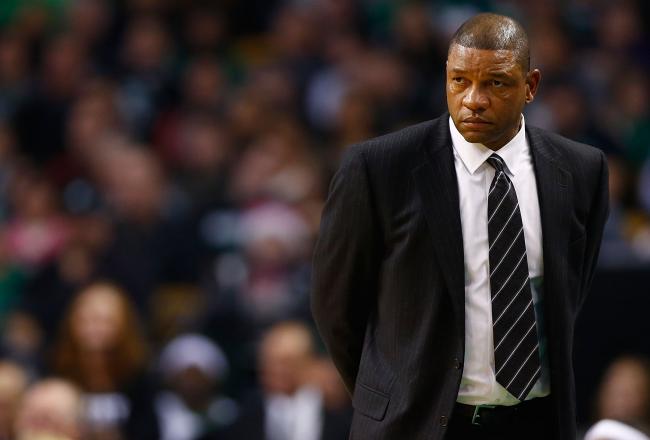 Jared Wickerham/Getty Images
At a time when it seems like NBA head coaches have little to no job security, the Boston Celtics have decided to stand behind Doc Rivers. Despite the Celtics' troubles, there is no reason why Rivers' job should be on the line.
In 2012, the NBA has seen a number of coaches unfairly get the boot due to high expectations and mediocre records. Former Los Angeles Lakers coach Mike Brown was abruptly fired after five games: The star lineup of Kobe Bryant, Dwight Howard, Pau Gasol and Steve Nash failed to meet the owners' expectations, and Brown was to blame.
The latest coach to be prematurely dismissed was Avery Johnson of the Brooklyn Nets. He was named Eastern Conference Coach of the Month in November, and let go less than 30 days later. The Nets won 11 of their first 15 games, but went 3-10 in December leading up to Johnson's firing. When asked about his former teammate and close friend, Rivers told The Boston Globe:
Every day as a coach you've just got to do your job and do the best job you can do, and all the other stuff is out of your hands.
Doc Rivers is doing the best job he can do with the Celtics. Given the situation at hand, a radical coaching change wouldn't do anything to help the team. In fact, it would probably do more harm than good.
Since joining the team in 2004, Rivers has had control of his team. He and Paul Pierce didn't see eye-to-eye in the beginning of their relationship, but once Rivers had more talent to work with, Pierce too learned to respect and accept the coach's guidance.
In addition, Rivers is the reason the Celtics are able to attract top-notch players. He is known around the league as an elite coach. Not only because of the 2007-08 NBA championship season, but because he is able to bring All-Star veterans together to work as a team.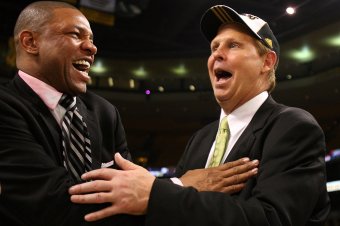 Elsa/Getty Images
His work with Pierce, Kevin Garnett and Ray Allen was something new to the modern-day NBA. He proved that a championship team can come together in an instant when you have all the right pieces, including the coach. Miami, New York, Brooklyn and the Lakers have all attempted to follow the same recipe.
However, Rivers also proved why his team should stand behind him. Danny Ainge, Boston's president of basketball operations, told CSNNE.com:
Doc (Rivers) has proven his worth as a coach. There's nobody I want more to coach my team, than Doc Rivers.
In each of the last five years, Boston has reached at least the Eastern Conference Semifinals. They've reached the Eastern Conference Finals three times and the NBA Finals twice. So despite what the Celtics' regular season record is, history shows that the team turns it up in the postseason.
The Celtics' current troubles cannot be solely blamed on Rivers. When a team fails to meet expectations, the entire organization is at fault, from the front office to the bench players.
In Boston's specific case, inconsistent bench play is the biggest reason for the team's struggles. Their depth hasn't shown, especially when the team's Big Three sits out. Coming into this season, the Celtics expected to have a deep secondary. Jason Terry, Jeff Green and Courtney Lee in particular were supposed to take some pressure off of the Big Three, but that hasn't been the case so far.
Should Doc Rivers Be Fired?
While Rivers may have tested a few questionable lineups, that is part of deciphering a new team. The Celtics have many new pieces to the puzzle, and if anyone can figure it out, it's Doc Rivers.
There's no doubt that the Celtics aren't performing nearly as well as expected for this season.
But that doesn't mean Rivers should be in the hot seat.
The Celtics are right to stand behind their head coach, because he's earned the right to attempt a midseason turnaround.
They've done it before. They can do it again—but not without Doc Rivers.
This article is
What is the duplicate article?
Why is this article offensive?
Where is this article plagiarized from?
Why is this article poorly edited?

Boston Celtics: Like this team?