Mike Piazza was acquired by the New York Mets in 1998, right as I fell for the game of baseball. So, please, forgive me, I'm angry he might not be elected to the Hall of Fame on the first ballot.
I've got Piazza posters and pennants on my wall, Piazza bobble heads on my shelf, a Piazza rocking hologram card on my desk, four dozen Piazza baseball cards in my baseball card binder, and I dressed up as Piazza for Halloween two consecutive years, once as a hitter, and once as a catcher (yeah, that was the year I went for scary.)
When I'd go practice hitting with my Dad, I would mimick Piazza's routine. Tap the barrel of the bat on the plate, then swing it underhand, like a pendulum toward the pitcher, then back slowly toward the catcher.
I tried to hit everything to right field because he did, I caught because he did, and I took flaxseed oil because he did. I had the Mike Piazza Rawlings catchers mitt, and to the aggravation of my coach and the umpire, I'd throw my catchers mask off every chance I could.
For me, everything Piazza did was good. Like the Mets in '99 and 2000, coaching Team Italia in the World Baseball Classic, acting in those commercials with the old lady telling Piazza to get out of his slump, and the romantic-comedy Two Weeks Notice.
But, it's becoming clearer with each BBWAA voting member's column that leaves Piazza out, that his chances this year are in serious doubt, and it has nothing to do with his numbers.
Nothing to do with the stats Jayson Stark explains make Piazza the best offensive catcher of all time: "Highest OPS (.922). Best slugging percentage (.545). Most homers (427). Best adjusted OPS-plus (143). Tied with the great Yogi Berra in wins above replacement. No one even close in offensive WAR."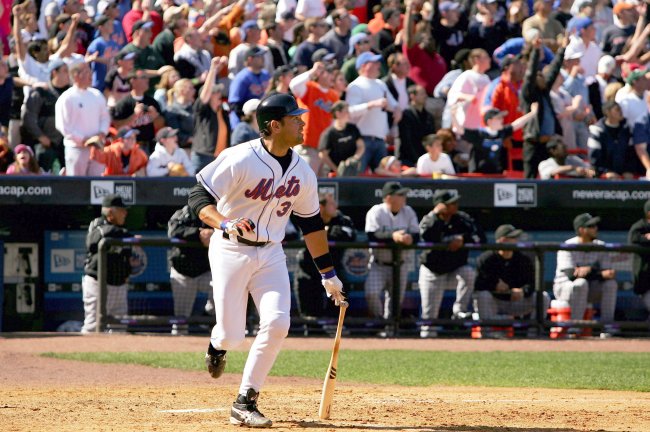 Ezra Shaw/Getty Images
BaseballThinkFactory.org projects Piazza to receive 62.6% of the vote, well short of the 75% required for election. And it's a shame.
There was always a little bit of suspicion about Piazza and steroids, but there is no doubt his neighbors on the ballot have hurt his chances.
Instead of just being lumped in with Jeff Bagwell, another possible juicer, Piazza is grouped with Barry Bonds and Roger Clemens, two guys who have been subject to much more serious scrutiny, and were mentioned in the infamous Mitchell Report.
But it's not just about my guy, Piazza. With Bonds and Clemens, too, there is no hard evidence that they used performance enhancing drugs. Not enough for a court of law. Not enough for perjury. And that's why I have a problem with the stance some writers have taken to voting.
Some claim they don't want to be the judge or the jury. But, to those, I recommend watching To Kill a Mockingbird, Law & Order, or even My Cousin Vinny.
Because all of those – based on truth or fiction, drama or comedy – share the basic principle that in America, in our legal system, you're innocent until proven guilty.
Some writers clearly disagree. A couple writers are willing to make a snap judgment that because he had back acne he must have cheated. Others claim they are simply withholding judgement until more evidence comes out.
Does Piazza belong in the Hall of Fame?
Like if someone had damning evidence, this wouldn't be the year to release it...
I have some problems with the Hall of Fame. I disagree with the maximum number of 10 people you can vote for at one time. It makes it so that players percentages fluctuate from year to year, after their last pitch, hit or steal. And it forces voters to judge worthiness based on the ballot rather than Hall of Fame standards, and the people who are already in the Hall of Fame.
I also don't like that people who haven't covered baseball in ten or fifteen years are eligible to vote, while guys like Bill James, Craig Calcatarra, Jay Jaffe, Joe Sheehan and others who have influenced the game more than any other writer, do not have that privilege.
But my biggest problem is that while some voters are protesting the era, by doing their best to keep anyone linked with steroids out, they aren't preserving the sanctity of the Hall – instead they are degrading the accuracy of the Hall of Fame in capturing the best of baseball by excluding the top players.
The Hall of Fame itself has embraced the steroid era, featuring it in an exhibit in the museum. The Commissioner of Major League Baseball, Bud Selig hasn't ruled any player from the steroid era ineligible for election.
The writers job wasn't to put a player in hell, or purgatory. The Hall of Fame isn't Heaven, or Iowa, it's just a museum.
But a thing to remember about Piazza, despite his Hall of Fame caliber bat, was his knack for looking foolish, and then crushing the next pitch. Maybe 2013 is the swing and the miss. Watch out, he might smash the next one.
Follow Pete Barrett on Twitter here.