5 Dallas Cowboys Players Sure to Rebound in 2013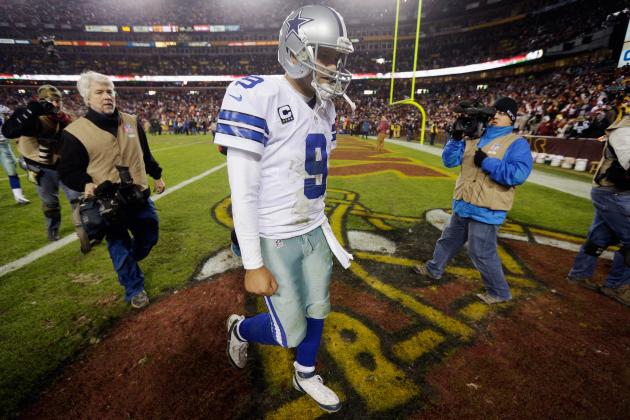 Rob Carr/Getty Images

With 2012 in the rear view, the Dallas Cowboys can put all the disappointment and emotions of another 8-8 season behind them.
I suppose in certain circles a .500 record is unsurprising. In this circle, it's frustrating and unsatisfying. But there is a bright future ahead with this roster. We expect them to rebound in a big way in 2013, and here are five players that will lead the charge.
Begin Slideshow

»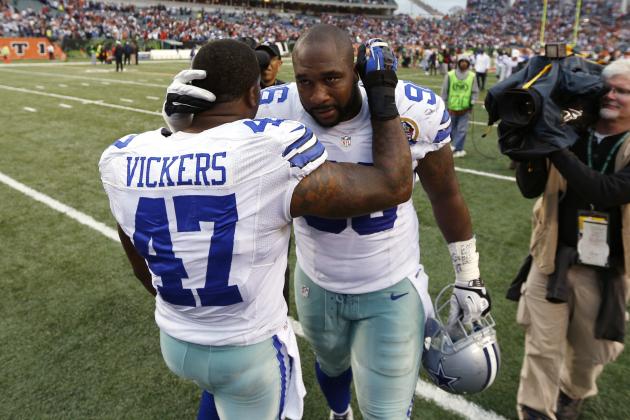 Joe Robbins/Getty Images

It's hard to completely blame Lawrence Vickers for his lack of production in 2012. Losing the starting running back will have that effect on a fullback. So does having a head coach that refuses to show any level of commitment to running the ball.
So it's understandable, given those scenarios, that his snaps would be somewhat limited. Expectations surrounding his acquisition were a little high to begin with, but when Pro Football Focus ranks him 47th of 62 fullbacks and credits him with the second-most penalties, it's a sign that he's not earning his paycheck.
Vickers was a part of a backfield that ranked 31st in yards and part of an offense that couldn't protect the quarterback. It's not that he did anything particularly bad, he just didn't do anything particularly well. Regardless, fans should be excited to see him work in 2013.
A healthy stable of running backs, an offensive line that's hopefully repaired and the possibility of a new offensive coordinator all point to a revitalized running game. Vickers will be a big part of it: blocking, receiving and running.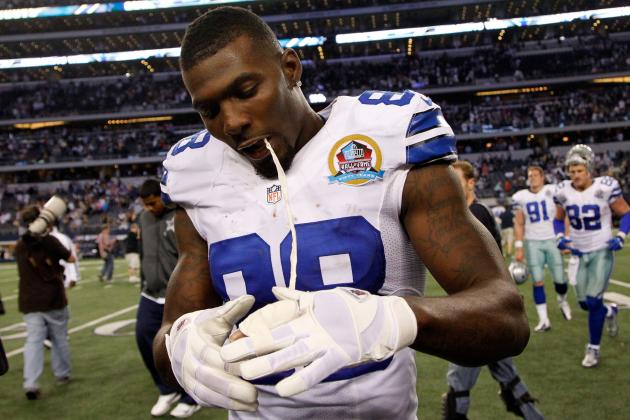 Tom Pennington/Getty Images

I know what you're thinking. You're wondering why Dez Bryant is on this list. You're thinking 92 receptions for 1,382 yards and 12 touchdowns are stellar numbers.
You're right; his closing stats are impressive. In fact, he ranked sixth in yards among receivers and third in touchdowns. But stats don't tell the entire story.
It's easy to forget that during the first half of the season Bryant struggled with his routes and had communication problems with his quarterback. Ten of his 12 touchdowns came after Week 9, and before that he couldn't break containment.
If we were to flip his production and have his season end the way it started, I think the feeling toward No. 88 would be quite contrary to the praise and adoration he is currently receiving.
It's not fair to look at his numbers without noting that 879 of his 1,382 yards came in the last eight games. Star receivers shouldn't go missing for half of the season—or in a Week 17 playoff game.
When Tony Romo needed him the most, Bryant returned to his early season form and caught four of his eight targets for 71 yards. For whatever reason, the Washington Redskins' 30th-ranked secondary was able to hold him in check.
These are the kind of things he will need to bounce back from in 2013. Consistency is what sets great players apart from good ones. He doesn't need to rack up monster stats (although our fantasy teams really appreciate it). He needs to run his routes correctly, catch his targets (11 dropped passes in 2012 according to PFF) and be the threat that opens up things for the Cowboys offense.
He didn't do those things in the first half of the season, and he didn't do those things in Week 17. The bar is high in 2013, but I'm confident he'll put together a career year.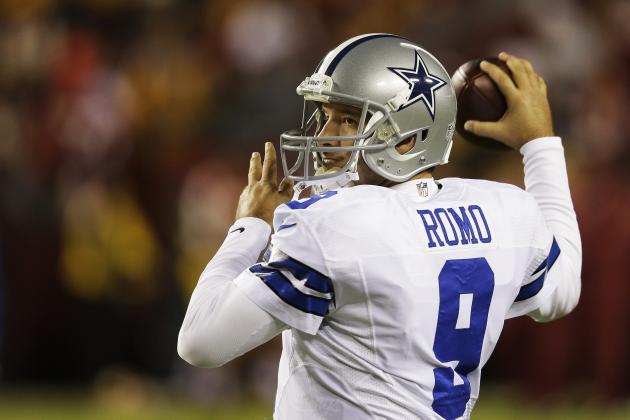 Rob Carr/Getty Images

Tony Romo is one of those players where the stats blur reality. He's a three-time Pro Bowler. He's thrown more touchdown passes than any other Cowboys quarterback. His passer rating of 95.6 is the fifth best of all time. His completion percentage of 64.7 is the sixth best.
Then there's the clutch factor—the inability to come through in big games. That was on display in Washington in Week 17 as he tossed three interceptions to give him 19 on the year, tied for the league worst. He's now 1-6 in win-or-go-home situations (Week 17 and playoffs).
Of course, smart fans know that a quarterback doesn't win or lose games alone. The final record belongs to the team, not individual players.
Romo had a good 2012 that is marred with some ugly games. He, like all quarterbacks, will shoulder most of the blame for a season that went from promising to 8-8.
Not many will remember how he gutted out five wins in a six-game stretch behind the worst offensive line football. Not many will remember the leadership he showed after the death of a teammate.
Instead, they'll remember the five interceptions against the Chicago Bears. They'll remember Week 17 and proclaim that the Cowboys will never get beyond the first round of the playoffs as long as Romo is the quarterback.
But those of us that know better will be patient and thankful for Romo. We know just how good he is and have a short list of quarterbacks that we would replace him with. Think of how good he would be with a little blocking up front. We look forward to that in 2013.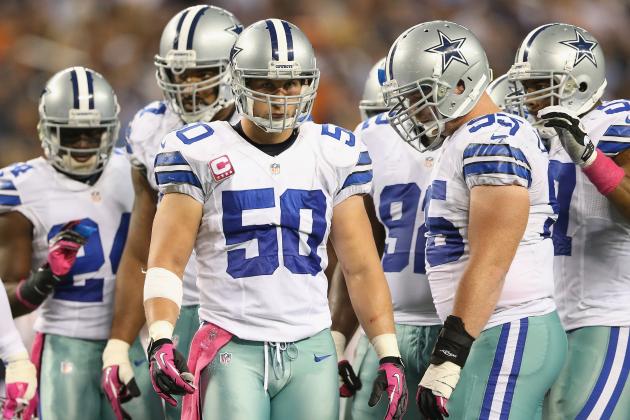 Ronald Martinez/Getty Images

The preseason hype surrounding the free-agent acquisition of Brandon Carr and the bold war-room strategy that landed Morris Claiborne was almost as big as the state of Texas.
Finally the secondary couldn't be picked on anymore, and the linebackers would be able to appropriately harass quarterbacks.
But alas, injuries bit into Rob Ryan's crew and chewed up every last bit of depth, leaving them with street players and third-stringers.
Sean Lee, Barry Church, Bruce Carter, Jay Ratliff, Sean Lissemore, Orlando Scandrick, Dan Connor, Matt Johnson and Ben Bass all missed games at some point during the season. Even DeMarcus Ware was clearly playing hurt toward the end.
Every team deals with injuries. They are an unfortunate part of football. But there is a difference between dealing with injuries and being completely decimated as the Cowboys were. When you lose a starting safety and both starting middle linebackers to IR halfway through the year, you can't expect your defense to be anywhere close to competitive.
However, these players will heal, and this defense will be competitive in 2013. In fact, it's not unfair to say that Ryan's crew will be absolutely feared next year. There are few situations that need to be patched up. The defensive line has some age issues. They'll need to figure out how to pay Anthony Spencer or how to replace him.
Beyond that, they have one of the best linebacker groups backed by a solid pair of cornerbacks. I'm fully expecting this defense to be dominant come next August.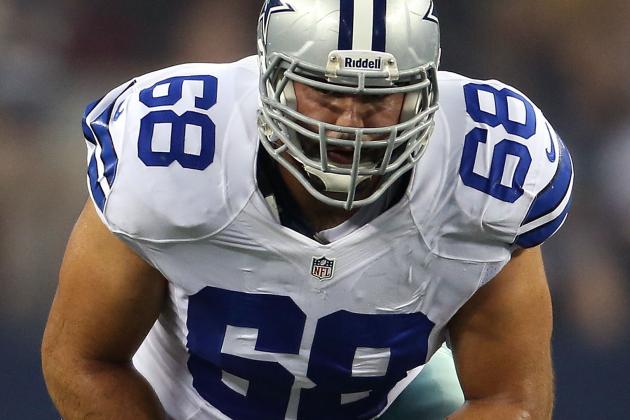 Ronald Martinez/Getty Images

I realize that by even so much as mentioning Doug Free's name I'm backing myself into a corner from which I may never emerge. He couldn't run block. He couldn't pass protect. He couldn't avoid penalties. We didn't think there was any way he could play worse than he did in 2011. We were wrong.
So why do I think he'll be better in 2013?
I suppose it's more optimism than realism. The fact of the matter is the Cowboys are stuck with Free. It will cost them $8 million just to release him. They'd be better off restructuring his contract, which Free should be absolutely willing to do, and trying to coach him back to 2010 form.
Jason Garrett needs to have him in the film room and weight room for the entire offseason. He should have to watch five hours of tape for every penalty he committed (15).
There is no doubt that they need to draft offensive linemen. But the salary cap situation won't allow them to have much room to snag one in free agency. And let's face it, good guards and tackles are at a premium in the NFL right now.
As absurd as this sounds, Free just needs to take less money and play better. If he's unwilling to rework his contract, I don't see him playing for the Cowboys in 2013.