Highlighting the 12 Best Individual Matchups of NFL's Divisional Playoffs
Aldon Smith finished the regular season with 19.5 sacks and could be the deciding factor against the Green Bay Packers.
Cary Edmondson-USA TODAY Sports
With the divisional round of the NFL playoffs starting Saturday, all eyes are on the eight teams left standing. While all four games should provide plenty of great individual matchups, there are a handful of matchups that will outshine the rest.
For example, are the Seattle Seahawks' stellar cornerbacks going to be able to slow down the Atlanta Falcons' highly productive receivers? Or is anyone on the New England Patriots capable of stopping J.J. Watt?
Today we'll highlight three of the best individual matchups from each game of NFL's divisional playoff matchups.
Baltimore TE Dennis Pitta vs. Denver S Mike Adams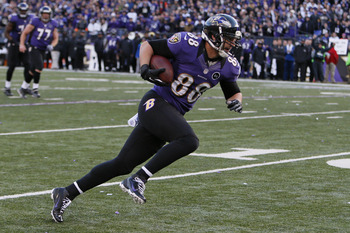 USA TODAY Sports
Advantage: Dennis Pitta
Despite Joe Flacco and the Baltimore Ravens having an up-and-down season passing the ball, they still have the potential to put up points on the offensive side of the ball. However, with Champ Bailey and Chris Harris playing solid football, it will be difficult for the Ravens' wide receivers to make much of an impact.
That leaves tight end Dennis Pitta as the biggest threat to make big plays against the Denver Broncos. This is good news for Baltimore since Pitta had seven receptions, 125 yards and two touchdowns when these two teams met in Week 15 of the regular season.
Both Rahim Moore and Mike Adams will be assigned to slow down Pitta, but the biggest matchup feature Adams against the talented tight end. Adams has been horrid against the pass this year, and his struggles could be the deciding factor in this game.
If Adams can successfully slow down the pass, it would be a huge plus for the Broncos.
Baltime OG Kelechi Osemele vs. Denver OLB Von Miller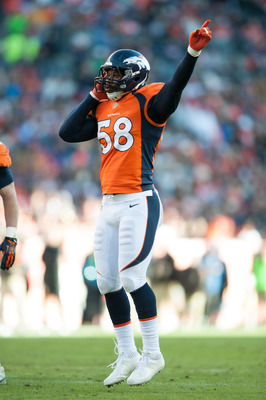 Dustin Bradford/Getty Images
Advantage: Von Miller
The season that Miller had was one of the better seasons that we've seen from a 4-3 outside linebacker in recent memory. It doesn't matter who he lines up against, he is going to have the advantage in the matchup.
However, with Kelechi Osemele being primarily responsible for slowing down Miller, the Baltimore Ravens and Joe Flacco could be in some serious trouble. Osemele gave up seven sacks on the season along with 25 quarterback hurries.
Look for Miller to make it a very long day for Flacco and to finish the game with multiple sacks.
Denver QB Peyton Manning vs. Baltimore ILB Ray Lewis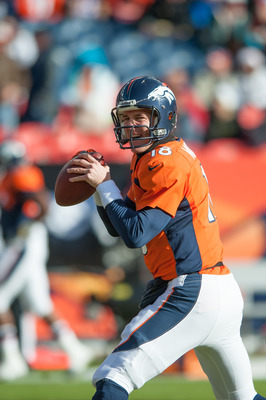 Dustin Bradford/Getty Images
Advantage: Peyton Manning
The divisional matchup between the Baltimore Ravens and Denver Broncos pits two of the greatest players to ever play the game against each other. Both Manning and Ray Lewis are guaranteed to to be Hall of Fame members once they become eligible.
Where Lewis and Manning are going to matchup against one another is with their leadership. They're both the vocal leaders of their respective teams, and they both know how to get the absolute most out of their teammates.
Whichever superstar can get more out of his team will likely be the deciding factor in this game. Look for Manning to be in top form this weekend and use the superior talent around him to lead the Broncos to victory.
Green Bay WR Greg Jennings vs. San Francisco CB Carlos Rogers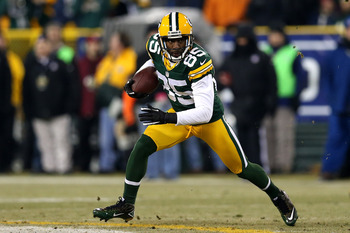 Jonathan Daniel/Getty Images
Advantage: Greg Jennings
Despite spending a good portion of the season on the sidelines, Jennings is still the top receiver for the Green Bay Packers. That means the San Francisco 49ers will likely put Carlos Rogers on him for the majority of the day.
While Jennings hasn't been overly productive since returning from a groin injury, he is starting to play better. In Week 17, Jennings tallied 120 receiving yards and two touchdowns. Last week's win against the Minnesota Vikings wasn't as dominant of a performance, but Jennings still finished the day with the most receiving yards for Green Bay.
With so many receiving options for the Packers, this may not seem like a huge individual matchup. However, with both Jordy Nelson and Randall Cobb being limited in practice this week, the Packers will need Jennings to play a big role.
Rogers has been productive throughout the season, but he'll definitely have his hands full against Jennings.
Green Bay OT Marshall Newhouse vs. San Francisco OLB Aldon Smith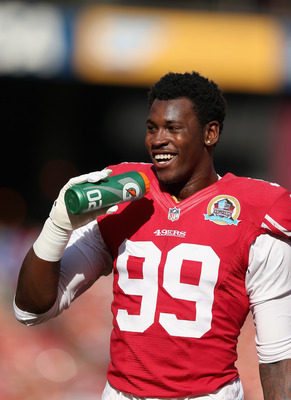 Ezra Shaw/Getty Images
Advantage: Aldon Smith
In only his second season in the league, Smith has already proven to be one of the best pass-rushing outside linebackers in the league. He'll likely spend the majority of his day squaring off with Marshall Newhouse, a matchup that has to have him salivating.
While Newhouse hasn't been awful this season, he also hasn't played well enough to give the Green Bay Packers much confidence at left tackle. He only gave up eight sacks on the season, but that low total was due more to the incredible elusiveness of Aaron Rodgers than Newhouse's ability. In fact, Newhouses's 32 quarterback hurries that he gave up was the 14th most in the league this season.
With Rodgers being able to get away from pressure like few other quarterbacks, this matchup might not be overly crucial to deciding who wins the game. However, if Smith can put consistent pressure on Rodgers and breakup his rhythm, the San Francisco 49ers will have a great chance to slow down the Packers' offense.
San Francisco OT Joe Staley vs. Green Bay OLB Clay Matthews
Andy Lyons/Getty Images
Advantage: Clay Matthews
As good as Aldon Smith has been this season, Matthews has been just as good at outside linebacker for the Green Bay Packers, when he has been healthy. In fact, he actually grades a full four points higher than Smith according to Pro Football Focus (subscription required).
The only problem for Matthews is that Joe Staley, who he'll be rushing against most of the day, has been one of the better left tackles this season. Of course, most of his dominance has been in the running game, but he has also been successful at slowing down opposing pass rushers.
With Colin Kaepernick starting his first playoff game, the San Francisco 49ers will need Staley to keep Matthews out of the backfield. Unfortunately, Matthews is simply too talented for him to not get the slight edge in this matchup.
Don't be surprised if Matthews spends a good portion of his day making life extremely difficult for Kaepernick.
Atlanta TE Tony Gonzalez vs. Seattle OLB Bobby Wagner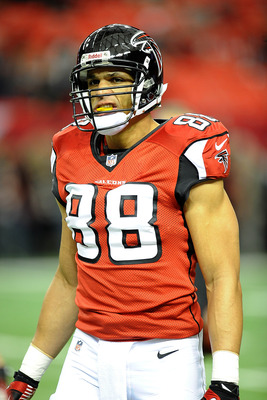 Kevin Liles-USA TODAY Sports
Advantage: Tony Gonzalez
The winner of this matchup is going to come down to who wins in the passing game. The first matchup we'll look at is that between Gonzalez and the Seahawks Bobby Wagner.
While Wagner has had one of the better rookie seasons in the league this year, this matchup is still a major advantage for Gonzalez and the Falcons. Not only has Gonzalez had a great 2012 season, but he's also had one of the better seasons in his storied career.
He has the ability to be such a huge factor and really stretch the field for Atlanta. With Wagner struggling a bit throughout the year in coverage, look for Gonzalez to have a big day on Sunday.
Atlanta WR Roddy White vs. Seattle CB Richard Sherman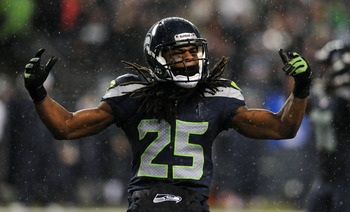 Steve Dykes/Getty Images
Advantage: Richard Sherman
Our second big matchup in this game involves two of the best players at their respective positions in the league. Both Roddy White and Richard Sherman have the ability to completely take over games when needed to.
Unfortunately for Atlanta, Sherman gets the advantage in this matchup. He's simply been the best cornerback in the league this year, holding opposing quarterbacks to a 41.1 quarterback rating when they throw his way.
What really puts this advantage in Sherman's favor is the physicality that he brings to the field. He should be able to successfully push White around and make it a generally difficult day for the top receiver on Atlanta's roster.
Atlanta WR Julio Jones vs. Seattle CB Brandon Browner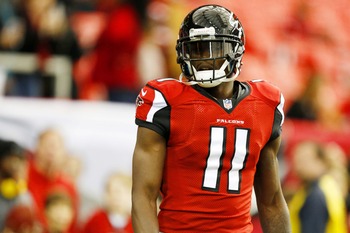 Josh D. Weiss-USA TODAY Sports
Advantage: Julio Jones
The biggest, and most important, matchup in this divisional game between the Atlanta Falcons and Seattle Seahawks will be between Jones and cornerback Brandon Browner. Unfortunately for Seattle, this is a matchup that heavily favors the Falcons.
Last season when these two teams met in the regular season, Jones had a truly outstanding game despite it only being his fourth professional game. In that matchup, Jones was targeted 17 times and hauled in 11 receptions for 127 receiving yards.
Now that Jones has much more experience under his belt, he could have a similarly huge game against Browner this weekend. If Jones is abusing Browner on one side of the field, it will force the Seahawks to change their defensive gameplan.
This will only open up even more opportunities for the rest of the Falcons talented receiving corps, and it could blow this game wide open offensively for Atlanta.
New England TE Rob Gronkowski vs. Houston S Danieal Manning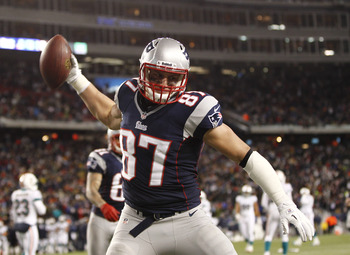 Mark L. Baer-USA TODAY Sports
Advantage: Rob Gronkowski
The Houston Texans don't really have a linebacker capable of covering a player like Gronkowski, so Danieal Manning and Glover Quin will be forced with the task of slowing down the best tight end in the league.
When these two teams met in the regular season, Manning and Quin were completely owned by the New England Patriots. They gave up a pair of touchdowns and a number of long passing plays in that Week 14 contest.
While Quin has been playing a little better as of late, Manning has been moving in the opposite direction. This is why his matchup in covering Gronkowski is so important. If he has another terrible game, this could turn into another 42-14 blowout in favor of New England.
Houston C Chris Myers vs. New England DT Vince Wilfork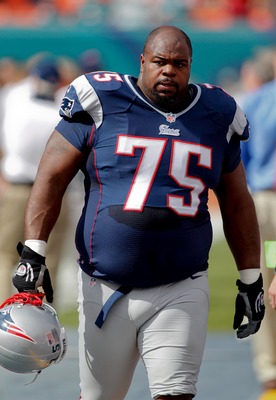 Robert Mayer-USA TODAY Sports
Advantage: Vince Wilfork
While Wilfork hasn't been nearly as dominant this season as he has in recent seasons, he is still one of the most disruptive defensive tackles in the league.
If the Houston Texans want to be successful on offense, they'll need Chris Myers to keep Wilfork from making a big impact in this game. Myers has been great in the passing game, but he has really made a huge impact in the run game.
This is where Houston needs Myers to be the most effective against Wilfork on Sunday. As long as Wilfork isn't winning consistently at the point of attack, the Texans have a great chance of moving the ball on the ground and keeping the New England Patriots off the field.
Houston DE J.J. Watt vs. New England Offensive Line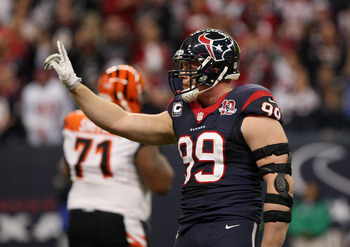 USA TODAY Sports
Advantage: J.J. Watt
I know this isn't technically an "individual" matchup, but with Watt lining up all over the defensive line for the Houston Texans, it is hard to single out one player on New England that will be forcedto stop him.
However, with the impact that Watt can make on a game, you can be certain the the New England Patriots have spent the last week trying to figure out how to slow him down.
Unfortunately, all that preparation isn't likely to have much of an impact on the best defensive player in the league this year. Watt has terrorized every single team that he has played, and this week will be no different.
What the Patriots need to focus on doing with Watt is limiting the amount of big, game-changing plays that he'll make. If they can keep Watt from making too big of an impact, New England could have another easy win on their hands.
Keep Reading