NBA Free Agents Ready to Make an Impact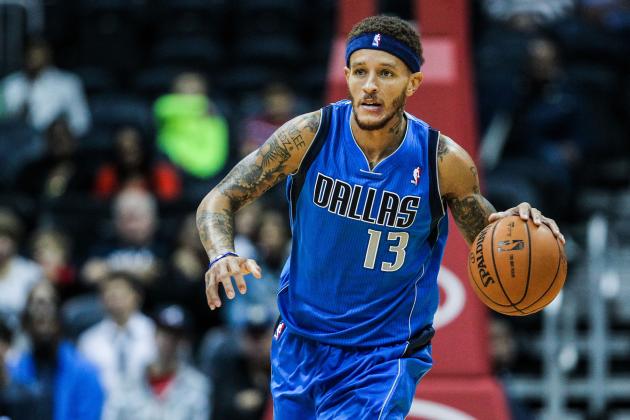 Daniel Shirey-USA TODAY Sports

As we approach the halfway mark of the 2012-13 NBA regular season, the following free agents are ready to make an impact.
From the crafty veterans to the athletic young guns, reserves are scattered throughout the open market. Although the following players lack star potential, they share one important trait.
An ability to contribute from their opening night.
From ball handlers to big men, from sharpshooters to leaders, there is no shortage of available talent. The question is, which NBA franchises are looking to shake things up with a midseason acquisition?
For those looking, the following players could make a difference.
Begin Slideshow

»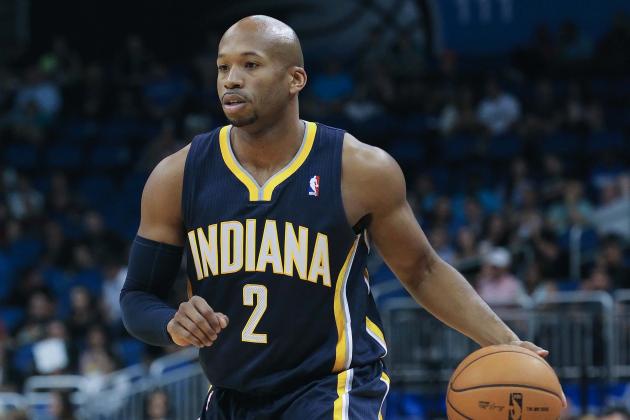 Kim Klement-USA TODAY Sports

Position: Point Guard
Age: 26
Experience: 3 Seasons
2011-12 Season Averages
15.07 PER, 13.9 MPG, 5.1 PPG, 2.2 APG, 1.9 RPG, 1.0 SPG
Every season, there are teams in dire need of a second-unit point guard.
For those who fit such a billing, they need not look further than Sundiata Gaines.
The same Gaines who ranked second in the NBA in steals per 48 minutes in 2011-12.
Gaines also ranked 10th in the league in terms of steal-to-turnover ratio. An assist-to-turnover ratio of 2.4 doesn't hurt, either.
In other words, he's a mistake-free player who knows how to terrorize the passing lanes. Although he will not produce at a high level, Gaines will manage a game as well as you could ask of him.
He'll protect a lead, move the ball adequately and handle the ball with responsibility. He's also as quick as they come, which is a trait many veteran teams lack.
Gaines may not be the star every team is looking for, but he is nothing short of reliable. His two-way effort is infectious and his influence will be positive.
In other words, whichever team opts to sign Gaines will land a key rotational player.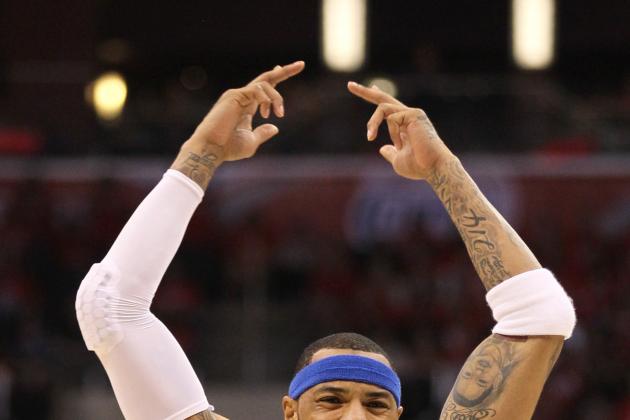 Stephen Dunn/Getty Images

Position: Power Forward
Age: 35
Experience: 12 Seasons
2011-12 Season Averages
9.93 PER, 22.4 MPG, 5.2 PPG, 4.3 RPG, 1.0 BPG
Kenyon Martin will be the hottest name on the open market until he's signed.
In 2012, Martin signed with the Los Angeles Clippers and played a key role in their run to the Western Conference Semifinals. Such success brought Martin's career total to 100 postseason games played.
If you don't view that veteran prowess as valuable, what are you looking for?
For those who see Martins' 2011-12 numbers and call him washed up, don't. Martin averaged 11.8 points and 7.8 rebounds in five postseason games with the Denver Nuggets in 2010-11.
Not much has changed since then.
K-Mart is more than capable of performing and producing at a high level. The issue, however, is finding a way to fit him into a rotation.
That and convincing Martin that he should accept the veteran's minimum (via ESPN).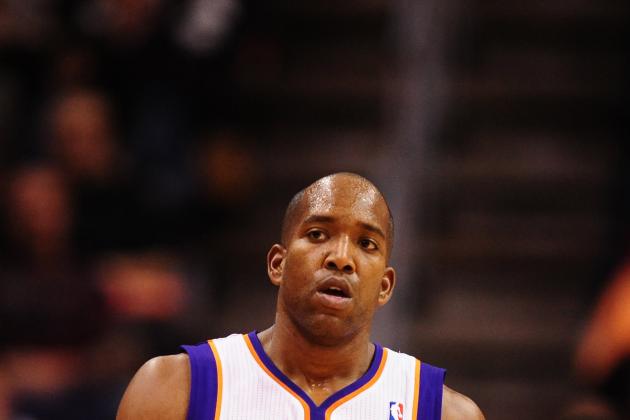 Mark J. Rebilas-USA TODAY Sports

Position: Shooting Guard
Age: 33
Experience: 12 Seasons
2011-12 Season Averages
14.00 PER, 15.1 MPG, 8.2 PPG, 1.5 RPG, 31.8% 3PT
Don't let Michael Redd's 2011-12 overall three-point field goal percentage fool you. He was red hot during the final month of the season.
Redd averaged 11.4 points in 18.3 minutes in April, and shot 40.5 percent from beyond the arc.
Even still, Redd couldn't land a contract this offseason.
With a high demand for three-point shooters, it's hard to imagine Redd remaining a free agent for too much longer. Even as his knees cause concern, a veteran's minimum contract is hardly a risk.
Specifically if it starts out as a 10-day deal.
As of January 7, 2013, 14 teams are shooting worse than 35.0 percent from beyond the arc. If that's not a call for Redd, what would be?
Redd may not be the athlete he once was, but "instant offense" remains his game. Even on faulty knees, the former All-Star can still shoot the lights out.
Something that should be welcomed by many in need.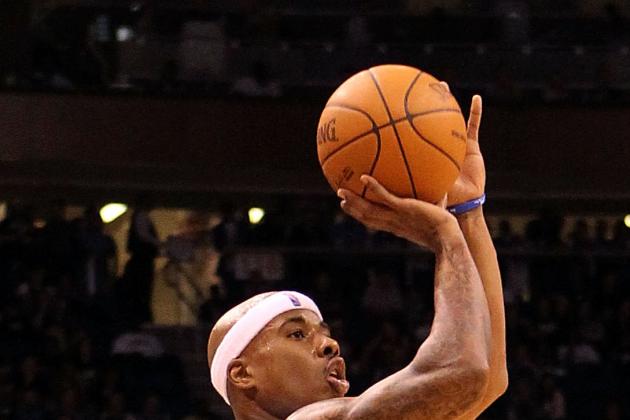 Sam Greenwood/Getty Images

Position: Small Forward
Age: 32
Experience: 12 Seasons
2011-12 Season Averages
8.73 PER, 18.0 MPG, 4.5 PPG, 2.6 RPG, 34.7% 3PT
Quentin Richardson has long been recognized as one of the top locker0room guys in the league.
Unfortunately, his production hasn't matched his personality. That's a major reason the 12-year veteran is still a free agent.
Just don't allow that belief to limit your interest.
Richardson shot 34.7 percent from beyond the arc in 2011-12 and ranks 43rd all time in three-point field goals.
This shows you his benefit as a floor-spreading wing.
Richardson is also one of the top players in the league in terms of taking a charge. As frustrating a move as it may be, Shane Battier has displayed how influential drawing an offensive foul can be.
Richardson isn't likely to contribute double-digit scoring, but he can stroke it from outside and provide veteran leadership. Such qualities make Q-Rich a player that deserves to be signed.
Thirty-one games of postseason experience would be helpful, as well.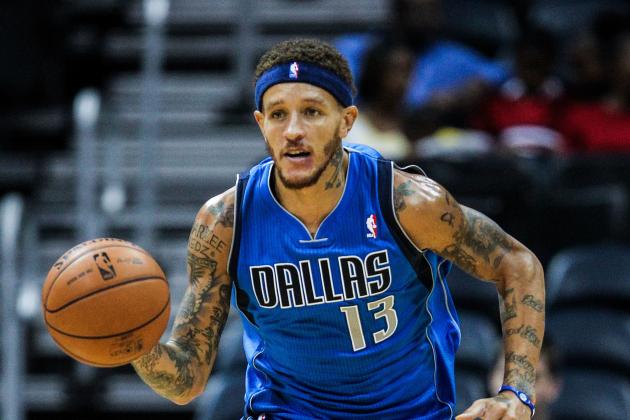 Daniel Shirey-USA TODAY Sports

Position: Guard
Age: 29
Experience: 8 Seasons
2011-12 Season Averages
15.35 PER, 24.1 MPG, 9.6 PPG, 3.2 APG, 2.3 RPG, 1.3 SPG
During the 2011-12 NBA regular season, Delonte West averaged 9.6 points and 3.2 assists in 24.1 minutes of game action.
He also shot 35.5 percent from beyond the arc and posted an assist-to-turnover ratio of 1.88.
Paired with 2.3 rebounds and 1.3 steals, it's fair to say that West packs a stat sheet as a reserve. What team wouldn't want that type of player?
The issue for West is overcoming his reputation.
He was released prior to the 2012-13 season after being suspended twice by the Dallas Mavericks (via Fox Sports).
With numerous teams on the hunt for a point guard, it's fair to assume West's name will come up again. Whether a team is willing to take a chance on him is unclear, but one thing is understood league wide: West has the talent and production to warrant a one-year deal.
Will he be rewarded with a contract?
If so, said team will acquire a career 37.2 percent shooter from three-point range.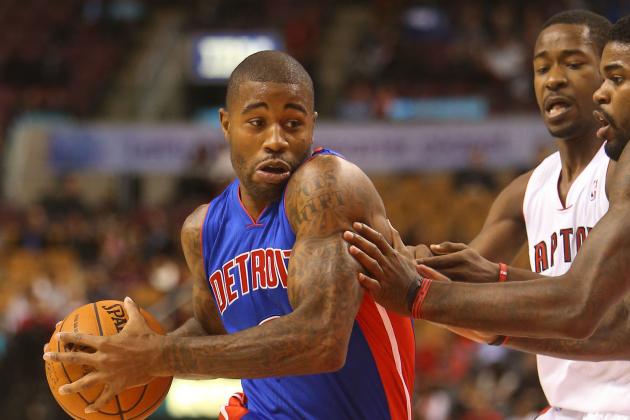 Tom Szczerbowski-USA TODAY Sports

Position: Guard/Forward
Age: 25
Experience: 3 Seasons
2011-12 Season Averages
13.17 PER, 18.3 MPG, 7.1 PPG, 3.4 RPG, 2.2 APG
After being traded from the Houston Rockets to the Sacramento Kings in 2011-12, Terrence Williams began to display his forgotten upside.
The former lottery pick averaged 8.8 points, 4.1 rebounds, 3.1 assists and 0.9 steals in 20.5 minutes per game with the Kings. He also posted a Player Efficiency Rating of 16.50 with Sacramento.
This is the type of production Williams could provide for a potential suitor.
Unfortunately, Williams was waived by the Detroit Pistons after the 2012 preseason.
He was competing to make it as a 2 or 3 with Tayshaun Prince, Corey Maggette, Rodney Stuckey, Austin Daye and recently drafted rookies Kim English and Khris Middleton ahead of him.
The likely outcome was the one we witnessed.
With that being said, numerous teams need athletes. That's exactly what Williams is.
Even more teams need ball handlers, which is another area Williams is proficient. The question is, who can pry Williams away from his CBA ball club?
Whoever does would have a rapidly-developing weapon along the perimeter.